Reminder: Get your free Lumia 830, Lumia 930 UK wireless charging bundle!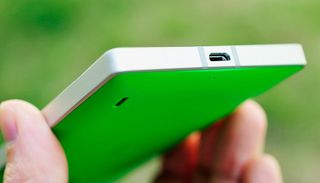 Back in September we reported that Microsoft brought back the free UK bundle for Lumia 930 and Lumia 830 owners who purchase their handset between 1st August 2014 to 31st December. This offer is still valid until the end of 2014, and we'd just like to remind everyone that if you get one of the two Windows Phones you'll be able to grab some free goodies.
Clove sent us the friendly reminder email, stating that this promotional offer is still ongoing. All you need to do is head to the redemption website and input your Lumia 830 or Lumia 930 IMEI number to receive the free wireless charger and wireless speaker. UK retailer Clove has the Lumia 930 (opens in new tab) and Lumia 830 (opens in new tab) listed for £360 and £300 respectively.
Recently purchased a Lumia 930 or Lumia 830? Hit the link below to get started.
Source: Microsoft
Get the Windows Central Newsletter
All the latest news, reviews, and guides for Windows and Xbox diehards.
Rich Edmonds was formerly a Senior Editor of PC hardware at Windows Central, covering everything related to PC components and NAS. He's been involved in technology for more than a decade and knows a thing or two about the magic inside a PC chassis. You can follow him on Twitter at @RichEdmonds.
Just got my 830 a couple of days ago and ordered my kit yesterday. Pffff....it will be delivered within 28 days :/ ........well, it's free so I should not be complaining I guess.

They want to make sure you dont give it back after 2 weeks and get free bundle without the phone :)

Excellent bundle. Got mine and £45 vouchers to Microsoft store :-)

How did you get vouchers? I didn't with mine...

I got £25 for pre ordering (that was inside the bundle box) and £20 from Carphone warehouse when it was delayed.

just recieved my kit for my 930 a couple of days ago. and i have to say im very impressed. the range on the wireless speaker is fantastic. in my old victorian house i easily got more than 30m. nfc tap to pair, built in mic for handsfree and 3.5mm aux input Bonus! hav'nt tested the portable wireless charger yet but that looks great too. oh and the kit was all white.

I order my L930 yesterday here in the Netherlands. Why is this promotial offer only happening in the UK? If sites like Windows Central do not mention these things you would kind of think Microsoft does not care about there products. Microsoft, pretty please also bring such offers to whole Europe. A what about a MSFTStore... Pfffff

Bought mine from EE in July, and after three calls about the free wireless kit, they still won't give me it, even though they said I am entitled, and should have it! Very disappointed :( don't suppose anyone at windows central can help, I've reached out to Nokia, Microsoft, and clove, but none have helped :'(

Use the website mentioned in article, with your ee imei. Should still work.

apparently i'm not entitled to it through them, EE should have given me it =/ I guess in just under two years time, there will be other networks that have good 4G that aren't assholes...

Have you tried it? On the website?

I had my 930 from T-Mobile/EE and did not get the bundle or even mention of its existence, I only knew about via this site. Popped my IMEI number in to the offer site and it arrives Tuesday. You might want to just ignore EE and go via the website you might be pleasantly suprised.

930 is the greatest.... Unless your American

Because its the Icon without cyan ;)

Is this offer valid for Indian LUMIA 830 owners? I bought White LUMIA 830 on 20th of October... If yes then only i will proceed to claim offer. I don't want to give my IMEI number to anonymous...

Your loss.
Ps. Its not anonymous. It is the same guys that made that phone. They already have your IMEI and phone identity associated with your Microsoft account. They know you.

Sorry for using word `anonymous'. I sent my contact details via mail. But i doubt will I really get wireless bundle? I am from India and the website is UK domain.

Bloody hell, I need that green back!!

Got my 930 3 months ago and didn't think I was entitled to it! Turns out I was and they arrived yesterday. Chuffed to beans :D Charger is ace and the speaker is a little gem. Thanks Nokia!!! ermm Microsoft!

Have my new wireless speaker playing in the office right now, with my 930 playing an 80's mix through mix radio!! Really impressed with the sound [once tried different surfaces], the battery life is top notch too.

The speaker is great but I'm disappointed with the charger. It's suppose to charge full battery when its fully charged but I've used mine 3 times and never charged the phone more than 60%. Still it's free so cannot complain but would have been disappointed if I paid for it.

Does this offer valid in india? I have bought Lumia 830 on 16th October I give them my IMEI but they are giving me message "sorry, your IMEI number has not been recognized at present. Could you please email your IMEI and contact details to our customer service center at lumia930offer@kondor.co.uk One of our agents will validate your IMEI number and make contact with you in the next 72 hours." Hope they reply me with a positive response *fingers crossed*

Does this offer apply if you get it on contract, or is it only if you purchase it outright? I'm thinking of upgrading my 820 to an 830, and this deal would be great.

Mine was on contract and the site accepted my details and it arrives Tuesday so I would suggest you just try nothing to lose.

I registers for my o2 contract phone and then the phone broke ten days later, I registered again and got 2 free kits! Sent five days apart 2nd set just arrived today!!

Didn't realise this was available for the 830. Appreciated!

My Emei doesn't work? Bought it at my local Vodafone UK store in Bath Summerset.

Really wish the 830 would get a price cut. It's difficult to justify £300 that's TWICE the price of the new Moto G 2014. Sure the Camera on the 830 is better, but I'm not convinced it's worth twice as much?

Got mine a few day ago have to say its pretty awesome and kudos to Microsoft for the pack a pleasant surprise

I got mine and my son's yesterday:)

I got the old one with my 930 (charger, speaker and voucher) and now I've been given the new one too (charger and speaker)!

Is it a con or not I have just ordered one ?

I got my bundle with the original promo but had to settle for a yellow wireless speaker because of stock issues. I would love to swap my yellow speaker for an orange one. Need an escrow service for mobile accessories!

Wish they could have this deal in SA :(

Just got a email getting deliverd on Tuesday

I would rather have this deal in the US, than the free FitBit. They should've made it an option to choose one or the other. I'm lazy, so therefore I want wireless charging.