Microsoft to bring back the Lumia 930 UK bundle with free wireless charger and speaker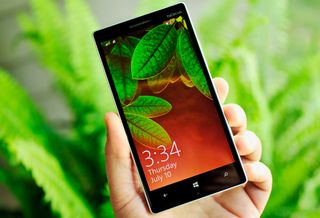 Microsoft is set to bring back the bundle deal with the Lumia 930 in the UK, according to Clove who also unveiled a price drop for the Windows Phone. This bundle will see purchasers receive not only the Lumia 930, but also the MD-12 wireless speaker and DC-50 portable wireless charger at no extra cost. It's a sweet package to get anyone started with Microsoft's mobile platform.
According to this blog post, those who purchase the Lumia 930 will be able to head to the redemption website and input their Lumia 930 IMEI number to receive the goodies. It's worth noting that the website and main bundle deal will be announced by Microsoft tomorrow. This same deal will be available at other supporting retailers (both online and on the high street).
Note that only purchases between August 12014 and November 30 are included. The speaker is listed in four colors – black, yellow, green and orange. There's also limited supply, so do hurry once everything is up and running. As for Clove, the retailer is offering a price reduction on the Lumia 930, which is now going for £399.98, which is always worth considering.
Source: Clove (opens in new tab)
Windows Central Newsletter
Get the best of Windows Central in in your inbox, every day!
Rich Edmonds was formerly a Senior Editor of PC hardware at Windows Central, covering everything related to PC components and NAS. He's been involved in technology for more than a decade and knows a thing or two about the magic inside a PC chassis. You can follow him on Twitter at @RichEdmonds.
Yea pretty cool, just ordered mine.

First launch it in India ..!! Still no launch (bec.. Of heating issue there ain't no news after of launch )

It's worthless to us early adopters who have championed the Windows Phone from the beginning in the U.S. How is it not even carried by AT&T? These exclusive devices are BS. Verizon gets the Icon (Still officially without Cyan) and AT&T gets nothing. They are down to the crappy starter phone (635), the aging 1020, and the too-big 1520. Verizon was anti-Windows Phone from the beginning, yet they get the 928 and Icon? The last decent standard-sided phone release for AT&T was the 925 and they stopped carrying it. Don't get me started on the HTC M8 (Which is still "coming soon"). No dedicated camera button, the power button is all wrong (Thanks Android-first designers) and the function keys are on-screen only... which I loathe. The deployment decisions for both hardware and software by Microsoft is truly puzzling. They need to stop letting carriers dictate everything. There's no reason Cyan should not be rolled out completely by now. There's no reason to play the exclusive game when they are fighting for any scrap of market share.

When will they bring denim update to India?????????

Its out already, didn't you know? /s

What? Denim has just been released? Why am I running Nokia Emerald on my Windows Phone already?

Guys relax, Lumia denim as well as Lumia emerald have been released for all you folks talking about them here, since you are enrolled in preview for idiots go check for an update, you will see it will write: "an update for your brain is available, download at last?", and please, press yes, ok? Got that? Thank you mates!

Seriously?! Are they running regional firmware variants now? I'm running Lumia Eggshell...

Was meant to get this sort of deal on the 920 with EE in the UK as well but the cheeky fuckers told any and all that you wouldn't get the wireless charging station.

Not true. I got two 920s back then with the deal.

They refused to give me and my girlfriend the deal. Why, not sure. We went to several EE stores and they all said they didn't know about the offer. Oh well. Water under a bridge now lol.

I dialed 150 and they sorted it for me. Don't bother with the shops any more as rarely get someone who properly understands WP.

I got the bundle from EE when first released!

Still waiting to see there will be a 935 or 1030.

Me too! I basically want a 1030!

I want the 930 in the US with all GSM bands. I don't even have to have the free wireless charger!

Me too. I hate these carrier exclusive devices.

I agree, except i ALSO want this bundle when/if it comes out here. I plan i purchasing outright, so any freebies to make dropping that kind of cash on a device that is designed to be replaced every 2-3 years will help justify the purchase.

That is true! I have two plates at the house so another isn't necessarily needed, but would be welcome.

Facebook messenger and royal revolt 2 updated , ( I sent this three times)

There is a reason it's ignored.

It's worth noting that even if you bought a 930 from a different bundle (I got mine from amazon with only the charger) you can still get this - just put in your IMEI number and ourchase date.

Could they also BRING the 930 to Canada, with this bundle.

Word is well get the 10mp variant

There is no 10 megapixel variant of the Lumia 930. I believe you are referring to the Lumia 830. The design might be similar but it is a completely different phone.

I wonder if the price cut is an official one? Hope so as want to get an o2 locked one. Bizarre choice but I understand that visual voicemail only works on o2 locked handsets - does anyone know if this is the case?

Giffgaff is selling the phone for £330. This isn't a reduction worth being excited about.

Yes that is the case. I have an unbranded Lumia 920. I'm an o2 customer on a 24mth contract and Visual Voicemail does not work for me. I have to wait until I upgrade

Thanks for letting me know. Although maybe I can live without it if Giff-Gaff are selling it so cheap!

Yes that is correcct, you need the cyan/8.1 update that o2 pushed OTA.

The phone is only £350 at EE, everywhere else is around £480. How can EE sell this phone at stick a decent price, but my desired o2 version is so highly priced?

Get one from Giffgaff at £330. Unlocked.

Just checked and you're absolutely correct! But one thing that will forever peeve me is if it starts up with a gifgaf logo :| nitpicking, but annoying nevertheless

Hello guys , I just wonder , 20mp Pureview Carl Zeiss(Lumia 930, 1520) optic vs 20.1mp G Lens(Xperia Z1, Z2 & Z3) , which one is better ? Since no one yet made a review on YouTube.

It's very similar at least the Z1 Compact VS the 930. Ask me again in the beggining of October and I will be able to give you a more precise comparison between the 930 and the Z3 Compact.

Not surprised. According to the info I got from Microsoft, the sales of the 930 are anything but stellar.

If you are talking about the sales in the US, the reason is because it is a Verizon exclusive. T-Mobile needs to carry this.

No, I'm not. I'm talking about sales of the 930 not the 929. I never talk about US sales as I'm not American ;)

Not surprised in low sales. The most uninspiring advert ever. Honestly.

Advert? What advert? I've seen exactly zero adverts for this phone. How Microsoft ever intended to sell a significant quantity of this phone is a mystery to me. When Samsung releases a new Galaxy, they are everywhere in the media. You can't miss them. Even cash strapped HTC has run several full page ads for the M8. But the flagship Nokia Lumia 930? Nobody even knows it exists, let alone that they would buy it.

This advert... I've seen it on TV nearly every day over here. http://youtu.be/yD8Jtx2_cEY

Aha, it's an ad from a mobile operator. So typical: if no operator is willing to promote the device nothing happens. No effort whatsoever from Nokia/Microsoft Mobile itself to promote their devices.

No it's a Microsoft ad, they do that over here, just tack an operator logo on the end which makes it look like one, but more recent versions of the ad are unbranded... http://youtu.be/QrtkFDnJC94 also an earlier 630 ad... http://youtu.be/Cx-33UZtXqs

Bring this deal to Canada with the 830

in France there are a package with 3 free accessories : the QI charger + Nokia Bluetooth speaker MD-12 + Nokia Headphones (Boom), I got this package for free where buying my Lumia 930

i hope they do the same thing with LUMIA 830

Just did ours, thank you for the heads-up on this :-)

What a great deal. Damn hope this sort of offer spreads around the world. I'm due an upgrade in 3 months and this would make it impossible not to choose the 930..

Still want an AT&T LTE compatible version

Is not recognizing my IMEI, purchased in EE the second week of august. Whats worse, the email address in the form is an invalid recipient (error 550)

I have the same problem, mine's also from EE: I wonder if it has anything to do with me having unlocked mine. In any way, there is a working email address under "Contact".

Rich, I didn't realise we are living in the year 12014 :p

Great... what about Germany? Nothing!

Gab es gestern Abend und heute früh jeweils kurz für 299,- in schwarz. ;)

Bei smartkauf.de - ist aber derzeit ausverkauft. http://www.smartkauf.de/Handys/Neuheiten/Nokia-Lumia-930-32GB-Black/p/90...

Es geht um die Bundles. Ich habe meins im Juli gleich nach dem Erscheinen gekauft. Als Käufer der ersten Stunde fühle ich mich ziemlich verarscht.

Ordered a 930 in black @€299,- (Germany). Nice Deal. :-)

I'd still like to know which company is going to get the 930 in white after it was an exclusive to Phone4u and sadly now they've gone. It's the colour I want, but the only place I can find is on Amazon.

This would be nice to have for the Verizon Icon, might convince my sister to upgrade now, rather than waiting.

Giffgaff are selling it brand new, sim free for £369.99 just got mine from there. Order a free sim from them first though, you don't need to use it.

Do they still give you the £20 MS store voucher?

If only it had Glance Screen

Can they being this deal to US?! Or simply the freaking phone?!

Dang, they should've done this here in SA now that it's finally becoming available.

I think you mistyped 'August 12014'.

YAY! For the price cut! Gave this phone a lot of flack when it first came out but the more ads, photos and reviews I see everywhere the more I start to fall in love with it's slick design and brilliant feature set. Think I'll import one :)

I was planning on upgrading my parents 820's to 830's, but since this offer is back I might just get them 930's instead, depending on how much Vodafone decide to discount them for me.

No need to worry if the deal is lasting 10,000 years

Bring these bundles to the US, and I guarantee sales will jump. I might even upgrade from my 920 just for the free charger and speaker.

The black option's new, the colours were white, green, orange and yellow originally. Nice of MSFT to bring back the bundle. Wonder if the £20 voucher will be included?

My bundle just arrived last week! But I wasn't to impressed with the 930... The battery life really strugged to get through the day and the phone could get really hot, so it went on ebay.... I'm hoping the 830 will last longer on a charge and I will get a chance to use the wireless charger and nfc tag!

Cant order mine. Won't let me

how 930 is doing in market?

@willboyce - site goes live tomorrow. Hold your horses. ;)

Come on!!!! By the time we get this phone with US LTE bands unlock or on AT&T and T-Mobile it will be no longer relevant. Come On Microsoft!!! Stop firing people you need and start making revenue!!!!!!

Good to know they will give back the bundle offer. I got mine with the bundle on the first day of sale in Dubai.

My phone get hot when I'm using it for navigation and charging at the same time. But I don't see any issue with that, I mean, it wont burn right?

Best offer ever I've got all year... got £100 cash back on my 930 with phones4u with a Nokia treasure tag plus just ordered for this offer again, I'm loving it.

Site doesn't recognise my IMEI number. Tried emailing support. Got a sending failed notification.

I have the same problem. Got mine from EE. There is an apparently working email address under "Contact".


Tried that one. Still waiting to hear back. Other one is now working. Its been over 72 hours now. Guess I'm not getting this bundle unless there's a way to claim it from a brick and mortar store.

I eventually went to www.kondor.co.uk and used the customer contact form. Got a reply asking for my IMEI, even got an update via email today, but no news yet whether I will get the bundle or not.

I got an email today from kondor customer service to try my IMEI, which previously had been rejected, again now on the webpage. This time, it worked. Good service!
Windows Central Newsletter
Thank you for signing up to Windows Central. You will receive a verification email shortly.
There was a problem. Please refresh the page and try again.