Lumia 950 XL back on sale in US Microsoft Store, but just in white [Update: sold out again]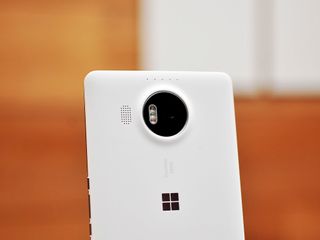 Update: That was very fast; the phone is no longer on sale, with the "Email me when available" listing back up.
Original story: After going out of stock on the US Microsoft Store site, the Lumia 950 XL smartphone with Windows 10 Mobile is once again live to buy for the unlocked price of $649.
That's the good news. The bad news is that just the white colored versions of the phone is available to buy, and not the black version. The listing also still shows a "Coming soon" date, rather than a specific ship date, so it's a crapshoot at the moment when the phone will be mailed out.
As we mentioned before, Microsoft's brick-and-mortar retail stores in the US are scheduled to begin selling the Lumia 950 XL on Thursday, November 26. Due to the Thankgiving Day holiday, some stores will have different store opening hours on that day.
Buy the Lumia 950 XL at US Microsoft Store / $649 (opens in new tab)
Windows Central Newsletter
Get the best of Windows Central in your inbox, every day!
Waiting for the next flagships, just going to keep my 1520, mostly due to the fact that AT&T isn't carrying the Lumia 950XL. Not paying that much outright for a phone.

Win 10 is great on the 1520, the only reason I'm buying a 950xl is the my 1520 has a busted screen :/

Just finance it and buy it outright. Then you can make payments like you want to.

Well I was willing to pay $700 for the 950xl but i think I'm just gonna get the One+1X instead for$250 and use my new HTC one m8 for windows. Much better build then the 950's

If you are in the US, the OnePlus X does not have the proper LTE bands uses by T-Mobile or AT&T.

We keep seeing articles about these phones, people talking about how they can't wait to get one, how they are going to be great, but then the delivery of them always seems to get botched (and people say that the 950 roll out is messed up), there is some huge problem with the devices, they don't deliver what they promise (they just announced some version will not be getting the latest version of Android like they said it would), no one actually gets the device, and then a few months later the whole hype machine starts up again over a new device they announce 8 months in advance.

If you have the opportunity to purchase the current flagship, you should! Otherwise there may not be a next flagship. I'd purchase this if Verizon carried it. I'd purchase the next one as well. I put in overtime for the 950 or 950xl and Verizon passed on it. Bought the Microsoft Band instead haha.

You already DID buy that 1520! It was in the cost of your contract. Also, why do you think they won't unlock a phone while on contract... They want you to pay off the price they subsidized for you up front. Wake up sheeple!!!!

I know that's right. Pay more for it over a longer period of time...with deep and heavy sarcasm ;)

I'll stay with Nokia Lumia 1520, 950 & 950 XL is just a better hardware. I hope Full PC OS Surface phone become a reality and maybe I can install BlueStacks program so I can use Android apps

Bluestacks on my surface pro with an i5 is already too resource intensive and slow. Imagine it on an atom processor.....

Sounds convoluted and unnecessary. How old are you?

Or just get an Android phone? There are plenty to choose from and there are very few downsides. Posted via the Windows Central App for Android

You'd pay more for the phone in a contract you idiot.

I agree. While 950xl is definitely a better device than our aging 1520, the prospect of Surface Phone can't be ignored.

Same here. Sticking with my 1520 first now. Microsoft have shown exactly how enthusiastic they really are about the 950 & 950XL. I honestly believe that these new flagship devices are great handsets, I just don't seem too excited about wanting one. For what I would actually use the phone for, I am gaining nothing.

Just so you know by the time the next ones come out next year, you will most likely not have an option of a contract anymore. No matter what you will be paying the full amount just depends on how you wish to do it

Was like this yesterday too. Waiting for black 950.

Any word on the unlocked 950?

Still says email when available

I don't care for the color since backings will come out.. But the only hing im concerned about is the dock. Will MS store have the dock available?

No one knows. As I understand, you have to claim the dock after you activate your 950 XL. No one has yet to activate 950 XL since no one has it yet...

I read the terms for the offer, said you have to activate the XL and sign into the Lumia offers app and reserve one, the dock will be available in a few weeks depending on supply (thought I saw 5-7 weeks); sounded like it would have to be picked up in a store rather than shipped from online; could be wrong...

Oh gotcha! Thanks for clarifying! So pretty much wherever I buy the 950xl, I can redeem it through the offers app on the phone directly. Well I guess im going to the MS store on thanksgiving/my gfs bday

You better be wrong--I'm 1800 kms from a store!

Yeah, I was worried about that too. I have my 950XL preordered at my local sMS store, but im worried the free docks will not be available for a while, or short on supply. So I stopped by today and bought just the dock. Nest case, the free dock comes soon and I can simply return one. Worst case, I have 2 docks... but thats not that bad haha

White shows sold out as well as black....don't think this has changed for the last week

It was available yday on the MS store but I thought people knew and didn't think it was worth sending as a tip

Yes, each time it's available, it sales out faster than the time before it.

How many devices they sold? This sold out very fast the second time. I'm shocked and little doubtful they aren't selling in big numbers

They are probably making a limited amount for sale considering black friday is just around the corner.

Stock: 20 phones? Are they creating artificial shortages to get people interested and feverish about it? People suddenly want what they can't have. Posted via the Windows Central App for Android

No. Creating artificial hype for a product that has only niche appeal is not any smart company would do. They have to have it in stock so that the enthusiast fans can bye it. They cannot afford to lose any paying customer.

Probably they just underestimated the demand from fans in the American market, not too surprising considering it's been one of the weaker markets for WP.

Probably saving the majority for the Black Friday sale.

Wonder why 950XL is not available thru at&t.

That's pretty the only thing between me and buying it.
It's either that, or getting an iPhone 6s on Next, or a Galaxy S6 Edge+ on Next through Best Buy, which gives me a $250 gift card I can buy the Band 2 with
If the XL comes to Best Buy it would be pretty cool too since they offer 18-month financing too

Me too... Stupid early reports said at&t was getting the XL too.

I think everyone including Microsoft and ATT are stepping lightly on this. Limited quantities, etc. - they don't want another huge loss due to unsold phones.

I have a feeling it will eventually will be..

I think AT&T now wishes they had signed up for L950XL also. L950XL is going to be hotter that L950.

They had 975 phones initially...now each store will get the min of 5 units or whatever the # of preorders were for each store and that is it..

I think you mean 945+5. Ok, they'll throw in one display unit for the XL part.

I wonder if this is just a glitch and not actual show of demand.

I hope this is show of demand

Considering the American market has been one of the weaker ones for WP, I wouldn't be too surprised if they had actually underestimated the demand there and produced fewer phones than for the European market.

They are selling like Hotcakes ...................in the desert

Preordered mine on 10-15. Waiting on the email.

Frustrating. 950 XL is not being offered through any other channel in the US, and even so MS manages to throttle sales. Arrrghh.. :)

b&h photo always caries lumia unlocked too http://www.bhphotovideo.com/c/search?Ntt=microsoft+lumia+950xl+ds+rm-111... and 950 http://www.bhphotovideo.com/c/search?Ntt=microsoft+lumia+950+ds+rm-1118&...

I'm so glad I finally woke up. Got my LG g flex 2 almost 2 months ago (for a ridiculously low $250 unlocked) and am in love with it.... and I never thought that'd be possible being such a big windows phone fan for all these years. But once I noticed that Microsoft is giving far more attention to ios/android than wp, that was it for me.

Do you realize that you make a variation of this same comment on nearly every article on Windows Central and have done so for the past week? What is it with people who move on from WP and their need for validation on their new phone/OS of choice?

Validation?? I think you misunderstand.... And no, I haven't made the same comment... the fact that I've mostly made negative comments about the state of windows phone does not mean it's the same comment.

It's not the negative comments about the state of Windows Phone, your opinion is yours. It's the constant mentions of how you've moved on when, clearly, you haven't since you keep hanging around. And yes, it is validation otherwise you wouldn't take the time out to let everyone know that you've moved and the exact brand of phone you got.

This is a place to share thoughts and opinions on mobile tech. Because I've mentioned another phone doesn't mean I need anyone's validation. And just because that it is now my daily driver doesn't mean I still don't own a 640 or 920 and still participate in the latest build releases. When I see ios' Skype and Bing apps blow away what's on windows phone, then yes, it makes me comment in a negative way.

Now you are putting words in my mouth. I never once implied that you don't still own a Windows Phone. Re-read your first comment I replied to and try to think how it looks on a site full of Windows fans, either you will see where I'm coming from or you won't. Incidentally, no, I do not resent you getting an Android. It's your right to choose what works for you.

You said "clearly you haven't moved on since you're still hanging around here". I am because I'm still interested in where WP goes as I still own WP devices.

I think you make very good points. If you move on why still linger in the community and waste time commenting

It's cool you love you're new android phone but "I'm so glad I finally woke up" does sound like validation especially if repeated in comments on windows central.

Give it a few more months and see if it still runs well.

I don't understand it either. If they have moved on, how is it possible that they are still here? SMH

HAHAHA! This must have been my preorder that I cancelled half an hour ago... I saw reviews and Peter Bright's Ars Technica one convinced me that next year is the year of Windows 10 Mobile. So Nexus 6P will be my stopgap unitl the Surface Phone arrives (yes no rumors but there was nothing on Surface Book either!)... x86 Intel chips will push Continuum.

O.o that's interesting. X86 surface phone.

Peter Bright is incompetent reviewer. His reviews are useless and same goes for iVerge crew. Bright was unable to say anything about 950's battery life because "screen turns off after 5 minutes". That's just laughable. Wait for reviews on sites like GSMArena.

Surface phone will probably be an upper mid-range business phone. It may not satisfy enthusiasts. You could wait for Snapdragon 820 based L960XL next year.

sold out? who is kidding who here? I love wp and all but this short supply to garner demand/sales should be retired by now. come on MS. You ought to know better by now. This trick only worked on me once Surface RT Gen 1. I molested by browser refresh button like iSheeps line up 3 weeks in advance. Never again. I'm actually re-assessing my next device from my current L920. Might be Android device as I can't stand Apple for the life of me. Until MS re-assess their mobile strategy.

When you are getting an Android get a HTC. They could use it ;)
Or maybe even a BlackBerry Priv. Seems like a solid phone once they push Marshmellow.

Going to MS store next Thursday wrather than waiting for this to work out.

Glad I pre-ordered early. looking forward to replacing my 920.

Ya my coworker is still clinging on to his 920 but once he sees my 950xl some Chinese plant will need to make another one

We all know that the design of the 950 and the 950XL is not that really gorgeous outside, how about the MOZO casing that was shown before are they also available now?

How come no one is talking about the 550, I want the 550. Its not even mentioned on sale

it's sort of the bastard child of the 3. So it's more of a 2nd (or coach class) class device if you know what i mean.

Excellent commment, mate :D

Didn't see it in the store and forgot to ask. All eyes are focused on the 950s

I had a white one in my cart input my cc and shipping info and then pressed ok and it came back and said the 950XL is not available. Please remove it from your cart and then you may proceed with checkout. I thought "Really???" damn!

Bad luck. Keep trying and maybe you'll get it in time for Christmas photo season

Yea, I keep seeing the preorder come back for like 10 minutes and then go away. Very strange.

It's not strange it's a valueble product now with all the accessories for 700$

rld082982 - I'm happy for you. However, we are here to discuss where the phones are available to order, not how WP compares to iOS or Android. You can go and start that in Android forum. They will love you there. Now move on !!!

I keep missing it. By the time I check it's always sold out. At this rate I'm not gonna have it in time for Christmas. :-(

I was lucky enough to preorder in-store, today, the 950xl for pick up on the 26th. Fingers crossed they actually have it in-hand when I get there. Terrible evening to be activating... what with pre-black-Friday shopping frenzy, but hope it'll be worth it. No one in-store knows whether or not S/MIME encryption is imminent... Did not find settings for it in the 586 build... :(

Yes ... Very I few I missed this ... Pre order turned into email me when available...

I am curious if there is a way to get alerts as soon as it comes back on sale. I am waiting to pre-order to white one. Obviously the "email me when it is available" button doesn't work.

Yea I can see it is specifically for the Christmas season. It will be available for all to buy in late November early December to compete with holiday sales

Seriously? They can't just take as many pre-orders needed (cannot possibly be that high of a number) and then fulfill orders as manufacturing churns them out?

I want that mofo in blue!

Also you should call the stores before going in next week. I have spoken three stores that say they are only getting 950xls in for those who preordered not any to sell

Went to the store downtown Chicago and nothing in stock or on display except the AT&T 950. My 950xl preorder ships Nov 25 so one more week with my 640

This has been the most ridiculous release I have ever been apart of. The release date details have been really obscured. And then there's a "shipping date" that is set for the day before Thanksgiving Day. So when I see the preorder come up, I think to myself "why preorder now when I know I won't receive it until the following week" as we all should know that all shipping carriers will not be working on Thanksgiving Day.. So I say, wait. Be patient. I've already been patient this whole entire time awaiting for details on a release date..But ONE SINGLE DAY. Only one single day you have to get a preorder the phone I want. The XL... One day and they are out of stock.. So, okay. I just finally sign up for the "email me when available" option.. I just online and see this article up.. So I'm like "hot damn, I guess I can't be patient anymore".. Then I go throgh it and no dice. Not selling anymore.. Such a debacle, it's unbelieveable that we are talking about a "premium" phone. And I never even received the availability email to give me a chance. Like what is happening.. I mean, it's a flagship phone. Right?.. But with no advertisement of the phone almost anymore but these Windows fanboy sites. And yet they are all sold out.. I get that they limited supplies cause of market share and all that jazz. But am I crazy to think that they made less than 5k units for the US alone... Like, what is happening. I just need a new Windows Phone in my life. And a dream come true that it actually allows for a micro SD card... Better luck next year, I guess... If Windows Phone survive this mess, as I am sure they are losing customers, fans left and right..

We know they are losing customers. The market share numbers for last quarter make that very obvious. It is quite a risk buying these devices. Who knows how long Microsoft will support this platform. They don't exactly have the best track record supporting failed devices. Remember the L900 or the Kin or Surface RT? Posted via the Windows Central App for Android

You do know those numbers were for sales in just that quarter, right? That's not the share of all users. Of course the numbers were low -- MSFT had no models on the market. It was the quarter of reboot.
And there is no risk to buying this device. MSFT will support it long after Samsung has stopped supporting it's next two flagships.

I totally agree Its the Zune all over again. None available not enough made has a feature that's awesome that its competitor doesn't do "Desktop mode" but you won't even be able to get it by the time no one cares anymore. And they will stop supporting it. I love my 1520 , and wanted this new feature and a out of the box windows 10 with this iris login. Finally got company to approve buying it and I can't even pre order it. (why can't you pre order it? ) clearly this was Microsoft again just going not giving it there all. What there missing is a a hole at the top like Steve was for apple ( some guy that is a micro managing ***** who pushes people to the end of there top to make it perfect. (I wouldn't want to work for him but I does make for great products ) p.s. I still want it, but so ****** some good apps are dropping off the windows phone list. Serious get the money out a just pay theses companies to keep there apps updated. (like your Xbox just buy them in to submission)

Who is that idiot responsible for Windows 10 phones ( Sales ) @ Microsoft, I went to three AT&T stores and Microsoft store in AUSTIN,TX, No phones for Display ... WTF ???? , This is the most dumpest windows phone launch ever.

Why even bother? There are so many good phones available these days. There is no reason to buy a phone from a manufacturer that obviously doesn't care much for it. How long before they drop support for it completely, especially the AT&T version?! Posted via the Windows Central App for Android

Edit: meant to make this a new comment as opposed to a reply to comment.

Selling out of stock - twice, even - before the thing even ships....I have a hard time seeing this as anything but a good sign! Just how strongly indicative it is remains to be seen, I suppose - as will be evidenced by long-term sales. But if nothing else, it shows that at least initial demand is there, and perhaps even at levels beyond Microsoft's own expectations! If nothing else, I'd MUCH rather see "out of stock" right now than price cuts!! Cheers!

I finally got my White Lumia 950XL ordered yesterday but no ship date. Just "Comming Soon." Right now, Nov 23, 2015 @ 8:07pm PST, the white one is still available for preorder.