Lumia 950 XL owners in Australia now receiving double tap to wake firmware update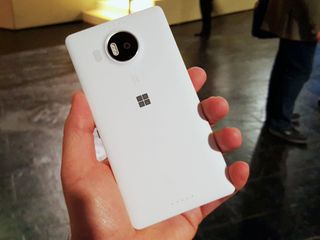 It looks as though the Lumia 950 XL is receiving the same OTA firmware update down in Australia as those in Canada and North America are enjoying. As reported by WinBeta, it's Microsoft's firmware update that includes double tap to wake, which started rolling out earlier this month.
Here is the full changelog, as published by Microsoft (opens in new tab):
Wi-Fi connectivity improvements, including fixes for Wi-Fi connection dropping randomly and Wi-Fi scan occasionally not returning any results.
Support for double tap to wake enabled.
Bluetooth connectivity improvements.
Stability and reliability improvements.
Camera improvements, including improved image and video quality, improved Auto-focus and fix for a problem that was causing slow motion capture to skip frames for some users.
Cellular connectivity improvements, including fix for a problem that caused occasional network loss for some users.
Audio quality improvements, including fix for a problem that caused voice call audio to get scrambled for some users.
It's real easy to check if you have the update available. Simply go into Settings > Update & security > Phone update and hit "Check for updates". If eligible you will see MICROSOFTMDG update. This rollout appears to be just for Lumia 950 XL owners, and not for the Lumia 950. Sound off in the comments if you've received it Down Under!
Rich Edmonds is Senior Editor of PC hardware at Windows Central, covering everything related to PC components and NAS. He's been involved in technology for more than a decade and knows a thing or two about the magic inside a PC chassis. You can follow him over on Twitter at @RichEdmonds.
I got it too here in Egypt :D

Don't get me started!! I need my own thread for all my :-( I've posted! My son has it on 950, every other EU country apart from us and France and a couple of smaller countries. Even Iceland got it and Vatican City / Italy.....

L950 in UK..i got the update last night...double tap to wake works like charm!!!

Just checked on my fully unlocked UK 950 and it's started downloading also. =)

Still nothing on my 950xl uk with preview build :(

Now, I am hating the UK too.

Yep I got it on unlocked 950 in UK too - wish I hadn't. Just installed and phone is totally destroyed - no wifi at all, everything is painfully slow - opening an app takes ages. ffs. Double tap works great though - just that my phone has little functionality.

Looks like a reset for you then....bummer

Yep, my girlfriend got it on her L950 Vodafone UK locked phone. Nothing for my EE unlocked L950XL in the UK so far ! I hope they will soon release to L950XL as well !

I got it and I live in the UK

Just putting this out there.... Canada is part of North America, you don't need to say "Canada and North America." :) Also, congrats to our Australian friends getting the update! Double tap to wake is awesome to have back on the 950!

Actually we Canadians prefer to be recognized as being different from United States. Most people think US and Mexico are North America

I'm Canadian as well, bro. Honestly I'm okay with being called part of NA (because we technically are). Still like to refer to the US as "Canada's pants" though. Lol

From Canada too. Agree with you. How do you activate the double tap to wake? Can't seem to find the setting for it

As with most Canadians, the same goes for me. I was born and bred in England, ergo, I am English, not British. As a footnote, I love the Canadians. Ready for the down vote....over here they are referred to as (North) Americans with the ability to think for themselves... Thumbs down and ready....

Ha, yeah, we're unarmed Americans with healthcare. :)

Holding out for Europe next... In UK, Fingers crossed.

The way I read your message came across very wrong in my mind.

Got the update this morning and have been enjoying the double tap to wake feature.

I can confirm my 950XL on Optus got the update today. Was very quick to download and update. Posted via the Windows Central App for Android

Unfortunately, the 'No Internet' WiFi issue is still present. Seems everything else is working nicely.

Along with the Bluetooth and call scrambling issues are still present.

You may have to go down the reset route. Pain in the neck, but seems to sort most ills'

Not just the 950 XL in Australia, the 950 has got the update too.

Any other issues people are experiencing before I install this update?

I don't think Telstra branded phones have got the update yet though.

I'm guessing it doesn't work with a tempered glass protector as I got the update this morning but DTTW doesn't work.

Turns out I'm an idiot and didn't realize that it isn't on automatically.

i have it. i live in norway but mine was unlocked if that matters.

Still waiting for mine on my 650 dual sim (US)

Go to settings and type glance.

Settings-Personalization-Glance Screen

Settings-Personalization-Glance Screen

Has anyone noticed latency awaken their phone after this latest firmware?

Why is it getting so late in these countries? Got this in India when it got released itself

Iv still not got update in uk and have a fully unlocked 950xl I bought from Microsoft store

It seems that some of the 950 UK owners have the update but us in the UK with 950XL have to wait longer....don't really know why this can be.

Yep, my girlfriend got it on her L950 (locked Vodafone UK) Nothing for my L950XL (unlocked EE UK). Still waiting and the "no internet" wifi bug is bugging me! but soon to be fixed with this new firmware!

I had the 'no internet' bug on my 950XL but the latest insider build seemed to fix it as its not happened again yet.

I was told Hong Kong got this update earlier than U. S.

My wife 950, got the update it's unlock as well.

Everybody is so excited anout getting this feature. Had it on my 640 and never used it. When i was an android enthusiast i had it on my LG G2. Same. To each his own I guess.

Feeling really left out now! I don't understand how 99% of all other XL's have been upped in the FW dept, but not UK or France. My Bluetooth it terrible at holding a connection, especially with my Blaze. It's near on impossible to use my Blaze to control music with my Plantronics connected. Neither connect, or one connects and the other drops out, won't pair, won't connect etc. Here's hoping the FW goes someway to 'aiding' a more reliable connection. When working it's good.

Since this update my battery has drained 50% in 3 hours.

Double tap to wake then Iris Scanner to open. Double tap navi bar to shut the screen. Saves you a lot Power key presses!!!

Got It, Vodafone Au. Great to have Double Tap on again
Windows Central Newsletter
Get the best of Windows Central in in your inbox, every day!
Thank you for signing up to Windows Central. You will receive a verification email shortly.
There was a problem. Please refresh the page and try again.