Lumia Cyan allegedly showing up in Argentina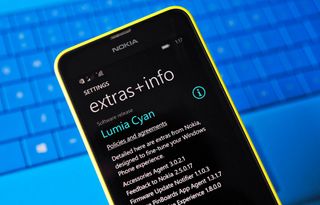 We're all waiting for the Lumia Cyan update with bated breath. It's going to bring a lot of cool new firmware features to the mix for those with a Lumia handset. Just an hour ago we learned of a provisional and pilot Cyan update for the Lumia 925 in Finland. Turns out they might not be the only region getting the update. Reports are coming in that users in Argentina are receiving Cyan.
Take this with a grain of salt since we can't verify it. But users in Argentina have claimed that the Lumia Cyan update has appeared on their Lumia 925 and Lumia 1020.
Take a moment to check your phone for updates by going into the settings -> phone update -> check for updates to see if you have anything available. Let us know in the comments whether or not you're seeing an update. Please do state your phone model and region.
All you need to know about Lumia Cyan can be found on our Topic page
Source: WinPhoneMetro
Thanks for the tip Fabricio and Jorge!
Windows Central Newsletter
Get the best of Windows Central in your inbox, every day!
Tried the update check on my L925 in USA... I know its not out yet but... Can't blame me for trying anyways... jejeje

Knowing at&t here in USA, my 1520 will get it by Christmas...ugh

You forgot 2016... and butchered by the carrier.

Well we did get out first update in mid December so maybe it won't be that bad

Knowing AT&T..... That is why I went with the developer preview :)

Same here, same day it went live... And that's the day when I really started to enjoy WP

Sorry, but I´m in Argentina, and someone in my phone company told me that this is not true

Cyan is available in Argentina for unlocked 925. Check this page http://www.nokia.com/global/support/software-update/wp8-software-update/availability-in-latin-america/

If at&t gets it by Christmas, T-Mobile should get it after the support for our phones ends, which means we won't get it.

Hope wee all will get it soon

Ok Retail User. Let's go to argentina update your phone and go home :D

Cyan available in India!!! No.. Not really..

Need it badly. My 920's touch get unresponsive many times a day.

You're not alone, got this for the first time some days ago, hasn't happened since luckily

After the 2nd update. Faced it almost 5 times a day on average. :/

This my 920 locks a lot and it takes a reset to being it back. Last few days seen better but cyan will hopefully take care of that.

This happens to my Lumia 920 as well but i found that pressing the Windows Key a couple of times will make it start to working again.

My 1020 is always having problems. Long loading times, crashing apps, freezing apps and start screen, almost unusable when installing apps and super heating when running some apps

How do you do that and the beast way to do it ie, in settings or button pushes? Hours long does it usually take? How easy is it to get my apps and customizations back?

Very easy if you already have WP8.1 DP installed. Back up all your data and settings and after that reset your phone in settings. When all is done wait for all your apps to install again and most customizations should be back in place. Should problems with your phone persist after the reset, you should wait for Cyan and install it using Nokia Software Recovery Tool. That way all data on your phone memory will be wiped (and with it all possible software related problems) but you would have to start from scratch.

Story of my life... My phone is more responsive to touch than my girlfriend. Which is saying a lot *forever alone*

Take your phone to the bed then.

That's why I have Cortana. :D

I don't want to live on this planet anymore

Wow. So that's why my Lumia wakes up to double tap?

The battery port of your phone is swollen!

Unresponsiveness isn't seen on my L920 at usual times but when you're using it while it's being charged, ya it will get unresponsive sometimes and sometimes it will overact as if it's being touched by invisible fingers ( means that even if i don't touch the screen it will react on its own)

I've discovered it's caused by an issue with your charging cable moving/starting to fall out of the port. Remove the cable, lock the screen then unlock it. The screen should respond as normal. Now plug the cable back in and continue charging.

Same here. Need this update a lot. When someone calling they can only hear me if I turn on the loudspeaker. Well I only can speak with the loudspeaker for people to hear me on the other side. Also it's hard to charge my phone these days. Seems I have to find a sweet spot with the charger, otherwise it wont change. Getting frustrated in the morning when it turned out the whole night out was plugged but not charging. Hope cyan will fix this all. :( ..... ;-)

Read my comment above. Your touch issue is related to your charging port.

Those getting the Cyan update had the 8.1 DP installed or where you on 8.0?

common, it doesn't make a difference.

But his chat box it purple on my app screen so that would make him an epic #mmojokes

I wonder if you still think the same.

I am running cyan and 8.1 on a dual sim Lumia 630 - developer preview disabled, but I just checked for updates anyway, and something is genuinely coming down, I shit you not. UK phone, sim free, carrier is giffgaff/O2

He said UK in his comment.

To be fair, I added it to the comment as an edit after his post, I think. Currently looking at spinning cogz....

We have a single SIM at the office, didn't know they sell dual SIM in UK! Anyway hope this is Cortana coming your way :-) Do keep us posted

Any luck with update, also in UK but nothing there when I check. Posted via Windows Phone Central App

Waiting for L720 in India!!!

+920 And Just got the battery extremely low message, that pop up is becoming my friend i swear.

Interesting. It can take as much time as it needs... I reverted back to 8.0 and enjoying the music experience and other features until the official release comes out. Hopefully it'll be worth the wait.

How do you live without a notification center? I had to get a new 1020 because my digitizer fused to my glass from the Louisiana heat and cracked. I had 8.0 for all of 4 hours and it felt so clunky and crowded compared to what I was used to. It was as graceful as a baby deer with three legs.

Jtbarton...I'm right there with you. I only updated my L520, but I left my L920 on 8.0. So glad I did. I gave my 520 away to a former iPhone user. He loves it. I decided to stick with 8.0 with hopes that things will get better.

Checked for it on my Lumia 810. Nothing... Oh wait lol

Cyan not in Netherlands (BeNeLux) yet!
Lumia 820

I'm using Lumia Myth update in Atlantis.

Do we need to disable dev preview to get cyan?

Wasn't the case with GDR3. Afaik, when the non- preview update is ready it will notify you and unenroll your phone.

I don't remember having to do that...

I think that even though developer preview enlists you for pre-release updates, it doesn't stop u from receiving full updates including the firmware, as I got GDR3 with developer preview still turned on... I've never had to turn it off :)

Just checked for updates on L1520, USA. Nothing yet!!! (eagerly awaiting)

Tried here in morocco with Lumia 1020, and it's still not out, maybe we're the last to have it :(

No cyan for Swedish Lumia.

Our office staff here in UK have checked for updates on their Nokia Lumia 925's so much that you can now tell where the CHECK FOR UPDATES button is on each screen! Have one next to me and will keep checking every 30mins, maybe 15mins and maybe even every 2mins...

A friend in Argentina have a Lumia 620 whit a ROM of Finland and he receive Cyan just some hours ago, he have the preview of 8.1 but whit amber, so he want to get Black, Oh Surprise!! He get Cyan instead Ö

in other words, flash your phones with the Finland ROM and you're in!

Well maybe that's a effective way of get Cyan :D

Is there a ROM for the 720?

If this is true, I think Microsoft is doing this to make all the people who don't get to do/have the US only stuff happy.

No cyan update in INDIA for 520

I think Argentina are too happy with their today win so they making fool of others/themselves by rumour with Cyan update

LOL but it´s true, I´m from Argentina and Cyan is available

Because Argetina is White and whole World skin is rainbow of different colors. That's why, they got cyan and we not. Sad but true.

I thought you were from Gallifrey, did you lie to us again Doctor?

Remember the Doctor´s 1st rule

Then congrats, which Phone?

Tengo el 1020 y me dice que esta actualizado.. Lo tenias con la 8.1 o te mandaste el verso de tu vida?

Debería si es LIBRE Country Variant

No.. Es de personal.. Pasame el código de producto, asi me lo bajo.. ;)

NOKIA LUMIA 1020 DE PERSONAL PERO CON FIRMWARE CV LTA: no hay ningún update disponible.
#verso

tengo el 925 country variant rm-893_lta_argentina_302 y no hay nada. nothing here.

Lumia 920 on ATT US ...... uh, No update. DOH!

I just need my rogers 920 to get it

Apparently if you have the Nokia Lumia 520 or 920 and check for updates exactly every 5mins after 100 times Microsoft will automatically approve the Cyan update to your handset, take this with a grain of salt since we can't verify it at this stage :-p

+920 (after 78 of manual check ups)

lol yes 78 may work for some, but seriously lets show that we are waiting eagerly by putting following post up with full public access on Twitter and Facebook: Waiting 4 @Microsoft @Nokia to release #Cyan #WP8.1 #WP81 #WindowsPhone8.1 #WindowsPhone81 #update for my #Microsoft #Lumia #Mobile #Handset This should get thei attention once we hit high numbers, need to spread the word and the more we check the more traffic Microsoft will see to know that we are here and waiting.

Wonderful :) waiting impatiently patiently ;)

L920 should be first for updates followed by the newest handsets. Early adopters need to get some benefits too.

Be thankful it's getting 8.1 even though it's a year and a half old phone.

Why should we old handset users be thankful? This is not android and plus some of us paid full price for our phones. Plus all wp 8 phones need to be updated - imagine the backlash if they were not updated, MS cannot afford another WP 7 "fiasco".

What are you blabbering about? All existing wp8 phones ARE getting 8.1, even the 520.

MS just did a "fiasco" with Nokia X+ and XL guys... They just launched these phones few months back and now they are not compatible with Nokia X2 platform... X+ and XL customers left in the cold... Any ways I am confused between X2 and Z10 as my secondary phone... Both will run droid apps missing on my WP...

Fiasco? As far as I know, cheap low-end Android phones don't get updates, no matter who manufactures them.

Bravo! I was with Android since Eclair and don't recall any low-end Android phone having been updated to the latest Android OS other than bug updates. Of course now I don't care anymore what happens in Android since I've completely switched to WP.

Nothing in Belgium aswell for the L1020

Screenshot or it didn't happen. Simple.

Sure, let me open Photoshop and you'll get your screenshot ;-o

Rumor was June 26th release date for Cyan and it's about to hit midnight in Finland. So maybe they really are rolling out the update.

All joking aside; personally belive if everyone starts flooding the social media inc Twitter and Facebook with hashtags something like: Waiting 4 @Microsoft @Nokia to release #Cyan #WP8.1 #WP81 #WindowsPhone8.1 #WindowsPhone81 #update for my #Microsoft #Lumia #Mobile #Handset This should attract some attention globally

On the same day as Google I/O?
Nope.

I have a feeling that this May not work...

Maybe not however worth shouting about it for product awareness :-) Not certain if all reports are authentic here as we have a SIM free Lumia 630 in the office in UK and there is no additional update on that though couple have mentioned there is!

Lumia 1520 SIM-FREE, Serbia, tried it @ 22:23 (local time, GMT+1) - nothing.

just checked. Running 8.1 DP on a Lumia 1020 and no new updates. Will keep checking. I am in the US.

What controls update availability? Current physical phone location, region settings or country for which the phone was manufactured for? All three are different in my case :-)

Phone ROM and product code dictate the updates you get. For example, if you had a phone that originated in the US and lived in say, Norway, you would have to flash a Norweigan ROM and match the product code in order to get updates when they are released in Norway - otherwise you will get them when they are released in the US. It's also worth noting that different networks have different product codes for the same handset, and a different code again for the Country Variant ROM (the ones factory unlocked handsets get). If they don't match (eg you've flashed a CV ROM to a carrier handset and not changed the product code to match, then you most likely won't get anything at all until that is resolved).

Can you change the product code on a Lumia?

What of a handset purchased from a Nokia shop - what is its product code/country code like? Are they universal to a specific country?

depends on where the shop is located

Yes, of course. But are those factory unlocked phones from Nokia shops branded with the same codes within a country, or do they vary? I purchased in BKK.

Just checked and nothing on my 920 in the UK (unlocked).

Nothing here. Lumia 920, Italy

Malaysian Lumia 525 has nothing to say...
Well, maybe only high-end guys should check things out, at least not less than 920.
I don't believe it's gonna get released today or tomorrow for us.

Can you believe we still don't have Lumia Black in Mexico?

Deveras?? Que compañía eres?? Yo soy de telcel y no pude esperar a que la liberaran, asi que me volví "desarrollador" xD y actualize a la preview black y después a 8.1 :3 asi que ahora aunque quiera no la recibo, yo pensé que ya estaba :(

Igual, de telcel, pero no es eso. Simplemente los malditos aun no la liberan.

Keep checking everyone and the traffic may push Microsoft to deploy sooner globally

Nothing yet in Croatia, Lumia 1020.

In related news, Nigeria confirmed to get Lumia Cyan last.

Boko Haram has probably blocked it.

LOL I hope not..i need this update yesterday +925

They probably bombed it OTA!! Nigerian here +720

I'll be waiting for Verizon for some time like I did for Black. 928

No update for Australia L920

Nothing on Navifirm yet.. which would be a good indication of things moving..

Can you check please Finland and Argentina product codes for the 925.

nothing at all on navifirm yet other than for the 630, will update is firmware starts showing up there.

Tried changing region to Finland and Argentina on my T-Mobile 925. Nothing. It'd be nice to be able to sync my fitbit with my phone instead of waiting until I get home from work. Especially since I'm on my phone more than my laptop.

Changing the region will doesn't help you. It's independent on your product code if you will get the update earlier or later

Nothing here! Brasil - 920

de acordo com a diRma, o brasil deveria ser o primeiro a receber, pois o mundo todo está aqui... rsrsr

I'm in California and I got it!! Cyan is available for Verizon Lumia Icon!! But then as i was installing it then the worst nightmare happened and it stalled on the gears and *poof* I woke up..

lol Brill, I think we need some Hope here and allot of push to Microsoft therefore all the "Check for Updates" people are doing should build up enough traffic for Microsoft to take their finger out and push the button.

Lumia Ruby Update confirmed in Atlantis

Please not again lol. A whole thread turned into that kind of thing recently. Daffodil... pumpkin.. zuccini...

Is Cyan the new Instagram in the Windows Phone community?

That would be the Lumia 930

Nothing here in Belarus L925

Aah, my phone is heating because I check every second ...

Nothing for my 1520 here on Puerto Rico

I have a L925. No updates. T-Mobile Illinois

Nothing yet same here in nyc

Not available here in Saudi Arabia

What benefits does Cyan bring for the 1020...aside from OS stability? Any fancy camera related things?

Camra quality is improved. Continous Auto Focus is the best improvement and Live imaging SDK is finally available Now :)

But I thought that the continuous auto focus was not for the Lumia 1020, just 930, 1520.

Not available in Nigeria yet. Just checked on my 1020

Nonething here 820 Kentucky

Mexico 've already got the upgrade to lumia cyan "in nokia 925 and 1020

My Lumia 1520 Hasn't taken anything For past few days :p. Says it will wait for Cyan first and then have something :P O Godess of all updates Cyan Please come fast :D I m Waiting here in India.

Nothing in Costa Rica, L1020-64 GB (Telefónica Movistar), already on WP8.1 DP :'(

I'm in UK nothing here, not expecting it any time soon. Be interesting to know if anybody in UK has received update yet though.... Posted via Windows Phone Central App

In Argentina not for 520 at least...

I wonder if it's available in the Falklands..

You mean Malvina Islands ;) ?

I'm in Sri Lanka hoping to get the update when they release it to India.... Fingers crossed

Nokia 1520, Vietnam, still nothing after 69 times of trying to update.

I'm using an Nokia Lumia 520 but no cyan update yet. Carrier is telecom personal

HOLA EMILIO. ES LOGICO QUE NO TENGAS LUMIA CYAN AÚN. Tu Firmware es modificado por Personal. Y ellos se toman muuuuuucho tiempo para ensuciar el software con sus porquerías y limitaciones. Fijate en el siguiente enlace, es un sitio de Nokia donde detalla, por país y Operadora, la disponibilidad de las actualizaciones. http://www.nokia.com/global/support/software-update/wp8-software-update/... Saludos. ---------------------------------------------------------------------------------------------------------------------------------------------------------------- HELLO EMILIO. IS OK, EVEN NOT AVAILABLE LUMIA CYAN FROM YOUR OPERATOR. Firmware is modified by PERSONAL staff. And they take time to mess -with their crap and limitations- this OS software. Follow the next link -is a Nokia site- is a list by country and operator whit availability of updates. http://www.nokia.com/global/support/software-update/wp8-software-update/... Bye and sorry for my english ;)

Messi had the update yesterday hahaha

Oh Messi, why didn't you show mercy to the Nigerians after Boko haram has mercilessly killed 21 people just before the game.

:S Sorry for hearing that :/

They killed them for the game??

Still waiting...l920 country variant Germany

I'm on my WC and no updates yet....looks like I'm gonna push harder might download something soon.

#DEAD
The struggle is real

We are waiting for more updates from you x)

LooL try not to break something

Just checked.. Not available..

Anyone has the same issue? When I try to update sleeve music it is unable to install (not download error, install error) and if this error re-occurs I should update my phone software. I'm running 8.1.

l 620 cv belux no update yet :)

İts Windows Phone but no news for HTC phones just lumia News . Where is our Update or whn is our Update for HTC devices :| i feel like a Second sun of The Microsoft :)

Nope, nobody has got WP8.1 yet. Cyan is just firmware. If you read the news a month or so ago you'd know that HTC has been working on the update for the last two months with Microsoft. ALSO HTC users were the first to get the GDR3 update...as far as I'm concerned we are front of the line...

But does we not get the WP 8.1 update with Cyan? I mean cyan does only support WP 8.1 right?

Sigh. Lumia Cyan is WP 8.1 plus magic Nokia firmaware

I dont get what is the special thing about the cyan update. It leaves me cold really. if you guys tell me somthing cool about it I will change my mind.

Will it's from Nokia not Microsoft so the OS will be in the fastest way possible and all of the bugs will be fixed and some of the people don't have the preview for developers so they didn't get the features already

Cyan takes the Photography to a new horizon, A lot of Improvements. Continous auto focus and Live imaging support. But conticous autofocus is only for 1520, 930 and 1020.

It is....
Simple example.
Living images--- work on 1020 with Nokia camera beta so its confirmed!
continuous auto focus---- well I think it will get that too like think of this way, when we select the video mode in Nokia camera there is continuous autofocus right?? So I think there ain't no difference when it comes to taking pictures.
Sure they(Nokia) said that it will come to 930 etc, but they didnt say that it will not come to 1020 or 920 TOO. And if your wondering why didn't they mention 1020 or 920 well its because they want to sell new devices right? Get it MARKETING??
So yes and believe me....IT WILL COME

lumia 630 is showing update but at the first view ,changesare none ..since i have instaled the same build from dev preiview update size 87mb maybe something on cyan build have changed

So did you update it Brother?? What else did you find it aprt from what all we know.

The business of giving dates as 'summer, fall...', exornarate these guys. Montreal screw job or is it we was robbed! Nothing DownUnder. Conspiracy theory says someone Maikrofooked us. Time to get x2. Not sure what i am talking about. 0700 hrs 26 june 2014. Data traffic just shot up, good going.

I can always tell when WPCentral posts an update rumor. When I go and check out takes 2 minutes just to tell me there's nothing available lol

so i take it you're from argentina right?

In Canada Lumia 1020 with Rogers. No update eh! Sigh :-(

I appreciate all the cyan news.

Come to Brazil!!! We're so close to you!

Brasil decime que se siente, tener en casa a tu papá, te juro que aunque pasen los años, nunca nos vamos a olvidar, que el Diego los gambeteó, que Cani los vacunó. Están llorando desde Italia hasta hoy. A Messi lo van a ver, la copa que va a traer, Maradona es más grande que Pelé

Después de Italia, ganamos más dos mundiales e usted? Con Messi o sin Messi ninguno. Remember this magic number: 5. Come back here after, at least, 12 years to argue anything about soccer. And we don't need Messi. We've had and have thousands of better players, such as both Ronaldos, Romário, Neymar... The list goes on and on. I know, I know, life is difficult. Get over it you worst soccer team ever, which had troubles playing against Iran last week! LOL. What a shame. Cry baby!

Okay, dude. This is neither the place, nor the time to discuss this...

Lumia 1020 here in AR, no cyan yet :(

L925 in Argentina, but not cyan update yet

I think that comment sums it up... the 925 was one of the phones that allegedly had received the update and your 925 hasn't received it. The initial image I saw in an earlier thread showed what appeared to be an Extras+Info screenshot with the Cyan label, yet most of the version numbers of the software parts matched the version numbers on my L620's Black update, and it didn't have the newer versions of items that had changed from Nokia to Microsoft Mobile (like the feedback one and Initial Setup Experience). If it were indeed Cyan then surely they would all be newer versions?

I don't have the update on my 720 yet, but I just walked by a store and a 925 had an alert that read "Internet connection required to install showcase software update".
I am in Argentina BTW

Guys don't you remember those evleaks with Cyan release schedule? 925, 1020 and 1520 according to this image should get updates in the end of the June (25th week of the year) It's happening!!!!

That was for the Benelux region only, if I recall.

Yes for Benelux, but if Benelux is receiving update it is almost certain that rest of Europe will get it also in almost the same time.

I wish HTC devices for the update also :\ HTC never released anyone anymore

got the update here in Malaysia.
Lumia 920

920 in Malaysia? sure? I am on 920, nothing so far.

Yes, mine is zitron ori set

Its like always being pushed to set previous version numbers.

not yet in the NL region Lumia 1520 t-mobile :(

Isn't there a Nokia site that shows update status

Will ppl with developer preview installed get automatic update?

In Korea, with a 1520 from Thailand - nothing.

Here in Buenos Aires with a beautiful Lumia black 1020. Don't believe in argentine

Sorry, but I´m in Argentina, and someone in my phone company told me that this is not true

Not yet on my UK-based L925...

Lumia 920, Argentina. Still no update :(

Forget it here (Cambodia), we're always the last to get any updates.

But every Cambodian have iPhone and GS5?

I'm not a sheep, so I don't follow the crowd.

There are only two types of people here: the fanboys and the n00bs. Obviously I won't believe any of them.

But you wont get the girls if you carry WP.

It's quite the other way around (witnessed once myself)

I must be carrying the wrong WP- 1520. Maybe that why I can't get Cambodian girls. Cuz it too big.

dunno about that, but I don't buy stuff just for chick magnet factor. Heck, mine's back is actually a little scratched up.
They're probably attracted to the black background and Khmer keyboard (iOS lacks this, FU Apple!)

Well at least there's Khmer out there that loves WP like I do. Cheers bro...

I'm also cambodian and i own a thailand version of the 1520. I went from iOS to WP and don't see me swtiching back anytime soon.

Good to hear. Nice to meet you.

No update in Australia. C'mon Nokia - I want to use my Treasure Tags!

Tried in Lumia 525 India. Nothing...

guys change ur region to finland..... im from india and i did so i got little update... update in progress....

Is that true brother? Which update you had earlier?? Dev Preview 8.1

Doesn't work. Its surely pushed to set previous version numbers. Not region.

it is additional language setup.. lol... not update :-(

Ha ha ha Thats What i guess. Where are you in india?

Kinda close :) M Frm Hyderabad.

Nothing in Australia - Lumia 1320 - Unlocked

Need it so badly!!! My 1320's battery has become a mess. From 3 days of running, it barely lives for a day now (with extremely low usage) and that its getting on my nerves. Memory card errors are coming so often now, wpc app gave me network error while I was using it, moved it to phone memory.. Worked fine. Then I checked the memcard through my pc and found no errors and its a brand new class 10 card, properly formatted before I installed it. Oh, and also phone gets it random freezes, restarts and becomes like a hot oven. Catching Wifi seems to be a problem too. Cortana is needed but before that I need my robust 1320 back!! I only installed PfD because my phone memory was full because of apps and games. Can't roll back now.
Waiting for the end of this PfD... (sigh)

cyan update should fix all of the issues you mentioned above ;) Just keep your fingers Crossed.

Fingers crossed.. Arms crossed!!! :D

Ha Ha Ha. May God deliver 8.1 to your phone before your take your next breath :P

Asna_n800 is a hottie, don't you think bro? :)

Back up all your data and settings and hard reset your phone.

Oh no!! Already did that twice. And its such a pain to install apps again and again. Games progress is disrupted (not for all but still..) and it requires so much time -.-
I will try hard resetting again if Cyan arrives and my problems aren't resolved yet. Thanks btw!

In that case, you should install Cyan using Nokia Software Recovery Tool. Absolutely everything on your phone memory will be wiped out and you will have to start from scratch but that is the only way to resolve issues caused by corrupted software or firmware with 100% certainty. If that doesn't resolve issues you've mentioned, then I'm afraid your phone has some kind of hardware defect.

My l920 is on its third battery. I think this is a general issue. Phones need to be chargable whilst off. This is what is killing the batteries, charging and using.

Right! What is the problem MS is having in giving this simple feature to charge the phone when its off? It charges the phone faster that way too if I'm not wrong.

If You go to nearest Nokia Care center you can get your phone updated with Cyan. (I Guess) I Did it last time when i had Lumia 925 and got my phone updated with black update. and that was almost 2 weeks ealier then the Official release date.

I can't believe I spend half an hour to read all 230+ comments and replays, but i don't mind, i had awesome time laughing and having fun reading all comments. You guys are hilarious (thumbs up). I think that WP Communitiy have the most open-minded, humorous and haters-free people in the world. Not like those Android and iCrap fanboys mocking WP people of being "3rd place", well i got news for you haters "We are coming and we are coming faster than you can imagine to the throne once we owned (God rest your soul WM)" Anyway, about the official update (8.1) rolling out: For those who already got it - Well done guys, happy playing and have fun, we'll join you soon. For those asking when they gonna get it - Just, STOP IT... When you get it, you'll get it. It's on its way! For those stuck with GDR1 & 2 - Well....... Hope dies last :)

Absolutely Korrect :D And Thanks For your patience Brother ;D

No problem brother :) God's 11th command: Get a Windows Phone, don't be a schmuck! :)

Well at least WP OS is fresh. What are we on now iPhone 6, and still same boring layout.

My phone is up to date and it says stop checking me out.. I am not a girl! O.o

Dude ! You are in trouble :P Your Phone's intention doesn't seem to be good :P give me your phone I can save you ????

No cyan update in India 525

changed finnish language..don know how to come back its wired.....but thanx to google translator :-P

Nothing On Lumia 625 Cambodia, Actually I'll probly be the last one to get the updates.....

Narr that will be AT&T users ;)

To those who got the update, please confirm if the split-second glitchy sound between songs is gone.

US - NL1020 - No Cyan Yet

No update, Lumia 1020, Finland

None in india so far...Lumia 925 user

Need the update on my 1520 get the odd random restart here and there

Not in Spain yet. Lumia 925 no company-linked.

Not available for 925 in Finland

Lumia 920 with the region set to USA ;) No update :(

Its sent via previous version number, region code wont make a Scooby.

we'll all get it before you even know it,i'm sure many didn't expect finland and argentina to get theirs at such an early period

Absent here in Florida - Lumia 1020

No updates in South Africa too... C'mon.

Anybody tell me. Are you got cyan update in India.

Hey guys I live in India and use a nokia Lumia 520 I dont see any update....can u guys tel me y so and when will I receive the update?? Pls guys thank

Hi from Portugal. No update yet on my Lumia 925. Abraço

Why the cyan come before the 8.1 ?????

You didn't read any of the comments, didn't you? Cyan is the firmware from Nokia optimized for wp8.1, so practically it is wp8.1. And for the rest, for god's sake, READ the article. Allegedly it start to roll out for the Lumias in Finland and Argentina, but we haven't still get a comment from any of our community members from those countries if they already get it. So, all others from India, Philippines, USA, Spain, France, etc. etc, STOP asking when you gonna get the official WP8.1, cuz no one knows that and there is no official schedule which country gonna get it first and which one is gonna get it last, so please STOP with those questions, cuz no one has the answer for that. :) PEACE!.

Is there USB OTG in Cyan Update ?

No Update yet. Brasil, 920.

Just got the update in West Australia, unlocked Nokia 520 Phone. OS Version 8.10.12397.895 ,About settings say Windows Phone 8.1. Came through 21.45 wst 26/0602014

Just checked Extras+Info still showing Lumina Black,bugger. Will have to be patient.

Van someone tell me is we need to go back to 8 to get cyan update
Or can we ceep dv 8.1 and still we get the update from cyan Can anyone pls help me with this question

Still waiting for cyan
Lumia 925 - Brasil

Cyan update will start on Monday,Juny 30.

Where did you get this information from? Are you sure? As far as I know, having limia925 in Belarus with DevPreview 8.1 version 8.10.12397.895, the same has l630, and we'll get only Cyan update soon, and for those who has wp8, the version of 8.1 will be the same, with Cyan added. Probably the first will be the official update from microsoft and then comes from nokia? Anyway, we'll see. It's strange, but nobody of those saying they've already got the Cyan update posted some screenshots at least.

Sorry to say this but all of this hype of the Cyan update in Argentina is just a lie from some troll. I live here and have a 925 and there is NO update both on unlocked firmware and my carriers one. Whoever sent this info to WPC should post a photo of it's lumia 925 running cyan, until then I call BS. Save yourself some time, don't bother flashing.

No Cyan update in Argentina for my L720 yet

Still no news for my 1520 in Argentina... this update is driving me crazy!

EXTRA... EXTRA!!!! Today started rolling the Cyan update in Argentina.. I'm as happy as I can be.... Great news for all of us WP users.