Lumia Cyan and what it brings to Windows Phone 8.1 and the Lumia 930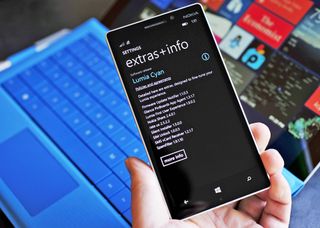 Our exhaustive list of what is new in the Lumia Cyan update
Lumia Cyan is the firmware half of the Windows Phone 8.1 for Nokia Lumia phones. Although many of you are using the Preview for Developers release of Microsoft's latest OS, most of you do not have yet the necessary Lumia Cyan firmware to optimize the experience. As a result, some key features are locked or not visible.
Now, with the release of the Lumia 930 we can finally get a good look at what Lumia Cyan adds to the equation. I have been going through the new flagship and comparing to other non-Cyan devices to figure out what is new. Here's what I found.
As I noted yesterday in our unboxing and walkthrough video, the Lumia 930 ships with build 12397 of the Windows Phone 8.1-operating system. For those keeping track, build 12397 is the same version as the current Preview for Developers, which, of course, means that what you have is not a beta release. The only difference is the Lumia Cyan firmware, which is tailored specifically for each model of Windows Phone. Firmware is super important as anyone who has updated a PC knows as it can allow certain drivers to work, optimize performance and enable certain functions.
From what I have noticed, these are some of the important and unique things that Lumia Cyan can enable. Note that not all of these functions are available on all Lumias, as some are dependant on more recent hardware like the quad-core Snapdragon 800. Many of these are already known, but there are a few new items too.
Double tap to wake – Most Lumias already have this function, but the Lumia Icon on Verizon does not. It looks like Nokia figured out a way to enable it with the Cyan firmware as the Lumia 930 has this ability. There is still no Glance though due to lack of display memory.
Equalizer now works through the speaker – The graphic equalizer found under Settings > Audio on non-Cyan devices is limited to just headphone usage. Nokia has finally expanded this to the phone's speaker too, letting users have fine-grained control over music. Update: the EQ does not work through Bluetooth devices.
Dolby Headphone is now Dolby Virtual Surround – Also under Audio is Dolby Virtual Surround which is explained as "Surround sound enhancement for headphones enabled only for 5.1 audio". Functionally, the two may be the same, but it does add some new features like…
Dolby dialog enhancer – "Improves the dialog clarity for movies," which is pretty self-explanatory
Record audio for videos in Dolby Digital Plus 5.1 – On the Lumia 930 (and possibly Lumia 1520, Lumia Icon) users can optionally choose to record audio for videos with Dolby's new 5.1 technology. Dolby Digital on the Lumia 930 represents the first time achieving this in a smartphone, and it should prove to be impressive
Brightness Profile – Users can set the default average brightness for their phone. Unlike the Lumia 630, which has controls for all three levels (low, medium and high), the Lumia 930 has a single slider. My guess is this sets the median, default brightness
Color Profile – With Lumia Cyan there are now three presets (Standard, Vivid and Cool) in addition to Advanced, which lets the user modify three settings, including color temperature, tint, and color saturation via sliders
Motion data – Part of SensorCore, Motion data lets users enable or disable the collection of movement information for apps like Bing Health & Fitness or Active Fitness, which can act as a pedometer to count steps. Motion data is only available for the Lumia 630, Lumia 635, Lumia 930, Lumia Icon, Lumia 1520 and devices with the modern Snapdragon chipsets
Bluetooth 4.0 LE – Some Windows Phones had Bluetooth 4.0 LE enabled with Update 3 last year, but the Preview for Developers disabled it due to changes made by Microsoft to the stack. Lumia Cyan re-enables this feature for things like Nokia Treasure Tag or smartwatches. Official apps for smartwatches and other connected devices are coming later this summer once Cyan achieves a larger rollout.
Living Images – Also announced earlier, Nokia's Living Images briefly records a second or two before the photo gets taken. When viewing the image through Nokia Camera or StoryTeller, users can see the image animated, giving life to the memory
USB Settings – Currently hidden on devices with Preview for Developers, the USB settings are finally enabled with Lumia Cyan, bringing two options for users including "Ask me before using USB data connection" and "Notify me when I connect to a slower charger."
Miracast support – Found under Settings > Project my screen, certain Lumias are getting full support to wirelessly stream content, or mirror the phone's display on Miracast devices such as PCs and TVs. You can watch my demonstration of this on the Lumia 630
New Camera algorithms – For the Lumia Icon, Lumia 1520 and Lumia 930, its 20 MP PureView camera is improved. Changes include "much better low-light performance," "better colors," continuous auto-focus, better video quality and improved RAW quality. Continous autofocus works by autofocusing the image when the camera launches (and assuming the user does not use tap to focus). If the user steps back or forward, the camera continually adjusts without the need to manual refocus saving time and removing one extra step.
No USB OTG support
There were false reports of support for USB On-The-Go (OTG) in Windows Phone 8.1, which would enable the OS to read USB thumb drives and peripherals. However, in connecting two different Micro-USB 2.0 On-The-Go (OTG) adapters along with various thumb drives this feature is not present on the Lumia 930 with full Windows Phone 8.1 and firmware.
Conclusions
In addition to the above observations there are presumably many enhancements to how the hardware interacts with the software due to Lumia Cyan firmware. For instance, Lumia Icon users with Windows Phone 8.1 without Lumia Cyan are experiencing an issue where the display does not enable on the first attempt. The Lumia 930, its sister device, obviously does not suffer from this problem. Instead, the display fades in when enabled. Technically, this is slower than the more instant LCD display on the Lumia 1520, and it is a bit odd, but it works.
Likewise when it comes to speed or lag. After spending 24 hours with the Lumia 930 I can say that Windows Phone 8.1 – and specifically launching apps – I feel slightly less lag than devices without Lumia Cyan. The difference is subtle, not in all apps and presumably has to do with optimizing the display and animations for the OS.
Overall, the enhancements Lumia Cyan brings to Windows Phone 8.1 are impressive, if not subtle. As such, users of the Preview for Developers should hold off on any final judgement until they receive the corresponding firmware. The combination of Lumia Cyan and 8.1 should address some performance issues users are suffering from in addition to any early quirks. Finally, as detailed above, there are unique functions enabled with the forthcoming update that make it worth the wait.
Windows Central Newsletter
Get the best of Windows Central in your inbox, every day!
Daniel Rubino is the Editor-in-chief of Windows Central, head reviewer, podcast co-host, and analyst. He has been covering Microsoft since 2007 when this site was called WMExperts (and later Windows Phone Central). His interests include Windows, laptops, next-gen computing, and for some reason, watches. Before all this tech stuff, he worked on a Ph.D. in linguistics, watched people sleep (for medical purposes!), and ran the projectors at movie theaters because it was fun.
It didn't bring my living images... Nokia 1520...

Then you don't have the Lumia Cyan update is my guess.

I have developers preview...

Hi, can you please read the opening paragraph of an article before commenting? It will make more sense that way.

Do you know if the EQ still squashes the sound when you try and boost frequencies? Currently, when you drive bass, mids or treble the EQ will enhance those frequencies at the cost of others. It's as if there's a compressor that exists which is horrible and pisses me off. The audio on WPs as-is are already quieter than what's found on the iPhone, but adding the EQ is almost worthless and high end headphones are basically lost on WP right now. Has any of this been remedied in the Cyan update? 8.1 doesn't seem to have adjusted it, at least not in the dev preview.

That has to do with how much current the amp which drives the speaker and headphone jack can handle ... which is why it compensates ... it is really not something which can be cured by software.

Music on my Icon using my Bose AE2 headphones sounds great even when cranked up. Maybe it has something to do with the efficiency of the speakers.

EQ is broken for all smartphones, not only on WP. There's a amp limitation.

No 60 fps recording...:-/

60 fps at 1080p would cost about 3 GB per min. If you really need HD of that quality, you're going to have to get a Red cinema cam. While I appreciate the desire for the ultimate phone/camera/computer, you'd never be able to upload that 5 mins of video over wifi. Even OneDrive is limited to a 2 GB file size. Can you imagine the calls to tech support over upload issues?

"60 fps at 1080p would cost about 3 GB per min. If you really need HD of that quality, you're going to have to get a Red cinema cam." .....or a $249 Canon Vixia (or Panasonic or Sony, etc.) http://www.bhphotovideo.com/c/product/1023206-REG/canon_vixia_hf_r500_fu...

3GB per min? I'm assuming your talking uncompressed video. My Sony HD-XR520 @1080i does around 16Mbps compressed (AVCHD), and takes up around 8GB for 60 minutes of video. Thats around 130MB per minute of video. 60fps at 1080p is not unreasonable in a high-end smartphone. LG's G2, and the HTC One M8 both do 1080p @60fps.

Yes and no. Same amount of data, just a difference in how it is sent and processed.

That's entirely wrong. 1080i is effectively half of 1080p. 1080i in 60 fps is the same ammount of data as 1080p in 30 fps The truth is though, that 3GB per minute on 1080p with 60fps is waaaay too much. But that's what sometimes happens when the video is uncompressed. Either way, for regular recording 30fps is quite enough. Remember that the movies you watch are actually 24fps. But sure, one should get the option to record @60fps. The problem I guess is that people will believe that they have to use 60fps to get good quality but then that's not really the case and the memories on their phone will get full pretty quick. The phones that record @ 60fps usually have worse image quality because they have to compromise, the video needs to be compressed somewhere else, even when 30 fps is ok for the human eye. Remember that most of the time you use your phone to record real life, not a computer screen to record a game.

Hi Alessandro If you're talking about the amount of data in an uncompressed digital video signal, then, Yes, 1080i is half of 1080p. But I was referring to a compressed digital video stream, and the relevant file size produced by 1080i versus 1080p. At the same bitrate and same frame rate a compressed digital video at 1080p produces the same (or near enough to it) file size as a 1080i compressed digital video. This may seem counter-intuitive to some, but tests done at the EBU (European Broadcasting Association) have shown that 1080p/50fps (50Hz, progressive) will not require more bitrate than 1080i/25fps (50hz, interlaced) for broadcasts, but naturally it will show better picture quality on large displays. This is despite the fact that twice the number of pixels have to be coded. The similar bitrate (which translates to the same amount of data being transmitted) while producing better picture quality "is due to the higher compression efficiency and better motion tracking of progressively scanned video signals compared to interlaced scanning." (check the Wikipedia footnotes #3, #7, and #8 on "Interlaced Video) I know this may not be comparing apples with apples, but my own real world tests with the Sony HandyCam and Lumia 925 here at home appear to correlate somewhat with this. I'll use 25fps as my HandyCam is PAL (1080i/50hz) and is so limited to 25fps max. Compressed Video (AVC Format) Duration: 2 mins Width : 1 920 pixels
Height : 1 080 pixels
Display aspect ratio : 16:9
Frame rate : 25.000 fps
Color space : YUV
Chroma subsampling : 4:2:0
Bit depth : 8 bits Sony HandyCam HDR-XR20 (1080i @ 25fps)
Format : AVC
Format/Info : Advanced Video Codec
Format profile : High@L4.0
Format settings, CABAC : Yes
Format settings, ReFrames : 2 frames
Format settings, GOP : M=2, N=13
Overall bit rate mode : Variable
Overall bit rate : 17.3 Mbps
Maximum Overall bit rate : 18.0 Mbps
Scan type : Interlaced 1080i (interlaced), 17.3Mbps (18.0Mbps overall), Output File Size: 248MiB Nokia Lumia 925 (1080p @ 25fps)
Format : AVC
Format/Info : Advanced Video Codec
Format_Profile : Main@L4.0
Format_Settings_CABAC/String : Yes
Format_Settings_RefFrames/String : 1 frame
Format_Settings_GOP : M=1, N=30
OverallBitRate/String : 18.5 Mbps
ScanType/String : Progressive Output File Size: 266MiB 248MB for Interlaced versus 266MB for Progressive. Quality difference between the two is noticable, with my Sony producing the better perceived quality, despite being rendered from an interlaced scan. But I put that down to the lens and sensor and other stuff happening there. However, the Lumia 1080p still produces very acceptable quality. I put up a YouTube video a while ago filmed from my Lumia 925 and friends were surprised to find out it was shot phone camera. Anyhow, I think we both agree on the point being made, that 3GB per minute for 60fps is as you say, waaay too much. A one minute video at 1080p 30fps on my Lumia outputs a file of 146MiB. Doubling that for 60fps (depending on compression codec) would give 292MiB per minute of video. That said, no 60fps sample video on YouTube from a HTC One M8 has impressed me so far. Possibly because YouTube didn't play any of them back at higher than 30fps. So the benefits may be limited to in-home or on-phone viewing only. Cheers,
PaulC


I'll have to take your word on that. It does make sense that there would be better motion tracking compared to interlaced. Fair enough!

Guys! Are we really talking about smatphones of high-end digicams or handycams here. I am nowhere as technically literate as you all are, but if I have a need for a really high quliaty photo or video graphy, I would not rely on my smartphone. I know that G2 (or maybe some other phones) may provide 60fps, but are your really sure of their video quality? 60fps would make sense for people who want to edit videos or run them in slow motion (or may be super slow motion). In my personal opinion no other smartphone comes anywhere close to 1020, 930 or 1520 when it comes to photo or video quality. Not just the clarity but even sound capture is the best in the later two. true, there would be some feature or the other which is missing. Competition would surely highlight only those features as they really can't compete with the relevant ones. But that should not be a showstopper for anyone serious enough.

Dani... Will u plz make a full video demonstration????

Dan, seriously, stop being a condisending dick to your readers. If he isn't attacking you, don't attack him. They pay your bills.

I see his point and kind of agree with him, day in and day out, Dan and other bloggers does posts on this blog, and DAY IN AND DAY OUT people complain about something that they would of found if they spent 1 min to read the whole thing. This happens a LOT to every writer here. I can see why they get upset, even things FLAGGED still get questions like this. READ THE POST BEFORE POSTING and they wont have a problem.

Mofnats, before being a condescending dick in complaining about the site admin being a condescending dick, please learn to spell condescending. As per your remark, I think it's perfectly acceptable to educate people, and snark seems to be the most effective method of making people pay attention in these troubled times.

He is always like that... Just go through the news and watch the way he responds to people...

maybe you could take a look at the stupid amount of comments that attack the authors and/or completely ignore the content in the articles. in short; read, you lazy morons.

Hi daniel , is there any progress indication showing about downloading & uploading of data in status bar like android ....

Still can't play GIF picture

Then you should stop and READ the preview for developers does not INCLUDE the Cyan firmware ..

It worked before... It's not working now... So I'm Trying to figure out why it stopped working. Yeah I can read... I'm just looking for a solution.

It was a bug. Daniel (or Sam, or anybody else) wrote about this another article, but of course you didn't read it.

Yes if I read that then I would not have commented. I had no idea that it was a bug. Now that know, I can breath a little better... Thanks.

Wait for Lumia Cyan. I quote from the Store listing of Nokia Camera "Living Images and continuous autofocus are supported on Lumia 930, 1520 and Icon running the Lumia Cyan software update."

I didn't read about the bug but there is one way you can access your photo album and videos auto play. I just cant figure it out now! Not live images of course but that might be where the confusion comes from. Or not reading. TR3Y

It happens when you are previewing from inside Nokia camera.

Daniel... my L625 have the Living Images, without Cyan Update... in the developers preview, you can just take photos with smart sequence, and will work the same way, but just if you see the pictures in the Nokia camera, or Nokia Storyteller roll... Regards

In the future days/weeks/months, all the things you can do is just waiting, amigo

When we getting it Daniel. Y'all Ova do with tha 8.1

Damn, living images was working on my 810, we all know I'm never going to get Cyan, aka, never getting living images back...

I have the 8.1 Preview for Developers. All you have to do to enable living images is download the Nokia Camera Beta app. Search it on Bing and it'll be one of the top choices.

This bug was patched with yesterday's update. You still need Lumia Cyan.

Just a question, Daniel: Are the camera algorithms improvements and Living Images only gonna work on the 1520/930/Icon or to all PureView devices (920, 925, 1020)?

I want to know this, too. Are the camera algorithm updates for all Lumias?

1520/930/Icon all share the same camera so it makes sense that they're getting their first real update; other Lumias have already had improvements, and Nokia has not detailed any changes.

Oh well... Guess I have no choice but to upgrade to the 930.

Upgrade from what? The camera on the 1020 is still top dog.

ScubaDog, do you have a 1020? I'm on my third and the metering and focus is horrible. I have take constantly change multiple shots and often the colors are off, flash or not. I have issues with subjects having something like redeye except their eyes are silver and I have to remove it with Photoshop as it isn't redeye. I also have issues where subjects will be in focus and just as I take the picture they go blurry like the focus doesn't hold. I can't read barcodes because it can't hold focus. Of course shots are painfully slow. Also, there is really bad horizontal banding at the right side in anything but perfect lighting. I decided to upgrade to the Developer Preview and Camera Beta and still no joy. I will say when all the stars align just right it takes really good photos but videos are always meh. Just curious if you are experiencing these or is AT&T just sending me crap replacements.

Upgrade from my 925... I have no use for 41MP and another dual-core device. I want the latest specs, premium build quality (not that the 1020's is bad by any means) and a 20MP PureView + Zeiss optics should suffice for me.

Well since it worked for most devices with the beta app before it was patched yesterday and without cyan, how it is a bug and why they want cyan is a little difficult to understand..

Go to Nokia camera beta, settings, use default that will do the trick.

How do you turn off living images?

So we are gonna have the cyan update and it's gonna be fast on our phones then after two weeks we are gonna have the PFD release of GDR 1 and gonna lag our phones again.......So we are gonna have the cyan update and it's gonna be fast on our phones then after two weeks we are gonna have the PFD release of GDR 1 and gonna lag our phones again.......

Use Nokia camera beta, it works.....

You need to download Nokia Camera Beta from SysApp Pusher to get Living Images.

Just return all your setting back to the default settings in Microkia Camera,, then it will work... After that you can adjust settings until your hearts content, and LI will still work...

Hey Daniel any chance you could take some sample photos with Lumia 930 and Icon for comparison?

How's the battery life in comparison to the icon?

Hi daniel , is there any progress indication showing about downloading & uploading of data in status bar like android ....

I'm on developer preview. What's super odd is that today my phone got an update, and in succession it went through 4 developer preview builds and almost immediately restarted again to apply the Lumia Cyan update. All this happened today and it is awesome, the performance has significantly improved and the wifi/network usage notifiers are highly appreciated. I've gotten a subset of the Cyan features on my Lumia 920. I think this is a sign that Nokia and Microsoft has sort of moved on the Lumia 920. This is a bit disappointing because we don't have an upgrade alternative for AT&T currently. I am hopeful that September 30th will reveal a Lumia 931 that runs on AT&T's LTE band? Perhaps a 1021? Probably nothing will happen. At this point i'll take a Gionee or a Xioami, anyone who can provide an update to my aging 920.

I assume no, as the 1520 Cyan update has not gone out AFAIK. Probably just someone who didn't read the opening sentence of the article :/

I read it and understood it well...

No, you did not. You have the Preview for Developers aka the OS update. You do not have Lumia Cyan, the firmware. This article is about the latter and what it enables. Since you do not have Lumia Cyan, you do not have Living Images. It is really that simple.

It's not that simple... I had it. When I updated the camera it stopped. I know exactly what I had and how my phone was performing...

You/we weren't supposed to have it but we did, sweet! It was made clear many many times that it was built for Cyan, the firmware update. I hope it comes soon as I very much enjoyed it as well. But we never should have had it.

You are talking about the "hack" within Nokia camera that enabled living images...That's not cyan

Didn't take you long to figure it out cdb033 did it, lol

Hi daniel,what abt camera trouble in lumia 720,pics quality got poor ,do u think this could get solved in cyan update ,plz help

What's there to help.. You'll know when it comes out! No?!

Unfortunately I have 8.1 update including Cyan on my NL 925 (Finland official software) but living images are not working. Another thing is several functions implemented into 8.1 and Cyan for N930 is not designed for older devices. I was surprised when battery drain was higher than on Black and PFD 8.1 third update. Installation I did was clear and everything was adjusted and updated manually without using backup. I am sorry for my English.

You're not understanding the difference between operating system and firmware

If you read the title and understood it and have the Nokua Lumia 1520, then I must ask if you are on AT&T? As far as AT&T is concerned, they haven't rolled out Cyan so please share how you received this firmware update in advance of the rest of us, thanks!

I'm not saying I had the cyan update. I stated that I had the developers preview. I also stated that my living images were working until I updated it. That's all I'm saying. I know perfectly well the difference between and OS update and a firmware update. I'm just trying to figure out why it stopped working after the update. It's no big deal... Thanks though.

Ordered the 930 today and should be coming next week, yeah! Happy!!

What he so clumsy is trying to say is that Nokia Camera Beta did display live images on 8.1 dev preview, until latest update that is (4.8.0.1)

His comment didn't seem that clumsy to me. People on this site refuse to read.

Some people on the site are not able to read and understand what they are reading.

This happen when Microsoft update Nokia camera app

It's not the final functionality as with the Cyan update. It only brings semi-loving images with the trick to enable them you are talking about.

+1520 it stopped working after the update... Even the living images in beta camera doesn't work anymore.

...because you do not have the Lumia Cyan firmware, as explained in this article.

http://www.wpcentral.com/trick-enable-nokia-living-images-pureview-luima

It's a bug! You cannot even VIEW the living image after you close the camera app.

But in Cyan is that way too. Photos (by WP) don't support gif images. You can just see in Nokia Camera and Storyteller.

This is how it's supposed to work. Can you view now living images (created with a bug) in Storyteller? No you don't.

Mine is a 720, then I can only see the live images of smart cam and Cinemagraph... Including the Storyteller.

What the hell is with the first comments today?

Note to self: Do not ask any questions in the comments area. Although, I guess questions like "When is it coming to India?" are fully tolerated and encouraged. But it is kind of funny that this was the first comment. For a minute there, I'd forgotten that everyone who visits this site is a native English speaker, lol!

I still have living images. I do not have Cyan.

Update your Nokia Camera apps and watch it disappear.

Oh yeah??? Well, I'm gonna update mine RIGHT NOW and we'll see what's what, Herr Rubino...
....
....
....
....
Son...of...a..BITCH!!!!! DAMMIT!!

This is one of the reasons why I have automated update off:) I can come here and research if a feature was 'removed' before I update.

Yeah... I'm a control freak... Can't stand things updating without my authoritah!

Try to go to camera settings and switch to default settings. It might work again. Living images works on my 1020 with the nokia camera beta

Just give us the update ._.

Here it is..... Please take....;)

don't be selfish share it with others !

Nothing like equalizer in Lumia 520 :(

Yeah the audio for that is low end, so sound is as is...I wonder if performance is improved for it though, I had no end of issues on the 520/1 =[

While we're on the subject of audio I have noted that there is no mention of the equalizer working via Bluetooth. Can anyone shed any light on this?

Always comes out flat over Bluetooth. Something about drivers.

When you say flat do you mean as in a flat frequency response?

8.1 should have supported usb asio drivers, that way we could run optical cables to our receivers...

Jesus updates are slow at coming out. Only for the dev preview I'd of ditched windows phone

Uhh how is it slow again? And also, at least everyone gets the update unlike a certain other platform...

At least you're getting the update -_- Lumia 810....

I head the 810 is getting it too. Is tht wrong?

Just don't read about the updates anymore... You won't anticipate it, and when it comes, it will be a pleasant surprise!

Will it upgrade auto from the developer preview or will I have to revert then update?

There is no reverting. You'll get the update with new firmware when it is released for your device/carrier/region.

Daniel if the official AT&T 8.1 release is the same version as the developer preview currently installed on my phone when it is officially released will my phone still see the cyan update? Or will it have to detect an OS update first before it sees Cyan as available?

"...will my phone still see the cyan update?"

Yes. There is literally nothing you have to do, as you'll get everything just like everyone else.

Daniel i have lumia 720,after black update the carl zeiss lens got troubled and i am getting poor quality pics ,even aftr black update,do u know abt tht issue,whats that issue please tell,and tell how can i solve it, nokia people are not helping me,cyan update gonna solve this...?

Don't worry. You'll get the Cyan update.

Will the preview for developer users get the firmware update?

www.wpcentral.com/preview-for-developers

Firmware update is independent from OS update. Yes, you will get the cyan update.

Does Loading and resuming still persists while switching between apps?...

Yeah,I also want to know this, my 920 behave the same way with 520 with 8.0, too much resume when switching between app. And it's not like that before I update to the developer preview

I sure hope we see some speed improvements. 8.1 is a lot slower than 8.

True, I notice lagginess occasionally on my 1520 that never existed before the Dev Preview, but considering that it's kind of beta software without proper firmware tweaks it's to be expected. Games like Alsphalt 8 and GT Racing 2 run crappy in 8.1 on my device.

Solved the game lagginess problem. Found a forum on this site on how to fix it. Ill try and find and give u the link.

http://forums.wpcentral.com/windows-phone-8-1-preview-developers/294863-... There you go. Enjoy. If it helps, spread it

Yaaahhhh ... Too much time taking by overall windows than Android. Why it is so ?

It is a mix of Apps (devs needs to upgrade app to WP8.1) and memory in your device.

Icon has glance now? Oh wait, lack of display memory. Damn tease.

It has absolutely nothing to do with the fact that it's oled (not led btw).

That is correct... it has nothing to do with AMOLED versus LCD screens. Example; Nokia Lumia 920 has Glance! :)

I could care less for glance but im holding out for double tap to wake!!!

Double tap to wake has been faultless on my 920 on both 8 and 8.1 dev prev.....

920 here as well and it always opens very nicely on the second tap

4-6 taps is about right (925). such a tease. 820 works exceptionally well though...

I had to turn Double Tap to Wake OFF on my 1020... kept waking up in my pocket, starting apps and calling/texting people! And that was with touch sensitivity turned down.

Not as much as I expected. But hey, updates are always welcome!

Will WPC be the first to report the availability of Lumia Cyan?

Obviously it won't be the United Nations.

Obviously it wont be the United Nations.

I mean before other Nokia/MS blogs. WPC was the first to report the availability of WP8.1 Dev preview.

LOL ! Serously, use a Newsreader, Like I use Weave that pulls from all WP sources, WPCentral is great but, they need a source too, unless they find it first. Normally, this could come from any source. If you want to know the MOMENT it's realeased, a good news reader should find that but, i am sure WPC will know as soon as it becomes public knowlage.

That, or http://www.nokia.com/global/support/software-update/wp8-software-update/

What exactky does the usb setting do? Can you use it like a flashdrive for your computer?

Read the part about USB OTG, please

I dont understand what that means the way it written. It seems like your saying you cannot put a flashdrive into a phone, which i know is not what you meant. Can you kinda clarify it in terms for a 15yr old who only knows that flash drives plug into places?

"It seems like your saying you cannot put a flashdrive into a phone, which i know is not what you meant."

That

is

100% exactly what I meant.

That is what he meant... No OTG support, meaning USB devices aren't supported to be plugged in and used with your phone.

Which is total bs. I mean mega saurus BS.

It's exactly what he meant: http://www.amazon.com/SANOXY-Micro-USB-OTG-Adapter/dp/B005QX7KYU

OTG means On-the-Go. I hate to say it, but not having USB OTG makes sense. Standard USB flash drives have a standard connector that is 1/2-inch wide. Our phones have MicroUSB ports that are about 1/4-inch wide. There are adapters available, but there would a ton of calls to tech support asking why they don't fit. Also, with so much WiFi and cloud storage support, isn't spending time perfecting USB OTG kind of like worrying about tablets that don't have DVD players?

Hey Dan, what about the data connection? Are we able to access the internet on a PC by connecting the phone via USB? Thanks!

Yes. Depends on your device and firmware, of both your phone and computer, but it can be done.

You're asking about tethering the PC to the phone and using your cellular service to access the internet? This is also something you can do with an inexpensive BlueTooth adapter that plugs into your PCs USB port (if you don't have a PC with a BlueTooth adapter installed).

One setting will let you enable a notification when a computer tries to your phone to use it as an internet modem. The other will notify you when you connect to a charger that charges faster than normal. That's it, nothing else special.

Damn, wasn't expecting 5.1 DD+ audio recording. Nice!

The audio and brightness are the best bits I'm looking forward to, +1520

I will finally be able to use the equalizer with my Bluetooth speaker -- I never did understand why this wasn't possible from day one. Nevertheless, this is great news :)

@ least as far back as the 6.x days our bt stack could do things with audio that ios/android cant ie force music thru hands free car kits that dont officially support a2dp

Hi FarStrider -- I'm sorry but you have totally lost me mate? I wasn't on about car kits, Android or IOS. I was on about my portable Bluetooth speaker which the equalizer doesn't work with. Or am I missing something?

Where does it say the equalizer works with Bluetooth?

Sorry mate, I miss read the article. I just presumed it was a Bluetooth speaker. It actually says the phones speaker, which is a bit of a let down really, as it won't make a slightest difference -- unless it works with Bluetooth speaker.

We need to know!!!! I really want Bluetooth equalizer support

Definitely agree 100% mate. I have a friend with a Jail broken iPad, and he uses an equalizer app with a Bluetooth speaker and it kicks ar*e -- serious.

That's gimmickry, I have it on my Android. It makes a difference, but sacrifice fidelity. Kind of robs Peter to pay Paul.

Peg Leg -- what is gimmickry, equalizer for phone speakers? Or equalizer for Bluetooth speakers?

You want, but you don't get ...

CyberAngel -- No big ting mate. It's not like I can't buy other products that offer this option ;)

Equalizer does nothing over Bluetooth. Never has, it can't.

When you say "equalizer does nothing over Bluetooth. Never has, it can't." what device are you on about?

5.1 surround recording and playback may come to 1520?! This is colossal! I am so glad I didnt put it on eBay.

It will come since the 1520 got the same specs than the 930 with 4 mics !!!

And i thought they would bring cellular setting on action bar and those sorting apps according to the usage which were ommited out. Em wining. -.-

You are confusing OS features with what firmware does.

I wish they could optmize Lumia 720's camera. We all just want Portico photos quality back.

I'm guessing not, but they didn't add any bluetooth profiles, specifically MAP, did they?

I wish they give the Lumia 520 an equalizer.

There will never be an equalizer, for 520 according to some folks at Microsoft forum.

No option for 4k recording on device with snapdragon 800 ??

Do you have any 4k output capable device?

Of course no:/ Dream more. It doesn't work like that. Isn't 1080p more than enough nowadays. It still is better than 2k on galaxy note 3, or gs5, if there is one..

Totally agree. Seems like people didn't hear about downscaling.

Funny thing is the display in the 1020 cant take advantage of its cameras high res.

Oh yeah, that too. With a 1080p screen it would have cost more though ;3

1280x720~1MP, FHD=1920x1080~2.1MP, 4K~UHD=3840x2160~8.3MP, 8K~UHD2=7680x4320~33.2MP, close to 33.5 / 38MP Lumia 1020 "41MP" picture size.
This year some phones have 2560x1600 (1440) screens.
In 2015 we will see first UHD1 phone screens.

FullHD has 2MP, so with no zoom you will have a huge downscaling while viewing (1020 has 720p, no?)

I have a 4k smart tv !!! With "Project my screen" enable on cyan update it supposed to work... My graphic card in my PC got output in 4k too and It work good with the Galaxy S5

The S5 is not my phone, i got only a L920 and a L1520, and the S800 is 4k capable so why they did not add the option ?? The S5 got only 16mp and a crappy sound recording, so i prefer my L1520, so dont answer stupid thing if you dont know why i want 4k enable on my 1520 !!!

And pls stop asking stupid questions without reading. Cyan can't possibly brink 2k support for video recording, not speaking of 4k. So no. What about playback of 2k-4k on Snapdragon 800 Lumia, not ao sure, didn't yes, and there is no,need. 1080p seems perfectly amazing on my 1520.

Im talking about watching my recorded video on my tv not my phone !!! 2k is better than nothing

So what you want to record 2k video on your Lumia to watch it on your 2k tv display? Not gonna happen.

This is the reason why i want 4k support for Lumia with S800 !! My graphic card in my PC support 4k and he is connected to my tv... The only video i watch on my phone is music video on YouTube, but i record alot of live show with my phone that i can watch on my tv

C'mon, Lumia 1520 only supports 1080p recording, no 2k or 4k tv, you font know what you say... :|

I know it support only 1080p.... But the snapdragon 800 can support 4k and this is what i have in my 1520 this is what im trying to say, why they did not add the option in the cyan update?? Did you understand or not ??

The s800 may be able to do 4k recording but that doesn't mean the camera module in the phone supports 4k. A firmware update cannot change the fact that the camera hardware is not capable even if the processor is.

Exactly. That'what I'm tryin to explain to sebastien..

Needs a Snapdragon 810 witch can do 55MP

You make no sense. Video recording only supports 1080p, no more. You cant add 4k video recording support with cyan update, because it's got nothing to do with firmware. Understand?

Nobody said that the camera is not capable and vise versa, its not because they don't add the option in the firmware cyan that the camera cannot take it !!! So if it is capable, then you will make no sense because it can be add thought firmware upgrade....

Ooohhh. I'm outta here. I got nothing else to say.. No offence, but are you that dumb? :|

At least i don't made affirmation about thing i don't even know, little poser !!!

See, your phone has the capacity to record 1080p only.. By just updating the FIRMWARE one cannot enhance to record 4k. Its a camera HARDWARE limitation, not the processor's..

Where did you take this information ??? Did you call Stephen Elop ?? Carl Zeiss is your father ?? Nokia or Microsoft never mention anywhere that the camera of the 1520 or the 930 is not capable of more than 1080p !!! Stop assuming thing you don't know....

Yep sorry, the camera can actually record over 1080ps with S800 but they have not made use of it in L1520. (The way you replied is very rude)

Well, if it could, they would have made it available, don't you think? The only one who is assuming things without knowing is Sebastien..

I have never assuming anything, you have without knowing !!

Of course, kid. Sure. You can keep telling that you yourself, you wacko.
Before I leave this place, learn English pls :| you make ppl wanna cry while reading your messages.

Its because im French at least i know more than one language, so shut the fuck up and stay home with your momma who have pay for your first windows phone and every call you made, be a nice little kids and your momma will made you a pretty good lunch for school next Monday !!!

Whatever kid, you're so funny, lol. English is not my main language either. I'm Ukrainian, and I know 5 languages. So what if you are French? Pfft.
And yes, I graduated school long time ago, if you haven't understood from what I said. So just go ahead and use android if you want 4k, stop telling me bullshit.
P.S. Schools are closed for summer, you kiddo, lol :D

That what i thought you create you own life thought the internet, that explain a lot of thing, you life must be lame as hell !! so I'm done you are the king of the world and you know everything, congrats !!!!

Yep. Thanks by the way, lol

Sorry i did not want to be rude, i was just exhaust about those people who told affirmation about thing they know those (i know everything peoples) !!! I just wanted to explain my point.... Anyway every camera like what phone have, are just a light sensors who directly send the information to the processor...etc there is no "module" or other thing between them, this is the firmware and the option added who transfert and transform the information in what the programs told him to do !!!

You know nothing, lol. Whatever, anyway.

Sebastien, in more than a year on WP Central, I have seldom seen such anger, frustration, and venomous rudeness expressed on these boards. I'm very sorry that you are disapponted that your large format PHONE is not a CINEMA-QUALITY CAMERA. Go buy a Red cinema camera. Even they spec 4K near the mid-range of functionality on the Red One and Red Scarlet cams.

My thoughts exactly. Man, I'm too tired now to explain him anything. He just doesn't seem to uh understand it, meh. These Android fans today.. They need 4k on Wp, just because crappy samsungs can, lol.

I have to laugh about this because my funky L920 takes great video for uploading to web. Not at all grainy. Maybe I should expect more from my PHONE, but I don't. But the whole argument reminds me of back in the day when I worked with typesetting systems. We could crank out photo-electronic text at 2400 dpi, but laser printers could only print at 300 dpi. What's the word? Overkill. If I could afford a UHDTV, I could probably afford a dedicated cinema cam, too.

Haha. Agreed. I'm too satisfied with 1520 overall to be whining about camera not supporting 4k, LOL!
Low light photos and video must definitely be improved with Cyan, I hope. Because now, lowlight pics and video on 1520 is worse than 920/925 :/

I hate to say it, but it probably won't be... The f-number on the 920 and 925 is f/2.0 while the 1520 is f/2.4. The lower the number,the wider the aperture. For more about this and how it works and the trade-offs... http://www.lynda.com/Photography-Night-Low-Light-tutorials/Working-aperture-low-light/90279/102116-4.html

Thanks for the info mate. Interesting article. THough it didnt say exactly that wider aperture means better low light pics/videos. It only said that the shutter speed is quicker. I will just hope that Cyan upgrade will fix it for my 1520, at least the same quality like in 920/925. That would be so kewl :3 Not that im a photographer, but still, you know, sometimes you just wanna take a pic at night with low light, and what you get on 1520 is worse than the 925 :/ Frustrating..

lyubomeer said, "THough it didnt say exactly that wider aperture means better low light pics/videos. It only said that the shutter speed is quicker." Not quite. It said that if you have a wider aperture, you can use a faster shutter speed. If the shutter speed is the same with 2 different apertures, the wider aperture allows in more light, thus a brighter exposure in low light conditions. There are several apps that allow you more control. i.e., Nokia Camera Beta and ProShot allow you to adjust the ISO setting (higher number = greater light sensitivity), shutter speed (slower allows in more light, but also subject to blurring if you jiggle the camera), white balance, and so on. I'm just learning about all this stuff but have the ambition of seeing how much I can make a camera phone take pictures that rival DSLR photography.

You right Nerdy and im sorry about this, so i have erase this useless comment !!! Thanks for reminding me that sometime we are better to say nothing to peoples who can't understand and hear anything because he just want the last word and always want to be right...

And I am sorry that you have not bothered to read the thread since your earlier post.

Well i have read the article that you have post, it's interesting to know that the aperture could be the problem about the low light with our 1520 lyubomer is right about the quality in low light, my 920 take better picture at night, at least we can hope for a little change for the 930 and 1520 after reading this.... http://www.wpcentral.com/lumia-cyan-update-improves-low-light-performace

I am hopeful for your 1520. I'd hate to hear that you threw a perfectly good PHONE across the room... While it sounds good to have the bleeding edge of technology in your pocket, 4K is really impractical for phone video. First, you would need extreme storage capacity. Extreme. storage. capacity. Second, you could only save that via USB or WiFi to a local computer. Even OneDrive has a 2 GB file size limit. I can't find specs on space requirements for 4K, but I know that 1 minute at 1080p 30 fps requires 145 mb. One. minute. So at 1080p, I can (haha) upload a 14 minute video to my OneDrive. Logically speaking, and I'm sure the algorithms would result in vast differences, but if 4K requires 4 times as much storage as 1080 (we'll call it 1K), then I can record what? a 3-4 minute video using 4K before OneDrive cuts me off? Let's forget cloud storage. Let's say you want to use a 64 GB MicroSD card to store video. Each card will hold 30 minutes of video. Will you be taking your computer with you to offload so you can shoot some more? Or buying several 64 GB MicroSD cards? Can you appreciate why Microsoft and Nokia decided that this is not a must-have for most people? Especially when few TVs are equipped with 4K resolution? If you have a great desire to be the next great cinematographer of our time, then you should have a dedicated cinema camera.

Lolll well i don't want to be a cinematographer or something like that, and i could buy a 4k cam but it will became another thing to bring with me each time i need to made a live video when i can get one in my pocket and i really like the recorded sounds of my Lumia 1520, if i got a 128gb SD i can have at least 1 hour or buy 2 or 3 128gb SD... or i can buy a Xperia Z2 he got all the specs but i use Windows phone since the 6.5 version and in this time it was still better than the other OS !! So i will just stick with my 1520 and see what happen in the future.... I have start this discussion at the beginning with a question, i did not expect its was going to be far as this.... Someone could just said "nothing about 4k in cyan maybe in the future" that's it !! I was not expecting that someone tell me "you know nothing and your a dumb"....

If you orderd a couple of 128gb SDs, you'd really be angry. Spec on the 1520 states max size for SD is 64gb. Know your limitations. Or at least, your phone's limitations.

http://forums.wpcentral.com/nokia-lumia-1520/268767-new-sandisk-128gb-mi...

But as i said the discussion start by a question only, the 4k is not a necessity for me, but after so much false affirmation i get mad loll it happen sometime

Yeah, I know. We've all said things on the internet that we wouldn't say to someone face-to-face. Sometimes, it's wisest to type out your most scathing insults, then hit cancel instead of submit comment. It's just as cathartic. I think this article and all the questions that indicate the poster did not read before posting, or they read the article but none of the prior comments, is crazy-making for the people who do read through hundreds of comments and threads.

Very cool. I'll remember that if I upgrade to a phone w SD support. Not essential for me. I'm only using about 50% of my 32 GB now.

Well this is something i like about the 1520 the SD slot, i put all my pictures, music and video in my 64gb and the apps in the phone drive, it keep my phone faster and i lost nothing if something happen to my phone, i do the same for my PC... SSD for my OS and SATA for my media so when my PC do a search he dont have to get thought the hundred pictures, music and video i got so it take less time to find what i need in my main drive and a virus scan is faster... SSD drive its already fast than the word loading doesn't exist when i play a game... But i do this trick long time before i have buy the SSD so i still keep it this way !!!

So it doesn't bring any imaging improvement to previous Gen models? (520-1020)

As you would assume after reading, no. But wait and see for yourself.

No, because of unsupported hardware.

Then it's really time for next gen camera flagship.

Sure it is time, alongside with 3d gestures :>

I was kind of wondering the same thing, I use a L820. I am overall happy with the quality and clarity of the photos. Low light performance is better than expected overall, of course not Pureview good. I hope Cyan update does bring better imaging processes to all devices. As far as other stuff, I can take it or leave it. Just hope the Bluetooth (paired with my car stereo) performs better like it did before. I trust Cyan will fix it.

5.1 Recording should be impressive. Even among my friends that still criticize my choice of Windows Phone over Android or iPhone, they all agree the camera (particularly audio capture) is of amazing quality. Lumia 928 Owner

Daniel, how's the battery life (battery saver expected time) on the 930 with the Cyan firmware?

It's only been 24 hours, so it's too early too tell. Please wait for our review.

Cool, would be waiting for your re-review :P thanks!

I wish Microsoft/Nokia would stop teasing updates and improvements so far in advance when there's no release date. Users just get fed up waiting with no specific date to aim for. I know Microsoft -unlike Apple - has to work with carriers and manufacturers to get updates out...but in that case don't tease so far in advance knowing that it could be months and months before the update starts rolling out let alone finishes the roll out. Either that or get networks and manufacturers in line and get them to agree to a specific date of release for everyone. Not only would it keep users happier, it would make an event of it - yup, like Apple - and create news coverage and increased sales.

Except lately they've been slipping up on anticipating how many would just update to new os instead of buying new tech with it preloaded so their servers get overwhelmed by their users great ddos attack lol

It's also being seen as pretty cynical of Microsoft to ship new phones loaded with the updates way way before some existing customers will have to wait. If the updates are ready for new phones on various networks and in various parts of the world, why aren't they ready for a general over-the-air release to everyone.

I didn't download that dev preview thing but still my phone has wp8.1. So is it Lumia cyan or dev preview? Btw my phone is Lumia 925 and I live in Finland.

Cyan (with 8.1) is officially available for L925 in Finland as part of the pilot program. Check Nokia Finland's website for more details.

Not much to wait with my 1020,just curious about new camera algorithms...

I hope Cyan improves on speed and processes for you. I really wanted a 1020, but after hearing how awful the time is between taking photos I decided it wasn't worth it. I assume taking photos with lower MP setting is much faster than the 38mp setting but the OS should have supported a secondary processor (or a quad core) at the time of its release. I still salivate over that phone though, having that excellent of a camera must be awesome. I am banking on that all devices (L520/21-1020) should have overall better camera improvements, but not the degree of the new devices. I think Pureview phones would benefit most vs us folks who don't have one (myself included as I use a L820).

Thank you very much for the article, Daniel. I was always curious about Cyan features, since there is no official changelog from Nokia (so far).

Can we expect USB OTG support in future updates?

I wonder if the IE refresh problem will be fixed in cyan for the 92x series.

What does this problem entail? I'm curious since I own a Lumia 920.

With 8.1 re-opening a tab causes it to reload. This didn't happen with 8.0 (at least not to the same extent)

I had living images yesterday on my 920 with Nokia camera beta, but today they don't work anymore... Aby hints How to repair this?

Wait for Lumia Cyan as it even says in the Store that is what is required. It should be more than obvious that yesterday's update disabled the hack because it's not optimized for non Cyan firmware.

I thought so, but hoped it's only a bug. Thanks for reply.

L520 can't have an equalizer..why? Can someone tell me..

no, it's the hardware fault afaik 620 has equalizer

L620 have 512mb ram but still it has Equalizer. Possibly some other reason.

It's because of low quality hardware.

Lack of hardware is what I was told.

When the time to lumia cyan for nokia lumia 820 ?

Wouldn't we all like to know

Only thing about Apple and the iPhone that I like better than WP is that you actually get updates, major and minor, quite often. I've been on the WP platform since my HD7s days and its nothing but rumor, delay, rumor, delay, etc. Hell, my old iPhone 4s has the latest and greatest the day it came out. I'm not the only one who is frustrated with MS and their OS update system as evident by reading countless blogs and message boards on the subject. Come out with the damn update Microsoft and carriers. Seriously.

Hello and welcome to two years ago.

I agree too. Im pretty upset that I bought a Lumia 810 only to see it be no longer supported because its t mobile that decides, not Nokia or Microsoft

So much looking forward to this update. Hope it goes live on Ukraine in the coming days :3 Lowlight photos improvement is the thing I've been waiting for since I got my 1520.
Equalizer without headphones is also a great update. 5.1 surround video recording? Hell yeah! :D

Yeah, now we can blow our phone's speaker... Seriously, though, I really wanted Bluetooth equalizer support!

Damn! I read the headline and I rushed to check for updates only to realize later on you got your hands on cyan by playing with the 930!!! Cant wait to get Lumia Cyan on my 1520

Daniel, I asked this in the unboxing thread yesterday but I'll ask here again... any chance you could do a side-by-side comparison of WiFi range on this and another phone (I did it with my Lumia 521 and another forum member did it with his Lumia 928) and see if it is working OK with the Cyan firmware? The range (strength and number of networks it detects) is terrible on the Lumia Icon. Hoping Cyan can fix this...

I will though in and of itself, those little graphs don't mean too much.

Daniel, most routers will show you the signal strength of connected clients. It will be in -dB. Put a non cyan device and a cyan device (same wireless chipset preferably) in the same location - at least 1ft apart - for 5 mins then check the signal strengths in your router to see if there is a big difference

Mike, I did some extensive testing with a bunch of Icons running 8.1 and 8. 8.1 wifi is terrible in comparison, specifically when connected to an AC network. WP8 did not have these issues, so I'm pretty sure its a firmware issue- hoping as you are that Cyan fixes it. If your home router supports AC, you are better off setting up an SSID up for only N for now

True, I discovered this too.

Very interested in this as well. I don't reall care about the graph at top but compared to my 8x I get about half of the range/distance from my router before I lose WiFi altogether. My data use is up sigificantly since getting an Icon and immediately upgrading to 8.1 because of this.... and not happy about it.

Same here, another big issue I noticed is the long latency on my 520 and 920 with 8.1DP. It's horrible, I can enter a web site and wait for about 10-15 sec. before it starts loading that site. With 8.0 no such problems.

What do u personally think between 1520 & 930... Does the 5.1 recording and audio features come to 1520..?

Yes because both have same hardware.

Hope this equaliser is available,in Lumia 520.i am dying for a good equalizer

I wouldn't pit up hopes on that. Old hardware. But we'll see.

It won't be available, the reason is that there is no Dolby Enhancements Sound Chip (if that's what it's called).

I have a Lumia 930 with the developer preview.. when will the 920 likely get the cyan update?? region is set to us by the way.
thanks

Region doesn't,matter much, it's the Rom country of origin that matters. For example if you had 925 and it was originally from New Zealand(if I'm right) u would have already gotten Cyan. Otherwise, wait for it.

Exactly the device/carrier/region you bought the device from matters as stated earlier in the thread changing the region won't help Posted via the WPC App for Android!

Is that a camera on the bottom of the 930?

I would say that's a speaker, if I think what you think.

Please test out AC WiFi reliability and speed (use network speed test) of you get a chance.

Chances are it will suck just as much as it does on the icon wither or not its a n n5ghz or ac(5ghz aswell) @ least the ativ s doesnt have this problem with high power n900 routers

"ask me before using USB data connection", does that mean that i can use PC internet on my WP by connecting it to my PC with USB cable????

I guess its the option to ask you whether you give access to the PC you connect your phone with so that it would open up explorer. If it is what I think it is, it would be quite handy

If you mean like you could with 6.1 its probable but the usb thing i think is more for file browsing screen mirroring

Unrelated to the USB feature, on a Win 8 PC you could always run an admin cmd to share your wireless connection without a router: netsh wlan set hostednetwork mode=allow ssid=name key=password

Looking forward to double tap to wake on my Icon!!!

Look forward to turning it off if you keep your phone in your pocket a lot.... lol

The people in the comment section want me to jump off a bridge, man there are some stupid questions...

You think thats bad try xpadder forums. I find they tend to ignore the documentation for the basics it just drives me nuts

Although it is obvious to you, because you have the knowledge mate. However, it is also obvious that the people who are asking the questions, don't have the same knowledge like yourself. Therefore, why make such a 'stupid' comment ;-)

Some of the answers are even worse, like the jerks who jumped all over the guy asking about 4k video recording. No clue what they were talking about.

Daniel, thanks for all the hard work of comparing the 930 against the other devices on 8.1 without Cyan. Gives us all a much better idea of what to expect!

What abt lumia 520 in india??

"Official apps for smartwatches and other connected devices are coming later this summer once Cyan achieves a larger rollout." This is probably the biggest piece of news in here for me.

Still we need some of these features..
* Mobile data option in notification+action
* Option to add multiple icons to notification centre with enabling side scrolling like touchwiz UI
* USB OTG support...

Side scrolling like WHAT? Don't need any crapsung stuff into WP.

Ha ha Ofcourse I agree with u...but that crapsung is having far better notification bar than wp... At least keeping mobile data option in notification bar..but still I love wp 99% more than android..:)

Yes I agree. Scrolling would be nice! And it would be optional because you can choose how many quick settings.

Please just let it fix the tap / scroll issue on the 1520, I would take that over all of the other changes combined! It's driving me crazy and is beginning to make me hate my favorite phone! At first I could deal with it but after all this time it is starting to wear on my nerves!

Hm, I kinda got used to it, or it just fixed itself. Never noticed false taps while scrolling lately. Hmm, I don't even know.

Thanks for the comprehensive list of everything that I will never get because T-Mobile screwed me over with the 810.

Let me hug you :3 are you still using 810? Lol isn't it a bit outdated if you do?

Why would you consider it outdated? Even other Windows 8 phones released at the same time are still supported and getting updated with Cyan. Are those outdated, too? I might consider getting a new phone, if (1) I wasn't still paying off this phone, and (2) I could be sure the next phone I buy wouldn't run into the same issue of getting dumped from support less than 6 months after purchase.

Well, the support for 7.x is ending soon, and it really isn't as cool as ep8. So I would assume you might wanna get something new. Just sayin.

*facepalm* The 810 is a Windows 8 phone.

Ow man, sry, I must have mistaken it for some other Lumia. In that case, sorry for that.
What about it thi? Are there no updates for it on t-mobile u say?

Nope, they completely dropped support for it less than 6 months after I bought it (two of them, one for me and my wife) on a two-year payment plan. We didn't even get the Black update; we're still on the Amber firmware. If it wasn't for the developer preview program, I'd be stuck on WP 8.0.

Bah, that's a bummer. What about changing the rom to some other phone's Rom or even the 810 that is unlocked or something? What I'm saying is either "unbind" your phone from operator somehow. Or either changing the Rom to 820, or something, meaning to trick Microsoft into thinking you have 820 and install black and cyan in the future. Aren't there any workarounds? Too bad if not. Seems like a good phone:(

that's the sad part, the 810 specs don't really suck. 1 GB RAM, 8 GB storage with microSD, dual core 1.5 GHz Krait. The only part it really falls down with is the 800 x 480 screen.

I'm with you. I got the Lumia 810, amber update, still hanging on with dev preview. I dont why its a big deal to push out updates to a phone that two others are receiving as well

Windows 8.1 with Cyan! U WPCentral guys giving me heart attack everyday by these kinda hedlines. Once again my heart OOpppssss!!!! Too bad ;(

Dolby digital being first on the 930 should be a highlight feature but as usual Microsoft drops the ball on marketing. Just wait till apple "invents" DD on smartphones and Microsoft again looks like they're behind.

Haha so true. But admit it, 930 is kinda late. It should have been released before 1520 in October. And 1520 would be the upgrade to it. Then it would be totally better than iPhones in terms of release date. Now apple is gonna release a "better" iPhone 6, and Microsoft could have already announced something better.

MS says the update will roll in the second week! Only 3 days left, i hope it rolls out soon!

Sorry to ruin your week but Microsoft India is now tweeting "during the summer".

Yes exactly we cant rely on their tweets that much , all we can do is Wait! I like apple regarding all this updates and shit

I have an Icon, and some of the quirks since installing the Preview have been scary. I get random reboots and hard resets, often while using IE (may be site related, actually), the phone gets hot, wifi seems to be glitchy, and the screen lags, as mentioned in the article. I hope Cyan takes care of all of these problems, cuz otherwise, its awesome!

I share your pain. On one call for 20 minutes on hold, ten minutes explaining the problem, and the phone resets so close to resolution. Had to call back and repeat the narrative verbatim. Some advice to alleviate the heating issues: IN BATTERY SAVER Turn off "allowed in background" for Internet Explorer Bing Health & Fitness Anything else aside from maps and nav apps that use location services As for the random reboots and the lag for the power button, I'm hoping Cyan fixes & restores some stability.

Daniel, 2nd paragraph, it's written "get a good luck" instead of look ;)

It was looky you found that

Great write-up! I was wondering what was coming with Cyan. I'm probably most excited for the brightness profile- been wanting something like that for a long time.

@Daniel What network are you using the 930 with?

Got my Lumia 630 updated but still no option for Double Tap

Is Cyan coming to my Lumia 800 running 7.1?
I'm just kidding.......

People do care. It is totally awesome to plug an Xbox controller into your phone and play games. USB OTG makes this possible. Posted via Windows Phone Central App

Really, Visa? Does the Xbox have a MicroUSB connector or do you use an adapter with that? And why would you want to play GTA on a phone if you're close enough to the Xbox and TV to play it life-size? Just wondering...

Really? I guess I am seeing non-existance posts asking about OTG USB?

Waiting for OTG. XBOX music keeps moving my music from the sd card. Cloud is not an option for me. Not sure what people at NokSoft are plotting?

With the Lumia 930 when heading to nokia camera settings, you can switch living images on or off!

Thnx for the insight Daniel. Will wait and hope for performance boost on mu L 1020.

Is the equalizer on all lumias? (specifically the 521?)

Ah that sucks. This just means I gotta upgrade :) Thanks

That's pretty neat that the equalizer settings now apply to the phone speakers. Though I am curious if it also applies to when music is being played through Bluetooth. That would be awesome. Daniel, have you tried this?

Ny guess is that it should. Since it's kinda like headphones, but it should be tested to be sure.

That's not the case currently. Equalizer only works for wired headphones. If Cyan provides this functionality, that would be awesome.

Oh, In that case, it would be cool for ppl who like using Bluetooth speakers.

Yup, I listen to music via bluetooth in my car and at the gym with BT headphones. The sound quality is day and night.

P.S. Could you advise any wireless headphones with a decent price? Something like monster quality, and they should be ear buds, not the earphones? Thanks in advance ;)

Define decent price. :) I use the Bluejay Blue Buds X when I work out. They are comfy, very adjustable, and stay in my ear during exercise. Price is $170 USD, but I had a bunch of Best Buy gift cards and only ended up paying about $70 for them.

Hm, they seem good. Guess you mean Jaybird, not bluejay ;) Found them for around 150 here in Ukraine. Will keep in mind. What about the buttons? Are there 3 buttons that do not work? Or do they? Asking because I've got the wired Beats earbuds and those buttons don't work on my Lumia 1520.

Update: No, the EQ does NOT work through Bluetooth

Too bad for BT headset users then, but not worst that could happen.

Bummer. I love my RaveTouch BT cans. Lightweight and untethered. I can't ever go back to wired headphones.

How many models be released by Microsoft..
They shouldn't be as bold as my 1520... That's ma wish at least for two years...;)

Daniel you mentioned the equalizer works with the loud speaker now. Does it also work on Bluetooth audio?

Due to the fact that Nokia is Microsoft now, I hope they make Nokia Camera the default camera app in all of Windows Phone. Like they could make those circle buttons, adding burst, and basically combining both apps. Plus I'm sick of device- exclusive apps and hope they add it to all.
Posted via Windows Phone Central App

Nokia is not Microsoft now. ;) For the record, I guessed what you meant but the question is.....do YOU know what you meant our did you mean what you said? ;)

I know what I meant. Like the acquisition thing and how Microsoft now has Nokia on homepage and stuff. Posted via Windows Phone Central App

Ok. I was hoping that you were not mislead into thinking Microsoft bought Nokia. Thank you for your reply.

Consider that there are other WPs out there. The Nokia apps might not play well with their hardware and HTC, Samsung, Blu might not be too happy about having Nokia software on their phones -- even if it were to be relabeled Microsoft.

What's in for Lumia 620?!
Someone please give info.

I think ur 620 will have all the features that'll get to 512mb optimised Lumias...still u can be proud as its owner..:)

Well the only thing I'm waiting for mainly is better battery life and a brightness slider.

There is touch problem in my 1320(WP 8.1). I think it is os problem. Is there any touch problem or lag in your 930 (official wp8.1) Daniel?

Problems on wp8.1 to be get fixed
1 display problem loading of tiles as it goes blank many times
2 battery improvements
3 flow while pressing Windows logo is laggy
4 notification center lag when there are too many notifications

Is the schedule of cyan,updated on nokias web page like when e is to check the availability of cyan for our country and our model

They dont have the schedule yet. Just the features of Cyan and the rolling out is to start summer of 2014. Not much info on schedule.

I too agree with u nd demand bt equalizer

I wish they could do a clean up in Settings. Its a mess.

+920. Alphabetical order? Would be different for every language, wouldn't it?

Daniel, do you think the final release of 8.1/cyan will disable Data Sense? (I'm on AT&T and it was blocked until 8.1 Dev Preview)

No idea. I would not be surprised.

I'm on ATT too, followSol. I'm concerned about DataSense also. And Qi charging for my 920. I've been hollering a bit on AT&T's forums, as have others. I can only think that their reason for disabling DataSense is because they don't want people griping when their numbers differ. My mobile share plan has 3 phones on it. Data Sense works locally, not globally. I have to add up the usage for each phone to get near the number AT&T has on record. I'm assuming people wouldn't understand that, read how it works, and then complain if they go over their limit. I just want to be able to note which apps are data hogs and hold devs accountable. If an app is a hog, I can either decide to disable running in background, use it only with WiFi, or uninstall it altogether.

Whenever I try to enable auto time update, it takes my time zone as UTC -4:00 (Cuiaba). Probably this is a bug in the Preview for Developers and it doesn't recognize the daylight savings time? I am on EST (UTC -5:00) but since we are observing daylight savings, it is UTC -4:00. Anybody else having this issue? (Nokia Lumia 920, WP8.1DP) Quick workaround: I have set my time manually and not using auto time update. I hope they better fix this in the final general public release of 8.1.

So they dropped warm color temp thats the closest you can get to accurate from what I understand that the NTSC suggests

Yes, but under Advanced you can just set it yourself.

Daniel i have lumia 720,after black update the carl zeiss lens got troubled and i am getting poor quality pics ,even aftr black update,do u know abt tht issue,whats that issue please tell,and tell how can i solve it, nokia people are not helping me,cyan update gonna solve this...?

When is cyan update expected to arrive in India??

REALLY REALLY REALLY HOPE microsoft changes its mind on the NO LIVING IMAGES for the earlier phones. I have a L920 and I hope after the Cyan update I get the living images back. Had that briefly while using the Nokia Camera Beta app on WP8.1 :D

Why would someone need the "Living Images" feature so bad?

If it's not enabled on the L920 after cyan is installed, it may be a limitation of the phone. Why would they pick and choose which devices get Living Images? That makes no sense unless it's something that just does not play well on the 920.

yeah thats why Nokia said (well I guess MC now). However, it worked perfectly on my phone when it was actiavated, fingers crossed, let see :)

I sure hope Cyan arrives on my 928 before my commitment is up in August 2015 for f#*# sake. jeezus!!!!!!!!!!!! Who's in charge of updates, the same guy in charge of the VA hospitals???

I hope we get battery fix. It drains too fast.

Daniel any idea about the functions of the USB setting options?

Hi. I have read through all the bits there. To be honest the only thing that has grabbed me is the equalizer. Does this mean I can adjust the equalizer on speaker on my 1020. ????? Ihave missed this feature since old nokia

No, it does not work over Bluetooth

Hi Daniel. Sorry I did not mean Bluetooth I just meant the phone speaker on the Lumia 1020?

Great I have waiting for ever for this. Old school Nokia

Why is it so hard to apply the brightness setting, and flashlight to the action center? I haven't heard anything about it. I think Microsoft doesn't want to be seen as mimicking Apple's software. But really? C'mon... Those features would be so useful.

Battery improvements I hope to.

Yes its the first and foremost issue to be s seen by MS...

Here's to hoping Verizon gets 8.1 and Cyan to us patient Icon owners very soon ...

When it lumia Lumia Cyan on 1020 Italy

After all hard work done by MS, they missed out on otg support... Common Ms u r already behind the technology in compared to other mobile platform.. Get it done

Miracast, living images, dolby are my favorites in this update

Cyan Lumia waiting on 1020 in Italy

All I want is for the camera not to lag so badly. Living images is just a gimmick at the end of the day

I got the lumia 930 and the lumia 1520 they are realy great phones
Hope to get cyan on mij 1520 soon to anyone know when it comes to Netherlands

Not much love for my Lumia 1020 :'(

I'm sure the Cyan firmware will make our 1020s run much smoother with 8.1 all around.

I actually hope the camera gets an updated and better algorithm. Too bad Lumia Cyan is not updating 1020's camera.

Will my equalizer work on speaker on 1020. Waiting forever for this since my Nokia n95 8gb lol

So basically this update brings nothing important to squad L920 and lower well played ;)

I really hope Cyan fixes the performance issues on my 1020. The home screen tiles lagging like hell is inexcusable. I even removed the Cortana tile from my Start Screen, still shows a bunch of blank tiles as I scroll.

Wow. You may want to reset your phone. My 1020 feels slightly more sluggish with the DevPreview, but nothing like you mention.

My 1020 has been lightning fast with the 8.1 DP... Of course I did a hard reset after doing the update.

I am having this issue as well on my 1020, as well as focus issues while zooming in video...at max zoom while videoing it is out of focus...by chance are you experiencing that as well? Really hoping Cyan takes care of all this or I may have some decisions to make in the fall.

I get the blank tiles thing every now and then as well, a little wait normally just loads them in after a while. In the mean time, don't move them around too often and you'll memorize the location of the right apps anyway.
-Lumia 620

Same problem with my 1020. It keeps up for ahout 1 screen and then all the tiles are blank for about 2-3 seconds. Resets have done nothing. It hasn't been horrible so I just have lived with it.

I wonder if the Cyan update would make my phone a little faster feeling. After I installed the 8.1 preview, it was a bit laggy.

I'm looking forward to my 1520 having Lumia Cyan so that I can have the latest drivers and stability improvements.

Nokia said image quality improvements too

Battery life currently on my Lumia 1320 running 8.1 is very good lasts ages and it's stable apart from the stuttering in one or two apps like Instagram and Games menu

Just got a Lumia 630(with cyan). The speed is impressive. Everything works real good. Hope lumia cyan update for my 520 makes the grade!

Hi Daniel.. Can u please say why Microsoft has not included Mobile Data control in Notification+action..?

Because he ain't MICROSOFT!!!!!

My 1020 was laggin like hell after 8.1 update got 930 because of this and works like a charm

Should've done a hard reset after the 8.1 DP update on that 1020...

U said it would come by second week of July in India... Still no sign of cyan... Wth r u guys doing??

Microsoft India is now tweeting "during the summer".

Summer already passed.. Its rainy now... Lol

Well looks like we have to wait till August

Could the fact that some people think they have Living Images actually be because they have taken an image with Smart Sequence? On Nokia Camera Beta, the sequence of images animates in the photo album (at least when accessed from within Nokia Camera). It's quite a nice effect. I hope Cyan fixes the battery problems I'm having on my 920. Can't get more than 5-6 hours of low-moderate use since the last-but-one update to 8.1 now.

Man are u so spot on. Finally someone else that has the same issue like mine. I just don't get more than 4-5 hours with moderate use with my 920. I'm so pissed off that I don't even know how to manage with my 920 as my primary phone. The only issue that bugs the 920. Sad. I'm pretty sure Lumia Cyan isn't going to fix it.

I had to disable almost all of my running apps on the background except for emails so battery wont drain too fast and I disabled the glance also. When im traveling, i have to put my phone on *conserve battery* mode just to assure myself that my 920 will survive for the rest of the day and until I get home. The battery really sucks that I can't evem use the full functionality when going outside because of conserving the battery. :(

Nothing much helpful to the 920 users when it comes out. Sigh...

Just out of curiosity, I have two questions. Has anyone experienced microphone issues since using the Dev Preview? I remember viewing a video for a WP from a new OEM and I noticed that it had a large tile, one that stretched across the screen. Does the Cyan update add the extra tile size? Again, I can't remember this OEM, but I believe it was a mid-range phone with a screen of more than 5inches.

Yes I have got that issue too

Are there more Bluetooth profiles as part of the 4.0 Bluetooth? Please let there be HID support!

More color profiles. Hope that soon a f.lux or twilight alike app follows.

So... I need Lumia Cyan to use my camera? For the love of all things holy, I'm kidding. Seriously, some people should just stick to reading tweets and looking at cat memes.

how can i track the update?

Forums > Rumoured & upcoming OSs> 8.1 and then the sticky Track Cyan update article.

Proud owner of my 1520 -- display issues on my dev preview of 8.1 but which I am pretty confident that the cyan update will resolve!! One love

Oh well so much for OTG and the display fading in sounds like a Fluorescent kitchen light turning on lol. Thanks for the article Daniel, think I'm going to hold onto my 920 for awhile longer and wait more details of McLaren arrive. As my 920 is still going strong and hasn't given me any major problems.

I know the Xbox music app isn't optimized properly, but how does this firmware update affect that? Is it more responsive?

Make battery life better like 8 plzzz

I don't kno yet.... to y'all give us tha real 8.1. Y'all to be talking about that and stop dragging us

So Daniel, does this Cyan firmware aleviate the buggy feeling that 8.1 has brought to all the devices running dev preview? Maybe compared to the icon running dev preview? My Lumia 928 has a lot of random slow downs and crashes of IE and my so's 928 constantly reboots. She keeps calling the update android, lol. I am hopeful that the cyan firmware will rid the phone of these bugs but im quite worried. I never noticed this many quirks with the mango dev release on connect.

Hey I have a kind of question/issue with the music playing of my wp. After a song finishes it doesn't just seamlessly go to the next track, but stutters half a second or so of the song that just finished before going to the next. I've noticed this on the default Xbox Music app and also on the Nokia MixRadio app. I'm wondering weather I'm the only one with this problem and if the Cyan update will fix it (or any future update for that matter). I have a Lumia 620 and it has done it from the start. Thanks for listening and I hope someone knows the answer.

I thought that is very normal.

Happened to me on some few occasions on my Lumia 520 running wp8.1 . Am sure its part of the minor bugs that's associated With the developer preview. Lets hope the cyan update squashes all that. Good luck mate.

Can you let us know if any standard MHL adapter works through USB?

Got all warm and fuzzy reading about the EQ changes until I saw the bit about Bluetooth. Hmmm, continue using BT and have access to change tracks with my steering wheel controls, or go "line in" on the radio face and be able to have eq'd sound.

Icon didn't have double-tap to wake?

Will Cyan bring back the "Keep Wi-Fi Enabled while screen is off" option so I can have the phone turn off Wi-Fi when it's in my pocket? Preview for Developers removed this option, but only on Lumia devices.

"Brightness Profile – Users can set the default average brightness for their phone. Unlike the Lumia 630, which has controls for all three levels (low, medium and high), the Lumia 930 has a single slider. My guess is this sets the median, default brightness" Weird, my Lumia 930 has three sliders, one for each level.

Hi Daniel, 2 things : Do games still show up in the app list as in 8.1 preview? And can the start day be changed in the calendar week view to Sunday??

Nothing has changed about the OS itself. It's the same build as the preview.

Well I think I've read everything now but I can't remember anything useful from it... There is nothing news worthy in this update... Just seems like they are sharpening some rough corners here and there

Daniel, does cyan sort out the distorting speaker, screen sensitivity problem or the lack of internet connectivity on 2g/3g, on this 1520? Looking forward to this phone actually working properly. Also has Nokia actually got an address or phone number in the UK. They seem to have no customer service at all.

Looks good I would get one if it was on at&t...... ill wait until the fall to get a new phone. My 1020 is working well.

What about the me lock screens

The new updates to the Nokia Camera app & Nokia Camera Beta locking the living images functionality now worries me because history hasn't been kind in such matters on my Lumia 820. The original Nokia Camera app wasn't introduced for anything below the L920, but we all got it via this settings hack. Then the app officially came and took away the ability to manually control the shutter speed beyond 1s (which on 4s worked ABOSULUTELY OKAY on my L820 and L620). Sigh. Figured out that the 4s option was still available if I put the shutter setting on default and pointed the at very dark areas. And this new update has even taken that away :( (I do attempt light painting often) The Lumia 820 is practically the same internals as the L920 - Hardware differences yes, but not that far apart - like the L800 & L710 were. Sorry to complain here but man Nokia/MS are giving us a taste of awesome and then taking it away is not good :P

I want USB OTG kind of sad

What about this yellow tint and blur that ruin our extremely crisp photos??? 3 updates and didn't get fixed yet!!! (Lumia 920)

Will Lumia Cyan bring any possibility to use a Bluetooth Keyboard with my phone?

I have Lumia Cyan on my 925 and I don't have most of these features :(

I have the cyan update on my 925 but I'm missing most of these features listed :(

I have the 1520 and feeling proud reading about all those features available only to high end devices. My device suffers sometimes from a delay when I press the power button to wake up. I hope the Cyan will fix that.

When cyan is out for my phone, will it get the update(I'm on developer preview) or will I have to downgrade? Thanks

The USB OTG is one feature that I'm missing the most. With my 1520 is amazing how I can use my phone for hours without touch my notebook.

Will everyone with the preview for developers need to downgrade for cyan?

Aside from stability fixes, optimization, and so on, I hope Nokia will revert the original (Portico) camera algorithms to the original Lumia x20 (520, 620, 720, 820, and 920) in Cyan firmware update. ;)

I just hope MS will fix the battery drain problems on 920 and im solved.

Conclusion addition of the cyan update are not so useful for me, therefore nothing is excited for me ~

You get your presents early, you're more disappointed on the big day ;) Look back at the comments when 8.1 was announced and compare to now. You're just bored, not disappointed.

Hey Daniel, nice work on your article as always. Can you beat up MS and ask them why we can't get firmware updates for the hardware along with the developer preview? Especially since they bought the handset division. Makes sense, right?

Firmware is super complicated. The OS is one build for ALL devices. That is technically easy compared to firmware, which is customized for specific phone models, regions and carriers. It is a BIG undertaking. Maybe someday, but Microsoft already has enough on their plate with just doing the OS. Keep in mind, this is only the 2nd time they've done this...they need to learn as they go along.

Daniel - is Storage Check fixed? When I moved my L1020 to 8.1 it stopped correctly reporting usage by individual Apps. It only shows 5 Apps (out of probably a hundred) and instead essentially assigned all the memory usage to "Settings", which is apparently using 15 Gb of storage space. This is REALLY interfering with managing the remaining memory as I can't see which App(s) are hogging it. - Thanks

Does it bring Battery life optimization to current lumias running wp8.1 developer preview? For me that's important because I think other concerned lumia users will agree to the current battery drain problem. L520 user.

Dear Nokia,
Do you have any idea what you are doing? All that we want is to have the EQ enabled for Bluetooth devices. I'm just badly waiting for this feature. All my Bluetooth headsets and speakers are left useless
I don't really care EQ enabled for Speakers (That not good for speaker either)
I really miss my rocking iTouch.
Thanks again for a useless feature.

I wish I were a developer. I'd really like to have WP 8.1.

What about the improvements in Lumia 520?

No otg=no Xbox controller damn I needed this

With cyan update can i use swipe keyboard for Norwegian language ? I use already the dev preview with my 1520

I read this article and caught the "seems faster" towards the end hahaha!!!

Is Lumia 1520 getting Miracast support with the Cyan update?

Does the Cyan firmware blocks some features to improves performance of the phone in the low cost phones like the Lumia 521 or it only unlocks them?

Another thing I'd like to see is Nokia Play To ACTUALLY WORK with my tv so I can pull up photos on it. Hasn't worked properly EVER!!!!

Yeah great.... So when do we get it?

I have an idea....... now that Microsoft owns the devices and services division of Nokia, is it possible that when they release an OS update via Preview for Developers, can they ship it with the Lumina firmware update?

Will Miracast come to 1020?

I highly doubt it. The SoC has to support it. Even Joe Belfiore said that "maybe" the 1520 might get it but nothing older. My wife has a 1520 with 8.1 and it doesn't work. I won't know for sure on her 1520 until Cyan but I wouldn't expect it on the 1020. The chip isn't capable or the wireless as it has to have WiFi Direct support.

Does CYAN comes with wifi connection improvement, current 8.1 update PD is not good as 8.0 wifi connection on Lumia 1520. Perhaps coming up GDR update is the OFFICIAL.

WiFi is hardware and firmware optimized hardware, so it is safe to presume that yes, WiFi is optimized with Lumia Cyan.

and the new lock screen, what happened with that?

Still no USB OTG.... Hmm....

Living Images is an awesome idea. The 20 MP camera on my Lumia Icon is a little disappointing so I'm happy it's getting an update. It's a good camera for sure, but it's no better than the camera on my iPhone 5s. I expected a lot more from a 20 MP shooter on a Nokia phone though. All the sound stuff is meaningless to me, but that's just my personal usage patterns.

Will l925 get living images in the cyan firmware?

Is cyan available for preview for developer

No battery fix for the 925???

Let's wait for the cyan. I hope there will be. -920

Why not supported USB on to go? I need it for working. Hope future updates.

While a nice feature, I dare you to go up to five people on the street and ask them if they even know what USB OTG is, let alone if they have it on their phone. Point is, it is a great feature, but not as high a priority.

Nawzil fake... How he said that USB OTG is coming with WP8.1. One day I saw his post fully copied lines from WPcentral. I took a screenshot and commented on his post. The in few minutes he deleted his post.
And after that many times I caught him copying through WPC.
He is a liar. His leaks never makes a sense.

You noticed that as well? ;)

If Lumia cyan doesn't fix 1520 screen issues then I'm done with windows phone

Not a great changelog. And Microsoft will surely delay the update time.

The OS is the biggest changelog. Always has been. Look at Lumia Black, it too had little in changes, it was Update 3 that did all the work. The problem is perception and many of you expecting more out of a firmware update than what is possible. Combined with being on the Preview for 2 months and you're just bored. You basically got your Christmas gifts early and are now disappointed that you know what's coming.

how to enable double tap to wake up my lumia 630

Plzz ... Any ony tell me when will .. Cyan update will come in india

I had .. Update mine 525 with preview for dev .. Bt they are saying now my warrantee is void .. :(
Are they right ???

EQ over loudspeakers, yay!

Nokia Camera Beta now does not have Living Images. I was using for last couple of weeks and like it. But now, I don't see. I am using L1020

Daniel. I search through the converstation threads for any answers but no luck. Do you have any word if Cyan might have any camera improvements for the 1020? I have had several and they all have constant color issues, issues with focus, light metering, and horrible horizontal banding with video in anything except perfect lighting. My wife's 1520 shows the horizontal banding while recording video but after saving it is gone. Video on all three of my 1020's indoors is useless and outdoors the colors keep shifting constantly particularly on green. If I film my kid on green grass then the grass keeps shifting from brown all the way to vivid green lick some sort. of an affect added afterwards. It's been driving me nuts and I keep hoping Nokia will fix it. My 920 had that at first but then they seemed to fix it. I can't believe it's back with the 1020 and nothing has been done in nearly a year to resolve it. This is supposed to be a great camera but it rarely is.

how to enable double tap to wake up in lumia 630

I hope lumia cyan will come soon in my country

So disappointed that most of the great features are only coming to newer models like the 1520 and 930. But what's the deal with the new dynamic lock screen? Is that part of the official 8.1 update or what?

Daniel does the cyan update bring any major improvements to the likes of the 1020 and other older generations? By the looks of it it's mostly meant for the newer devices?

Double tap is for cyan or 8.1?no for HTC ?

yikes nice article...could of skipped the comments for the most part

Tap to wake is not available in L630.. I wonder if there'll be another update that will activate this feature.. I hope there is. Cause that's one really cool feature that separates Lumia from other devices.

Eqalizer work on Lumia 520?

Does Lumia 20 megapixel camera or above devices capable to have 4k video recording in the future?

Nokia Lumia 520 have cyan update....

Im running Build 12397.895 using developers preview no 1520. does anyone have an issue with the camera app randomly opeining when the phone is unlocked? not necessarily right after unlocking, anytime at random. sometimes while watching a movie on kickstand, sometimes while typing a number etc., but never when locked, which makes me think it isnt the button's problem. Any help would be greatly appreciated.

First give the cyan update than all.

I just need to know when is it coming out!!! Its simple!!!

Every article Daniel writes, I press ctrl+F and do a search for his name, reading his comments to others is funny.

When its coming to India??

What about maps, are they gone with new firmware?

Wait, so can we now take pictures will recording video, like every other smartphone OS?

No USB OTG pisses me off❕❕❕❕

I am a bit confused, i feels 8.1(blue) is the latest update of windows phone then what is Cyan. Which is latest ? What is the difference ?

I'm using 930 (Vietnam) and I can't find the settings for Video as in the last picture (no Directional record or Surround or any thing), just simple 1080 or 720, ligth on/off (Microsoft Camera App and in Setttings/photos+camera). Anyone else having the same situation?

How do I use USB for tethering? Can BING it but nothing happens? So another missing useful function. Aggh. USB Settings – Currently hidden on devices with Preview for Developers, the USB settings are finally enabled with Lumia Cyan, bringing two options for users including "Ask me before using USB data connection" and "Notify me when I connect to a slower charger."

How do I use USB for tethering? Can BING it but nothing happens? So another missing useful function. Aggh. USB Settings – Currently hidden on devices with Preview for Developers, the USB settings are finally enabled with Lumia Cyan, bringing two options for users including "Ask me before using USB data connection" and "Notify me when I connect to a slower charger."

Nothing changed after Lumia Cyan on 925?? No USB, brightness slider, tx/rx arrow indicators etc... this update has changed nothing for me. I did everything possible, factory reset, roll back to black and re-installed from scratch etc... The versions of firmware, OS, extras+info are correct. Using Lumia system updater also indicated that nothing needs updating. I am bummed. Looks to be region controlled, my region is India, we have yet to receive 930 here, maybe has to do something with that?

Is mobile data on/off toggle available in action centre in this final build?

Wht abt mobile data on/off in action centre?

I generally liked the WP 8.1 for my Lumia 520 unlocked US phone, but had to reload WP8.0 (Black) because of two big issues: 1. WP 8.1 killed my ability to tether. The carrier (service provider) tried to fix it, but couldn't. Once I reloaded Black, all is well. 2. The ability to supply an alternate or reply-to email address was eliminated. This is a serious concern for those who use their phone professionally with multiple email accounts, since they don't want to reply back with some anonymous looking outlook.com address the receiver doesn't recognize from before. Outlook provides a reply-to feature in its internet interface, but the phone software completely bypasses it, for some reason. Once again, I put it back to Black and all is well. I hope Nokia / Microsoft announce a plan to fix these two items with a timetable so I can load WP 8.1 back on.

i am really keen to see a better shuffle algo for the songs via music or mixradio. really annoying when the same set of 30-40 songs keep repeating.. is there some workaround to improve shuffle? lumia720 with 8.1 upgrade

Native folders are not working in my lumia 1320, i have already update to lumia cyan built 12393. How do i get this new feature or will be a new upd?

My 920 Cyan doesnt have Color Profile – With Lumia Cyan there are now three presets (Standard, Vivid and Cool) Equalizer now works through the speaker Dolby Virtual Surround And i think all of it don hv ... on my extra+info .. is lumia cyan ... what is the problem ? 920 does not have those features?

Anyone can explain me about the difference between 8.1 and 8.1.1 . Only the windows phone is having 8.1 and the htc is 8.1.1 .and whether windows phone wil get 8.1,1 ?

I have upgraded my lumia 920 to cyan but cant use the equalizer settings through speakers. plz help

Wanted to change my phone from nokia 920 to lumia 930 as i am windows phone user for a long time, but changed my mind and will go for Samsung Alpha, main reason is VoIP dialer is not working in windows phones therefore i have to carry one android phone along with me to make VoIP calls, as in android and iOS so many good voice VoIP dialers are available (macdailer, iphonedailer, etc), in windows phone only one working dialer (itel) is available and quality is shit. In middle east (gulf) no phone will move(sell) if cannot make VoIP calls