Lumia Storyteller gets a update with a few new features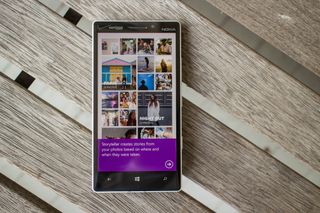 Microsoft has released an update for Lumia Storyteller, the recently rebranded Windows Phone app that automatically groups photos and videos together on Lumia smartphones. The 2.6.0.11 update has a few small but interesting new features.
Here's what's new in the app via the change log:
Select folders for Storyteller content
'No music' option for story videos
Long press for context menu
Improved offline support for maps
You can check out our recent tutorial of how to create and share story videos via Lumia Storyteller right now. Do you use the app in your Lumia smartphone? Thanks to the many people who tipped us!
Windows Central Newsletter
Get the best of Windows Central in your inbox, every day!
Out of topic
But
EXTRAS + INFO
also got updated

maybe preparing for the denim?

It shows Lumia Denim in my settings but nothing's changed lol

No how can it show Denim..
It's still cyan only..
Cross check it correctly..
And it's just a Bug fixing update only..

Check out the latest article on WPC and you'll know.

Yeah.. I know
but I'm saying that., still the firmware is in Lumia Cyan
& due to some technical errors , it showed like that in few mobiles... Even I've updated my Lumia 630 & 520 ( Indian region ) but I haven't seen anything like DENIM in Extras + Info..

The should make it an option to switch Lumia Storyteller with the default camera roll. In my opinion its much better.

Yes, that will be a great option.

Also this should be the native or default photo viewer in Lumia.

Rather merge photos app and storyteller

Agree. It should really just be part of the default way it handles Photos.

I don't see the purpose of StoryTeller as a standalone app. Maybe MS can integrate this in the Photos app in the Windows 10...

Lets take it to uservoice. How about asking ms to merge every redundant and similar apps? Like panaroma, refocus, blink, selfie as different shooting modes in Nokia Camera app. Integrating groupme, skype and skype qik. And so on.

I can go either way on this one. Its not something I want to go into often, but its great when you go on a vacation or some kind of special trip and want to show your pics to a friend. An auto-created slideshow you can share is pretty slick too. I'm not sure I need all of that in the pictures app.

I hope to see living images integrated with this for older devices

The option to edit the transition time between slides would be much appreciated.

No, don't use it. I made a couple videos because of the tutorial you guys posted. That was it. Since I can't upload it to Instagram, I have no where to share the videos.

Still, it is cool. Different, and not on fucking ios or fagdroid

Use Skype qik it's amazing

True caller also got an update with incoming caller id :D

I would use it if Story Teller would allow me to remove photos from the timeline without removing it from the device. Story Teller does not need screenshots, or "scans" from documents, but now I cannot remove them without removing from device as well.

You can choose note which folders it should exclude!

yes, that's new and nice, but not quite what I want.

Umm.....Actually, you can select the content without removing from device....a little more practice maybe:)

dunno but if I select a photo and say "delete" it's gone from the device. no idea what to do otherwise, I may be too stupid

Actually, you can separate photos from a "story" by selecting the ones you would exclude and pressing the "separate" button which is the third button from the left that appears after you have touched the "select" button in the thumbnail view.

This is exactly why we added the option to select the folders which photos will be shown from. So you can choose to hide, for example, your "saved pictures" folder

but most of it is in my camera roll. how can I select not to use the photos of documents. I know I can create a story with selected photos, but I just want to get rid of all the non interesting photos in the ST timeline without ditching them from the device. (and without moving them to a different folder as well). Selecting "delete" in ST removes it completely, and either I am not looking in the right spot, but I cannot find another way to get rid of them? additionally: if I nuke images from the camera album, of course the Story is gone too. But my images are on Skydrive as well - is it possible to use that as source now? (did not get the update on my device yet - will check asap)

Aaaaah, yes..... then the new setting won't help you. All I can think of (as a workaround) is to select all those unwanted photos and merge them into one story. Not perfect, but....

Ah Nokia StoryTeller...the app that I never really understood the usefulness of. But I guess this is "in" now with the Flipagrams, Zoe's & co.

I was looking for these updates + i had a plans for this weekend to send a full feedback includes too many features must be added. :)

I also update extra and info after that my Lumia 1520 shows a Lumia denim update !!!! Without any denim features.!!!

I do use it, but Here maps are worthless in Japan. I wish MS would give us the choice to use Bing or Google maps in the various apps.

Bing maps is powered by HERE. Just FYI. Posted via the Windows Phone Central App for Android

but we need a revamped here maps app update for whole windows.

needs to be able to read onedrive folders

This app should replace the default photos app or merge with it!

I don't use it b/c they wont give the option of removing the date. So simple, but they seem determined to keep it.

All the changes in this update were based on user feedback. So we do listen. But we can't change everything at once....

Well you didn't lose time rebranding the app to take the credit from Nokia... Posted via the Windows Phone Central App for Android

Not sure what you mean. I designed the app while working for Nokia.

I just want the option to remove the date. If I do a weekend or week-long trip, having a single date showing doesn't make sense. If I want to show random clips, having some random date show, doesn't make sense. The date also "dates" the Story. If I don't get around to putting together a story for a month, that date instantly make it look like an old story. Personally, I'd love it if that area was editable with personalized text, but I'd use the app if it even just let me remove the date. Thanks for listening, by the way.

I love it. It makes a short and sweet memory of trips with family, and easy to share with OneDrive. You can share to social media platforms from OneDrive, too.

but if you upload photos to one drive and clear photos off the phone locally, its no good

Need the Lumia camera update.

Finally folder selection!

Nice, now i can choose folders for content... much needed

Do i actually need locations be activated on pictures for storyteller do be as awsome as stories on google pictures? nothing beats that story thing so far

The slide show option with the transition effect to view the photos will be nice...

Is there a limit on how many pictures you can have in one story? I cant put anymore into one of mine at around 200 pics

I updated but , it didn't give me Lumia denim :p it just showed Lumia cyan

I want to be able to choose my main pic for the story.

Anyway I can turn off its live tile? Its kinda annoying

I didn't update since the Lumia rebranding :p MS

Use it a lot. Wish we could use our own music and, thereby, change the duration of the stories. I would also like a "cancel panning" option as the subject of a photo can be missed if it is not centered in the shot.

Looks nice. All works like before + no music option.

I was hoping they would allow us to use our own music as an option. Hopefully the next version...

Story teller is nice and useful

I like this app. It makes a great difference when it has a nice video already made after a concert!

Fabulous software, but is there a way to slow the video so the pictures remain on the screen for longer?

As long as it can only access my camera role, I consider it useless. Onedrive to be the least.