Madden NFL 22: Cover athlete, news, and everything you need to know
An updated Madden in many regards.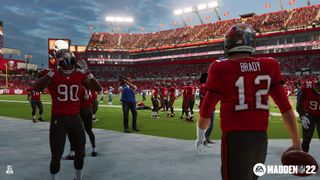 (Image credit: EA Sports )
The Madden NFL video game franchise is routinely one of the best-selling games of any given year, and this year looks to be no different, albeit with some big upgrades planned. With Madden NFL 22 set to launch later this year, many fans are wondering what new things the game will bring into the fold. With a full year of development for current-gen systems, EA Sports has aimed to bring some big changes into the latest entry of one of the best sports games on the market.
Is there a Madden NFL 22 trailer?
The latest look that fans have been given at Madden NFL 22 is in its debut trailer, with some gameplay shown off alongside some of the newest changes coming to the game. Much like other Madden trailers, this one combines some exciting music with live action of in-game play, aiming to capture the realism and excitement of a football game.
With Electronic Arts' EA Play Live coming up, however, it's likely we'll see even more footage of Madden NFL 22 shown off, so we can safely expect even deeper dives into the game and what it'll play like to come soon.
Who will the Madden NFL 22 cover athlete be?
Madden is going away from the traditional single cover athlete this year, and although the Madden series has often avoided featuring a player from the same position in consecutive years, it's tough to leave a player who changes the game. Thus, the Madden NFL 22 cover stars will be two quarterbacks who have graced the cover in recent years in Patrick Mahomes and Tom Brady.
The two superstars feature two opposing age ranges, but both quarterbacks are arguably the two best in the game right now. Mahomes continues to dazzle on the field and has already appeared in two Super Bowls despite his young age, and Brady is fresh off winning his record seventh Super Bowl, and has likely firmly cemented himself as one of the greatest football players ever.
What's new in Madden NFL 22?
The Madden franchise has often come under fire for not updating itself enough to match its annual release schedule. Despite routinely being one of the best sports games available, one of the many jokes made about sports games, in general, is that they usually end up feeling like more of the same rather than a new product entirely. Electronic Arts hopes to change that with Madden NFL 22, as they are finally adding in some big changes to the latest entry.
Firstly, Dynamic Gameday features help dictate a multitude of things you'll experience in any given game. The feature is divided up into three core components — Gameday Atmosphere, Gameday Momentum, and Next Gen Stats Star-Driven AI — all of which EA Sports hopes will make things feel even more real. This includes the expanded use of Next Gen Stats (a real-life tool that the NFL uses) to help track things like speed, separation, and even more.
One of the biggest changes to Madden NFL 22, however, will come in its Franchise Mode. Long overlooked by its developers, Madden NFL 22's Franchise Mode will finally be updated. This year, many highly requested updates to Franchise have been introduced, including a more detailed way to manage your staff as a general manager and coach, and an updated skill tree progression system that gives players more precise control over what they want to focus on when it comes to coaching. Alongside those two core changes, the ability to study and focus on gameplays for your team has been tweaked, with a more comprehensive weekly game strategy system implemented into Madden NFL 22. Now, players can study their opponents with weekly strategy meetings, and customize how they choose to attack an opposing offense or defense for each week of the season.
Where are the Madden NFL 22 ratings?
One of the best parts of any year's pre-Madden hype is the release and subsequent debate about NFL player ratings for the upcoming game. There's something oddly entertaining about seeing anyone and everyone gripe about who's been done dirty by the ratings folks, along with the laughs that follow when the likes of Tom Brady joke about his own speed number.
This year, Electronic Arts is waiting a bit to release the ratings for Madden NFL 22, with the ratings getting their own special presentation through ESPN over the period of a week, starting next week on July 25 and running through July 30. The highest-rated players — the ones getting the coveted 99 ratings — will be revealed during ESPN's Get Up each morning throughout the week, while the remaining players will be shown off across other ESPN programming throughout the week.
When does Madden NFL 22 release?
Madden NFL 22 is currently set to launch on Aug. 20, 2021, for Xbox Series X|S, Xbox One, PC, PlayStation 5, PlayStation 4, and Google Stadia.
Preorder now
Prepare for the game

Madden NFL 22 promises to deliver another year of excellent football simulation. With the game set for launch later this year, you can secure your copy now.
Get the Windows Central Newsletter
All the latest news, reviews, and guides for Windows and Xbox diehards.
Anthony Nash has been writing about games and the gaming industry for nearly a decade. When he's not writing about games, he's usually playing them. You can find him on Twitter talking about games or sports at @_anthonynash.