Madden NFL 22 wants to usher in a new era of virtual football
The new title offers a ton of improvements, including an overhauled Franchise Mode.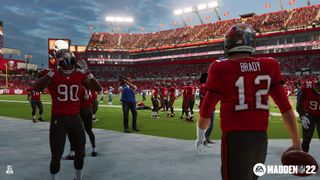 (Image credit: EA Sports )
The Madden franchise has often come under fire for not updating itself enough to match its annual release schedule. Despite routinely being one of the best sports games available, one of the many jokes made about sports games, in general, is that they usually end up feeling like more of the same rather than a new product entirely. This was the case with Madden NFL 21, which was also one of the weaker modern entries in the franchise.
EA Sports hopes to buck that trend when it comes to Madden NFL 22. The developer has high hopes for introducing fans to a brand new Madden experience, complete with some major overhauls to fan-favorite modes, more real-life implementations to bring players closer to the game, and the inclusion of even more dynamic gameday experiences.
Star-Driven AI changes how players feel
Throughout the history of Madden, the folks at EA Sports have always tried to capture the realism and feel of a real football game. In Madden NFL 22, it hopes to come the closest it has ever been thanks to what the company is calling Dynamic Gameday. This new function helps impact gameplay in almost every facet of Madden NFL 22.
Much as its name suggests, Dynamic Gameday features help dictate a multitude of things you'll experience in any given game. The feature is divided up into three core components — Gameday Atmosphere, Gameday Momentum, and Next Gen Stats Star-Driven AI — all of which EA Sports hopes will make things feel even more real.
First introduced in the Xbox Series X|S and PS5 versions of Madden NFL 21, Next Gen Stats are a real-life tool that the NFL uses to help break down the game of football. Using real-world data such as speed, separation, and angles on routes and passes, Next Generation Stats help provide information about every team and player in the league. Madden NFL 22 incorporates this in a much more intricate way, taking the data and applying it right to the AI behavior of the players on the field.
Alongside giving you more information on how certain teams play, Star-Driven AI will also affect how the non-player-controlled football players operate on the field as well. Smaller, faster linebackers will be able to hit a gap faster than before, while bigger, bruising hitters will have to make up for their lack of speed by landing some intimidating hits on their opponents instead. EA Sports hopes this all results in a much more immersive, authentic single-player experience, with the goal being that all 32 NFL teams play much more like their real-life counterpart than ever before.
A dedication to realism
While tweaks to Madden's AI are great, and much needed, another big change coming to Madden NFL 22 is what effect the place you're playing in has on a game. Much like home-field advantage is a real thing in sports, Gameday Atmosphere and Gameday Momentum aim to translate that into a virtual setting. Gameday Atmosphere introduces brand-new environments and presentation elements that let you experience some of the bigger, more impactful moments of a football game. Stadiums will now feel more alive, with fans reacting to big plays that can swing momentum in a way they haven't before.
Of course, the atmosphere is a lot more than just fans cheering in a game. The new Gameday Momentum mechanic in Madden NFL 22 brings brand new, in-game challenges (known in the game as M-Factors) that players can accomplish in order to swing the momentum in their favor. Playing as the Tampa Bay Buccaneers, for example, will allow players to unlock momentum factors that make players less fatigued when they enter the red zone, or make it so that offensive play art for the opposing team is distorted, making it that much harder to figure out where you'd like to throw on a given play.
The inclusion of these three core components should make it so that Madden NFL 22 feels even more real than it ever has. With the real-life sport of football moving more and more toward an analytical, technology-driven game, it's making the virtual products that much easier to recreate, and EA Sports is clearly taking advantage of that for the fans' benefit.
Franchise Mode gets a needed overhaul
Changes to the way players act and move on the field are always welcome, but perhaps the biggest changes coming to Madden NFL 22 are found in a game mode that players have long been hoping got some love: Franchise Mode. By far one of the most popular modes in Madden's history, Franchise allows players to take over as the owner, general manager, or coach of a team and run it how they would like to. It's an excellent way to simulate being in charge of a football team but has often been overlooked when it comes to updates. After a massive outcry from the fanbase last year, EA Sports has finally overhauled Franchise, and it looks extremely promising.
This year, many highly-requested updates to Franchise have been introduced, including a more detailed way to manage your staff as a general manager and coach, and an updated skill tree progression system that gives players more precise control over what they want to focus on when it comes to coaching. Alongside those two core changes, the ability to study and focus on gameplays for your team has been tweaked, with a more comprehensive weekly game strategy system implemented into Madden NFL 22. Now, players can study their opponents with weekly strategy meetings, and customize how they choose to attack an opposing offense or defense for each week of the season.
Cinematics have also been added to Franchise, with the hopes to add even more paths and choices for players to navigate to help make you feel even more like an actual coach on a team. EA Sports said it hopes to add more storylines into Franchise throughout the season, but there's no word yet on just how many will be involved.
Scouting is also something that fans have been clamoring for to get updated, and EA Sports was very happy to announce that a heavily improved scouting system is in the works, with the aim for it to be pushed into the game via a live service update sometime in September.
Classic modes return
While Madden NFL 22 will be introducing a ton of new things into the game, classic modes will be returning as well. Face of the Franchise will once again be coming back, this time titled "United We Rise." Similar to last year, this single-player campaign will allow you to start out as a quarterback, wide receiver, running back, and for the first time this year, a linebacker who is striving to become an NFL superstar. A brand new class system and character creation system lets you customize your character in a deeper way, and a unified progression system allows you to earn rewards for your player across both Franchise and The Yard.
Speaking of The Yard, it will be making a return to Madden NFL 22 after an impressive showing last year. You'll once again be able to battle it out in a looser, more street football-inspired gameplay, complete with new locations and newer stars to take on. All of your progress in The Yard will once again be fully integrated with your updated avatar, allowing you to be constantly earning items, coins, and more. Elsewhere in Madden NFL 22, Superstar KO and Madden NFL Ultimate Team (also known as MUT) will be coming back, with the two modes way too popular to ever remove.
While not much has been changed in Superstar KO, Madden Ultimate Team will see some changes thanks to the implementation of Dynamic Gameday and Next Gen Stats. Now, you'll be able to track stats for your player items, as well as make halftime adjustments to things like Superstar X-Factors and more in order to better counter your opponent during a game.
With a multitude of changes set to be introduced in Madden NFL 22, it's clear that EA Sports went into this year with a focus on exactly what they wanted to change. Changes to the way players move, dedication to the momentum shifts and fan reactions during games, and most importantly a huge overhaul to Franchise mode highlight what EA Sports hopes will be their biggest year of Madden to date. So far, it's looking like it has the chance to be the best game in a long time.
Madden NFL 22 officially launches on Aug. 20, 2021, and will be available on Xbox Series X|S, PS5, Xbox One, PS4, PC, Origin, Steam, Google Stadia, and mobile devices.
Get the Windows Central Newsletter
All the latest news, reviews, and guides for Windows and Xbox diehards.
Anthony Nash has been writing about games and the gaming industry for nearly a decade. When he's not writing about games, he's usually playing them. You can find him on Twitter talking about games or sports at @_anthonynash.