Outlook Mail for Windows 10 Mobile also grabs new Junk option, hide text and a Camera update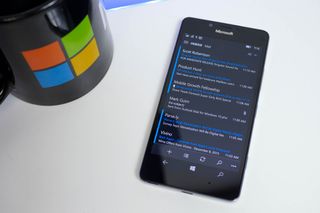 If you are on Windows 10 Mobile, build 10586.164 you will want to grab the new Outlook Mail & Calendar update that is live in the Store. Today's releases goes from 17.6568.46272.0 to 17.6769.40152.0 and with it comes the same new features as found in the PC version we reported earlier.
Those new features in Outlook Mail and Calendar include:
Turn off the message preview text in the message list
Get rid of junk email with right-click Move to Junk
We suppose 'Drag and drop attachments into your email messages' is also there, but due to the nature of the Windows Phone likely something not easily implemented.
You can see the new features above in the screenshots. The new ability to disable message preview goes a long way in minimizing content in your inbox and lets you open your inbox without others reading aspects of the email – always a good feature to have when on the phone.
The update is showing for our build of Windows 10 Mobile 10586.164 on the Slow Ring, but we have not tested all releases just yet. This update is likely for those enrolled on the Insider program and will go wider in the coming weeks.
Download Outlook Mail & Calendar for Windows 10 and Mobile (opens in new tab)
Camera updated too
Additionally, Windows 10 Mobile is also getting a camera upgrade. Today's release takes it from build 2016.128.91.0. to 2016.128.111.0.
Unfortunately, we have not found anything no ability yet to pause video recordings, which is now on the desktop. However, at the risk of running our own meme at least on our Lumia 950 with OS build .164 the processing of HDR and Rich Capturing with the flash does seem to go much faster.
For now, we'll turn it over to you in comments to find any new features.
The update is showing for our build of Windows 10 Mobile 10586.164 on the Slow Ring, but we have not tested all releases just yet. This update is likely for those enrolled on the Insider program and will go wider in the coming week
Download Camera for Windows 10 and Mobile (opens in new tab)
Daniel Rubino is the Executive Editor of Windows Central, head reviewer, podcast co-host, and analyst. He has been covering Microsoft here since 2007, back when this site was called WMExperts (and later Windows Phone Central). His interests include Windows, Microsoft Surface, laptops, next-gen computing, and arguing with people on the internet.
Don't see an update for camera yet

Not getting any update yet. Posted From My Lumia 720 W10M

They say that lumia 640xl supports DNG capturing but still can't find the option to turn on DNG..
Any suggestions?

It was removed Windows camera

I still have a DNG option in Windows Camera on my 950XL

Late March...
lol...
#IYKWIM
Sent from..............THE OUTSIDEEEE~~

No windows update... Still

Are you on Redstone build? Rollback with the device recovery tool. Are you on Fast Ring? Switch to Slow or Release Ring.

I received the Outlook update on my 950XL running the 14267.1004 Build

I received it on my 950 XL too.

No update for Camera Posted from Lumia 730 running Windows 10

Mine didn't show one either, but when I clicked the link at the end of the article it allowed me to install

Any idea why the latest release hasn't come to carrier branded devices?

Hiding preview text in outlook is a great setting. Drag and drop will be awesome when I have to use it again, this is a feature I had wanted and requested.

Mine didn't show one in the store either, but when I clicked the link at the end of the article it allowed me to install

I tried that too but still no update

The article reads "the update will go wider in the coming week". So, it's not available to all Insiders as of now.

So if I install build 10586.164 on my Lumia 930, Will I have to roll back to 8.1 when the final build will be released or I'll have to upgrade?

U jst need to update no rollback needed

Mails list background i have dark, anyway email detail background is still white. Is there a way to change email detail bacjkground dark as well?

A proper html rendering of emails on Outlook is one of the main features I am looking forward to see. A small thing yet it takes them years and years and still no fix.

Also the indent between the screen edge and the email subject has been noticeably increased. And now selecting multiple emails will show the number of selected emails alongside the Select all check box. But the main issues still remain - one being the syncing error issue and other being the red/blue/green banners corresponding to deleted/moved/archived actions staying on screen forever until another email section is opened. The second one is really annoying.

IMAP SMTP still broken in Outlook App

So the real question is of "Move to Junk" actually flag the email as Spam or was it just put there to shut people up. I am thinking it doesn't.

Probably not....That would require more logical forethought....

Don't see any updates in the store. Just installed the lasted version of 10-mobile.

I had the camera update since last week.

Not yet here. Checked. By the way in India my all phone got new update .124 without insiders. Auto updated to new build. I guess this is official Posted from Windows Central for Windows 10

how about those rumours / reports about bad picture quality when used on a 930? are those just rumours, or is this still the case? any chance this will get fixed?

Anyone knows if I can use Gmail account on outlook mail app?

Yes, of course. You need to go to three-dot menu > Manage accounts > Add account.

Damn it, after updating I keep getting the same mail notifications every 10 minutes now!!!

Have those on my 1520, but no update yet on my 950 XL

I'm assuming the drag & drop functionality for mobile must work when used in Continuum mode as that would make sense.

I hate it when they only update it for insiders.. Posted from Windows Central for Windows 10 Mobile on Lumia 950

Sounds like outlook mail client for iPhone works better. How can Microsoft make the same application for other platforms that behave totally differently, and often work better on another platform. You'd think they all work for the same company but it makes me wonder.

I clicked the download link, and the app page in the store shown but the open/install/update botton which suppose to be there is gone. Wonder if that is an issue of my phone or the store app, or just the update for the mail app itself.

Got the Camera updarw but nothing about email yet :/

Has rendering been corrected? Because, well, it SUCKS!

I second justforsabbath MS needs to receify how emails are rendered in Outlook. It was okay a few Builds ago, not sure what happened.

Not available to the Release Preview ring yet

Since updating, the Outlook calendar doesn't show the date on live tile :-/ tried unpinning/pinning and creating a dummy event as suggested in forums, but doesn't help :-/ Anyone else got it to work?

Just noticed the new animation in the latest PC build of Outlook Mail. Still waiting on the Mobile update, but they do always come down eventually. Sent from Microsoft Band

Tired of Microsoft and their new apps. Always one step forward and three backwards. Before adding anything new fix the basics. In this new app, handeling or viewing tasks is gone and you cannot add appointments to google calenders anymore. The appointment is created but the app deletes it right away. The appointment is vissible in you google calender but the app will not show it for you. Any tip on what to use instead to be able to create appointments to google calender and manage tasks on Windows on PC/Mobile (the same issue on both)

Since updating yesterday my Outlook it no longer opens. All I get is the Outlook splash screen then it closes. Soft reboots don't fix it. Pretty annoyed.

Same Here. Calendar will not open as well. Yay for us! :) Lumia 1520 .164 build

I had the same issue in my lumia 735. My emaill/calendarapp does not open anymore. I'm doing a hard reset

So.... Are we supposed to wait a few weeks for another update? Perform my 20th hard reset? I'd rather see another update asap to fix it.

I'm hoping for another update as well. Cross your fingers

Also, now on the lock screen calendar reminder have "running late" option.

Unable to open excel or ppt attachments directly.. It is directing me to store to install app..but there i can see "open" app option.. By clicking on that only my attachment opens.. Dont know why? Am i missing any settings?

Reinstalling excel solved the prob.. Dont understand whether its a software glitch or anything to do with excel file formats

Outlook mail and calendar crash every time I try and open it.

Since update, on both phone and desktop W10 Mail app, it is now sending mail from my old hotmail account which is a secondary alias and not my outlook.com account which is my primary alias. Not quite sure how to fix and don't want to just delete hotmail alias since that does not address the underlying bug. Sent feedback both on phone and desktop mail app. We will see what happens. Note, outlook.com on web and Outlook desktop work just fine, so it does not appear to be an issue on the back end.

Still no updated outlook app. I've got the right build...
Windows Central Newsletter
Get the best of Windows Central in in your inbox, every day!
Thank you for signing up to Windows Central. You will receive a verification email shortly.
There was a problem. Please refresh the page and try again.