Make it Rain: The Love of Money now available on Windows Phone with Xbox Live support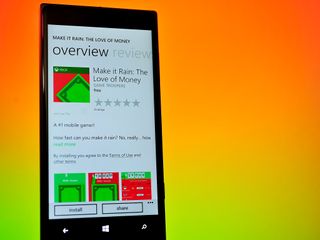 Make it Rain: The Love of Money is arguably one of the oddest and silliest games to land on Windows Phone (and Windows 8.1 soon too), but here it is. From the developers Game Troopers comes a simple game that is also evidently popular on Android and iOS.
The goal? Flick dollar bills as fast as you to, well, you know, "make it rain". Of course, there is more to the game than just that as you can score points and then "invest in venture capital, loan sharking, or offshore drilling." Sure, whatever.
The whole concept is befuddling, even more so since it has Xbox Live achievements. If you want to have a jaw dropping moment, peep the new trailer for the game that makes clever use of…well, just watch it.
The whole thing is tongue and cheek, and since it is free and has Achievements, here you go. Let us know what you think in comments. No word on when the Windows 8.1 version goes live, but we'll keep you posted (if you really must know).
Via: WindowsPhoneApps.es
Daniel Rubino is the Executive Editor of Windows Central, head reviewer, podcast co-host, and analyst. He has been covering Microsoft here since 2007, back when this site was called WMExperts (and later Windows Phone Central). His interests include Windows, Microsoft Surface, laptops, next-gen computing, and arguing with people on the internet.
lol.. nice video for the app

"I was trying to make it rain 'til u interrupted"

Hahaha, I lol'd when I saw the video. :P

Here comes the root of all evil... LOL

The love of money, not money itself right....

Awesome. One thing though, isn't the Xbox game banner standard?

I know. It looks different on various Xbox games on Windows phone

Hmmmm get it. I saw some different banners around the Store. I don't think there's a standard.

A keen eye. Yes, you're right. The Xbox banner is not standard, for some ridiculous reason. You'd think Microsoft would be on that, but even their own first-party games have banners of different shades of green and different sizes. It's ridiculous.

The video is really funny...good one!

Why it's odd? Didn't get it :( There's a "thing" behind this game?

So there's no strippers involved!? Okay

Wait this was already out on WP

No, not really. It's release date is today.

Must have been a clone cause it did all the same stuff

It was out under the same name long ago, but didn't have achievements.

So I'm not going crazy then, this game was out on WP.

nope it was or (is) a clone i still have that one on my L1520 as we speak and its not asking for an update, so ya it's a clone this one is the real deal

The existing one was a clone. I've already played it

You're better off that way, trust me.

Please, contact us on support@gametroopers.net if you're experiencing crashes. We need you to share this info with us: Phone model OS version Region and Language

I have a crash too Model : Nokia Lumia 635
OS : Windows Phone 8.1
Region :USA (Im from Bulgaria though)
Language:English

Same on my 1520. Latest OS (not win10). US/english

The swipe movement don't function here (lumia 730 user with Windows 10 TP). Can't enjoy the game :/

Lol. U still use windows 10 preview for phone? Better restore your phone back to 8.1 before it gets bad..

Or gets better. I'll wait for next build

Can't do much on win10 for phone im really waiting on the rollback feature

I've restore my phone since the build cause a WiFi and cellular issue. Besides that some of the apps doesn't work and laggy..

Haha wow, I've totally played this in the past. Gonna have to check it out! Posted via the Windows Central App for Android

Same on Lumia icon :(
App force closes...

The Force is stronger with you..

I've wasted too much time on stupid games like this. Be clicking cookies or making money rain, if my friends start I can't stop. I need new friends...

Played it last time. Sure , I'll get it again. The commercial are hilarious! Lol.

Be sure to thank Game Trooopers. This is their 2nd straight Xbox game on WP, after Tiny Troopers. But I'm most looking forward to their next one --> Abyss! #SaveXboxWP, for the win

I'm sure glad there's another "high quality" Xbox game on here. But achievements make the gameplay not matter right?

No, that's not right at all. Perhaps try understanding the people you are stereotyping before you further betray your naïveté.

The most important thing about games are the games themselves. Any achievements, certifications, social features, etc are just extra. Nothing wrong with wanting those things. I just find it ridiculous to hate a game just for that reason. The game is the game, everything else is secondary. You do your saveXbox campaign all you want, but I support gamesforgamers.

You should actually read the #SaveXboxWP thread before naively dismissing it and then mischaracterizing it like you just did.

I've read it. It says that you consider expanding your Gamerscore and social aspects more important, and saying the other platforms had normal boring games. (Even though there is a huge library of good games our platform doesn't). I'm not anti-Xbox, I could honestly care less. I just think it's ridiculous to place Xbox branding priority first, because the most important thing to me is the game itself.

I don't understand why all developers can't have xbox live features in their games. Only a 'selected' few can. Achievements and multiplayer really do keep the game from being repetitive and boring

It definitely needs to be a lot easier, especially for indie developers, which is one of the goals of the #SaveXboxWP movement. Check out the details here.

It's more addictive than my Valiums

Game won't even open on my 1520. :s

Does its currency reflect the country of user? Mine is showing Singapore dollar design.

So fun they ask to respect MS developers one week ago and now say that the work of one of the few developers that are caring to add Xbox support and port apps to WP its silly and such. Funny people

Correction *tongue IN cheek ;-)

Cookie clicker with fewer angry grannys :P

Ok,dumbest game ever...yet, I'm drawn to it like a moth to a flame of idiocy. Lol. Just a few more $$$... Btw, it runs fine on my 1520. Thanks Game Troopers for helping me to realize how void of meaning my life was before this game.

Won't start on my 1520. I even tried reinstalling it twice.

Anybody having an issue with the achievements not updating to your profile? Usually the ones on my phone update fairly quickly. I'm on a Lumia 928.

LMAO! That was pretty damn funny. Better than any of the commercials shown during the Super Bowl. I'm going to try the game just because this made me laugh... and because of the achievements.
Windows Central Newsletter
Get the best of Windows Central in in your inbox, every day!
Thank you for signing up to Windows Central. You will receive a verification email shortly.
There was a problem. Please refresh the page and try again.