How to manually check for app updates on Windows Phone 8.1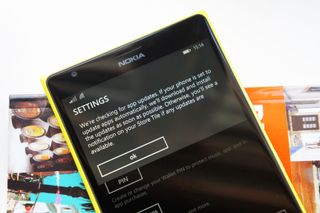 In Windows Phone 8.1, consumers are now able to check for app updates manually. There have been a number of third-party apps published to the store to achieve this in past versions of the operating system (prior to the 8.1 Preview), but now Redmond has added this functionality to the platform. It's a great trick in case you think you're missing an app update or you know a new version of your favorite app or game is due to that day.
To manually check for updates to all games and apps installed on your phone, simply follow these steps:
Manually check for app udpates
Launch the Store app from your Start screen or App list
Open the app menu (the "...")
Select "Settings"
Press the "check for updates" button to begin the manual-check process
If you have configured your phone to automatically install app updates, the OS will carry this out. Otherwise, look for a counter in the Store app (or on the Live Tile), which will enumerate how many app updates there are. (Alternatively, you can access the Store settings via the general system settings area, though you are probably less likely to use this method).
While you're on this screen, you can also configure the Windows Phone to automatically install new app updates. It's useful if you have a lot of content installed and don't wish to have to keep manually updating everything, but you're left in the dark as to what has been updated.
Finally, if you want to see what was updated, just go to Downloads and swipe to the right for History. There you will see a record of all the installed and updated apps, ordered newest first!
Further Reading
Windows Phone 8.1 Tips, Tricks and How To
Get the Windows Central Newsletter
All the latest news, reviews, and guides for Windows and Xbox diehards.
Rich Edmonds was formerly a Senior Editor of PC hardware at Windows Central, covering everything related to PC components and NAS. He's been involved in technology for more than a decade and knows a thing or two about the magic inside a PC chassis. You can follow him on Twitter at @RichEdmonds.
Same. Sometimes twice. It's been working like a charm and it's so great to finally have. Throw in the app-update notifications in the Notification Center and it's complete.

Good.. I'm also doing that twice a day.. A shortcut or a tile for that would have been perfect!

Im sure theres a homebrew shortcut out there for dev unlocked devices

Now I think it is time to say goodbye to sysapp pusher.....:)

I do get notifications when an app gets updated..

It already shows the app-update notifications in the Notifications Center.

I just wish the notification center would tell you which app was updated.

Some history for fun :) I remember the moment we decided to implement this feature. We were sitting down going through the bugs (I am one of the leads on the store) and a request came in the form of a bug for this feature. I myself had wanted this feature and I knew (from trolling forums here and elsewhere) that our customers had asked for it as well. So the bug comes up in our meeting: "Make it so that we can do an update check manually". This was towards the end-ish of the release so we were swamped with work to finish. The other leads say "yeah...would be nice, but we just don't have the time to do this now :(". So I ask "Do we WANT this? besides resources". They said "Yes. But all of our devs are overloaded right now and none of them have time to do it". I said "ok, fine". I then implement it myself during the meeting. It was really trivial and didn't need much code to be honest (hence why I was OK taking the risk of just doing it right then and there). Another hidden change we threw in is that the store now at every launch will check if it hadn't done an update check in more than a day. If so, it will automatically trigger a check. We know that we had a bug in the wild were update check sometimes stops running. It was *VERY* hard to track the bug down since it only happens on retail devices and we can't get logs out of those. We tried hard to repro it but it just wouldn't happen. So we put in this change as a fallback in case it happens again. If it does, we will know the next time you launch store and fix it for you. The feedback you guys give here and elsewhere is truly valuable and tends to influence more than you think behind the curtains. We are building this for you, after all ;) Enjoy 8.1!

Did you also implement the necessary tests in the meeting too? ;-)

Tests? What are you guys good for, then?! :)

cool story bro... (I kid, I kid)

Awesome, that's listening to the customers right there!

didn't know it has a usage limit i been doing this dozen times a day and still working like charm.

It's a very useful feature.

Transparency tiles updated!

Open up glance from settings..!! It will req. A restart then afterwards glance will look alike clock on lock screen

Isn't that the whole point of glance...

Yesterday I got two apps update(apps needs attention notification) even though the setting has been turned off. Why is that?

The setting is to actually update them automatically. The notification is just telling you that an update exists.

does installing wp 8.1 affects warranty??

i hope you have a slow and painful death...

What goes around comes around.....

YEES!!!
It will void your warranty until your carrier rolls out the official update to everyone!!

Not if you do "the trick".

I always disliked having multiple updates and not remembering what all was updated, because I wanted to open each app or system setting to see the changes. With the new history tab, its a beautiful thing.

You're not really "left in the dark" with auto updates. It'll show that updates happened in the Action Center, and in the store, you can go to Downloads, and then swipe to history and you can see when apps were installed and/or updated. [EDIT] You mention the above in the last paragraph, missed it. Still, only takes a second to see what's updated when you're set to auto update. :)

I also usually manually check for updates but then i guess i don't need to because the automatic app update is nothing but a gem. and the Store App always notifies me when there x numbers of apps updated as of today. Now i realize the only time i see a live tile number in the Store tile is when an update can not be performed via Cellular.

Get BBM fast in Lumia devices

People are still using bbm?

On my wp8.1 phone, I get notifications for every update. It tells me the number of updates and if you rap the notification link, it will take directly to store where you will see all your updates and can also see if the developer included a change log.

There should be a shortcut at store homepage.

Okay, I don't get this, it doesn't actually let me "manually" check app updates, it does that in the background when my auto update is on. But I thought I could check for any update before the system do, that's what I call a "manual" update. I liked how iOS's app store scans for app update as soon as you navigate to the "Update" tab. It's a shame that Windows Phone still doesn't let us do that manually.

What do you think the "check for updates" button does? It manually checks for updates. Within 5 seconds or so you get a notification saying that apps need your attention. If not, your apps are up to date.

You should probably give reading the article a shot.

Microsoft should improve the store. As soon as an update is available we should be getting the notification automatically like ios and android. The 'manually check for updates' is just a good way of hiding the store weakness.

then why not turning on "update apps automatically"?

This process on 8.1 is so easy and with the action center the store lets you know which apps were updated.

What would be also nice is the notification center also includes "such n such apps were updated" as an FYI just like iOS does so you know what apps were updated.

This is already there.. I always get notifications tat these many apps are updated..

Good to know. Thanks for the info.

This, along with the "What's new in this version" app update page makes this part of the store feel 100% complete.

Please tell when is official update going to get released in india

I guess sometime in June..

i think july end, I am also waiting for it. But I guess may be june end if bugs will be removed in developer preview ( bugs differ person to person) moreover Daniel Rubino said may be official release for wp8.1 for new handsets is 31st May then after that they will start wp8.1 worldwide according to phone (like 1520 then 925 so on.... ) in weeks to 2-3 months that means august end all will be on wp8.1, if carrier permits, as we know no carrier problem in India

June end or July if everything goes as planned.

I wish there was an option to do this without having to go to the app's settings.

Everytime I see an update in the notification, I just pray for it to be WhatsApp :(

All my WhatsApp pics now get downloaded to Other Pictures folder and are not accessible through the app. What's wrong with it.

Yeah same problem. It sucks when you cant pick up the photo to share from an app. :@

Every time you give a tip or a how to on WP8.1, the OS geting bether and bether...

Such a good post. People normally moan.

Aren't you guys getting a little overboard with all these "how to" posts?

Are you telling me none of them have informed you at all...? I mean... How-tos are surely in WPCentrals remits, no...? I've liked them-even the ones I've figured out myself. For one thing, it allows people to make comment on the feature.

Why is it overboard. Better to have a How To post for users to read than 20+ posts from different users asking the exact same question.

I remember pleading for this when I first got my phone. Some of the 8.1 features are great (living the slide keyboard), but some features, like this one, are just plain overdue. Anyways, they've done well. Easy to use feature however you choose to configure it.

This is one of my fav features of 8.1. Got tired of waiting till 4PM every afternoon to know when an update was available.

This is one of the cool features that make me happy using WP8.1

I never get updates on my tile or notification center when apps need updating ever since 8.1 :( The only way I can check is through the method in this article.

How to do this in 7.8 pls help

As far as I know (because I didn't get to use 7.x) you can't. To the 8.x line of the OS, it's a new feature found in the Windows Phone 8.1 Developer Preview.

How to add cellular + sim in notification center????

Still didnt get how does that manual checking for updates works. Everytime I go onto the settings (Store settings) and set it to check for updates it does nothing.
I mean no message like "theres no updates" or even a "checking for updates" message.
What should i do after clicking on "check for updates"? Should I press OK on the mini-screen that prompt or wait?

Is this a joke?!
THE APP SHOULD DO THAT AUTOMATICALLY, BY DEFAULT! How did we get from having the market app autosearch for updates, a feature that's pretty much standard, to an app that does it only with auto updates or if you manually initiate a search.

Wish there was an option to enable/disable "Screenshots" in the store settings. Before the preview, screenshots for an app were not on the main app page. We needed to swipe to get to that page. Not so is the case after the preview. When on a cellular connection or when we know what we need to download, there is probably no need for app screenshots. Disabling it would save data costs as well. Giving how much Microsoft has been giving importance to Data saving features (Data Sense), I am a little surprised, this isn't available already.

You aren't left in the dark your next statement shows this, plus the notification center shows a number like the tile used to

Everytime i've to open the "Downloads" option to view the status of downloads. It will be great, if MS can add a tab 'downloads' in the store itself.. :?

This does not work properly, after I came to know about the app folder update for Nokia in wp central, i tried to get the update but it didn't show even when i used check for updates! But when i went manually to the app, it showed! This thing happened to me 2nd time!