Re-installing apps and games with Windows Phone 8.1 is now easier, here's how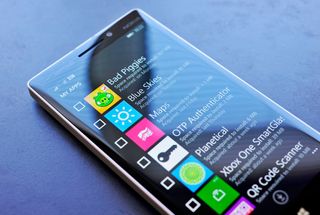 The more we use Windows Phone 8.1 the more features we discover. Such as re-installing apps and games you've purchased in the past.
In the past there were basically two ways to re-install an app or game you had deleted from your Windows Phone. First, you could hunt down the app in the Store and re-install it. Second, you could pull up the Windows Phone Store's website and go into your account to view your purchase history to find the app or game to re-install.
While those two options still exist, Windows Phone 8.1 now offers you a third option.
Windows Phone 8.1 redesigned the Store app rather significantly. One of the new features is a My App section that will list every app you've purchased with the ability to re-install these titles directly from this list. Here's how to go about it.
Launch your Windows Phone Store App
Up under the three-dot menu you will find an option to view My Apps
A list will be generated from your purchase history
It may take a few minutes to generate this list based on the size of your purchase history. Once generated, you can tap on an app or game to pull up the Store listing or tap the select control button at the bottom of the screen to choose which apps you want to re-install.
Once you've made your selection, tap the download button that is now at the bottom of the screen and the selected apps will start to re-install.
Now it's your turn: What do you think of this new feature and, perhaps more importantly, how would you make it better? Give us your thoughts in comments!
George is the Reviews Editor at Windows Central, concentrating on Windows 10 PC and Mobile apps. He's been a supporter of the platform since the days of Windows CE and uses his current Windows 10 Mobile phone daily to keep up with life and enjoy a game during down time.
For the record, George has had 2137 apps installed, while I come in at a measly 1345 :)

It was 350 for me Daniel. I am a kid when compare with you and Ponder... Ha ha ha

Lol..!! Think of so many apps on android phone So many listsss nd a bricked phone ....;P

I only have 711....a much easier way to get my apps back after a restore....

After restore, you will be able to install your apps automatically without having to use this method. Of course that will install only the apps that existed on your phone before the reset (or rather as per the last backup before the reset)

Aww, only 806. I'm a lightweight.

to think I was surprised about my 500+..

to think I was suprised about my 337

I have arond 541 apps on my Lumia 520

839. All from wp7 days too

Daniel, do you know when you'll fix the WP Central app to have constant transparency for the live tile? Right now it keeps on switching randomly from transparent to accent color. Thanks!

You should talk to Jay Bennett about that

Daniel isn't the developer of the app. You should report it to Jay T Bennet. He usually replies to my twitter mentions.

The update is coming next week. You know that if you follow Instagram and the posts from WPCentral.

Lol idk how i always find your comments.. anyways, 1565 apps. But everytime my phone tries to sync them. it shows a "can't connect" error

Out of 250,000.. Come on guys, you can do better! :P

1248 for me. Hope my tip my use full :)

This site is now my favorite website for Windows Phone/Windows news--I feel like I'm here 10x per day. Sorry, Paul Thurrott, MaryJo & Tom Warren! lol You guys do a GREAT job of making tech seem interesting & fun. :)

Lol I had only 273 apps xD

Really?! How many do you even use?lol

4020 apps. But I think their are users who have install 10K + apps.

1510 for me, jst 10 short of 1520 :p

Only 568 and I am one of the early adopters of WP.
First ever app was XBox Live Extras on Omnia 7, then Now and Photogram from Samsung.

722 for me so far, its incredible. i did a spring clean of my app lsit prior to installing 8.1 and i realised there were 10 apps i never really used or even needed. the awesome thing now is that with sd card app installs, i can finaly install those beefy titles like Halo Spartan Assualt. the freedom of the little feature alone is amazing.

Whoa, what? I'm pretty sure windows phone doesn't have any more than 20 apps. Then how did he mange to install over 2,000?

1,102 for me but that seems low. I think I did a count via the web last year and was over 2,000 but maybe it only shows active / Win8 apps? Either way; happy to say i download like a beast!

One one phone or all of your phones together ?

hi daniel , i update to 8.1 on my lumia 1020 when it comes for developers and today i reset my phone for the fast drain of battery , after this work , "my apps" in store say me "thousands of apps wait for you in the store" but before the reset my phone was 726 and in battery saver my store have not any "app in background" key but before reset it had this key , please help me what am i doing for these problems ?

Great! That will make it easier for me to do my daily uninstall/reinstall of the At Bat MLB app!!!!

Yeah, that app needs some dev attention

And the MyFitnessPal app, too.

I like this feature. I had 1502 in my list.

It also separates apps you've purchased but that are not available anymore. These are after everything else in the list.

2700 :) That's my lucky number :)))

I have less than 50! What does that make me?

I didn't even know windows phone had 50 apps :P

Is there a way to remove unwanted apps from that list ?

Second that!!!!! Got some duds I dont need to revisit

This. There are so many apps that I would never download again, and this feature would be great.

THAT is the next feature they need to work on

Totally this. The Windows 8 store has the exact same problem. They probably do it to keep track of trial downloads, but if it were smart enough to only keep timed trials (so you can't constantly reset the trial) and get rid of the crud, that would be wonderful.

I want this really badly too!

Yeah this needs to happen. Same with Windows 8 Store. So many things in there that aren't "my apps" but "shit that wasn't good enough to keep installed"

Actually once I got few app free now they are paid but with this new store I am able to get it free now.

No that's not new. If you get a free app it remains free for you.

Less than 500...kind of proud of myself, actually...thought I was excessive.

wp 8.1 merit-- notification center.....cortana..quiet hour ..separate volume control apps 2 sd etc... demerit----no fb integration messagi ng...no live music tile...no artist image while playing music.......no artist image on lockscreen....response of lock key not good..no background image in gallery...

Daniel has said in a few articles that deeper Facebook integration is coming in future updates to WP 8.1

for artist image on lockscreen you have to disable/enable again under settings, works here.

Enabled yet doesn't work.

so you installed something that is a developer PREVIEW, and you expect everything to be covered? especially when it comes to apps like xbox music... and response of something or some imagine?
really... maybe some people shouldn't try to beta test something they cant deal with, if it was official release I would agree but they will update the apps and make it better, because now you don't need a full OS update to keep updating xbox music and stuff. Same with facebook, a full OS update shouldn't be required to get features it should have, yeah it was fast and all, but it was too limited, better work in a way to integrate facebook apps to the OS or make facebook app the best (again it can be updated without a full OS update). I mean there are features that aren't included in this release and bugs and all that... and they will work on it. but if you can't be patient, you shouldn't test it next time.

A measly 735. Love the new feature. Wish you could sort by name, category, or date (currently provided sort).

Thanks! This is quite handy!

The backup feature that saves the start screen, settings, and apps almost made me shed a tear when i had to reinstall 8.1

3000+ Apps Chellange Accepted

I have 2111 and quite a few I purchased.. #wp8.1

Happy that it doesn't kick you out of the store during downloads anymore.

I'd like a way to trim the list down. FWIW, it took Google Play a long time to offer that feature.

I have 706 apps in the list.. Scrolling is a pain :)

Is there away to delete them

What i love about the new store feature is its ability to download app updates automatically. You can turn it off by default but man, why ever turn off a feature that would not let you worry if the app running in your phone is up to date. I just woke up one day and my phone notified me that there were 17 apps updated. i didn't do a single thing.

300+. Also they need to revamp their web Store UI.

1916 apps downloaded. Wow!

539 here, most of which I don't think I'll ever be installing again... It'd be nice if it was like on iTunes on iOS, where you could hide previously downloaded apps you didn't care for showing in your history. I forget where you had to go, but I also remember somewhere in the settings where you could view hidden apps, and unhide them or reinstall them. I'd like to see the same for Windows Phone, as it's very cluttered with all those apps I'm never going to use...

yup, I concur 100% or to use the vernacular +920

A paltry 649 and it looks like a good number of them are games my daughter downloads when she snags my phone. HAHA!

Love this! Only 220 apps though :P

Phew I'm a lightweight :) 155 over a year with 73 actually installed.

Need a way to delete apps that we will never want to reinstall again.

My list appears to only be showing apps that I have downloaded but uninstalled. I don't see any of my currently installed apps so I can't use it to reinstall. On that note I have been trying to update my Onenote app. The store shows version 4.0 my phone has 3.5. There is no option to uninstall Onenote on the phone. When I try to reinstall it directly from the store online nothing happens.

8.1 go to store, settings, check for updates. They will appear in notifications later.

Tried that. Even though my phones ondrive is 3.5 and the one in the store is 4.0 it will not update.

Actually, mine is v.3.5 on L920. Wonder if v.4 is PC or RT???

I'm looking at windowsphone.com. It shows onedrive version to be 4.0.0.8 updated on 3/14/2014

You are correct. Maybe someone will read this and advise.....

I have 5,680 apps installed.

I don't know if Android have 5,000 apps installed what happen to the phone maybe hang all the time.

I cant find apps that need to be updated, the new store hides it :(

A little block will appear on the top of the page when in the store showing available updates.

On 8.1 go to store, settings and select check for updates. I tried this and later 6 apps appeared in notifications for updating.

I wish it would be possible to remove some apps out of that list.

Doesn't show my apps from other region that I bought .....like I have purchased a few from UK region and also from India during the rovio free games run ......

Yup Microsoft should consolidate them

Off topic and you may or may not have already discovered this. To remove any notifications instead of all at once is to simply swipe them to the right. You can swipe away several at a time as well.

Never realized how many apps I actually had previously. I thought around 50, but its in hundreds.

I love this feature. They really make this better. The best is we don't need click purcase again for apps we already bought.

Can you sort by date installed or most used, or last used?

No other platform offers this level of control, Android just sucks your bandwidth and starts downloading the first time you login.

I got just 198 apps... But I always get an error saying we are having trouble connecting to store.... I'm on Wi-Fi...
Edit: I'm actually from India but for Cortana I have changed my region to USA does that make a difference?

Very useful when installing many apps at once

I was able to download The Harvest on my 822. Weird Update: Started the game up and my phone said, "file not supported." Then it booted the game up and I was able to play it.

I like the check for update feature very much, btw

Forgot about check for updates, clicked on it, later 6 apps appeared in notifications for updates, yeah!

650 apps total. 2 phones. My HTC Trophy and Lumia 822 :-)

Sorting - it's apalling how often this is overlooked.

It would be nice to be able to sort the list in alphabetical order.

hmm.. anyone know wy some apps are listed as "not available for this phone" in the my apps section?

Glad the option to see what you've downloaded is present - unless there was a way to see what you had previously downloaded, and I missed that option; I'm grateful for this as I could never remember what I'd purchased and deleted off my device!

you actually count total no. of apps or any method?

Would be nice to have sorting (Name, Date) or grouping (Games, Weather, Productivity, etc.) options.

But still means of permanantly deleting an app to clear out the dross of all those uninstalled apps that you will never wish to reinstall. Even BlackBerry sorted that out.

How do i clear the purchase history?

Maybe itll be easier if there option we look app that we already paid and free.. Just opinion

Me not more than 130 counting from a to z. I only install & keep what I use

So much easier. PLUS, one of the apps I PURCHASED kept downloading the trial version from windowsphone.com. When I downloaded from My Apps, it gave me my paid version back! :)

Wonder how well this feature will work next rc update. Since lately ms has screwed up this feature for xbox 360 during the last few dashboard preview updates

Its too clustered.. It must have some type of sorting option. And seperate pages for installed, not installed, installed on other device, not available Pages.

The "check for updates" feature makes everything so much easier now. Haven't even had to run SysApp Pusher ever since I updated to 8.1...

I haven't had the opportunity to go through the comments, but I figure its worth mention the last installation option - install manually. Download the required installer from the desktop and copy to sd card and installing. Since updating to the 8.1 preview, my store hasn't been too reliable. But this method of installation has done wonders. Installed nearly 50+ apps in one go

Maybe it's just me but when I moved from my Lumia 822 to my 928, all of my my apps and games either downloaded automatically over cellular or queued up to be downloaded over wi-fi. I thought that this is what happened with everyone. I have less than 100 apps on my phone but I don't know if this would factor into it.

this is drumstick option for to reinstall apps which once owned!!!!!!!!!!!!@@@@@@

Sadly some apps won't work on WP 8 they need WP 7.x to work

With this easy reinstall option there's only one feature (still) missing: my app deadlist I can't be the only one who has installed free or paid apps that turned out to be absolutely worthless. Either badly designed or bait apps. Last week, blinded by optimism, I bought the Monument Valley game, which of course wasn't the game at all. My bad. But I want that app out of my reinstall list. And there's more apps like that. With all the new 8.1 features at least 10 apps I once bought are obsolete. I need a place in the Store to put away these apps and keep them apart from the other, functional apps in my purchase history. Microsoft could even turn such a feature into a quality control mechanism. If an app ends up in too many people's deadlists, pull it from the store, or at least give it an indication so other users are warned.

It would be nice if you could separate apps. This feature doesnt really help as a means to recover apps if you are sifting through a list of 1000 items. Might be easier to forget it and search the store. (I know the list is ordered according to date of installation, but still)

in my phone my apps is not working... it does not show my purchase history... it shows, " there are thousands of apps waiting for you in syore" as if i have never downloaded anything... it happend aftr a hard reset... plzz help..

Hi, I installed PicsArt on SD Card on my Lumia 720 (WP8.1, Lumia Cyan) but don't see it in Apps List. I go to Storage Sense to uninstall it but it's not visible there too. I tried what you suggested but it's not present in the My Apps list too. Now what should I do to get it back? How can I uninstall it and reinstall? Please guide me. Frustrated

Hi
I wonder how can I get rid some of those plenty apps
Windows Central Newsletter
Thank you for signing up to Windows Central. You will receive a verification email shortly.
There was a problem. Please refresh the page and try again.