Martha is Dead preview: A horrifying experience that's equal parts gorgeous and gruesome
The gripping duality of blood and beauty.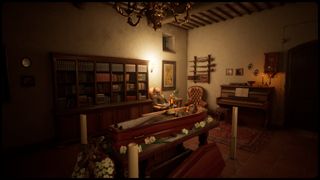 (Image credit: Windows Central)
Martha is Dead is an upcoming psychological horror title from Italian developer LKA. As an enormous fan of games with slow-burn scares and haunting surrealist visuals, this ambitious title from the small 10-person team has been firmly planted on my radar for some time. After years of development and a delay out of 2021, I've finally had the opportunity to go hands-on with the first seven chapters of Martha is Dead. Based on this sizeable sample slice of the game, it seems like it'll end up being well worth the wait.
The few hours I've spent with Martha is Dead so far have been a dramatic rollercoaster of stunning beauty and nightmarish brutality. One moment I found myself in awe of the gorgeous, sprawling Italian countryside, and the next, I was hurled headfirst into a grizzly sequence of gore and mutilation. This frequent and extreme contrast delivered a unique sense of pacing in Martha is Dead that I absolutely adored. If you're looking to play something in February that's equal parts disgusting and intoxicating, this is a game to keep your eyes on.
The world of Martha is Dead
Set in 1944 Italy, Martha is Dead focuses on the tragic death of the game's titular character and how this devastating development impacts her family, especially her twin sister, Giulia. Players take the role of Giulia as she desperately tries to uncover the truth about who really killed her deaf sister. With a terrible secret to keep, Giulia hopes to find the answers she's looking for through the lens of her trusty camera.
The dark story presented here does a remarkable job incorporating traditional folklore as well as tying in-game events to the horrific history of World War II. From the opening sequence where a young Giulia's nanny reads her the haunting tale of The White Lady to the shots of warplanes flying overhead, there's a genuine sense of weight in every moment of Martha is Dead. Heavy themes of fear, death, loss, and love are elegantly interwoven throughout the narrative of this psychological horror title.
A gorgeous presentation
Upon the first few seconds of playing, it's immediately apparent that Martha is Dead is visually stunning. Our intro cinematic with a close-up on a scarred Giulia's face demonstrates incredible fidelity and highlights the team's attention to little details. Areas like her cheeks appear soft and resistant to harsh reflections. However, as the source of light changes to illuminate her scars, those damaged areas of skin accurately appear smoother and more susceptible to throwing back this light. This meticulous level of care is applied to more than just character models.
The hyper-realistic graphical style in Martha is Dead adds an enormous sense of familiarity and relatability to environments. I've certainly never been to 1944-era Italy, but it was easy for me to get lost in the fantasy of this world because of how well set pieces were staged. The quaint shared bedroom of Martha and Giulia felt cozy and comfortable, while the darkroom for film development in the basement felt tense and foreboding. The various trinkets scattered throughout Giulia's family home all seemed purposeful and contributed significantly to the believability of these locations.
While much of my time with Martha is Dead was spent navigating the tight halls of this specific house, some respectably sized exterior areas add a compelling sense of scale to the game. During the day, exiting the front door unveils the stunning scenery of the lush Italian countryside. Dense trees fill the horizon, and birds effortlessly flutter through the sky. At night this exact location takes on an entirely different yet equally beautiful feeling as the dense trees are now shrouded in darkness and act as reflective beacons for your flashlight. Even in its most tense moments, it's hard to ignore how gorgeous Martha is Dead is.
And gruesome experiences
Unfortunately, or fortunately, depending on much you enjoy the macabre, the distinctive visuals in Martha is Dead make for some certifiably disturbing video game moments. For those who are maybe on the squeamish side or simply don't want any of these gross moments detailed, be warned that this section will contain graphic content. With that being said, I have to talk about some of the outrageous scenes of blood, viscera, and horror in Martha is Dead.
First, and certainly one of the most memorable for me so far, was a nightmare sequence that involved Giulia revisiting the lake where her sister's body was found. However, instead of simply retrieving Martha's body from the lake to potentially save her, you are tasked with using a necklace ornament to carve off and ultimately wear your sister's face. During this scene, you are given total control of the cutting and even peeling of the flesh from the skull in a disturbing mini-game.
Another exceptionally gruesome moment in Martha is Dead involves a decaying body and a newborn baby. After entering an ominous red door covered in skulls, players are tossed into the perspective of a child curious to see the contents of a coffin displayed in the family dining room. Upon opening this coffin, you witness a ghastly, decaying Martha with maggots writhing in her dead skin. And if that wasn't disturbing enough, from here, you're transported into Martha's festering womb as an infant who's just burst through her stomach. Moments like this in Martha is Dead unquestionably earn the game its opening content and trigger warnings.
Will it deliver?
It's hard to say whether Martha is Dead will deliver a satisfying conclusion to this dark narrative, but I can't wait to see how it ends. The team at LKA has presented a compelling psychological horror title packed with care and memorable moments of dread even in its first few hours. I obviously can't definitively say this will be one of the best horror games on PC in 2022, but if you're a fan of the genre and want an intense experience that will keep you on your toes, I wouldn't recommend you miss this one.
Martha is Dead is currently scheduled to release on Feb. 24, 2022, for Xbox Series X|S, Xbox One, PC, PS4, and PS5.
Uncover the truth
Not for the faint of heart

Martha is Dead looks to deliver uncompromising horror experience filled with heavy story and uncomfortable situations. This is one to watch for fans of the genre.
Get the Windows Central Newsletter
All the latest news, reviews, and guides for Windows and Xbox diehards.
Miles Dompier is a Freelance Video Producer for Windows Central, focusing on video content for Windows Central Gaming. In addition to writing or producing news, reviews, and gaming guides, Miles delivers fun, community-focused videos for the Windows Central Gaming YouTube channel. Miles also hosts Xbox Chaturdays every Saturday, which serves as the Windows Central Gaming weekly podcast.