Mass Effect trilogy heads to Xbox One's backwards compatibility list and EA Access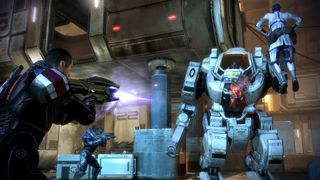 Fans of the Mass Effect trilogy, rejoice: all three of the Xbox 360 titles are now playable on Xbox One via backwards compatibility. Given Mass Effect's popularity as one of the biggest franchises of the Xbox 360 generation, this is sure to come as great news to many.
On the off chance you're unfamiliar with the Mass Effect franchise, the series puts you in the shoes of Commander Shepard as you explore the galaxy, interact with alien races and complete quests. Throughout the trilogy, you unlock an epic story in which your choices and actions have real consequences. When combined with the games' third-person shooter and RPG elements, Mass Effect offers a pretty compelling overall experience.
With the next title in the series, Mass Effect Andromeda, due out in early 2017, the timing of this move couldn't be better. If you already own any of the Mass Effect trilogy, you should be able to play on your Xbox One now. Unfortunately, you will need a disc copy of Mass Effect 2 and 3, as the original Mass Effect is the only part of the trilogy currently available digitally.
Update: In addition, all three Mass Effect games are also now available in the EA Access vault for subscribers to check out.
See Mass Effect at the Xbox Marketplace (opens in new tab)
Dan Thorp-Lancaster is the former Editor-in-Chief of Windows Central. He began working with Windows Central, Android Central, and iMore as a news writer in 2014 and is obsessed with tech of all sorts. You can follow Dan on Twitter @DthorpL and Instagram @heyitsdtl.
Holy crap, at least the first one should have already been on the list. All Microsoft studios titles should have been worked on as a priority.

the first one was already

Ok, then I stand corrected!

"Unfortunately, you will need a disc copy of Mass Effect 2 and 3, as the original Mass Effect is the only part of the trilogy currently available digitally." I am out then (unless they add digital versions). I have gone 100% digital.

Same for me. If not digitally avaliable I won't buy 2. and 3. game.

I'm a holdout. I want to be able to use these in 10-20 years, so I have the discs. So, yippie for me I guess.

You expect whatever the Xbox is in 20 years to have a physical media player? I think they may go the way of the PS-2 port eventually when flash media becomes even cheaper and more reliable

If your disc lasts that long.

Yeah there's no guarantee that it will not get damaged, or that in 20 years there will be anything to even read the disc.

It is also available digitally with EA Access subscription...

Yup... Just caught that and since I have EA Access (which I love) then everything worked out! I'll be playing these three and hopefully I can finish them before the new one comes out!!! :D :D

This is what confused me... if it's available digital there why wouldn't they want to sell it to the rest of us?

It's because of the way backwards compatibility works on Xbox One. The disc is never read except to verify ownership. All files are actually prepared for the Xbox One and downloaded when you insert the disc. If you own the game digitally, that also grants the entitlement. But most of these multi-disc games are not available digitally for the 360, so EA Access is just the first time they have had a way to entitle them digitally on the Xbox One other than by selling in the 360 store. I'm hoping Microsoft will come out with a way to buy these games on Xbox One, even if they are not available for 360.

Xbox is the only place you can play the full mass effect saga.

Pretty sure I did on the PS3

Dammit!!! I bought mass effect 3 digitally and never got finishing it

Looking forward to falling asleep again during the ME1 elevator rides. 10/10.

Awesome. I would pay extra for a remastered version of the trilogy also (hint hint, Bioware)

Well there goes my free time again hehe.

Did someone check the https://www.ea.com/eaaccess​ ? If this is only for physical discs why are they displayed on ea access? I will check inside the xbox one later, because already have EA Access.

You get it digitally with EA Access, but it's not available to purchase digitally.

Come on EA. Make them free with purchase of the new mass effect.

I'm sure they will closer to release date in 2017.

Finally.... I bought a new Xbox 360 some six months ago before they became super difficult to get. Mostly because I needed the 360 to play Mass Effect 3 multiplayer.

Awesome news and awesome that the trilogy is coming to EA Access since I traded my copies in at Gamestop a couple years ago. Now I get them all back digitally for being a member.
Windows Central Newsletter
Thank you for signing up to Windows Central. You will receive a verification email shortly.
There was a problem. Please refresh the page and try again.