Match gems for less with Bejeweled Live, the Xbox Live Deal of the Week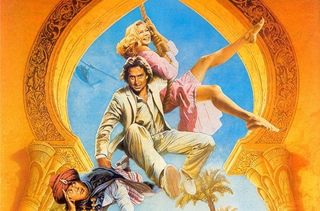 Yes, our DOTW images are getting more and more obscure.
Last week Gerbil Physics - a game that had never been on sale before - became the Xbox Live Deal of the Week. That must've been an aberration, as this week we get another repeat deal. Bejeweled Live is on sale again for $2.99, down from $4.99.
Bejeweled is the classic match-3 puzzle game that has enchanted casual gamers across a variety of platforms. If you're hungry for a simple puzzle game to play whenever a spare moment pops up, Bejeweled is a good place to look. As our review indicates, the Windows Phone version has three ways to play: Classic, Race the Clock, and Endless. It's also got some tough and grindy Achievements despite being a casual title, but that's PopCap games for you.
I don't know about you guys, but I'm ready for either the enhanced iOS version of Bejeweled (based on Bejeweled 3) or Zuma's Revenge to come to Windows Phone. In the meantime, Bejeweled Live could use a permanent price drop, and it wouldn't hurt to put Plants vs. Zombies on sale at last. Come on PopCap, make our dreams come true!
Bejeweled Live is on sale for $2.99 for one week only. Grab it here (opens in new tab) on the Marketplace.
Paul Acevedo is the Games Editor at Windows Central. A lifelong gamer, he has written about videogames for over 15 years and reviewed over 350 games for our site. Follow him on Twitter @PaulRAcevedo. Don't hate. Appreciate!
I also don't get these deal of the week news posts. You review non Xbox live games but post when xbl games are on sale? Anyone with a windows phone that plays games can easily see what game is on sale because Microsoft shoves it down your throat in the games hub.

Assuming we all visit the games hub every week. I don't, so I appreciate the heads up on here.

Add my name to the list of people who don't look at the games hub very often. I look forward to seeing the DOTW post.

Thanks guys. Appreciate the support! Besides, it's nice to have a record of what went on sale when, isn't it? And Arsenic, let's not live up to your reputation. :P

Agree with everyone besides the first poster. Besides, Paul generally covers Xbox Live games news on this site, and DotW qualifies as news in my book.

Some people like me only care about Xbox Live enabled games. I appreciate the posts. Besides I have seen where WP Central has posted about non XBL enabled price drops. Example: Armed.

Jewel of the Nile. If that's obscure to any readers, they need to watch more 80s movies!

Usually I get your obscure pics Paul, but that one sailed right over my head haha.

Yea, it was very entertaining movie for it's day... I came here to post this too :)

One of the great movies of my childhood :)

Jewel³ is a pretty awesome & free alternative

"When the going gets tough, go and get stuffed". :P

dude, repeat sales are getting disappointing. There are enough games to not have a repeat, and repeats should be sporadic and not 3 out of 4 sales in a month.

Agreed as well. I'm lucky because this one was DotW before I got my phone, so it's new to me at least. But there's lots of good games on the marketplace that could use a good DotW.

I'd also love to see a Rocket Riot DotW repeat.

I patiently waited a year for this deal to repeat. I've been kicking myself for missing it the first time.
Windows Central Newsletter
Thank you for signing up to Windows Central. You will receive a verification email shortly.
There was a problem. Please refresh the page and try again.