A media-focused HoloLens could help Microsoft bring AR to consumers
In the face of mounting competition, Microsoft is under pressure for a consumer play for its augmented reality (AR) headset, HoloLens, and AR platform, Windows Mixed Reality. A slightly refined, media-focused headset for home use could be the answer.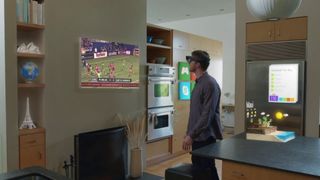 In 2015, Microsoft introduced its untethered, wearable Windows 10 holographic computer, HoloLens. As part of Windows 10, Windows Mixed Reality (previously called Windows Holographic) was also introduced as the platform that would power AR and virtual reality (VR) experiences. Microsoft is positioning for a future of holographic computing.
To bring holographic computing to market, Microsoft began executing a methodic strategy of building partnerships and creating tailored AR experiences. This strategy resulted in HoloLens adoption in specific industries like health care, education, the U.S. military, entertainment, NASA and more. Consumers aren't part of that picture yet, but Microsoft's CEO Satya Nadella said in 2015 that a consumer version of HoloLens was five years away. That would be 2020.
Apple's AR threat isn't virtual
That 2020 prediction may have been shortened to 2019 as Microsoft has skipped HoloLens version two to expedite version three. Recent reports reveal an upgrade to HoloLens with onboard AI and other enhancements. Still, there are currently just 150 HoloLens-specific apps in the Windows Store. That's an uninspiring number considering Apple's developer community.
In the wake of what Microsoft has accomplished with a holographic platform, a unique wearable computer, strategic partnerships, mindshare and developer support, Apple has boldly thrown its hat into the AR ring. With an update coming to iOS 11, hundreds of millions of iPad and iPhone users, and 16 million developers, will have access to Apple's less advanced take on AR via ARKit.
With Windows 10's install base, Microsoft's AR platform is technically over 500 million devices strong. Apple boasts its platform will surpass that. Supported by passionate developers that are already showing excitement for ARKit, Apple's deluge of AR-specific apps will likely dwarf Microsoft's 150 HoloLens-specific apps before the end of the year.
After two years of legitimate progress but "consumer silence," Microsoft's AR efforts are poised to be overshadowed by Apple's less advanced, but consumer-focused strategy. Microsoft needs an AR strategy that brings its more advanced HoloLens technology to market in a form that resonates with consumers.
HoloLens is not ready for public use
One of the advantages to Apple's AR strategy is that it utilizes the socially accepted iPhones and iPads, which people carry daily. The downside is that iPhones and iPads must be awkwardly handheld and pointed at various surfaces to "reveal" AR objects.
By contrast, HoloLens, which is comfortably worn on the head, displays holographic objects in a wearer's field of view and provides spatial sound. A user's hands are unencumbered, and via gestures, voice, and gaze he can interact with the HoloLens-generated holographic world.
Hands-free use of SketchAR for HoloLens.
Microsoft's challenge is that unlike iPhones no one carries a HoloLens around, and priced at $3,000 it's exceedingly expensive. Even if it were affordable and more people owned one the aesthetically unappealing headset is not something many self-respecting consumers (or even socially awkward geeks) would don for a trip into town. Appearing in public wearing a technologically cool wearable computer is, from a social perspective, technically uncool.
So what can Microsoft do to combat the price, social stigma and practical application challenges it faces in bringing HoloLens tech to consumers? Sure HoloLens is a wearable Windows 10 computer that can do what any other Windows PC can do. There are therefore a plethora of things for which a consumer can use it. Introducing this unique tech with too broad a scope could be confusing and intimidating, however.
Focusing on a specific category from which Microsoft can later expand is a better strategy.
For entertainment purposes only
The living room fireplace used to be the central gathering place in homes. That "fireplace experience" has been largely replaced by the TV.
Nielsen reports that for the 2016-2017 TV season there are 118 million TVs in U.S. households. Worldwide TV penetration for 2016 was 1.59 billion, and by 2021 that number is expected to be 1.68 billion. The average American spends four hours a day watching television. This amounts to 28 hours a week, two months a year and by age 65, nine whopping years of one's life.
Of the 118 million U.S. homes with televisions, Nielsen reports 23 percent use a streaming device such as a Roku, Amazon Fire Stick, Apple TV or Google Chromecast. Smart TVs are also in 29 percent of U.S. homes.
In addition to these devices, 42 percent of homes own connected, streaming-capable, game consoles like Xbox, Nintendo Wii or PlayStation Nielsen claims.
In January of this year, streaming devices like Roku were used by 18 percent of American homes, for 15 days out of the month and three hours a day, reports Nielsen. Other less popular brands were used 11 days out of the month for two hours a day. Game consoles like Xbox were used the most, by 37 million households for gaming and streaming 15 days out of the month for up to 4 hours a day.
With the growing availability of broadband, connected devices are becoming increasingly popular. There are currently an estimated 673 million connected TVs worldwide, according to market researcher Statista's prediction. This internet-connected media environment where streaming and gaming abound is the prime place for Microsoft to "meet consumers where they are" with a new "type of screen."
HoloLens media for home
There's a market that Microsoft (or a competitor) can take advantage of where the stationary physical TV screen can be replaced by a virtual screen that follows the user throughout the home.
Microsoft, with the Movies and TV app, Xbox, Groove, Windows 10 and HoloLens, has the technical foundations for building a media platform with AR as the virtual screen. I envision a pared down HoloLens that has basic capabilities of projecting AR objects and has stereo sound that is less sophisticated than the spatial sound of the current HoloLens. These tradeoffs are to make this consumer version of HoloLens more affordable.
This device would be targeted at consumers as a home appliance of sorts. It would be a "modern screen" that you'd eventually pick up and put on almost thoughtlessly as you walk into your home and turn on the TV. This HoloLens would still be somewhat bulky and unappealing to wear in public. But as something meant for the home, where we comfortably walk around in raggedy robes, holey socks, hair rollers and other "not-for-public-view-attire," this fashion-challenged device fits right in.
HoloLens down the line
Microsoft could market "HoloLens Media for Home" as a tool for TV, streaming video, and gaming. I imagine that just as with the first TVs, most homes that can afford one will be able to afford just one. But in time, as costs drop, like most members of a family currently have their own TV, each member in a family will have a HoloLens.
Game streaming to HoloLens.
I imagine different people in different rooms, homes, cities, and countries watching the same program while talking to one another (with real-time translate if necessary) over the built in microphone much like a multiplayer game experience. A holographic telepresence (holoportation) is also a possibility.
The media aspects I proposed would be Microsoft's way to get HoloLens to consumers but that would not be the endgame. In time, as IoT and ambient computing becomes commonplace, the Home HoloLens may become the means by which users "see" and interact with digital interfaces of IoT appliances in the home. As the tech becomes more refined, users will venture out of their homes with the AR wearables where they will interact with digital interfaces that may begin populating the public sphere.
However, before Microsoft gets a refined HoloLens out into the public and potentially one day replaces our smartphones with it, it must meet consumers where they are now. That place is likely the central meeting place in the home: right in front of the TV.
Get the Windows Central Newsletter
All the latest news, reviews, and guides for Windows and Xbox diehards.
Jason L Ward is a columnist at Windows Central. He provides unique big picture analysis of the complex world of Microsoft. Jason takes the small clues and gives you an insightful big picture perspective through storytelling that you won't find *anywhere* else. Seriously, this dude thinks outside the box. Follow him on Twitter at @JLTechWord. He's doing the "write" thing!