Can Microsoft keep up with Apple in the race for AR/VR supremacy?
Microsoft is an industry leader in augmented reality (AR) and virtual reality (VR) thanks to HoloLens, Windows Mixed Reality and the company's partnerships for VR headsets. With a single update in iOS 11, however, Apple may be poised to become a legitimate challenger.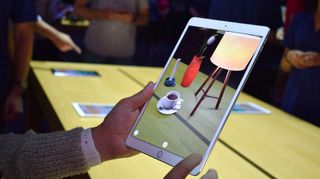 In 2015, Microsoft introduced HoloLens, a head-mounted Windows 10 computer that allows wearers to see and interact with holograms that overlay the real world. Windows Mixed Reality (previously called Windows Holographic) is the platform that powers Microsoft's AR and VR experiences.
HoloLens represents Microsoft's vision of a future of holographic computing. In a consumer-influenced age of personal computing, however, Microsoft has no consumer-facing AR devices in the market. To be fair, in 2015 CEO Satya Nadella made it clear that a consumer version of HoloLens isn't due until 2020. Recent news of Microsoft's skipping of the second generation HoloLens to "accelerate version three" positions that version to arrive a year earlier in 2019.
Still, Microsoft has little AR and VR mindshare because most consumers don't know about HoloLens or Windows Mixed Reality. Though Microsoft is preparing for a push of consumer-focused VR headsets later this year, those efforts may come too late to solidify consumer mindshare.
Google Cardboard is already gaining mindshare as an affordable VR solution. And Pokemon Go introduced AR to millions of Android and iPhone users. Riding that wave of AR awareness Apple introduced ARKit at Apple's WWDC this year. ARKit enables Apple's 16 million registered developers to turn hundreds of millions of iPhones and iPads into what Apple claims will be the world's largest AR platform.
Should Microsoft, with its install base of 500 million Windows Mixed Reality-equipped Windows 10 PCs, be worried? Absolutely.
What's happening with HoloLens?
Though HoloLens isn't ready for consumers, Microsoft garnered support from thousands of developers who purchased the $3,000 headset when it began shipping last year. In celebration of that one year anniversary, HoloLens creator Alex Kipman announced there are now 150 HoloLens-exclusive apps in the Windows Store.
That number doesn't sound impressive, particularly within the context of the "app-gap-plagued" Windows Store. Those apps, however, were produced from a very small HoloLens developer pool. Microsoft has also been methodic and deliberate with its introduction of HoloLens in specific markets and partnerships. A deluge of apps wouldn't be expected from this type of strategy of building tailored use cases while still developing the mixed reality platform.
NASA, Stryker, Lowes, Legendary Entertainment, the education sector and the U.S. Military are some entities that have embraced HoloLens and Windows Mixed Reality.
Marketing mixed reality matters
According to an internal company memo, Microsoft's planning a more aggressive and consumer-facing push of Windows Mixed Reality and HoloLens via a dedicated Mixed Reality Marketing team under the direction of Elizabeth Hamren, former CMO of Oculus VR, beginning later this year.
Corporate Vice President of Windows and Devices Yusef Mehdi said:
Microsoft's cautious approach to the market resulted in partnerships that demonstrate how AR can be effectively implemented. Furthermore, competition among hardware partners will yield mindshare and market-presence benefits as Windows Mixed Reality VR headsets begin hitting the market this year.
Apple's AR advantage
Apple has three distinct advantages over Microsoft. First, ARKit for iOS 11 will allow hundreds of millions of iPhone and iPad users to experience AR on devices they already own. Beginning at $299, Windows Mixed Reality VR headsets are affordable but a free upgrade to iOS 11 is inherently more accessible.
Apple's second advantage is its 16 million registered developers. If just 10 percent of them develop AR apps this year, 1.6 million developers will dwarf the mere thousands who've made the 150 HoloLens-specific apps. HoloLens is a full Windows 10 computer and can run any Windows program, but the library of HoloLens-specific apps is still (after a year) a mere 150.
Unlike Microsoft's mixed reality strategy that began in the enterprise, Apple is bringing AR directly to consumers. This approach will certainly build mindshare as developers bring AR games, utilities, social and other AR apps to the App Store.
Imagine an AR chess game overlaid on your kitchen table. Or an AR shopping experience, like the one Microsoft demonstrated with HoloLens where a holographic stool was placed in a room to determine its fit before purchase.
Such real life uses of AR will certainly be brought to market first by Apple, especially because Microsoft has only consumer-facing VR and no AR solutions headed to market in the near future.
The third advantage is that Apple is a master marketer. Microsoft is not.
Microsoft's AR advantage
Microsoft's head-mounted AR solution has a major advantage over Apple's clumsy iPhone-and-iPad-as-an-AR-viewfinder solution. HoloLens allows wearers to naturally and fluidly interact with their environments. Apple's solution encumbers a user's hands as they're forced to hold an iPhone or worse, an iPad, as an unnatural viewfinder for their world. This requirement awkwardly alters one's interaction with reality.
HoloLens's gaze tracking technology provide an AR solution without encumbering a user's hands. His eyes, not his hands, direct where AR artifacts are viewed. With HoloLens users can continue to look at their worlds, but Apple's solution forces users to look at their devices.
HoloLens creator Alex Kipman and the age of holograms.
HoloLens gives users the more realistic perspective of "being within" the augmented space rather than peering at pieces of it through a handheld screen. HoloLens's cameras map the entire space a user is in while also providing spatial sound. Consequently, users hear the direction digital artifacts are coming from even if they're not in the field of view, just as in real life. In addition to gaze, gesture and voice are methods of interacting in a HoloLens environment.
Microsoft's Mixed Reality strategy supports VR, includes Paint 3D so users can create 3D mixed reality content, provides Remix 3D where users can share 3D creations and is bringing the Windows 3D Capture app to market, so users can scan real objects to create 3D images.
Finally, Microsoft's skipping of the second generation HoloLens may result in a more refined version that consumers won't mind wearing publically. Which brings us back to Apple.
Apple's building the foundation for AR glasses
AR experiences on an iPhone and iPad are not Apple's endgame. The downsides to those cumbersome experiences are just the growing pains Apple's willing to endure as it builds the foundation for its next step in AR.
ARKit allows Apple to rally 16 million developers and hundreds of millions of iPhone and iPad users to create a vast, diverse and engaging ecosystem of AR apps in a fraction of the time it could take Microsoft to do the same. Microsoft built a wearable AR headset before it established an audience, ecosystem, and demand for AR. Apple's doing the opposite.
As AR apps populate the App Store and consumers experience and engage them, their desires for a more natural experience will also evolve. Apple will then satisfy that strategically manufactured demand with AR glasses that the company is likely already developing.
Just as Apple made smartwatches average consumers would wear, it won't settle for making anything less than aesthetically appealing AR glasses which are rumored for 2018, which would beat the next HoloLens.
Even if Apple waits until 2019 to launch its AR glasses, it will do so with the benefit of a robust ecosystem of AR specific apps and an engaged user base.
Will Microsoft be able to claim the same?
Don't miss parts one and two:
Get the Windows Central Newsletter
All the latest news, reviews, and guides for Windows and Xbox diehards.
Jason L Ward is a columnist at Windows Central. He provides unique big picture analysis of the complex world of Microsoft. Jason takes the small clues and gives you an insightful big picture perspective through storytelling that you won't find *anywhere* else. Seriously, this dude thinks outside the box. Follow him on Twitter at @JLTechWord. He's doing the "write" thing!