Meet Dona Sarkar, the new head of Microsoft's Windows Insider program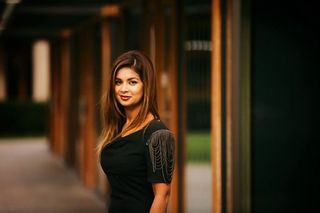 The new leader of Microsoft's Windows Insider program is Dona Sarkar, who has been with the company for 11 years. She is also a fashion designer and blogger, a novelist and more.
Sarkar takes over the gig from Gabriel Aul, who announced today he would be leaving that job to focus more on his work on the Engineering Systems team. In her own Twitter post, Sarkar stated she was "grateful and honored" to be taking over as Windows Insider's leader:
Sarkar has worked at Microsoft in many different roles since she joined the company in 2005, most recently on the HoloLens team. Microsoft's profile on Sarkar (opens in new tab) states:
Sarkar has lots of other interests outside of Microsoft. She is the co-founder of the fashion blog Fibonacci Sequins which she calls "the world's first style blog devoted to STEM fans". She's also working on her own fashion line called Prima Dona Style. Finally, she's a published author of five fiction and non-fiction books (opens in new tab). You can check out her official website for more info.
Windows Central Newsletter
Get the best of Windows Central in in your inbox, every day!
Windows search..... Its probably the most moody part of windows. Sometimes, its magic. Sometimes its hell.

Pretty dumb how if a file is downloaded onto my local onedrive folder and I open it by looking for it via search it opens it in the browser OneDrive site instead of a local app

By local app I mean corresponding to that file extension not the onedrive app

Our new Lord Commander is just beautiful.

Lord of the North! One picture at a time -- LG V10

I won't be surprised to see the sudden increase in windows insider now ;)

Hopefully she takes her twitter account seriously now. I don't want to be following someone posting selfies every day. She needs to keep it Windows related like Gabe.

I agree with you. But I think she will do fine.

Depressing insider news or good looking exotic selfies? Mmmm

Also Bryan Roper wasn't available sadly...imagine:
"I can press the button like a boss wherever I am now"

hope she steers the insider programme and overall the OS to better future. Good luck Dona

She's from India I got to know. Sent from my Lumia 650 via the Windows Central app ;)

Well, she's a stunner! Even if builds don't pick up, we'll have that, at least.

This is the most stable and beautiful build from Microsoft..
...;-)

Can't wait to have her at Windows Weekly.. A gorgeous happy face for a change!

You just hurt Gabes feelings, you saying hes fugly?

Nope, but Thurrott, Mary Jo and Leo are becoming fuglier and sour by the week.. Gabe was great. Dona's gorgeous. :)

Always thought Mary was a minx....whatever makes you happy...haha

Maybe her first act as the new head should be to press that red button for fast ring today...

Don't you mean red live tile?

Welcome aboard to insider program! Hope to see numerous 'HOTfixes' from this hot lady! "SARKAR RAJ" :D

So she is a hardware geek that has focus on the software side? Sounds like she has the experience to take over the position. Seach has to be my favorite features in Windows 8.1 and 10.

Good luck Dona, with making the Windows 10 experience one to remember.

Lots of experience and a punster? Welcome aboard!

Good for her! Good luck Dona!!

So many sexist morons here. PS:- Some of them have already agreed with me. ~Sent from L830.

I bet she prefers delicious Whataburger over that nasty In N Out Burger...... Hahahaha!

I finally agree with something Rodney said. :) Whataburger

With this comment that makes you one of the morons!

If you think a woman is hot/beautiful/sexy you're sexist?

There's a difference b/w admiring a woman and passing creepy distasteful comments regarding her. Don't you understand this simple thing? ~Sent from L830

There's also this thing called not being hypersensitive because someone says something you choose not to like. Toughen up sweetheart.

Who is being hypersensitive? I just wrote what I wanted too. If you "chose not to like what I said" then just move ahead. ~Sent from L830

Funny, you say that if he doesn't like what you said, he should "just move ahead." You didn't take that route, you instead called out that you didn't like the words from others. Perhaps practice what you preach, rather than being a typical hypocrite.

Lol. Again, I didn't name anyone. It's just a sentence. But you people are replying to me. Just post a comment that "some people are taking certain comments too seriously". Don't bother me please as I haven't bothered anyone in specific. ~Sent from L830

No, I'm not doing the easy, lazy thing of "I'm offended." If someone is going to do something as ignorant and inflammatory as you are (basically just painting a brushg of sexism over the site's commenters), I'm going to defend against it. Calling things sexist because you don't like it, even when it isn't seixst, is just playing the buzzword game where you want attention and to see who you can get in trouble. It's an asinine display that is exactly why we continue to see things like sexism thrive. That you can't be bothered to have intelligent discussion, or properly address issues, is quite pathetic.

My only concern is, this her 4th job. I'm really scared what's going to happen to upcoming insider builds? I hope she can concentrate enough on this part-time job she just got.

I wouldn't worry TOO much on that. This position seems mostly to be one involving PR, not the actual software engineering. It's not like the others seem to have stopped each other, so being mostly a means of Twitter support probably isn't going to throw much onto her plate. In fact, I think this helps the cause, as it lets Aul focus on software, rather than Internet trolls.

Holy cow Deepak! We are all men for Christ sake! I am sure Dona will be amused if she goes through this thread!

Amused maybe but see, I wasn't pointing at every person over here. There are a few who's words are simply derogatory and cheap. I too think she's very pretty and sweet but crossing ethical limits is not correct. ~Sent from L830

hey man..I looked up and down in the comment section ..didn't even see one such sexist comment except your prejudice thoughts!!

You didn't find such comments? Well, says everything. But I did find them so I wrote. Also I didn't explicitly name anyone. People are replying to me and naming themselves. ~Sent from L830

The burden of proof is on the accuser. You started it. I'm not saying sexist comments didn't happen (they almost always do), but to say it, then dispute someone's "I don't see them" with "I do," is compeltely useless and not a reasonable defense of your point. CAlling something, somewhere sexist isn't anything but sounding offended to be offended.

So.... You become ceo of a cosmetics company and you are a good looking man, women start to make comments about your beauty, do you feel bad about them? Worst enemy of women are feminists.

Lol. Feminism is a different thing. Don't rake up that here. It's gone too far. You shouldn't have directly come to my comment. Just glance through all the comments then speak. For example, read the 3rd comment below from here. And I'm not alone. Also go down to the 8th comment from here. ~Sent from L830

both the things she worked on failed miserabily. Vista is the obvious one but for windows search, I have been so frustrated because it can't even search large folders with 4 or 5 sub folders for something.

She only worked on AutoPlay. Not vista as a whole. AutoPlay works really well Imo, and so does search Posted from Windows Central for Windows 10

Lol local search took a jump off the dep end when w8 came out

My firmware is pretty firm.

Stop it, you're making Deepak cry.

Please make the search as great as it was on Win8. I know that's not her roll anymore but I hope she has some influence over it specifically. Win10 in general is a mess.

I liked the search in Windows RT. In fact I just used it by choice the other day on my Surface because it is so handy. I wish we had that same full screen format on 10 instead of the small window on Cortana.

People will be now tweeting more and more to the head.

Damnit, now I have to get past pervy comments in addition to the regular crap comments.

I had exactly the same feeling. I just pity her now. Aside from the rude insider comments, she would also be getting a ton load of sexist comments now

I know. She puts no effort into looking good. Lol

Wow, is her looks all you guys have to comment about?

Well, she has her own fashion line.. just kidding

"​Designing fashion is 1% actual designing and 99% moving the cat."​ lol

Dayum! Dona Sarkar is HOT. She is very talented. Hopefully she can light a fire under her team's behinds and get some cool things done and quicker. Cheers.

HOW TO SALSA IN A SARI or HOH TO INSTALL WINDOWS ON ANDROID PHONE

I'd Gabe Aul no longer employed by Microsoft?

He is still there, just going back to focusing on software engineering versus being the face for the Insider program.

... because overpromising in press releases is hard

Hopefully having someone like her in there will make Microsoft understand that style and semplicity is the key, 950XL and 950 looks all but premium devices, we can convince ourselves as much as we want though a Xiaomi, Leeco, Huawei or iPhone designs are so much better looking and appealing, also Windows 10 mobile is too slow and confusionary, it does have it's style with live tiles down scrolling and everything but on a phone what you need is something immediat and simple, not to talking about windows 10 bugs and lack of apps...i bought a Leeco Le2 recently and i'm impressed, it runs way better and snappier than my Lumia 950 XL, if i put them aside the Leeco looks like a 500$ device while the 950XL seems a 200$ phone, when instead it's the opposite, i'm not joking, aside frorm camera quality(and not even by that much especially due to innatural too vivid colors on 9950XL) the Leeco with its customed Android OS wins in every aspect. Now i'm selling my 950XL and will enjoy this Leeco Le 2 a lot, looking forward for next good chinese phones like this or the new iPhones, though i don't have much fate on Windows Phone anymore, will see what they'll do

Go peddle your testimonial ads for cheap, Chinese crapdroid elsewhere, please. It's bad enough to have to scroll past all the "Windows Phone Is Dead," FUD articles, on the web. When I come to WINDOWS Central, at least I would like to see thoughtful commentary, ot constructive criticism. Leeco is a brand I've never heard of, nor would I ever spend a hard-earned shekel, on, if I saw it. Take that mess to Android Central.

Sell the 950XL to me. I am interested Posted From Nigeria Using Lumia 640 XL

The new owner of the big red button :-P

Cortana is always crashing when I ask for a search....

Fibonacci Sequins? Nerd alert!

This poor, poor lady. Also, what a bunch of pervs we have here.

blog Fibonacci Sequins..wow talk about a name that would be at home on Big Bang Theory.

Gabe aul watch has ended.

I only hope she can stand up to the crap she's going to face. I've seen the way people treated Gabe over outstanding issues in fast ring builds. She's going to need to have a thick skin to deal with the meat-heads. I LOVE the name of her fashion blog. So much effort is spent trying to entice women into STEM fields and building a fashion blog around STEM is genius.

I guess this gives new meaning to "build".

Welcome on board! Wow, she's not only qualified and smart, but she's also gorgeous.

Comments are further proof that the average internet poster is 14 years old.

Hardly the case. Misogyny has a little to do with age and more to do with culture and upbringing. Posted from my Note5/950XL

Or, I don't know, making offhanded jokes. You'd pay a comedian to hear them say these things, but somehow reading them on a free comment thread is something you decide to take offense to.

I wouldn't pay a dime to a comedian to hear any of that. Not funny in the slightest.

Audiences of comedians all around the world have decided against you. Just sayin'.

Admitedly I have a bit higher standards for comedy than most people, actually funny being one of those standards.Guess I just don't feel going on and on about a persons physical appearance and making sexual innuendos checks the checkbox next to funny. Maybe that is just me. "Shrugs".

Well.. comdy is mostly about issues and make up is an issues, when 99% of wastern woman wear it, its a problem and taking the piss out of this issues make them more of a none issues.. we need less people getting offended and more people trying to make a more effective planet... i mean its bad when i see a woman in a important roll,, out of illogical reason but forced on me by femimist i can only think they got the job beacuse they are a woman and not beacuse they have somthing to bring to the roll you get me

Ahh, yes, blame the parents and the community for the actions of an individual. I've seen every quality of person from every quality of upbringing. It's the person, not everything else's fault.

I don't care what she looks like. Accomplish the mission!

As she is a fashion designer also. So I'm expecting some more better and better design language in windows

Yeah! This is also what I'm thinking! If she is a designer, thus have a designers mind and taste, that would hopefully help to address and push design improvements and direction for Windows development. Windows 10 in general is still quite unpolished, though has been improved alot on Redstone (base on concepts), it still needs work on overall design language and fix design issues down to smallest levels, even if it just aesthetic imperfections. Being a designer, they like to work on things that looks good and well designed. Which also a reason why Macs are heavily used on design fields, not because they're fanboys, but because of the software's available that some not even available on Windows and because the overall UX just looks damn polished, from hardware to software side of things. Windows 10 on the other hand have nice areas but there also alot of not-soo good areas that people might not even care but designers may irritated. Sent from Turing Machine

now hardware geek make and helps in software this is bull ****

now hardware geek make and helps in software this is bull ****

Well the main thing is indians they can't do anything and Microsoft hiring them. satya nadela and other Indians are fooling around ,to Microsoft if you want to rise fire them

Indians rule the world. Learn to live with it.

Why she look like my highschool milf spanish teacher?

Well??? She's been at the helm for well over 2 hours now and still no new build. :o)

Seriously! What kind of Micky Mouse operation is Microsoft running over there!?!!? lol.

Search does not compute.!? Posted via the Windows Central App for Android

Indians can't do anything in there country how can they do for another hiring them is a worst part

Big shoes to fill, good luck to her

You can tell she's very efficient, having already gotten rid of that extra N in her name.

She's a beautiful woman hurry up with the builds Posted via the WPC App for Android!

OMG! She is cute! Good job Microsoft!

Gabe's twitter was almost official, business-comes-first material. Now my twitter feed is bloated by selfies and other crap I don't care about even a little bit. Other than "she's cute", there's nothing good for me. She should consider creating another account, with insider info only. I get that she's also a designer and probably into fashion as well, but this is just too much.

Come on. Look at her. You can take care of your phone later.

I'm in no position to go intimate with her anyway :-D

Let's play Jeopardy Windows Central Edition ​A: Hot. Female. Computer. Engineer. Q: What are 4 words you don't normally hear together.

you'd be surprised how many hot woman are attending uni these days to be highly skilled workers.

Sexy and smart. MS 1- Apple -0 Posted via the Windows Central App for Android

Ab ki baar.. Dona Sarkar! Posted via the Windows Central App for Android

It's interesting to me how the appearance of the windows insider head matters all of a sudden. I'm sure Dona is ecstatic to hear the Very Important Opinions about her appearance of men she doesn't know and probably doesn't give a **** about. Can we please get some mods to clean up this thread and get rid of the trash? On a brighter note, welcome Dona! I hope you find this new role as exciting and rewarding as your other endeavors during your tenure at Microsoft!!

Sorry can't help it. Wow those bumpers are slick as those in Xbox One Elite controller. LOL!

Bob the Builder meets Postman Pat.

The search feature is what we all loved from windows 7 onwards. Glad to know the person behind that! ☺

What do you reckon, would she go out with me if I asked? Haha

Same name as the UCLA shooter / murderer, over grades. Is it common? Odd to see the name twice in headlines within 24 hours in the west.

Was the shooter Dona Sarkar? Confused...

Shooter's name was Mainak Sarkar. He was a doctoral engineering graduate of UCLA. A quick search shows quite a few people with the same last name so it is probably just a coincidence and there is no connection between the two.

A lot better looking than Gabe :)

"She is also a fashion designer and blogger, a novelist and more." Microsoft is setting itself up for failure, is if they dont have enough issues! Who in the world will monitor her to do her work, when she has all those other fun things to do?! :))) Failure left and right!

Amazing. It's rare to meet a person who has the vision and talent to bring STEM to the masses. I look forward to seeing what she can bring to Microsoft to differentiate itself from the other tech companies of the world.

i see mostly => ladies are taking the most part of the head quarter but i see the main resources are male ,
Windows Central Newsletter
Thank you for signing up to Windows Central. You will receive a verification email shortly.
There was a problem. Please refresh the page and try again.