Mega Privacy update allows you to download content directly to your phone's storage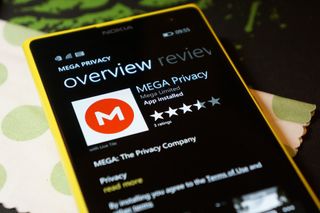 Mega Privacy has received another update that brings a host of added functionality to the cloud sharing service. Among the new features include the ability to download content directly to your phone's internal storage or SD card, as well as additional download preferences.
Here's the latest in version 2.0.3.81:
Added download options and preferences.
Download to phone storage and SD card.
Making use of the new FolderPicker SDK dialog
App opens on mega:// file link and lets the user import or download the linked file
SDK update
Added 1080p splashscreen and new app icon
Changed View Original to Download
Various fixes
With new features being added on a weekly basis and 50GB storage space available to all members, Mega is turning out to be a decent alternative to the likes of OneDrive.
Thanks Zapella!
Perfect! Still not using it though..

Thank god. We are not apple. Apps should access the phone storage.

Well - we are not android either. Accessing the phone storage is a joke with Windows Phone. There are a few backend problems that would easily be solved by just going into the system and cleaning up problems but hey. why do this when the support can simply suggest a hard reset

Care to elaborate? I personally like the Windows Phone implementation, which in fairness isn't far off from Android's. Giving users power and choice if they want it, but staying out of the way if they don't understand it.

This is cool. But I'm on the OneDrive bandwagon.

Well, why not have both? :D

Yes, I use them both, I have OneDrive account with 30GB and MEGA with 50GB. I use Onedrvie from my private documents and files (mostly work related) and I use MEGA for storing pictures, videos, songs, etc. With the last 2 updates i love this app more and more, it's minimalistic (super minimalistic), fast as hell, downloads and uploads files with the speed you are using at that moment (for example if you are connected on your wi-fi which lets say have 10MB/s download (not mbps) and upload with 1MB/s) then MEGA will use that speed too. Unfortunately it is not the case with OneDrive, it is fast too, but like it have its own download and upload limitations, doesn't use the full speed of the connection. :)

I use both as well. OneDrive for important stuff I need real easy access to, so that I can edit files from my laptop and pick up where I left off on my phone. I use Mega for backing up files that I don't use often, like having a USB Backup drive, sort of, except i the cloud. I like having my external HDD to back things up to, but if I had a house fire (heaven forbid), it's nice to know critical files are backed up to the cloud for easy restore.

While I am using OneDrive I do see merit in Mega, 50GB of storage for free can't be a bad thing.

I use both Onedrive and Mega and the the gigabytes both give for free like the 50 gb of Mega is a major plus. I don't know why do much hate for Mega, you can use the best of both worlds. Posted via the Windows Central App for Android

What is this mega actually?

Lol your name is so cool digging the bilingual flair

here, see for yourself :) It's a cloud storage. https://mega.co.nz

heard of megaupload.com? http://en.wikipedia.org/wiki/Megaupload megaupload is now reborn as this.

it is basically megaupload with the exeception that they tried to make the files inaccessible for administration purposes or governments

holy sh!t, I did suspected that Megaupload (once my favorite service) was reborn in this MEGA cloud thing, but never tried to search deeper to find out about this. Nice catch man :)

I use OneDrive for photos, but for big files I use MEGA, because it's faster.

It is faster, that's true, i can confirm that

One Drive is the way to go. I use the 1TB of space to store pictures, music and movies. I stream directly from the cloud. Love One Drive.

Umm guys I need help, *I cant seem to post in the forums, it says im not logged in yet I am*
..........
I have apps installed in my 8gb card and want to move them to a 16 gb card I just bought, how do I do that? #L730

Try moving them to the phone memory, change the SD card and transfer the apps back into your new SD card..

I was hoping you wouldn't say that..

This maybe a sign, that windows 10 is coming lol

Except when you have 10Tb's for free from OneDrive, lol.

How did you get 10 TB for free?

It's good that their updating all the time

Too many bugs, errors and fails to load, refresh, create folders, sync, etc...

Uninstall the app, restart the phone, install it again. From the last 3 updates, the app never crashed on me or never had any of the problem you are having. In matter of fact, it works perfectly, upload, download, creating and deleting folders, etc.

I am going Mega with all this Mega news.

Does it support downloading being minimized?

Very nice, they respond to my review on the Store!

Hmm... Gonna need auto upload support for pics *shifty eyes*

At this point the Mega app is better than the OneDrive app. It offers more storage as well. The only thing holding me back is a Windows 8 app
Windows Central Newsletter
Get the best of Windows Central in in your inbox, every day!
Thank you for signing up to Windows Central. You will receive a verification email shortly.
There was a problem. Please refresh the page and try again.