Mega for Windows Phone goes public with version 2.0 [Update: now live!]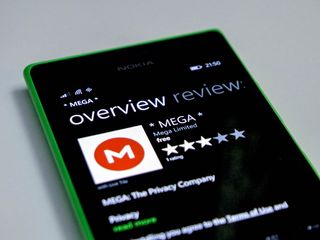 Following an initial private beta period, Mega, the cloud storage app for Windows Phone, has been bumped to version 2.0 and becomes public with it. Or that's apparently the plan, anyway. While the app has been updated with the store listing reflecting the new public status, that isn't currently how it is in practice.
When trying to download right now it's likely you'll be met with a message telling you that you don't have the necessary permissions. So something, somewhere, didn't get updated properly. In any case, it looks like those of us not involved in the private trials will soon be able to get our upload on. Grab it (eventually) from the Windows Phone Store at the link below.
Update: Following on from a tweet published by the official MEGA account, we've finally been able to download and install the app on our Windows Phones, so be sure to give the store another check. Note that the app could still be passing through Microsoft's services.
Thanks Jorn for the tip!
Windows Central Newsletter
Get the best of Windows Central in your inbox, every day!
Managing Editor - Tech, Reviews
Richard Devine is a Managing Editor at Windows Central with over a decade of experience. A former Project Manager and long-term tech addict, he joined Mobile Nations in 2011 and has been found on Android Central and iMore as well as Windows Central. Currently, you'll find him steering the site's coverage of all manner of PC hardware and reviews. Find him on Mastodon at mstdn.social/@richdevine
Just a short while ago I asked myself when mega finally fulfils the message seen on their site when visiting it with WP. lol

a lot of people saying " i can't download" incoming

Except all those who read the article ;)

I can't download it... Oh.. Wait... The article just say exactly that... :p

Does this fix actual downloads from MEGA while browsing using a WP?

Cool to see this, but the download issue could also be linked to the fact that the Xbox Service is currently experiencing issues with purchasing.

I could not download it, it still seems a private version ​

Article says update, fixed, I'm still getting the no permission message

Hahah first person to comment without reading congrats!

Sorry for all, sometimes I read only the title, or at least the first paragraph. ​ ​ ​ ​ ​

For me it still says the same. I'll check again later of course. :)

downloaded perfectly fine for me, and logged in fine too, and im not part of the private beta program, thnks for the update. Seems quite basic and looks like something from 1993 when compared to Box or OneDrive, but overall a good attenpt. Hopefully they can improve on the GUI a little bit.

I just have to say that the 1993 argument is kind of... Dummy. But you're right, seems old fashion.

Kind of... Dummy Sounds kind of... Funny

Working fine, shame can make it default place to upload.

Don't wanna sound rude but the app looks like it's from symbian era

Better that than from the simian era :P

Can't download.... US .. Lumia 1520

Says: Sorry you don't have permissions to download this app!....

You know the part of the post with words in it...

I messaged them a few months ago by email and within two hours they replied to tell me they were releasing a windows app very soon. Seems like they did not lie. I am excited about this app, because I prefer mega to the falling box app and you get 50GB free encrypted storage.

I'm cool with One Drive. I stick with Microsoft.

I always install apps because of the good design.. OneDrive has good looking

I like mega because of 50GB free
But the app design to old...

This might be a silly question. Can I download a file from my Mega account to my phone, then transfer it locally to another device, like for example, a laptop?

Windows getting apps slowly, Microsoft should not bring android apps to windows phone, with windows 10, microsoft will get native apps with even faster rate!

Thanks, but i will stick with Onedrive, ;)..but that 50GB is ...uuummmhhaaaaa

nice, but CloudMesh is good enough

Thanks Kim dot com from New Zealand! This is mega cool!

I thought he was hiding in NZ as well? Do you know him personally?

If you are unable to download it from the wpcentral link, try this one http://www.windowsphone.com/s?appid=1b70a4ef-8b9c-4058-adca-3b9ac8cc194a

Thank you, its work for me.

Awesome! This link works for me.

That's wierd, try downloading it through the phone and keep getting an 805a01f4 error but if I use the link you posted on my desktop it installs perfectly.

I do not have permission to download this app! WTF!

Mytube updated again , now music videos working, and transparent livetile added:D
Ohh ,and its really faster starting speed;)

does changing of views flow work properly it is little bit buggy when tilting the phone.

It still saying that I have no permitions

Maybe the permission is region related... I still get permition error. : (

Useless as it uploads pics only, doesn't have the file picker that Ms introduced with WP8.1 to upload other files. It's time really that cloud apps adopt it as it was introduced almost a year ago.

Still not able to download.

I am not able to download this app or any app from Store through mobile

I can't download it till now

Cannot download! No permissions

Does it keep downloading with the screen off?

Ah man, now love for IE in app description :'(. I use IE daily and have no issues with it but poor web devs dislike it(shame). Oh well, glad to see another 1st party app on wp

Still I can't download it, need permission

Not available yet but hope I will be able to soon!

Works if you use the store link from their tweet... https://twitter.com/MEGAprivacy/status/557442243825389568

Correct, I was able to install it only from this link.

Try this link. http://t.co/GEamXrM2hW

It worked. Thank u lov4u19

This link worked. I wonder what beta the other link is going to? Thanks lov4u19

It looks different, maybe a little bit old, but not so bad. The app is smooth, but I can't upload anything, when attempting to upload the phone vibrates and then the screen goes black the content area. Strange, some one else with the same problem???

I get store not available error if I try to install

Sorry, you don't have permission to download... Sad mod activated

You can upload only puctures. This is crappppppp! Don't feel sorry that you can't download it, you've got nothing to lose

It's pretty funny how they want me to download the app yet when I do it says I don't have permission. So... I ask this question? How exactly do I get permission?

On app description it says "the secret sauce is encryption" yeah, nobody else does that :/

Still unavailable to download

I can't download it ! Why ?

Aside from it's dull design, you can only upload pictures.. Which makes this almost worthless for my use

Your link doesn't work, try this one
http://www.windowsphone.com/s?appid=e43b1a6f-5ce3-4da4-90a9-e8f80c0bf08e This is where your link points.
http://www.windowsphone.com/s?appid=1b70a4ef-8b9c-4058-adca-3b9ac8cc194a

Thanks Peter. Your link works. Article should be updated.

Still not working for me.

Nope, still can't install it.

I install megaasync for desktop noy my laptop is broken

Still same message(Canada)

somehow I still can't download this...

Read above comments then you will find solution

I'm still can't download :C

I still can't download the App. Getting the "you don't have permission to download this app"

Hey look above comments. You will find solutions

I'm getting the same error too from the new link posted some comments above

up! how to replace OneDrive with Mega as default uploader apps on windows phone 8.1? thanks in advance!