Meme Generator Suite – Today's AdDuplex HERO App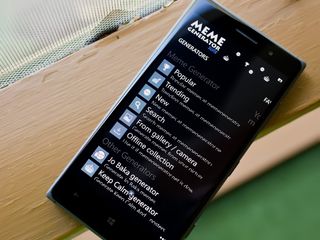 I'm not sure what started the phenomena but memes are everywhere and an easy way to create them is with the Windows Phone app Meme Generator Suite. The app contains a vast amount of templates, original font styles and you can always use your own images. First impressions are good and Meme Generator Suite comes in this month as one of the AdDuplex HERO Apps.
The HERO Apps program is a promotional campaign for Windows Phone and Windows developers on the AdDuplex Network and partners AdDuplex with myAppFree, AppDeals, PluralSight and Windows Central to deliver a host of benefits to the top apps and games each month. Our role in the HERO App campaign is to offer a little exposure to these titles by sharing them with you, our readers.
Today, we turn the spotlight on Meme Generator Suite from Trisquel Apps.
Meme Generator Suite is drawn up in a simple fashion. Your opening page includes your template generators that include popular memes, trending memes and new memes. You also have the ability to use your own images as meme backgrounds, search the meme generators and access your offline collection. Lastly, from the main page you have access to a Jo Baka meme generator and a Keep Calm meme generator.
How many templates are included in the Meme Generator Suite is a bit of a mystery. The Windows Phone Store description lists it as having "tens of thousands". Whatever the number is, it's an impressive collection.
Accessing the meme templates will require a data connection but you do have an offline collection of hundreds of templates to work with when your data connection isn't the best.Along with all the meme generators to choose from, Meme Generator Suite also has primary pages that will list your favorite templates and one that will list any memes that you create.
The editor itself is equally as uncomplicated as the main pages of Meme Generator Suite. Your template takes up the upper two-thirds of the screen with your editing tools lining the bottom of the screen. Tools include two sliders to adjust the font size, text fields to enter the top and bottom text and a series of control buttons. The control buttons allow you to change the text, font color, reposition the text boxes, crop the image and save the finished meme.
Memes can be saved locally to your Windows Phone and shared from within the app using the Windows Phone universal share picker.
After tinkering with Meme Generator Suite for a short time, it is a Windows Phone app that makes it easy to create and share your memes. Even if you don't dabble with memes but every now and then, it is a great app to have tucked away on your Windows Phone for when the mood strikes.
It is a free, ad-supported app and you can opt out of ads with a $1.29 in-app purchase. Meme Generator Suite scores a 4.5 Star rating in the Windows Phone Store and we can see the appeal. If you try Meme Generator Suite, feel free to let us know what you think of things in the comments below.
Download Meme Generator Suite from the Windows Phone Store (Free)
AdDuplex HERO Promotion
AdDuplex is a fantastic resource for the cross-promotion of Windows Phone and Windows apps. AdDuplex has launched a new program designed to help developers promote their apps even further with free access to various tools and resources from AdDuplex.
The HERO Apps promotion partners AdDuplex with Windows Central, myAppFree, AppDeals and PluralSight (opens in new tab) to provide additional benefits to the top apps every month that include:
Vouchers to advertise on AdDuplex
One month subscription to Pluralsight Plus
A featured campaign with myAppFree
A featured campaign with AppDeals
A review here on Windows Central
If you are a Windows or Windows Phone developer, you can sign up for the HERO Apps program here at AdDuplex's website. To participate in the program, you will need to apply within thirty days after your app or game has launched on the AdDuplex network.
Windows Central is already partnered with the myAppFree campaign and is proud to be partnering up with AdDuplex with the HERO Apps program. It is another excellent opportunity to help promote both the Windows Phone and Windows platform.
George is the Reviews Editor at Windows Central, concentrating on Windows 10 PC and Mobile apps. He's been a supporter of the platform since the days of Windows CE and uses his current Windows 10 Mobile phone daily to keep up with life and enjoy a game during down time.
Surprised it's not on PC, considering PCMR is a meme.

Dev here! Desktop version is coming soon. I just need to figure out a nice UI.

You made a wonderful app, congrats

Thanks! I have really invested too much time into this app.

hey, I've been enjoying your app long before it becomes AdDuplex Hero app ;) simply put, thanks to you now I'm known as the meme guy on my little circle XD

If you are looking for a Windows 8 version, check this out - Meme-Generator I am the developer and it's available for Windows 10 as a universal app

We're going to have a nice "meme generator" battle up there ;)

Competition is a good thing!! :)

Encantame este app. A ver cando vos "axudan" a renovar o de Meteogalicia ;)

Ben certo é que galegos hainos en tódalas partes ;)
Teño o app de Meteogalicia pendente de actualizar, pero fai falta tempo e non hai moito ultimamente! Xa me podían dar eles unha pequena motivación :D, porque o seu app non é que vaia moi ben en WP.


Which ever Dev pays my mortgage will secure my Meme creating loyalty

He He He... A oficial non é moita cousa, prefiro a vosa pero ultimamente casca no meu 925 ;)
Sorte e grazas polos apps!

This is really something for ps4 fanboys, they love to annoy people with memes. :P

I'm ps4 fanboy and I've never used memes

I had no idea what memes were, bit I'll soon be spamming friends and family with them.
A question, do I give the app permission to gather use my pics from my phone? I couldn't find anything about privacy...

It does need access to your pictures.
But it's worth it. Have used it for quite some time.

The concern is that my own private photos end up on a server somewhere because of this app. Which I don't hope is the case...

Hi, dev here! The permission is there so that you can create memes using the pictures from your phone.

I have the Android version of this, it's so easy to use. I don't use it often, but every now and then it's really nice to have for that perfect response to Facebook posts, lol

Is this adds free version?
Windows Central Newsletter
Thank you for signing up to Windows Central. You will receive a verification email shortly.
There was a problem. Please refresh the page and try again.