Messaging Skype beta for Windows 10 Mobile updated with stability improvements (Updated)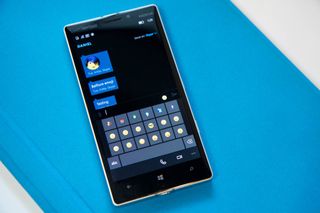 Microsoft is pushing out an update for their very new Messaging Skype and Skype video Preview apps for Windows 10 Mobile. Build 12748 is now live in the store up from the previous 12738 version, which was released this past Sunday.
As usual, there is no changelog. However, we can say with certainty that the app is more stable compared to the older version. Previously, on our Lumia 1520 the app was very shaky with frequent crashes (sudden closeouts) that made the app very tough to use as default. However, after installing today's update and rebooting the device the app is much more stable.
Messaging Skype and Skype video preview are two apps for Windows 10 Mobile that let you dynamically change between SMS and Skype chat within the same messaging app. The Skype video app lets you place direct video calls to users with the option to disable video as well. Although it may seem odd, this breaking down of Skype into components makes using the service easier. The reason is users can now have parts of Skype throughout the OS making it quicker and simpler to use.
Update: As pointed out, the Skype video preview now has a Settings option that lets you sign out of your account, find contacts and manage your account.
Microsoft is still expected to have a universal Skype app for Windows 10 that encompasses all these features and more for the power users. No details about that app are known, but presumably the Messaging Skype and Skype video preview will also come to Windows 10 desktop users at some point as well.
Anyone with a Windows 10 Mobile device can grab the update and either use the app as their default or keep it as a secondary system to tinker. Remember, you should soft reset (reboot) the phone to make sure the app stability increases. Stay tuned for our hands-on video later today with Messaging Skype beta for Windows 10 Mobile!
Download Messaging Skype beta for Windows 10 Mobile (opens in new tab)
Thanks, Bart W., for the tip!
Daniel Rubino is the Executive Editor of Windows Central, head reviewer, podcast co-host, and analyst. He has been covering Microsoft here since 2007, back when this site was called WMExperts (and later Windows Phone Central). His interests include Windows, Microsoft Surface, laptops, next-gen computing, and arguing with people on the internet.
Stability improvements are welcome as the app crashes quite often atm.

Still crashed three times after opening it after the update...

Did you reboot the device?

Daniel, I have W10M and I can't install it. Do I do it normally OR it can only be sideloaded?

you download it from the store links. no need to enable the developers mode or chose any other mode

I'm in the same boat. Did you succeed in installing it? Dan doesn't seem to realize that the app is not generally available.

No still no luck. I use the link but nothing happens. It just asks get app and below it download Windows 10. (update) I had to go through the edge browser didn't work from the WC app.

Even i am on the same page with duk3togo...unable to download app though i am running windows 10dev preview..

I'd like animated emojies like the iOS update to skype recieved recently.

I think Messaging Skype pretty good/fast here (930), but the Skype Video Preview need a huge work, let's see.

Live tile is now named as messaging skype, before it was messaging only. Also In apps list, the name is changed.

Incorrect. It was always Messaging Skype. See our earlier photo.

Mine always said messaging tbh

Belfiore emoji needs white colour

No, it was only as messaging. I can confirm as i took screenshot morning and now just after the update it's changed to messaging skype in the apps list and on live tile.

Messaging is the old app. Messaging Skype Beta is the new app. This is the way it showed for me after I installed it on Sunday - 2 separate apps. In the apps view for me its directly below the original "Messaging" app.

Mine is Skype Messaging Preview.

It's funny... I haven't had it crash at all since using it. Skype messages are a little flaky (they'll send, but then not show up... as if they've disappeared) but that's the only issue i'd had. I wonder why Microsoft haven't addressed this apps existence since that link leaked out last week.

It's device dependent. On the Lumia Icon and 930 it runs fine. On the Lumia 1520, crashes literally every other moment.

Weird running this on 2 1520's and no issues like that. Been using it for default since it hit but glad this seems to have fixed the issue that was happening.

Same here no crashes on ny 1520 it works great

Likely DB issues as it is pulling info from SMS and Skype. One error and it could cause the app to crash. When I say device dependent, I don't necessarily mean model dependent ;) Rather, it depends on that device's configuration and status of messages, resulting in a possible corrupted DB.

When I had mine set as the default messenger, it would just show a blank screen when I selected a text from the notification menu. Hopefully this fixes that problem on my 1020

So ugly that emoticons menu.
And the calling screen has an old skype design inconsistent with the rest. And you can't switch to a contact list. Feels like you are locked in a limited environment.

" Feels like you are locked in a limited environment."

That's the point. It's the core feature set of Skype. For those who need more, there is the full Skype app.

Honest question: if it's meant to replace your on-phone messaging as an all in one solution, shouldn't it tie into your phone's contact list? Otherwise, if it's sandboxed, what's the point?

"if it's meant to replace your on-phone messaging as an all in one solution, shouldn't it tie into your phone's contact list?"

Indeed, which is why it does. On my phone for SMS or Video call under a specific contact they are listed there and I can make calls or message them through the app.

O' Man, I thought we will get a new Skype app with ability to send TEXT messages.. :)

1 word. Fragmentation. Whats the point on working on 3 different kinds of Skype apps when you could combine manpower and make 1 really good one, with all features included. Thats just dumb and proves again the skype teams willingness to play around with their Windows customers. Great point! We are hitting 5 years of poor Skype experience on a Microsoft platform.

I disagree. I'd rather have parts of Skype - messaging, video, calls - woven into the OS and native apps. Make Skype fade into the background as an APP and let it exist as service in the phone.

Why would anyone still think that it is sane to use Skype app when everyone is crying for iMessage type FULL integration of Skype in W10M? Imagine iMessage separate app with full functionality on iPhone.

I want to be able to add attachments to groups

I remember Skype saying that will be three apps, Messaging, Video and Phone. The "phone part" actually is the Phone native app? Is a little confusing...

It deserves a hands-on video. Hope you are listening.

Hope you're reading the article, lol.

Dan, did MS kill the leak? I still can't download the beta app on my 1520 W10M

Anyone running the TP of WM10 on a 920? Thinking of giving it a shot from 8.1, but not sure how well it would run

I'm running WM10 B10512 on my Lumia 920. Overall, it's not bad. Apps do randomly close, random reboots occur from time to time, unlocking the device can take a few seconds, and sometimes it's faster to use Cortana to launch an app rather than waiting for the Start Screen to loan (this is probably because I have roughly 30 tiles on my start screen). It will run smoother if you reset after upgrading. However, I don't recommend resetting with this build if you're using an unlocked AT&T branded Lumia 920 on another carrier, as it messes up the APN's needed for MMS & Data, and cellular connectivity becomes really spotty (I don't have these issues if I upgrade without resetting).

Thanks for the info. I think I'll stay away for now

Doesn't seem like I get notifications for skype messages, does this work for anyone else? Actually seems to work now so not sure if it works all the time.

I want to text from my surface!

Dan, why can't I download the app on my W10M? The link that opens has a "get the app" button that is not active.

Do it from the browser on the phone, does not work from computer.

I'm not seeing the Skype video Preview update. Just Messaging.

We need a messaging hub with WhatsApp, fb messenger. And a calling hub with Skype , WhatsApp and fb calling.

I still don't get it... I had Skype before, the app wasn't the problem. It's that nobody uses skype so they wouldn't want me messaging to there. They use SMS for a reason, why can't I message them on SMS from any Windows 10 device?

You can, if you buy Skype subscription or top up.

I was sending text messages from my PC for my Android phone back in 2008, for free. Why can't Microsoft, which runs both Windows on my PC and Windows on my phone, do the same?

I wonder this very same thing. I think if Skype could send SMS for free as a normal message and recieve them as well then a ton of people would use Skype.

Will be this included in the new build or still it will be a standalone app?

Still not opening on my 930 :( sad times

Hey Dan, any idea if (or when) the skype messaging beta will come as a seperate tile on the microsoft band, right now it just goes with all other notifications. PS - any idea what happend to MixRadio on windows 10 mobile, cant even see it in the store!!!

So... If this is suppose to be their version of imessage, how is my phone suppose to figure out who has their account linked? Half of my friends have and use skype, but none of their accounts are linked so I can skype message them.

If they have their emails on their Skype and your contact, or if they have their number on Skype (which relatively less people do), the phone should automatically know which ones can use Skype. This is not an ideal scenario, so your best bet would be to manually link the contacts on your phone with their Skype contacts (the ones that show in People through the regular Skype app).

"Half of my friends have and use skype, but none of their accounts are linked so I can skype message them."

You link them in your People hub. All my Skype contacts show up in Skype Video, Messaging and People Hub as a single contact.

Is this why my Skype contacts list has duplicates for my entire family? It's really confusing.

It should merge them not have multiple.

How do you add a contact lol?
This whole skype experience not convincing me yet.

Its been a while since I did it and Daniel would know for certain, but I use to be able to find "recommended links" and auto link them under one contact. Or you can manual assign a link as well.

How is it shown that they are your skype contacts? I'm having issues adding another skype contact to my friend, there's no option in editing contact to add a skype username. Where do you access settings to add new skype contacts? My friend's linked contacts are either facebook, outlook, or duplicates of outlook.

Sync your Skype contact with People Hub, you can change their Skype' names in People Hub (eg. [Name] Skype), you can choose to show only Outlook which is your normal contact numbers or Skype contact or both together. Then when you want to text someone via Skype using Skype Messaging just change your setting show "Skype contact" in People Hub and let the conversation begin. That's easy to undertand and solve out how it works tho.

I think this should be part of OS, not an app.

No, because an app can be quickly updated. For a user it looks like a part of the OS anyway.

Having it as an app is a much better idea as it can still be deeply integrated into the system (because they have full access to the system, unlike 3rd party developers), while still being able to be updated regularly like a normal app (Rather than requiring a full system upgrade in order to add new features or bug fixes). However, what I would like to see is Messaging Skype replacing Messaging as the default messaging app (with regular Messaging no longer needed, it could be completely pulled from the store and replaced by Messaging Skype), which is what i kind of suspect will happen.

I really hope MS can work some deal with other chat apps plugging into this messaging API Facebook, Viber, etc. It would really be a huge selling point IMO.

Found a fix when someone sends a photo on the old ver you get a text that says download when you do it disappears. Now you accuaully get the photo

I'd love to see a video on this

I wish all dialog boxes throughout the system has an overlay like in this app. It makes the content behind darker instead of that kind of transparent white overlay shadow that we have now. All I can do now is wish...

The app doesn't find my Skype contacts. Should it connect automatically?
Edit: After I pinned the app to the start screen and opened it from there my Skype contacts became visible.

Isn't soft reset meant to be vol down + power button combo? Reboot is just reboot, no?

Personally, I love this feature. But I do agree that the Emoji's aren't great. They could certainly use some updates. Two things I'd like to see: 1) Animated emoji's, like in the PC app, even if they are only animated when you first view a message. 2) Stickers, because they typically look nicer than emoji's, even if you could only send them via Skype messages or to other Skype Messaging users. P.S. Both of those are in the Feedback app, so feel free to up-vote if you agree. :)

I hope the skype app works as seamlessly as iMessage or better. It would be awesome to be able to send text messages from the PC.

How do I find this. I search the Store (through the phone) but I can't find skype messaging. And the link in the article above just take med to Microssoft store and there is nothing to download there.

You wont be able to find it by searching. Use the link from your phone. Make sure you're running Build 10512 of WM10, as there may be some change in the OS required to get the app (just a thought).

Ok, thank you. I'll try. Yes I have that build

I have a question. People said it is same as iMessage, but my test results shows it is not. If I using iMessage, I can receive SMS from any phone(android/iphone/wp) even there is no cellphone signal but wifi. With Messaging skype beta, I am not able to receive SMS without cell signals from other phone without skype installed. Anyone receives SMS without cellphone signal?

It can't do much in comparsion to iMessage yet. But it is what people want it to be like. We think Microsoft will make it like that. But Microsoft has NEVER told us, that is the fate of this app here.

No, tried the link through my phone and I just end up in the Microsoft store where I can buy Surfaces and other stuff. Not any app downloading

Skype Video doesn't work at all on my 1020. Closes before it even finishes the startup. But having SKype messaging along with regular SMS messaging is nice. I'm getting messages from both all day long.

Silly question. Do you need to uninstall the previous Skype app? As I have both running on my 930, messages are being sent from the beta app but hangs afterwards and therefore not in the history chat and incoming seen to be received on the Skype app itself.

Okay. I just saw the hands-on video. I guess as this is a beta MSFT still has a lot to work on. Its not working 4 me yet.

Can somebody clarify how users can choose whether to send a Text via phone network / Text via Skype / Skype-Skype message?

Update broke the app 4 me. It was working perfectly fine on my 930. :/

I used to use Bing so that I could get a 10$ ITunes card now I dont Bing cause the rewards are trash

I really want to see the ability to send pictures through this app on Skype messages. Considering it can send MMS, it should be able to at least send pictures with Skype messages.

Can't download on my 640xl won't let me

Still not understanding the point. Going from using two separate aps to two separate aps. Why can't it all be in one app???

It's still under beta mate, they're trying to get things done with users' feedbacks before the final version of Windows 10 Mobile is officially released. This was expected as a main feature of Windows 10 Mobile.

Gifs gifs gifs gifs gifs are we ever going to get gif support Posted via the Windows Central App for Android

I have found a strange (and irritating) behaviour after installing and using the app: I chatted with some persons who have a complete entry in my live address book. Later I discovered in WhatsApp some missing names at recent chats, because at these contacts the mobile numbers were gone. First time I didn't think further about it and restored the missing numbers. Yesterday I chatted again with two of these persons (then with skype desktop) and after it, these two were without mobile number again. Has someone discovered the same behaviour?

By any chance can some one share the download link...??

Does anyone have problems with push notification? I doens't push up any notifications from Skype messages but with normal message and texts it does. I already turned off notification of default Messaging app and set this app as default for messaging. It works for a few times when I reinstall it then stops, I even tried to uninstall Skype but it doesn't help either.
Windows Central Newsletter
Get the best of Windows Central in in your inbox, every day!
Thank you for signing up to Windows Central. You will receive a verification email shortly.
There was a problem. Please refresh the page and try again.