Metro 2033 Wars – a post-apocalyptic strategy game for Windows Phone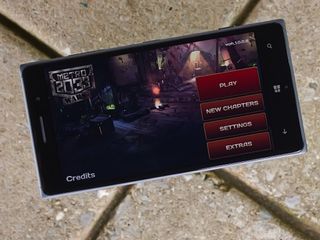 Metro 2033 is a Windows Phone strategy game based on the Dmitry Glukhovsky's novel Metro 2033. The story behind the game places you in a post-apocalyptic world where global powers have unleashed their nuclear weapons, forcing thousands underground to survive.
The Windows Phone game has you gathering resources to survive, rebuilding communities and battling mutants throughout the metro system. Metro 2033 Wars is available for low-memory devices and has over 170 metro stations to explore and over 70 missions available to tackle. First impressions of Metro 2033 Wars are nice but the game may be better suited for longer gaming sessions than shorter bits.
When you first launch Metro 2033 Wars the main menu will offer up options to jump into game play, buy new chapters, access the settings and access the game's "extras". The "extras" is a collection of lockscreen wallpapers based on game play characters. Settings cover the basic sound/music levels, language settings and an option to rate the game in the Windows Phone Store.
You begin playing Metro 2033 Wars with a rather lengthy tutorial that walks you through the various features of the game. There isn't a help section so you'll need to pay attention to the tutorial. The game is challenging enough having to juggle management tasks, diplomacy and combat sequences that Metro 2033 really needs a help section. Otherwise, you may find yourself muddling through game play, becoming frustrated and uninstalling the game.
Metro 2033 Wars has a map screen serving as the center of operations and along with displaying a layout of the metro system, this screen has icons that will provide access to core gaming components that include:
Missions: This is the clipboard icon that sits in the upper left corner of the map screen and will layout your current or active missions and the rewards each will earn.
Records: This is the icon that sits in the bottom left corner and resemble the backside of a credit card. Here you will find a diary of sorts that details your daily activity, an overview of your team and details on the various factions (there are 24 of them) that populate the metro system. Not every faction is friendly and from the faction tab you can try to negotiate relations by offering gifts to a faction or declare war.
Hard Hat Icon: This icon, when tapped, will highlight any movement options available within the metro stations.
Location information: When you tap on a specific metro station an information panel will appear in the top center of the map screen. This highlights the faction controlling the station and the resources present. Depending on your status with this station you will have options to enter, settle and view the squad information at that station.
Once you enter a station, you will have a series of pages that will offer up more detailed information on the station, construction options to build, close or destroy buildings in the station and information on personnel living in the station (same information that you would receive by tapping the Squads button).
Game play is somewhat turn based in that you will set plans in motion to successfully complete missions (building things, recruiting personnel, etc.) and tap the end turn button on the map screen to advance time. The only "action" sequence with Metro 2033 Wars is the combat.
Your team starts out with a warrior type character and a medic. As you build communities and travel the metro you will be able to recruit more team members and advance them in experience levels.
When you get the opportunity to fight the various enemies of the game, combat is turn based. You will have the opportunity to choose which team members go into the fray and from there it is simply a matter of waiting your turn and tapping the targets you want a team member to attack. The medic will be positioned behind the front line and will be available to heal other members as they are wounded.
Some members have attack options that will appear along the left side of the screen. Game cards will line the bottom of the battle screen to illustrate whose turn it is. At the end of the battle, experience will be awarded to your team members, which will in turn increase their health and abilities.
The flow of Metro 2033 Wars is mission driven and involves a lot of reading. From figuring out the mission to reading the dialog/reports from the gaming characters you will find yourself reading a lot with this game. The actual action, where you get to fight mutants, seems very brief compared to the amount of reading involved with the game. This may limit the across the board appeal Metro 2033 Wars will have.
Overall Impression
Metro 2033 Wars is a feature rich Windows Phone game that offers up a challenging RPG experience set in a post-apocalyptic society that has been driven underground. There is plenty of gaming with over 170 stations to explore, over 70 missions to face, 25 types of enemies to battle and 24 metro factions to deal with.
While the game has appeal, I'm just not sure it will have across the board appeal. A lot of the game involves reading and more of a task management approach. Don't get me wrong, too much reading doesn't necessarily kill a video game but may dampen the appeal of a mobile video game. The more I played Metro 2033 Wars, the more I felt the game may be better suited played from a PC than a Windows Phone.
If you are looking for a quick gaming fix, Metro 2033 Wars may not be the Windows Phone game for you. If you are looking for a Windows Phone game to invest some time with and like strategy based RPG games, you'll probably find Metro 2033 Wars right up your alley. At last check the Metro 2033 Wars is pulling down a 4.5 star rating in the Windows Phone Store and while the game isn't exactly my cup of tea, I won't argue a bit with the 4.5 stars. The trial version of Metro 2033 Wars gives you access to the first fifteen missions.
If you take Metro 2033 Wars out for a test drive, let us know in the comments what you think of the game and don't forget to rate things in the Windows Phone Store to give the developer a feel for how good or bad things are.
Download Metro 2033 Wars for Windows Phone (Trial / $2.99)
Windows Central Newsletter
Get the best of Windows Central in in your inbox, every day!
George is the Reviews Editor at Windows Central, concentrating on Windows 10 PC and Mobile apps. He's been a supporter of the platform since the days of Windows CE and uses his current Windows 10 Mobile phone daily to keep up with life and enjoy a game during down time.
I love this game, maybe not everyone but im happy to see that a game that looks for PC its on my phone. I hope we get more games like this, the interface felt a bit harsh only but its a good game.

It's not based on the pc game, nor affiliated with it. It's based on the book

Wasn't the PC / Console game based on the books too?

yeah i know i said pc because the article said "games that look more for PC than a phone"

Yes, he's being pedantic.

Yeah, what i mean is that its not by the same devs

Yea, 2033 was based on the book but, I doubt the ending of 2033 came from the book :-\

Went to sleep last night with my band on.. And it didn't detect my sleep after the update.. Smh

Woke up today, read an article where some dink thought it was cool to comment about something that had nothing to do with the article.. Smh

Should have been obvious when you didn't get a firmware update...

Is this by the same group that made metro last light and metro 2033 for the consoles?

Hopefully they don't get any crap for the name, looks alright so far.

Its based on books so...they didnt create it really

I was just thinking about how so many are sue crazy these days over the littlest thing...

they have licence and authorization from the writer, he even promotes the game on this personal facebook site

What?! Wow the games are just pouring in on WP this month! Keep em coming!

I want Miniclip's Pool game..

Would definitely purchase if I could play it on my Surface as a universal app. Not just for value but because it looks like it would be nice to play on a PC / Tablet. Glad to see it is a paid game, assuming there are no additional in-app purchases or online requirement

Just bought it, I love the Metro 2033 Universe so I'm looking forward to this game.
Also my number one favourite game of all time is Planescape: Torment, a heavily text driven RPG so I will have no qualms with reading the text to progress in this title.
Windows Central Newsletter
Thank you for signing up to Windows Central. You will receive a verification email shortly.
There was a problem. Please refresh the page and try again.