Micromax launches Canvas LapTab, its first Windows 10 powered device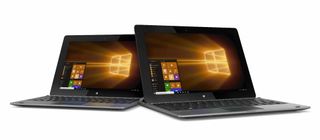 After the launch of their first Windows machine few months ago - Canvas LapTab - the Indian hardware maker, Micromax, has announced the Windows 10 version of the device.
The Canvas LapTab was one of the highest selling laptops on Amazon India for over eight weeks during its launch period and is now one of the first commercially available devices in India with pre-loaded Windows 10.
The first generation Micromax Canvas LapTab was a very capable machine, and at its price was well suited for students and mobile professionals with basic productivity and Web browsing needs. As a 10.1-inch hybrid device, you could use the tablet without the keyboard adding to its utility. Read my impressions of that device here.
Micromax Canvas LapTab Specifications
Intel Atom 1.8GHz Quad Core Processor
10.1-inch WXGA IPS Display
RAM 2GB | 32GB Flash Memory
Battery Life: 10 hours
2MP Fixed Focus Rear Camera | 2MP Fixed Focus Front Camera
USB and Micro USB port with OTG support
There's no indication of any change in the device apart from the bundled operating system, so essentially it's the same device. The price too stays the same at ₹14,999 ($226). The company though is now widening its distribution reach and making it available across channels.
What do you think of the Canvas LapTab? I think it's a pretty handy hybrid 'netbook' and have recommended it to a few people. Let us know your thoughts in the comments.
Someone finally used the word LapTab xD

I keep hoping someone is going to make a Windows tablet called WinPad, WPad, or something along those lines just because I guarantee Apple doesn't have the trademark on those names and it would be funny to dangle that in front of Apple guys.

MS could launch WinPad Air ;)

If only I could trust the name micromax.
Had bad experience with android devices from them.
This was before I moved to wp.
Their customer service is bad.
They don't even have spare parts for their phones.

Well, I will disagree on this one. 3 years of usage of micromax phone, I can surely and safely say it is amazing.

Agreed. They've got some serious servicing issues.

I agree .... Pathetic after sales service

Sounds Pretty interesting at that Price Point especially!!!! Well done to these guys for taking a leap to Windows 10, hopefully it will pay off for then with sales!!!!

Use god given stylus for this one :p

Amazing Price. Hope the quality is there.

Quality and Micromax.. Not happening.. ;)

lol. thats true. The micromax products can't even survive one drop.

You gotta be kidding. The newer phones and stuffs from Micromax have been amazing. Telling this coz am a satisfied user since three years.

I am not kidding. I am just saying what I saw. My friend dropped his MMax last month and ouch the display was gone... And that happened right in front of my eyes. Sure it is very good budget phone but lacks quality. Maybe I am wrong but I can tell you only from what I saw.

You are correct but that's not only the case for mmx... Brand new Nokia X2 dropped and the screen was cracked like spider web.... What can you say about that?

Well I can't say about your phone. But my L532 dropped while driving pulsar probably slow around 40kmph but my phone stood solid without any damage not even a crack. But I do have seen some nokia getting cracked in a single drop. At the same time my lumia have survived around 5 drops in 6 months(yeah I drop a lot). And I have similar experiences with Nokia 1600, Nokia 206, Lumia 820, Nokia 2600 classic, Nokia 5200, and one samsung phone. (All of them survived a lot of drops). So my experience with Nokia, samsung have always been awesome and that is why I am sticking with them but my experience with Karbonn and MMax are far from good.

Do you work for Micromax or what? they are the worst when it comes to service, think it this way - Your new shiny Micromax phone is in warranty(couple of months old), but some problem occurred(which happens a lot with Micromax products) and you go to the service center, submit your phone to service center but when it comes out of service center it is already out of warranty.

This device is best for school students and for those who use laptop only for social media... For that price we can't expect more from it.. Hopefully some Indians will be happy about it..

Most are. It's a nice company which has some wonderful products to offer.

lol. This comment being downvoted gave me a hell of a laugh.(I didn't do it:))

Looks nice for what it is, but I'm always a bit worried when these low cost devices come out that people will think they are representitive of the WHOLE tablet/convertable market. There is no way that this is going to be anyhting like as nice as a surface (at 5-10 times the cost) but people just see 'windows 10' and think they're all the same.

Same. One of my friends lost or broke his iPhone and he got a Lumia 635. I guess I rubbed off on him. He always talks about things that iPhones have but his phone doesn't and it gets pretty annoying. He shouldn't expect the features of a product that is at least $600 from a product that is only $50.

I get that bro! People compare there high end phones with my phone 630!

I compared the camera of my 830 with iPhone 6. Lol, I won. And I take every opportunity to tease those iPhone guys. XD iPhone 6 costs double than 830. XD

You own a 830. That's interesting. Thought you own some micromax windows phone. ;)

Want that background tho!

I'm digging the background.

Can we get that background please!

Purchased 7 of these for my office use. A little bit of rough handling by the airport guys and 4 of them have very bad touch response..

The worst part about using a Canvas LapTab is that you don't have a website to download drivers from (at least I didn't hear about one from the Micromax CC). So if you are trying to upgrade to Windows 10 from 8.1 (like I did and it happened) and the upgrade process doesn't go as expected and then you end up lacking some drivers and want to go back to Windows 8.1, and, in case you hadn't used Windows 8.1 to create a recovery media, you're completely screwed! Then the first time you'd contact them, then they will call you back within 2-3 days, then they will do some troubleshooting, and then if you still have problems, they will ask you to prove it to them and then they will issue you a replacement. But the good thing is you get the bundled offers twice (considering your problem reaches the replacement stage) but for most, it'll not be worth all the trouble!

That desktop though, looks so powerful.

If it doesnt have a touchscreen its not worth the buy with windows 10. You can perhaps even make it cheaper putting windows 7 on it.

Hey wait a minute. How will it be called lap'TAB' if it doesn't have touch screen. Either you are kidding or I am not getting it... It does have a touch screen I think.

It's a hybrid. Of course it's got a touchscreen. Take your head outta your ass.

its just worst! see the reviews on amazon

Well, whatever it is, it is still Windows 10. It's up to you how to take care of your device/hardware but the productivity you get from a more expensive device is the same as this. So, for practical reason, this is a good buy.
Windows Central Newsletter
Thank you for signing up to Windows Central. You will receive a verification email shortly.
There was a problem. Please refresh the page and try again.