Everything we know about Microsoft's consumer subscription announcement on March 30
Microsoft 365 for consumers is coming. Here's what we're expecting to see.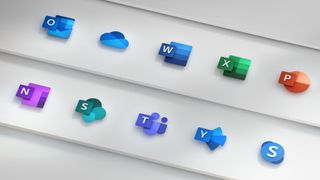 (Image credit: Microsoft)
Microsoft is holding a virtual press event on March 30, where it is expected to announce a new productivity-focused subscription for consumers. The event won't be live-streamed publicly, but members of the press will be blogging the news as it happens on the day. We're expecting the event to be entirely about software and services, and not about new Surface products that the company is rumored to be announcing sometime this spring.
So with that in mind, here's everything we know about Microsoft's new consumer subscription that it's planning to announce on March 30. For those following along at home, this subscription is codenamed Alta and has commonly been referred to as Microsoft 365 Life online.
It's called Microsoft 365
This new subscription will be called "Microsoft 365" officially, I'm told. Unlike the Microsoft 365 subscriptions already on the market, which are aimed at business and enterprise customers, this new Microsoft 365 subscription will be aimed primarily at consumers who use Microsoft software for school or work. There will be two SKUs; one for individuals and one for family, which will essentially be replacing Office 365 Personal and Office 365 Home.
This isn't just a rebrand of Office 365. Office as a brand still exists inside this new Microsoft 365 subscription. But now, the subscription will include more software and services, some of which extend outside of the traditional suite of Office applications. I don't have any word on pricing, but I suspect it will cost the same as what Office 365 Personal and Office 365 Home already costs. We'll have to wait and see on that front.
What's new in Microsoft 365 for consumers?
I'm told that the new Microsoft 365 subscription for consumers will include the usual suite of Office 365 applications, a new family safety app for Android and iOS, a new Grammarly-like editor for Microsoft Word and Edge, a financing feature inside Excel, and premium templates and fonts inside Office.
The new Grammarly-like editor is exciting, as it will enrich the writing process inside Word with definitions, sentence suggestions, and more. Many have been calling for Microsoft to buy Grammarly itself for some time, but it appears Microsoft is making its own competitor to the service instead. What's cool about this is that I'm hearing it will also extend into Microsoft Edge, allowing users who pay for the subscription to get the same rich writing suggests on the web.
I don't know too much about the new financing feature inside Excel. I'm told it would make things easier when it comes to dealing with bank statements and general financing, but I don't know the specifics on how that all works. That's another thing we'll have to keep a close eye on when it's announced on March 30.
The new family safety app for Android and iOS is the app-ification of several tools that are already available online for free. Microsoft's suite of family safety settings have been around for some time and already integrates deeply with Windows 10, Xbox, and Android through the Microsoft Launcher. But those family settings are only configurable via the online website.
This new app for Android and iOS will let parents manage their family on the go via their phones. Parents will be able to set rules, permissions, and track their children's location all without having to load up a PC or the Microsoft Family website. However, I don't know if this app will include any new features that are exclusive to those who pay for Microsoft 365. Perhaps this is where the rumored password manager fits into the picture.
The rest is pretty self-explanatory; Office 365 applications such as Word, PowerPoint, and Excel (including 1TB OneDrive storage) will all be part of the subscription, as will several new premade templates and fonts that are exclusive to those who subscribe.
Microsoft Teams and a password manager
The new Microsoft 365 subscription will be launching sometime in April, but not everything planned for it will be there at launch. For example, I don't expect the new family safety app to be available straight away. There are also other products and services Microsoft is building for this subscription that won't be there at launch, and possibly won't even be announced on March 30.
Microsoft Teams for Life, as it's been called online, is a version of Microsoft Teams for families that subscribe to this new Microsoft 365 subscription. This won't be there at launch, and I'm told it might not actually be announced on March 30 either. I don't know when to expect it, but it's probably going to be later in the year. It is something that will be part of this subscription at some point, however.
A password manager is also rumored to be part of this subscription, but I don't know where this fits. I've not seen or heard anything specific about this feature. Will it be a standalone service? Is it built into Microsoft Edge or the new Family Safety app? We just don't know, and I don't know if we'll get those answers on March 30. This is another thing I expect will be available later in the year if it exists at all.
What do you think?
So that's everything we know about Microsoft's new consumer subscription and the event that's taking place on March 30. Once again, we're not expecting any hardware announcements, just software, and services around being more productive. Are you interested in a productivity-driven subscription for consumers? Let us know in the comments.
Zac Bowden is a Senior Editor at Windows Central. Bringing you exclusive coverage into the world of Windows 10 on PCs, tablets, phones, and more. Also an avid collector of rare Microsoft prototype devices! Keep in touch on Twitter: @zacbowden.
Fingers crossed for gamepass ultimate to be included tired of paying extra for seperate accts for my family.

I think one key area that "Teams" needs to engage with is when consumers want to create a "Free Team". I am plugged into a few Meet-up groups in the Seattle area and a lot of them have Workspace accounts that people can join outside of their work.

Would love it if my Game Pass Ultimate included this instead of game pass on PC. I never game on pc, but do use word.

Planner would be nice to see as an additional tool. Unless this new version of Teams incorporates similar functionality of Planner into a more consumer oriented version of Teams that eliminates some feature sets that aren't useful outside of business but adds in some planner functionality that would be. No matter what I'm sure it will be interesting. Hopefully they explain how to upgrade existing Office 365 Home subscriptions into this new product.

The Teams bit is interesting, the rest..... Shame we probably wont get to see it

Then why is Microsoft killing the consumer skills for Cortana?

Here's the big bummer for me. I have a domain email I bought. I used to pay for personal office 365 so it gave my OneDrive and the vault. When I bought my url email I had to switch to the business account (which alone is dumb) when I did that, I lost the ability to have a personal vault, as well as to share files from the easy to use OneDrive consumer version, as well as lost the ability to right click files on my one drive on the computer and share. It's dumb that Microsoft doesn't let the consumer version do a personalized email since everything else about the personal subscription is so much better then the overly ugly and complicated business version.

Yes, I am very interested in this. I've already for Office 365 for Home and love it. Adding MS Teams to it would be AWESOME, in my opinion. I use Teams a lot at work, so using it with my family would be great.

MS Teams for family is the one thing I was looking forward in this announcement. I hope they dont delay and ruin it. The way teams is picking up Microsoft has a great opportunity to make Teams as a main channel of communication within the family, it could eventually replace whatsapp for some.

Reminds me of the old school Windows Phone 7 'family rooms'
Windows Central Newsletter
Get the best of Windows Central in in your inbox, every day!
Thank you for signing up to Windows Central. You will receive a verification email shortly.
There was a problem. Please refresh the page and try again.