Microsoft (accidentally?) rolls out Windows 10 Mobile build 14998 for Insiders [Update]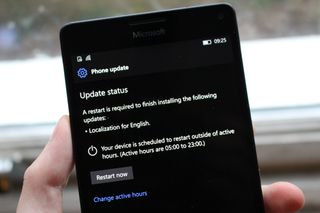 Update: Windows Insider chief Dona Sarkar has taken to Twitter to note that Microsoft is looking into 14998's early release, noting that you "don't need" to install the update.
Original story: So here's an interesting thing, if you're an Insider using Windows 10 Mobile on the Fast Ring, checking for updates might land you with a peculiar update tagged "Localization for English". Before you write this off as something super boring, take note of how long the update takes to download. Turns out, this update is actually build 14998... IN DISGUISE!
We're assuming this build has been accidently pushed out to Insiders, considering Microsoft hasn't made an official announcement about it. The update being incorrectly tagged in Windows Update likely means Microsoft did not intend for this update to go out just yet, or at all.
So with that in mind, if you're not willing to take any risks, don't check for updates right now, not until we get confirmation from Microsoft that this build is something they want Insiders messing with. In fact, we're going to advise against installing this build for now. Even if the upgrade does work (which it did for us on a Lumia 950 XL), there's no guaranteeing you'll be able to install the next build if this build wasn't supposed to be released.
If you can't see the update tagged "Localization for English", then Microsoft may have already pulled it by the time you see this article. Stay tuned at Windows Central for more regarding this surprise new build, including what's new, improved and more!
Thanks for the tips, everyone!
Windows Central Newsletter
Get the best of Windows Central in your inbox, every day!
Zac Bowden is a Senior Editor at Windows Central. Bringing you exclusive coverage into the world of Windows on PCs, tablets, phones, and more. Also an avid collector of rare Microsoft prototype devices! Keep in touch on Twitter: @zacbowden.
NICE !! I guess MSFT engineers might be having a party and someone pressed the Big Red button by mistake. Hehe. Too drunk probably. At least they care about Mobile when drunk. /s

Caring about mobile has nothing to do with it at all... It is ONE system.

Yes. That's why this update is bringing probably just 4-5 features.

Working fine on my 950XL. At least uptill now..

IS PAYPAL, MYFITNESSPAL OR HERE MAPS BACK YET? IN APP FORM OFC.

hopefluy theyll bring gestures back, really miss speaker phone (mute in touch settings is not a acceptaBLE REPLACEMENT..) option we had in 2015 on windows 8.1 shame windows 10 doesnt get the love.

Speaker phone is there. Tap Phone>Three dot menu>settings>change more phone settings>Audio Routing Settings ....then turn on "During a call, turn on speaker when I move my phone away from my ear"

@Giddora well, yeah... If it wasn't clear. """/s"""
.
Also, I know it's One OS, then please explain why they didn't release PC and Mobile update together ? It's the same core, same team builds both, etc. What's the excuse they gave? That they wanted to concentrate on PC more. That tells us how much they work on Mobile. We are fans but that doesn't mean they can screw around with our hopes.

Same core but not the same environment! It's easy to understand that are some specifications, functionalities, etc., that need to be adapted/optimized to a smartphone!

@MM-PT, I've never disagreed with that fact. I understand it completely. This is the reason we have similar looking settings app for both OS's, Notification syncs flawlessly, Cortana works on both the same way, etc but it ends right there. If the question arises on what Mobile does that's better than other mobile OS's then there is no good answer.
.
We don't have split screen multitasking even now, no support for PIN code for individual apps (only OneDrive has it for some good reason!), etc.
.
Please look at this. Copied my comment..>
.
Interesting bit. 84,000+ upvotes for landscape start screen and not ONE comment from a "Microsoft Support Engineer". Great. What are upvotes for then? We can see them replying to posts having just 97 upvotes (e.g., Snapchat app request).
.
https://aka.ms/pftzlf

It's true, but it doesn't change the fact that they don't give a **** about us :( Which doesn't change the fact that Windows mobile is still better than android :)

And what's "/s" supposed to mean? I've never seen that before, other than signing with your name.

Specifically, /s = End Sarcasm, implying that everything preceeding "/s" should not be taken seriously.

Narco, actually it can still be taken seriously (even if sarcastic). It depends on your point of view. I was genuinely happy and annoyed at the same time. Happy because they released a build and slightly annoyed because they have just about forgotten us Mobile users. PC is still awesome - No doubt.

"/s" means the preceding statement was "sarcasm".

For insider previews, you're right. But when they release to the public, it's always PC and mobile with the same build number. My Idol 4s has the same build as my PC.

Yeah, i know. :)
Got 3 Mobiles and 2 PC's in the family and all of them are on 14393.693, except for the good ol L1020 which is on TH2.
.
But Mobile still hasn't received so many features that we should have got by now.

It isn't even close to being "one system". Windows 10 mobile is much, much closer to IoT (in fact you can add IoT files to W10m to gain functionality) than desktop.

I've said it a million times, and so has Dan. There is only one OS, Windows 10. There are just different versions. W10M is the current version for ARM devices. Microsoft is working as hard as they can to get it all together as Onecore. People need to stop thinking like it was back in 2010. There is no separate phone OS, just Windows 10 for phones.

@Geoffrey exactly !! I agree... And this is precisely the reason W10M fans are so frustrated. Also it's all one OS doesn't mean an engineer flips a switch and we get new additions such as sticky notes for Mobile. If this was possible then W10M would have been the best OS ever.
.
To put it a bit different. We still don't have an app like Sticky Notes for mobile or any new feature people are demanding which gives the impression that THEY AREN'T DOING MUCH for mobile man !!
.
Pasting my comment here. Check it out. >
.
Interesting bit. 84,000+ upvotes for landscape start screen and not ONE comment from a "Microsoft Support Engineer". Great. What are upvotes for then? We can see them replying to posts having just 97 upvotes (e.g., Snapchat app request).
. https://aka.ms/pftzlf

Downloading it now! Am I living on the edge?

Great song from my very young years haha

Did you notice any new features or fixes?

Waiting the best from MS , no rush 😊

Is it have any new features? Are you able to download ?

It's showing for me as well. Still 0 %

I'm desperate for a fix to major app compatibility issues so thank you!!

All non UWP apps get stuck on the splash screen (or on the loading screen before the splash screen). This affects my banking app, Whatsapp, plus many others I rely on. I don't want to hard reset again...

I had to hard reset and go back to production ring because of this. 14977 caused alot of apps to not load on my L650.

I also did a hard reset because of this. It was the only fix.

Hard reset hasn't worked for me or Vaxax :( how is the safest way to go back to production ring?

Windows Device Recovery Tool (WDRT) will wipe it and reinstall the OS. Usually this will be the later production builds, but it depends what variant your phone is, as some carriers have not pushed the latest builds.

Thank you. Just downloaded this morning's release, 15007 I think?

No problem. How is it running? Any compelling reason to jump back into the fire? I mean fast ring. Fast ring of fire.

The new build is really fast but I still can't use my apps so feel like my opinion shouldn't count!

(Haven't yet rolled back device!)

Thanks! Will give it a go. I downloaded the build released this morning

Sadly it didn't fix it and now I'm worried it will cause problems later... does seem to run smoother though

That was an issue when running apps installed on the SD card...uninstall each app then reinstall and it should work

Hmm. Pretty sure I've tried that but doesn't hurt to try again. Thank you!

This wasn't the issue unfortunately, but thanks for trying!

Not sure I should be doing this, but hey. Though it hasn't moved beyond 0% yet. Scratch, that, now at 7% and climbing quickly, 9%, 12%, 13%, going up by the second...now 25%

Kindly Don't update! https://twitter.com/gus33000/status/819479361803915264

Did you just copy and paste the WC news? Mmm

14977 has been stuck at 96% for 4 days now on my device. have brought the device from 8.1 to 14393 4 times now, still same issue. anyone else have the same issue?

nope.. if 14393 works fine for you then stick with that for the moment. opt out of the fast ring and then update only when they release a stable 150xy build.

What can I do if my phone has already downloaded it but hasn't installed it. It's waiting for quiet hours to restart. Can I still keep the phone from installing it if I opt out of the insider program ?

Can I prevent it installing after the download has started?

you can only stall it for 5-7 days after which it'll force install. it's better not to install it to avoid bricking ur phone. Do a hard reset and then opt out of the fast ring.

Dona got mad after yesterday's fight on twitter, this is a revenge!!!

Seriously !! my phone is running the update now

Mine too. Fingers crossed...

All updated fine on my 950 XL , everything seems to work as normal , fingers crossed to those who did exactly what the article is advising against :)

950XL: I'm having a few new minor notification problems. Also, Outlook/Calendar took a few minutes to synch entries. Otherwise I've had no problems. I'm ready to hard reset to roll back if necessary. 1520: can't seem to get past 14933 on fast ring. I assume it's hardware/firmware related since my 950XL had no such problem with that build

No point being on fast ring if you don't wanna take risks. Hitting the update button now......

Yeah... I REALLY don't understand people who complain about things being "too buggy" on Fast Ring... I mean, come on... It is supposed to be more buggy than other rings and we are supposed to post the feedback TO Microsoft, not ABOUT Microsoft.

Re: Giddora,
Yes, and I thank you for your service helping to improve each build.

No problem good sir, my 950 XL is always ready to help.

The system seems A LOT faster. Live Tiles are also updating correctly again.

Yep, seem faster for me too and not to get too happy but the random scroll crash bug in WC app seems to be gone, did they fix the UWP app scaling issue?

I definitely got the update. My phone auto-updated during the night.

wonder if this is the same build Zac showed us with the faster windowws hello

Well he clearly labeled it as build 15000+, so I doubt build 14998 hits that criteria. Just an educated guess.

Although it seems build 14998 also features the shortened Windows Hello animation.

my lumia 950 get faster windows hello!!! hooray!!!

glance screen can be turned off during charging!!! hooray agian!!!

There is no update. it seems they pulled it out :((((

Lumia 650 got error 8024800a. After change date to 18/1/2017 now downloading.

That also means you will NOT get the next update when it is released because you changed the dates. You will have to keep changing your date for every update from now on (even official updates). Your error is probably because you have changed date before. It is advised to NOT do this ever.

We'll get a proper build in 1-2 weeks anyway

I will be happy if Microsoft accidentally rolls out windows 10 for Lumia 520.

Should've installed W10M when it was avaible through the Insider program.

It's not that hard to install it on the 520 anyway


Well, it's not easy easy. But if you are interested it's not really hard to get RS on the 520

"Don't check for updates!"
*Checks for updates*

Read article title...exited app....quickly checked for updates...download started......smiled along with success fist...went back to article....read article......fear came upon me....gnashing of teeth..."OHHHH NOOOO WHAT HAVE I DOOOOOONNNNNNNEEEEEEE!!!!!!!"

Localization for English. Downloading updates 6%... 950xl. Shouldn't have reco'd against it. Couldn't help myself! Edit: Update complete, all seems dandy

Too late! I picked up my phone and it told me that a restart was required to install the update that had already been downloaded. Fingers crossed.

I am too late! check for update insider fast but its downloading 14977.1000

Latest Fast build. It's ok

First issues I've found, text headings at the top of WhatsApp were all mashed together on the left of the screen. This may be becuase I'm running the beta of WhatsApp, but it wasn't like this yesterday. Also, I wanted to take a screenshot to post here showing said corruption, but although it took the shot, and the picture I took shows up on the "Screenshots" tile in Albums, if I tap the"Screenshots" tile to access the folder, theres nothing there.

About WhatsApp, it's certainly the app. Experienced the same in Production

On WhatsApp did you try to close the app and reopen it?
WhatsApp had an update today and that overlaying happens every update.

Update complete...Indeed is the Build 14998 on my 950!!!

Everything looks normal...

Seems great, super responsive, really fast, let's see how it goes

All fine and dandy on my Lumia 950 dual sim

Dang it. Update already downloaded...but did not restart. Isn't there a way to keep it from restarting and updating???? I thought I saw an article on that a while back?

Which phone model do you have?

Anyone brave enough to install this can you please tell me if the following is fixed: When on a phone call and you move the phone away from your ear to push a button or take an incoming call, does the screen stay black? Because that is why I am out of the fast ring... black screen while talking on phone. I have a 950XL

Did you report this in the feedback hub?

I don't have that problem. You don't have a new screen protector on that is cover the sensor do you?

reported to feedback, yes. No screen protector covering sensors. only happens when I do fast builds.

I have this issue on my 950xl on production

Hi,
My advice is,You need to hard reset your phone using WRT for the bug to disappear. New builds won't sold the above. I have learnt this over time.
Regards,

Mine solved in the last production update. Saw another workaround, to switch off audio routing settings

My same question: Is vpn ( for example hotspot shield) working in this build?

Thanks. I'll download try.

It was an easy decision to install this build on my phone, since us L650 users were left in a lurch with the .977 build

Pfff.. Dona sister pls not using alchol xD

I installed this new build this morning...
Wifi Calling has been fixed !!!! THANK YOU Microsoft... This has been broken for quite some time and upon restarting, my 950XL showed the Wifi Calling icon !!! yeahhh.
The Bluetooth settings also look different!
Continuum (over to SP4 wirelessly) seems much faster !
sounds like a very good build to me !

Have you tried to change the Settings in Cortana?

What carrier are you using? I have a 950XL and I am on AT&T and would love for WIFI calling to work. I am so close to switching to T-Mobile and getting the Alcatel Idol 4S with Windows just for WIFI calling.

I am in the UK with EE (ex T-Mobile UK) with an unbranded (sim free) 950XL. With this new build, my phone connected to Wifi calling straight away. (was set to "Wifi Preferred".

Wow, thank you for the reply....i am soooooo wanting to install the build and test it with ATT. I hope it works for ATT but I'm going to wait and see. I paused the update on my phone by turning off the wifi for now.

Wifi calling works? Which ROM do you have? Where is the settings?

It's 7:15 US Central time, update is still available. Phone started downloading. I thought it was a language pack

Just checked here in the states. No update. Probably pulled. Edit: Was on the slow ring. Switched to fast, and the update began to download.

The "Need A Hand?" in all the settings menus is completely new. The "Apps & Features" menu is completely new and when you click on an app there is an advanced menu that allows you to reset an individual app.

Do not Install on Lumia 950, Cortana Crashes, no settings for Cortana work.

Too late for I saw tat 'localization update and let it install If its a MS error, are they do they consider mobile client are unreporesentative and they don't care, or will they able them to receive future update. I was deeply a MS windows abd mobile fan accepting all startegic errors during theth of years, but I see the end comming slowly but surely. as I am 70 i hope to die before.......

If you are insider so you have accepted be a tester for good and bad.

Not necessarily. First,there are essentially three rings, specifically so people have to accept less of the "bad". Second, you don't HAVE to install an update.

Took me a decade to understand what you wrote

I have nothing else to do while I sit in the airport for a few hours. What could go wro

Hmmm....it could cause your phone to catch on fire while in flight? Just guessin'.

Will this work on th Lumia 650? I have been unable to get .1000 to install. I keep getting errors. Phone has tried multiple times and I even hard reset.

I installed this update on 650 without any issues.

Interesting, i just checked mine and it is 16% preparing to install 977.1000

unable to get the update to show up since 5 am eastern time :(. i guess ill be waiting until an official build comes out.

I awoke this morning to see that my phone already installed the update...lol

Working fine on my 950XL. At least uptill now..

Too late. I saw this at 0-dark-30 this morning and figured it must be some sort of special update to allow a mobile version of 15002 to roll out. Silly me.

I installed it! It is smooth. It has the new Windows Hello without the wink animation and it fixed the problem with viewing screenshots in photos app. Although, you can scroll photos without zooming in and out of a photo first, but I'll take it.

Appraisin crashes in scrolling?

UK 950xl dual sim - downloaded and now restarting :)

My Fitbit blaze is now showing up as Bluetooth LE. Only seen that on the pebble and it didn't work. Could GATT have been updated? A reboot is a must following the update. Sorted out WhatsApp and a few other niggles. Can finally use hello as a suitable replacement to our works stupidly long pin.

Appraisin doesn't load at all now but I don't really use it anyway.

Well, darn it, while 15002 on the PC fixed the inability to connect to google-domain sites like YouTube, the mobile update 14998 did not. Although, now I see the error "This page uses invalid TLS security settings". So, there's that.

My phone dowliaded automatically and eastern time is about 10am

Yep, it always has been, appart for the past few month when the builds broke it. Only certain phone support it, 950 and 950XL, as far as I know. I have a 950XL. Settings->Networks...->Mobile...->Sim settings->wifi calling...

No! VPN connects but cannot access internet now!

As I played around with build 15002 on PC, I realized that there is a feature that I would like to see. In the Start Menu on the PC, you can now make folders. But, I would like the option to be able to section off the tiles on the start screen of my phone. That option should be available within the tile itself. Currently, the name only shows on the folder tile. I would like the option to do either one. The ability to label the folder above the folder, like on PC would give more home screen customization for users. However, the title banner only need be as big as the tile itself and not take up the whole Start menu or start screen row.

Lol it's so cute when they release builds accidentally. It makes the phones and computers seem human. 🙂

Darn it. Just checked my update page and it is already downloading. How do I stop it from installing?

Turn off WIFI and it will stop the download. I turned WIFI back on later and was met with a Download button that I refuse to press.

Alright, tried that and it stopped. Though it says it will start again once wifi is connected again. So for now I turned off wifi completely.
.
I also tapped on stop receiving builds under the insider page for the next 7 days. Hope that helps as well.

I'm glad that worked for you too.

From Dona Sarkar @ 10:36AM ET:For any #WindowsInsiders who are seeing 14998, we are investigating. You don't need to install this one. https://twitter.com/donasarkar/status/819568623282860033

Was just about to post this.

Is accidently a word? Also get hype for hands on vid

Installed (accidentally) on my 950 XL and so far, so good

What does localization of English mean?

tried installing, then got an error, and now its gone

Got it this morning... installed... hope there are not too many problems. Not that I found any so far.

It downloaded and installed automatically.

Anything new in this one.

I preffer not to install this one, because, maybe, I would not be able to install future official, not accidently, builds if this build is already installed.

"You Don't Need To Install" because.....
If that's the case, I definitely install it if I can get back to WIFI. The Edge improvements are the main thing I would want. Haven't been able to access any Google site for over month.

I think WhatsApp beta has received a brand new UI.

Yep. But it's far from win 10 design language. Way to go more. Hoping for a uwp app for WhatsApp

After multiple times of trying to install 14977 on my 650, of course a build not intended for release WOULD install. Jees.

I just checked and the update isn't showing up and I am on the fast ring.

Darn, I was willing to try it. Hoping it is better than 14977.

This is correct. We pulled the update. It has been removed for a few hours now.

Yesss Helo is really faster and system too

I'm finally able to update all my apps, I had 9 that were stuck at 211mb for two weeks. Bluetooth and devices is new, well maybe I didn't notice it before. Also there is a "need help"section in almost all settings and a link to get help. There is also the ability to reset apps without deleting the app, it is found in settings, then apps.

Cortana is down. Can not go to her setting without freezing up. 950 phone.

Are you ready to rumble? Cause we are still rumbling.

This is the new update to fix the that out this morning?
Windows 10 Mobile (10.0.14998.1000) - This update can help make your phone work even better - Error 0x80070002

Mine already downloaded and installed... Wtf...

So installed it and noticed 3 things on a positive note. 1. Hello is faster
2. My pinned web page works again
3. WiFi calling appeared again after a period of absence. Pretty good news as I have next to no signal in the office. So all in all happy I bothered.

For all that have updated to 14998, are you able to install new apps from the store? Mine would just changed to "working" but the download wouldn't start. Edit: Never mind, 15007 fixed that!

• Windows 10 Insider Preview 15007 (rs_prerelease). Now available!