Microsoft adds quick actions to Outlook Mail notifications on Windows 10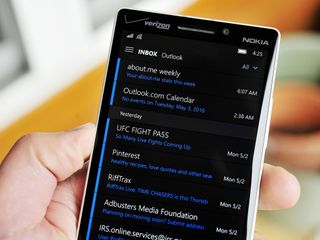 Microsoft has added quick actions to notifications for Outlook Mail for everyone on Window 10. Previously available to Fast ring users, the interactive notifications add buttons to the notifications that allow you to interact with an email without opening Outlook itself.
Each notification allows two quick actions, which are set to "Set Flag" and "Delete" by default. When a notification comes in, you can tap on either button to perform that task without opening Outlook. Of course, the buttons can be customized to any quick action by heading to the "Quick Actions" portion of the Settings menu. Other options include "Mark as read/unread" and "Archive." The quick action buttons are available on the banner notifications, as well as those residing in the Action Center.
Have you had a chance to try out Outlook Mail's interactive notifications with quick actions yet? Let us know in the comments below!
Thank to Ajay for the tip!
Dan Thorp-Lancaster is the former Editor-in-Chief of Windows Central. He began working with Windows Central, Android Central, and iMore as a news writer in 2014 and is obsessed with tech of all sorts. You can follow Dan on Twitter @DthorpL and Instagram @heyitsdtl.
It has the feature since the app update last week, really helpful for the mails I don't need to read

At last! Microsoft should promote more this feature in their apps, it is very intuitive and saves time and battery.

If only WhatsApp would add quick replies...

And Cortana integration! Well, the official Twitter client needs actionable notifications, Tweetium has them.

That would require a UWP rewrite, which isn't happening anytime soon according to them.

i think they'll make true uwp when most persons on windows phone have windows 10 mobile, a large part is still 8.1, they can also add windows hello support

What a nice feature! I'll be updating Outlook as soon as possible.

I like it, but wish it was just a swipe like in the actual app

Yeah !
But it'll need them to change whole logic for notification module. Which will not be generic..

Had this type of rich notification in Touchdown on Android many years ago. Glad to see Windows is catching up. I am still waiting for label (Google) and category (Outlook) support in Outlook Mail app.

With android nougat they introduce replying in notification but windows 10 mobile has that feature since a year ago.

I'm talking about Rich Notifications used by the Touchdown mail app, which were introduced 2+ years ago in Android v4.1 Jelly Bean, which included quick actions in the notifications. I don't think Outlook Mail supports text replying from within the notification, but I think the Messaging app does that today. Anyway, I was strictly talking about the mail apps.

We've had it for years too, and we've been able to reply to different apps through notifications for years too... This is not news for Windows users, the news is that the Outlook app gets it.

agree. i love the clean interface of outlook, but its so stupid that neither the "mail" app on windows 10 or the "outlook mail" W10M app support categories / tags. What is the point of MS offering a label system if you cant see those labels in an app?

Drop them a line letting them know...and that is a good idea by the way.

"I am still waiting for label (Google) and category (Outlook) support in Outlook Mail app." THIS!!!

Cool feature. For me at least it reset the actions to Set Flag and Delete, I had to configure them again.

Yes, my question is off topic but only kinda. If let's say I get a Word document send over to my Outlook app/account, is it possible if I have a Epson printer connected to my home network over Ethernet, to print directly from my Windows 10 mobile phone?

I haven't tried this kind of thing, but I've heard that you can print from your phone to a supported printer from a limited list. What I mean with this is probably no legacy stuff. Also probably just wifi printers.

Well, phones run Windows so there is the same support for peripherals.

No there is not the same support for peripherals in WP, show me how you add a printer to a Windows phone. However some HP printers (and maybe others) are accessible using an app. I am able to print to my HP Envy all-in-one printer from my phone, but it did require that the HP app be installed.

I have three wireless printers connected.

I print from my W10, L930 to my hp printer on my wireless network

it is definitely possible.

Finally MS fixed outlook multi selection button that acts on first tap now. Earlier it required twice tapping. I gave feedback about this 4 times via feedback hub

Holy ****!! Yes!! Finally!!

I have also been waiting for this to be fixed. Good to know.

"TEST TEST TEST OMG TEST" LOL

I died upon reading that XD

Live tile still not updating as it should. L930

Is there a way to set it so you only get notifications from a VIP list or certain subject lines?

Sure, though you have to create a folder and a rule to move messages in the folder upon reception (rule for subject and / or people) as outlook now supports notifications for folders

Thanks, I know this is configurable within Outlook.com, but would like it to be a phone-function you can tweak. BlackBerry had it as a "Level 1" feature which I loved. I'd have several rules setup so even though 200 e-mails would hit my Inbox per day, that little red light and the vibration would only occur when I received e-mails that I wanted to know about (20-30). It is great because it cuts down the amount of phone-lifting you need to do. I wear a Band 2 and have configured the "VIP list" so the notifications are reduced but I wish they had a "subject line" filter as well.

I'm not sure if I was clear : rules will work on the server and on the phone you can tweak the notifications : Pin the mail folder on the start screen, and when at least one mail will be received you can adjust the notifications (sound, banner etc...). The only drawback is that the lock screen can only display the number of unread emails in the Inbox. So all in all you can achieve 20 notifications out of 200 mail received

Great but Mail and Calendar live title doesn't update. Is there a solution to fix it?

This was available for weeks now on release preview, not just fast ring :D

It's been there since the previous build

Maybe I'm just missing it but I'm in the "Quick Actions" menu in the Outlook App settings & I cannot find where to change from the default "Set Flag & Delete". I see the swipe controls, which I have set to "Delete" on swipe left & "Mark as Read" on swipe right. L950, Release Preview.

I think the settings for Quick actions (in notifications) and swipe actions are the same. Which is a shame, becuase I'd prefer Mark as read/Delete for notifications, but Add a flag/Delete for swipes.

How do I mark some mails as spam within the app.

Great little feature. Still completely shocked that new features are being added but critical basic functions are not available. Why are phone #'s still not links to the dealer app. Is it just me or is this not a basic function? ????

Even call app have new quick actions in action center for miss calls. A much needed tweak.

one question, is this for every email that is received or can it be taylored to a specific person(s) to receive these notofications

This will be incredibly useful feature, especially for shipping tracking notifications. Now if only SMS could be acknowledged from the bar so if you already read the one word message, it still isn't marked as i read in the app.

When you said "Windows 10", did you mean Windows Mobile 10? Am I going to see this somehow on my HP Spectre x360?

Any one else finding that this new update makes your phone go incredibly slow after trying to open an email?

I take it back... I started getting these the other dat and posted on the feedback hub. It almost locks my phone up when it happens. feedback-hub:?contextid=259&feedbackid=46cfdb16-45df-431f-910d-b72f43d745f5&form=2&src=2

Completely off topic, the Surface Pro 4 Type Cover has an awesome trackpad. It feels awesome to use.

Meh. I'd like to have the sound notification back for email not a quick delete action. Hmm. Lame!

I've not seen this at all. I'm wondering if you have to be staring at your phone in order to see these notifications?

Now, if only they'll let us Outlook for Android users change the Quick Actions instead of forcing the default ones, I'd be happy.

Really nice. Now do the same with the messages app. It's really lame that you can't set a message as read from the drop down.

Nice addition... Finding it very handy!
Windows Central Newsletter
Thank you for signing up to Windows Central. You will receive a verification email shortly.
There was a problem. Please refresh the page and try again.