Microsoft and RunKeeper offering users a chance to win a Microsoft Band (US only)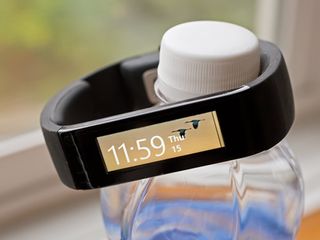 If you are a fan of running, spring is the time to get started outside. Today, Microsoft and RunKeeper have announced a contest whereby you can win 1-of-10 Microsoft Bands.
The challenge? Run or walk 26.2 miles throughout the month of April. Moreover, unlike real marathons, you do not need to do this all at once! Ten winners will be randomly selected from the pool of qualifiers to win a Microsoft Band.
All you need to do is log in and accept the challenge. Then, your distance is calculated using a RunKeeper app. Ironically, there is no official Run Keeper app for Windows Phone. However, there is the highly-rated Caledos Runner or Catchme apps, which plug into Run Keeper for data keeping.
Microsoft Band users can also jump in for a chance to win another Microsoft Band. That is because Microsoft Health links up to RunKeeper to keep everything in sync, and you can see our tutorial on it here. Alternatively, if you are a Fitbit users, you too can link your RunKeeper account to Fitbit under the RunKeeper settings > apps.
RunKeeper is a free service, although there is an optional Elite Package for $9.99 a month that adds advanced reports, insights, comparisons, and even live broadcasting of runs.
Check out our top-rated running apps for Windows Phone if you need more ideas to get back in shape!
To enter, just head to the blog post and tap 'Accept the Challenge.' We already signed up!
Source: RunKeeper
Windows Central Newsletter
Get the best of Windows Central in in your inbox, every day!
Daniel Rubino is the Editor-in-chief of Windows Central, head reviewer, podcast co-host, and analyst. He has been covering Microsoft since 2007 when this site was called WMExperts (and later Windows Phone Central). His interests include Windows, laptops, next-gen computing, and for some reason, watches. Before all this tech stuff, he worked on a Ph.D. in linguistics, watched people sleep (for medical purposes!), and ran the projectors at movie theaters because it was fun.
I don't' see anything that says 'US only' though I suppose I could have missed it.

I guess you have, since the competition page says it's not available in my region. (http://runkeeper.com/challenge/microsoftbandmarathon redirects to http://runkeeper.com/challenge/unavailable)

Well, then I didn't miss it ;) I can't check which regions when I am in one. Also, the T&C (which I read) did not mention it as a requirement.

Now it says US only... That's fine.

You couldn't possibly of due to the fact this article mentions the one named "Daniel Rubino" wrote this article ... However ... This could be a lie *curious face*

Yes, on othe countries they give away iphones
...i'm polemic
Yes i've enough of this new ceo!

Good work staying on topic

Unfortunately!!!!!!. WC should always mention this when posting region specific apps and competitions.

It doesn't say that anywhere, so not sure how we should always specify that?

Oops challenge not available in your region...thats the message we get when we try to join the challenge.

Oh well another "US only" contest

Serious..why us only? And why does non us people ha e to read this?! Yugh

You didn't HAVE to read it, no one forced you.

Maybe it's Microsoft's way of trying to get more people into the eco system where WP is failing?

Wp is failing in usa
Period

I hate it whenever they say US only.

Run Keeper is NOT on my short list of go to apps I do enjoy a good contest though. So ill give Caledo a go. Hopefully soon Runtastic will be compatible who knows

Hopefully this partnership includes RunKeeper making a WP app, lol.

That would be nice official apps help the eco system

They used to have one. Market share was not enough to get them to keep it. Same old story.

They're not a Keeper at all :(

We don't even have the damn app...great contest.

(1) You do not need the app (2) I gave alternatives to the app that will let you participate (3) Fitbit also connects up (4) contest is not winning something from RunKeeper, but a Microsoft Band (5) Microsoft Band and RunKeeper work very well together

Taken the pants off.
Daniel typo in the second comment *requirement.

Daniel developers are angry for troubles like ms giving away iphones or removing exclusives to Windows, here will be a desert if ms keep on with this behaviour
At w10 event nadella was clearly embrassed tring to justify users to use Windows products They could do the best smartphone ever putting 1020's 41MP Sensor on a 1520 or 930
What are they busy in?
Selling iphones or porting apps to android??? Sorry buy this new ceo politica are DISGUSTING me

Making an OS to be put into your dream flagships.

http://wmpoweruser.com/microsoft-garage-removes-tetra-lockscreen-from-th... Here you are ms is after bofa and chase
Ms fool us!

Someone tell me if its applicable to Indians :P

Imma do it. Although I either tore my meniscus or my ACL from some sparring, imma have to hobble/limp them 26 miles.

Hopefully this will make them re-launch their Windows Phone app that they used to have… http://www.windowsphone.com/en-us/store/app/runkeeper/906cd463-9f34-e011...

Why doesn't RunKeeper have an App for Windows Phone if they are working together???

Daniel Rubino: They used to have one. Market share was not enough to get them to keep it. Same old story.

I dont want anything besides a Runkeeper app for windows phone period... They have crap support ditching the app a long time ago. No idea why Microsoft is working with them.. Link to the old app https://www.windowsphone.com/en-us/store/app/runkeeper/906cd463-9f34-e01... Microsoft Please work with Runtastic https://www.windowsphone.com/en-us/store/app/runtastic/12017833-8a50-e01... Or Sports Tracker https://www.windowsphone.com/en-us/store/app/sports-tracker/d686e4f1-4b1...

I'm in the US but it says that I don't have any contest available in my region lol... What a joke Runkeeper is lol.

People who write this should be grouped with those who write "First!" and be auto-banned.

US only again... Smh Microsoft...

Runkeeper doesn't even have WP app so why partner up with them? Runtastic FTW.

Because Microsoft Band is not only about Windows Phone?? yeah they suck and they never wanted to work on the app and Runtastic is a good 3rd party app. but you don't need a WP to use Band. And Microsoft can't just be stupid and stop these partnerships only because they don't have an app on WP

Ms is stupid and is loosing market share
Nadella politics are a cancer for ms

I liked RunKeeper fine, until they stranded me on WP. I don't like the layout on Caledos. Runtastic is OK but the WP version is behind the Android and iPhone versions. It's really astounding that the MS Band partner doesn't even have an app for WP. Remember when MS was in court for anti-trust issues? How far they've fallen!

This is so stupid. How are we to compete, when there isn't even a RunKeeper app available for us to use on WP?? I don't want to use Caledos runner, and I don't want to use my samsung S4 to track it, I want to use my WP!!

I will enter but I will bike those miles just at a running pace..

How do y sync health vault with either app??? HELP

Off topic, but I'm getting a free fitbit flex with the Nokia 830 I ordered a few days ago. Is it worth it to sell the fitbit flex and get a MS Band?

Hmm. I live in the wrong country. Microsoft band is not for sale here, nor do we have Cortana. But - hey - on the bright side, we can buy all the Lumia's without contract for al rather low price.

Looks like it may be open to more than the USA, I'm in the UK and its showing as one of my available challenges and let me join it, and the terms and conditions dont say anything about it being USA specific (although the way its written does suggest it). Although I am a RunKeeper Elite subscriber so they may bend the their own rules for those that pay them. I am slightly surprised they are pushing the band though considering their intergration with it isnt great, getting a map into Runkeeper from the Band is a right pain, I'm thinking of disabling the intergration with RunKeeper and just uploading run files manually after extracting the TCX with UnBand. Jen

I have tried all Windows Phone excersise apps and Caledos Runner (I wish they would drop the runner tag) is what I use. I will be riding my first Century ride this Saturday and I will say Caledos helped me get there. It's integration with my heart rate monitor is great as well as visual activity.. I also appreciate the new cloud interface as well as the ability to download gpx files for upload to other apps. Keep up the good work guys and I am sure your future efforts with the MS Band will be a winner.

I figured I'd give this a try, since I've been a RunKeeper member for a few years, and have used Caledos Runner since RunKeeper dropped the WP app. Now when I go to the RunKeeper site from my phone, it drops me into the Apple App Store directly - won't even load the mobile site. Why, Microsoft, do you let app developers string you along when they don't change what they do or even acknowledge that a device that's not an iPhone or Android exist? Does anyone test these things??!!

US only, except Illinois. When I check the site I get "no contest available in your region". What a joke!!!
Windows Central Newsletter
Thank you for signing up to Windows Central. You will receive a verification email shortly.
There was a problem. Please refresh the page and try again.