Microsoft announces Bing Apps for Windows Phone 8, bringing News, Weather, Sports and Finance to the small screen [Updated]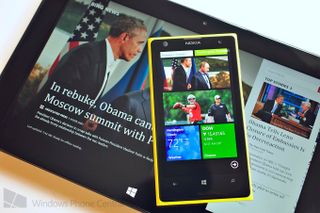 Update: As of 7PM ET, all links are now working. Please try now to download the new Bing suite for Windows Phone 8. It's not restricted to the US.
Today, Microsoft has pulled the sheets off of a new suite of apps based around the Bing search engine. Simply called Bing Apps, the collection of four apps includes Sports, News, Weather and Finance, including Live Tile support for Windows Phone 8 devices.
Based off of the same suite of apps for its Windows 8 OS, the new applications bring all of the latest news right to the Start screen, continuing the "glance and go" usability that Windows Phone users have become accustomed to. Indeed, this is the first time we've seen some real parallels between the desktop and mobile OS drawn and it should make using the two systems more seamless than before for new customers.
Watch our first-look video of the new apps in action and enjoy the gallery of screenshots after the break.
Video Tour: Bing News, Weather, Finance and Sports
Bing News
The Bing News app is a straight port of the Windows 8 client and is well optimized for Windows Phone. Users can adjust the font size to their liking, enable the Live Tile, and restrict background data usage to only Wi-Fi. Wide tiles support is included with HD level graphics for images.
The app is relatively fast and fluid to use (data can take a moment to download) and with optional Breaking News alerts, users can stay abreast of all the latest happenings. The app lacks any lockscreen support or the ability to share an article, which is something Microsoft will hopefully build upon in later releases.
Download Bing News for Windows Phone 8 here in the Store.
Bing Finance
Like Bing News, Bing Finance acts as market hub on your Windows Phone. The Live Tile (wide supported) shows the latest DOW and NASDAQ numbers (one on each side) with a graph and numbers for a quick view. Users can customize the Watchlist with specific companies and the News section is similar to the Bing News app with font control.
Download Bing Finance for Windows Phone 8 here in the Store.
Bing Weather
Everyone loves weather apps and Bing Weather is a solid port of their desktop version. The app features a live tile (sadly, not wide) with the latest temperature, current conditions and the day's high and low. Launching the app will show more in-depth information like "feels like" temperature, humidity levels, wind and more. Swiping to the right reveals daily, hourly and a collection of weather maps, including Temperature, Doppler, Precipitation and cloud cover, optimized for regional and national views.
The app is well designed and while it can't compete against the more full-featured pay apps on Windows Phone, it's a really well done weather client. Once again, no lockscreen support in v1.0 is a bit of a letdown but we imagine such a feature could come in later updates.
Download Bing Weather for Windows Phone 8 here in the Store.
Bing Sports
Like Bing News and Finance, Bing Sports brings you all the latest in world competitions. From the scoreboard (currently MLB in the US) to News to slideshow to videos, the app is sure to keep the sports enthusiast busy. Like Bing Finance, you can add your favorite franchises to the 'my teams' pivot to easily track their latest happenings.
Download Bing Sports for Windows Phone 8 here in the Store.
Quick thoughts
Overall, Microsoft has done an admirable job with these well-polished apps. They serve as a reminder to consumers of the similarities between Windows 8 and Windows Phone 8 and represent a sign of things to come as those two operating systems begin to merge in 2014.
We can envisage many of these apps coming pre-installed on forthcoming Windows Phones and it should provide a great out-of-the-box experience for new customers who want core apps at their fingertips.
When to get them?
Bing Apps are now available with their respective links and QR codes listed above. Note: these apps are very "fresh" to the Store, so if it says "Not available" for your device, try again in a little while until it hits all servers.
More information can be found on the Bing Blog.
Daniel Rubino is the Executive Editor of Windows Central, head reviewer, podcast co-host, and analyst. He has been covering Microsoft here since 2007, back when this site was called WMExperts (and later Windows Phone Central). His interests include Windows, Microsoft Surface, laptops, next-gen computing, and arguing with people on the internet.
NIST❕❗❕❗❕.. Ok, I'll leave you alone.. Sorry.

No worries, Microsoft retards did some whoopsie today ... :)

Does this sync the sources across between W8 and WP8?

No. They don't. But what I didn't like the most is that you can't share news stories from the news app. That should have been a must have feature.

Exactly! I even mentioned that in the app rating on store.

But what took so long? It highlights the plantforms weekness, Microsoft hardly likes to make apps for its own platform. Microsoft is like the kid that say's he is giving 100% effort as he walks of the play field. 100% effort would be running, not walking. Microsoft is barely walking to create apps for there own platform.


You are not allowed to complain anymore until you improve your spelling my good man! We must maintain a proper level of decorum here at WPC.

You're ridiculous. Your comment is a waste of characters.

Sorry Otis, but you lost all credibility with your orginal post. Glad to see your spellchecker is working now though.

Pull your pants up and wipe your nose.

What a load of crock. Not available for tmobile us Nokia 925

Same issue here, 925 on Tmo USA

Did you even read the whole article? It just hit the market so its not available to all devices until its hit all the servers.

Yes. I did. Its still nonsense.

Yeah, not available on my 1020 either... thought this was the flagship device?

Good Lord you all are such cry babies.

Why does no one read the full article? It says right at the bottom that it might not be available to you yet. Everyones so impatient good lord.

No kidding. Calm down it will get there - if not tonight in a day or two. Good grief.

I think some people may have been spoon fed waaaay to much lol... given the lack of patience and toddler like tantrums "I want it now!"....
People you'll get it when you it becomes available jeez lol.


But Sean, you must understand, these are very real First World problems!

It just hasn't hit your local server yet. Jeez.

not available for Nokia 920 :(

Available now. MS launches in portions on each server so there's not overloading (assumingly). Takes like a couple hours max lmao.

I have been waiting for this ever since the last update of these apps on my Surface RT. The News and Finance apps have become my goto sources of info. So glad to now have these on my phone.
We are getting close to a unified Windows Phone - Windows 8 experience. The only missing for me is a Windows 8 WPCentral app!

I also wish for a WPCentral App for Windows 8. Is there anything you can tease, guys?

use NExtgen Reader, it works like a charm

Seriously! Ever since I got my Surface I had been wondering why Microsoft didn't have WP versions of all their great Windows Bing apps! This is great.

If I'm not mistaken it was announced several months back they these apps would be coming to WP.

indeed

MS really needs to release these "things" (essential and prioritized things) faster

Ms releases quality apps and you complain........sigh

Well, they do listen. But I cant download it. Hopefully it syncs with the rt versions.
Would like to sell my WeatherFlow app now, is it possible? Update: Downloaded, it synceth not :(

They don't. Hopefully they'll update this soon as cross compatiility will be a big draw for the MS platforms.

Same here, can't download, while it says it supports English and other languages, which means it supports many regions, too...

I also can't download it yet altrough it is available in the dutch language :( Greetzz.

Same here, i want to use the Bing Weather app as my #1 weather app, but i can't download it yet so i don't know if it will be metro stiled live tiles or only like Daniel have in his review .... if it is metro styled i don't want Weather Flow anymore, i love to use official microsoft apps like i do on my Surface RT :)

Greetzz.

doesn't look like there is a lockscreen setting for the weather app

Yes wanted these app for ages now.

Is this "US only" again? I literally have no reason to use Bing on my phone even though I want to.

Apps description and supported languages show my language but apps are unsupported. Hmmm...

If you read the article until the end, it does say that it might take a while until apps hit all servers and are available to everyone

I'm pretty sure the article is updated after I wrote this.

If you are a non us citizen, then dont get too excited, they dont give a rats ass about us.

... which also wants the money of non-US citizens.

True, you could always use one of those awesome Non-US operating systems. You know, like... umm... Yeah coming up blank here.

We have this thing now, it's called Linux.

Why would Bing be US only it global Microsoft is loading it onto the servers!

And it better not be US only.

I'm in the US and can't even download them LOL

Im really hoping they come to Canada as well.......waiting patiently


Me too, come on, show some love to the great white north (Canada)!

Read the first paragraph! Jeez!

This was before the update, genius. Lol

So its still in there, is it not?

I thought things had been quite around here today, was sure you must be working on an exclusive review.
Exciting to see this coming to the platform and bringing Windows & Windows Phone closer. Nice v1 apps by the looks of things, look forward to seeing how they progress and what else MS has in the works.

Story updated with Store links.

Any ETA for when they are available? Or just "later today" ?

Hi Daniel, one question, the Bing Weather app, can you if u use the live tile with the kind of tile that is more metro styled ? like this --> http://cdn.windows7themes.net/pics/weather-tile-weather.jpg ?

Greetzz.

Do you know what the tiles look like? Do they have their own colors or its just whatever theme color you picked?

The weather tile changes colour as per the weather. And there's slight images in the background of the tile, faded and only just visible.

The error I'm getting is not that it isn't available for my device but rather that it is no longer being published. Strange. Did they have bugs and pulled them from the store??

I get the same error as well...... Quite weird indeed.

Awesome! I know lots o' people on WPCentral here wanted Bing News on WP badly (including me!!) Hooray!

My new soon to be weather app. :)

YAY!!!! Took them longer than expected, but very excited about this!

This is the loveliest gift from the Bing team. Thank you so much folks. Hope these apps are at par with the Windows 8 apps.

I always have the feeling these apps (or those on RT) are US minded. Am I right, or are these also useful for European people?

Im fron Netherlands, I See Durch news. :)