Microsoft announces OneDrive Files On-Demand rolling out to Fast ring Insiders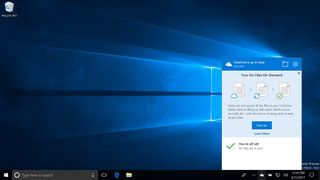 The day has finally arrived: OneDrive placeholders are back, albeit under a different name. Initially announced at Build 2017, OneDrive's new Files On-Demand feature is now rolling out to Fast ring Insiders on Windows 10 preview build 16215.
Files On-Demand essentially allows you to see all of your OneDrive files on your PC without downloading them until you actually need to open them. The net effect is that you can see and interact with all of your files without taking up massive amounts of local storage. This feature used to be present in Windows 8.1 as OneDrive Placeholders, but it was later removed in Windows 10.
If there are any files that you want to keep locally, you can easily do so by right-clicking them and choosing "Always keep on this device." To free up space, you can right-click again and choose the "Free up space" option.
Microsoft notes that this will roll out over the coming days to Fast ring Insiders on 16215 only. Files On-Demand is expected to launch alongside the Fall Creators Update, the next big update to Windows 10 due this fall.
Windows Central Newsletter
Get the best of Windows Central in your inbox, every day!
Dan Thorp-Lancaster is the former Editor-in-Chief of Windows Central. He began working with Windows Central, Android Central, and iMore as a news writer in 2014 and is obsessed with tech of all sorts. You can follow Dan on Twitter @DthorpL and Instagram @heyitsdtl.
BTW any projections for Slow Ring release date?
I'm still on first Fast Ring build and just waiting for that Slow stage :/

slow ring has not started rolling out any build yet it still on 15063

There was no build today and the Insider Team is streaming live on Mixer tomorrow so maybe they could release it then. June 14th from 10:30am~12:00pm Pacific, 1:30 Eastern & 5:30pm- 7:00pm UTC

Why in the world it was removed in the first place? Was it causing them pain in their as***s ? Nonsense first they remove the features then give back the features in so called in steps of insider programs. I can't believe that this kind of features are getting released to the insiders first instead of a public release directly. Total nonsense. MS have no confidence in their products if a feature is not getting used by masses then remove it. What kind of strategy is that? How that old placeholder feature was used by the masses if there was so less market share of windows 8(8.1).

well, they can't release it to the public right away, as onedrive has changed a lot since the windows 8 versions. I agree with you that they shouldn't have removed it, but they do need to test it before releasing it in a public build. I personally wouldn't want to have a feature that doesn't work properly because of some changes in the os and onedrive rather than it working correctly straight away.

There is also a download link for those who want to get the update manually.
https://go.microsoft.com/fwlink/?linkid=851311

"Files On-Demand essentially allows you to view all of your OneDrive files on your PC without downloading them until you actually need them." Correct me if I am wrong, but from what I have seen, every time a file is accessed it will automatically download locally, whether you want it or not. In other words, if I have a video on OneDrive and I watch it, it will automatically download it to your local disk. This is not good.

You're correct. That's what that sentence says, but I can see how it's a little unclear. I've cleaned it up a tad to clarify. Thanks!

When you stream a video, what you're doing is essentially you're downloading it on your disk as a temporary file (which is removed later).
Of course there are different ways to achieve this. You can download only a part of the video or keep everything in your RAM, but usually you're downloading it into a temporary file anyways.

Correct, but when I'm done watching a Youtube video it gets erased automatically. In the case of OneDrive on Demand it will stay on my disk until I manually remove it. This is not good. Ther should be an option to erase it automatically when done accessing it.

Yes, but you could still for example watch it on OneDrive.com?
It would be hard for OneDrive to find out if you want a file erased after using or not. Maybe those Placeholders should always be erased after using?

I'd say files should by default be downloaded to a temporary folder and erasefd when the file is closed, unless I specifically ask for the file to be stored locally.

I agree. I believe they remove the downloaded placeholder files, but they didn't say for how long they are cached. Like always - not a lot of perfection is to be expected from MS products.

placeholders worked perfectly in windows 8, so why not now? and i can expect just as much perfection from other companies. even more from ms products, as they have worked perfect for me. they cannot be perfect to anyone, unless they add options for every single thing. and they already have more options compared to others. (not including linux, as the amount of options and customization isn't too much in most distro's without using the terminal)

I was thinking the same thing. Created a feedback hub suggestion to always keep large files online. for https://aka.ms/M6pxfw/

I'd say, unless I specifically ask for it, every file, and not just large files, should always be stored online only and never synced locally.

no offence, but i guess this is why microsoft removed it in the first place, and now that they're bringing it back, they will get feedback like this again.

If it only works with 16215 it looks like I will have to wait until 162nn or whatever, as 16215 still refuses to download/install on 2 different PCs. Ho hum...at least I'm patient.

Yup similar here - keep getting the GSOD and no bootable device message

Don't worry, I'm on 16215 and I can't get it to work. It tells me I have no OneDrive files, nothing syncs, it won't let me choose which files to sync. Literally nothing works. I've unlinked my account, relinked it, and it absolutely refused to recognize my existing OneDrive folder. More and more I feel like I'm having to actively manage my Windows install. Not a day goes by that I don't have a problem with something that ends up eating a few hours of my time. I'm also having problems with Visual Studio at the moment. I've had to completely wipe my machine about 4 times now and yet still problems. Ranting...

Wish this were available without needing to be on the latest fast ring build. That one toasted my Surface 4's wireless so that I had to revert back one build. I couldn't see any networks to connect and it looks like I wasn't alone.

Been waiting for this to return!

I found this feature available here: https://onedrive.live.com?invref=deba21861776584f&invscr=90

Hurrah... When will MSFT ever learn...? Finally they put back what they stole from us in Windows 8.1 rendering OneDrive useless on my Dell Venue 8 and HP ElitePad 900 and a plethora of low storage kit like my Surface Pro... Shame in the meantime those devices have all bar the Surface, now become slightly redundant due to age.

W10 was nothing short of a betrayal to many useers, because of this.

Go get the OneDrive store app. It caches a picture of what is OneDrive, all of it, so you can see the structure and files offline. It must be online to retreive anything, but that would be the case for files in the placeholder concept too.

if I delete a file/folder in PC, will it delete on server?

Absolutely bro. It will be deleted and will go to your recycle bin of onedrive

Ops, that is not my expectation. I want to delete some files already synched to free up space but don't want to delete them in OneDrive

In the task bar, right click on the OneDrive icon and go to settings-> choose folders ; now you can select folders which you want on your hard drive, u selected folders or subfolders will not be synced. Already synced folders which now you have unselected will be deleted and moved to recycle bin. To gain space you must clear the recycle bin. Wait for about a minute after choosing the folders as it takes some times to delete folders. Hope this helps.

Does it work with OneDrive for Business / Sharepoint libraries as well?

Can anyone who has the updated OneDrive kindly list the build number of OneDrive? At least then those of us on 16125 can more easily check if we have received the correct build of OneDrive. EDIT: 17.3.6931.0609 Although I had to go into OneDrive settings and turn on Files On-Demand

So does not appear to be working for atleast me. I manually installed the update. It installed, the new interface in the system tray is there but when I attempt to enable the "File on-demand" option, hit save... the client closes then reopens with that same option unchecked. None of the new right click options are available while in the OneDrive directories either.