8 tips to extend the battery life on your Microsoft Band 2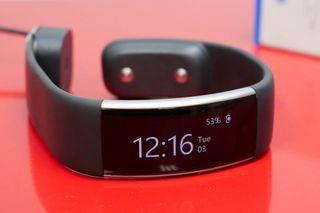 The Microsoft Band 2 has an advertised battery life of 48 hours, but that can vary depending on your settings, usage, and other factors. For example, using the GPS during exercise can significantly drain the battery. If you want to extend the battery life on your Microsoft Band 2, we have some tips that can help you out. These tips include turning off some features, so read carefully.
1. Turn off GPS when it's not necessary
When you start a run or a bike ride, you can enable or disable the GPS. If you turn off the GPS, the Microsoft Health app can't show you a map of your run or ride, but it will save battery life. It is recommended to disable the GPS for activities such as stationary biking, running on a treadmill, dancing, and racquetball.
2. Turn on Airplane Mode or turn off Bluetooth to stop auto-sync
While your phone is connected to the Internet and connected to your Microsoft Band 2 via Bluetooth, data is synchronized about every thirty minutes. You can turn off Bluetooth when you don't want your Band to sync automatically. On your Band, go to Settings (gear icon) > Airplane to turn Airplane mode on. Alternatively, you can go to Settings (gear icon) > Bluetooth to turn off the Bluetooth. (Note: I can't figure out the difference between these two settings. They both turn off Bluetooth.)
3. Lower the screen brightness
You can change the screen brightness of your Microsoft Band 2. On your Band, go to Settings (gear icon) > Tools (gear icon) > Brightness. The default is Medium, but I've changed it to Auto. You can change this to low for more battery life.
4. Choose a lower vibration level
Your Microsoft Band vibrates when you receive notifications. It's on Medium by default. You can change it to Low. Go to Settings > Tools > Haptic Alert Levels and change to Low. It vibrates after selecting an option so you can feel if it might be too weak.
5. Turn off Watch Mode
We recommend setting Watch mode to Rotate On as one of the first things you should do with the Microsoft Band. If you already wear another watch or rather check the time on your phone, you can leave it to Off. This is the default option. You can also still check the time by pressing the power button on your Band 2. You can change the settings in Settings > Watch (clock icon).
6. Turn on Do Not Disturb
If you're too busy to care about notifications, turn on Do Not Disturb. Calls, messages, and other data are still downloaded to your Band, but you won't receive notifications when they arrive. Go to Settings > Do Not Disturb.
7. Turn off Daily Heart Rate
This is a major feature that we recommend leaving on, but you can turn off Daily Heart Rate measurements to extend the battery life on the Microsoft Band 2. The Band 2 monitors your heart rate day and night to measure your calories burned. Estimates of your calories burned will be less precise while the Daily Heart Rate monitor is turned off, but it automatically turns back on when you're tracking a run, a bike ride, a workout, or your sleep. Go to Settings > Tools > Daily Heart Rate to change the setting.
8. Turn off the display during a run, bike ride, or workout
When tracking a run, bike ride, or workout, the display on the Microsoft Band 2 stays on to show your stats. You can save battery life by pressing the power button to turn off the display. Press the power button again when you want to check the stats.
Battery life vs. features
These 8 tips will extend the battery life on your Microsoft Band 2, but you'll lose out on some features. Will you be following all or some of these tips? Do you have more to add? Sound off in the comments!
Buy the Microsoft Band 2 (opens in new tab)
Windows Central Newsletter
Get the best of Windows Central in in your inbox, every day!
1 tip don't use it. Keep it in show case... :P

Save battery life: Just turn it off.

i have a good tip for you guys wait for Microsoft Band 15 maybe version .15 will extend the battery time

With current trend I doubt that. Battery is even now too spacious.

What are users seeing as average battery time?

5gb....oh sorry, I thought you were asking about MICROSOFT'S NEW ONEDRIVE STORAGE!!!

I cant really tell you but I can tell you this if it helps. I had 100 percent battery at 9pm last night. had it on and did some sleep tracking. I did 1 hour of gps tracking before work. When I went to plug it in 7:30am it had 80 percent battery left.

I go for a run every other day for 30min or so with GPS on. I also have watch mode and the UV monitor on and I'm getting around 42h

That's really weird. I have almost all of the functionality of my band 2 OFF, and I'm barely getting a full day. Had the exact opposite experience with ms band1. 1st gen band with everything turned on, ran 48+ hrs no problem. My new band 2 has horrible battery life, and keeping watch mode on is not even a realistic option for me

I have same experience. My Band1 could start the day with 80% charge, use it all day with both the clock-mode and heartbeat-monitoring always on, and sleep-tracking at night, and the next morning it would have 50% charge, and on some rare times down to 40%. My new Band2 however, I can start the morning with 90-100% charge, have auto-rotate-clock-mode and hearbeat-monitoring turned off, and use sleep-tracking at night, and the next morning it will be down to 10 charge. If I use it as on my Band1, with clockmode and hearbeat-monitoring on, it will run totally out of juice during the night and I get no alarm in the morning due to an "dead" Band. I have started to set wake-up alarms on my old alarm-clock again...as backup, in case the Band runs out during the night. So I experience a huge difference i battery-life between Band1 and Band2...for the worse. Wondering if my Band2 is faulty or if this is the norm for the Band2?

I pre-ordered the Band 2 and just last week it started to drain like crazy. I did a test on Wednesday: Kept it charged and walked out at 7:30am for work with 100% battery. Came home and waited till 7:30pm to see what the battery was at. 27%! Keep in mind I had done all of the tips in this article. No workouts or anything. Just a slow day behind a desk with a few miles of walking. Your Band 2 is still under warranty and they willl replace it for free. I just walked into my local Microsoft store and they swapped it out. Just make sure you know where you ordered it from. They need to know if it was from the Microsoft Store online or just bring in the box, if you still have it.

Nothing particularly scientific here, but I'm going a day (including workout and sleep tracking) on about half a charge... maybe slightly more. Charging it while I shower each day has basically kept it full up since Friday.

I usually charge it during morning shower. It doesn't charge to full but I'll usually have more than enough for the day.

I switch off the GPS. I did not set any other configurations as mentioned in this article. I get 3-4 days before it dies down completely.

Hard to tell just yet, but by the looks of my battery icon I have about 75% left after wearing the device for 24 hours. I try to leave stuff turned off unless I am going to use it, like bluetooth, GPS and watch mode (I wear a regular watch on my other wrist). I do have heart rate still on though.

I've used it several days with all features on only charging for a half hour during my morning grooming, and I don't think it has ever dipped below half battery. Certainly no less than a third.

With one hour of exercise each morning (GPS turned off), bluetooth on, and heart rate on, I am getting about 41 hours of battery life. I don't use the clock feature as I wear a watch.

2 days for me w no GPS--but I have the auto watch/time feature on.

Seeing two day average paired to an android, medium brightness and vibration. With weather tile also activated. Daily heart rate also on, GPS off. Using it heavily but even then. The two day life with a quick charge is a godsend. Posted via the Windows Central App for Android

Does anyone know how long it runs with GPS on? Because the 4-5h of the first one are a bit short :/

did you keep the screen on?

I'll use the tips, once my band 2 gets here. Just over 2 weeks to go before it's out in the UK

Shouldn't Airplane Mode disable both GPS and Bluetooth as opposed to just turning them off?
Have mine preordered from Amazon.co.uk with shipping date on the 19 of November. The wait is killing me...

GPS is usually disabled anyways, until you do an activity that may require it (run, bike). At that point, the band will ask you if you want to turn it on. So it seems Airplane mode may only shut off Bluetooth.

"Turn on Airplane Mode or turn off Bluetooth to stop auto-sync" This makes the band pretty useless, you won't get any notifications then.

Useless as a smart watch... still useful as a fitness tracker though.

Then get a cheaper fitness tracker, not a $250 tracker.

Perhaps the better phrase is "This makes the band pretty usless to me." Personally I use more of the fitness features than the smart watch features.

While that is true I wouldn't call it "useless". You can still track heart rate, steps, some of the exercises and even pay for your Starbucks order!

"This makes the band pretty useless, you won't get any notifications then."

You know when that is a good idea? WHEN YOU ARE ON AN AIRPLANE. lol When flying to Europe, it's best to do this because (a) you are not moving, so who cares about steps (b) you're not getting notifications at 30K feet and (c) you may want the Band to have more battery when you land. So it's actually a smart idea, or if you are taking off the Band for a few hours too and not using it.

Yes I put my band on airplane mode when I am on an airplane. But okay I guess some may not realize to do so.

Hey! But think of the altitude readings LOL

This would be for a time when you might be without your charger for 2 or 3 days, or if you're away from your phone for an extended period of time (like hiking or bike riding). C'mon, man, use your head before posting nonsense.

K tkx for much sense dude.

Sorry but these tips are stupid and defeat the purpose of owning one. Why not just say turn it off and it will remain fully charged

If nothing else, turning rotate on and auto brightness doesn't in any way impact the functionality or featureset of the band, but does significantly help the battery usage.

For normal usage for a day in the office, there's no reason to turn off all of these features, because battery life far exceeds 24 hours. But suppose you have a very long hike, mini-marathon, or century bike ride planned and you'd like your Band to last as long as possible for tracking this activity. While you are engaged in this activity, you aren't going to be responding to email or texts, or following news, or need any other activities. So for this special event, you'd like to know how to maximize the battery life. I'd want the GPS tracing and HR monitoring, but otherwise, I wouldn't need to have the screen display on constantly or receive any notifications, so this is useful information. In fact, I plan to do a long bike ride tomorrow with GPS and HR montioring and I'd like to get a sense for how long it will go on a full charge with non-essential notifications turned off.

That isn't even accurate. The battery charge will still erode over time even if the device is turned off.

I think 2 burns through the juice faster than 1, I swore I could get 3 days out of one, I maaaay be able to squeeze 2 out of 2; vibration medium (just switched to low,) rotate on, Bluetooth on, display auto...I don't see an independent GPS setting but presume it's off based on the question posed when starting a run.

Add in an extra sensor (barometer), a larger screen and what looks like a smaller battery and you're sure to get worse battery life compared to the first gen. I'm getting about 2 days usage, which is not bad at all. Especially since it charges to 70% so quickly.

I get closer to 3 days with Band1. Everything on, except gps

The rotate on makes a difference, imo. I've had the same experience as you.

Does anyone know what processor and the amount of RAM and Storage space the Band 2 has? Does Microsoft rate 48 hours with everything turned off just basic?

No idea. But I get 2 days with mine, GPS off, rotate and all notifications on.

My issue is getting notifications set correctly. MS Band 1 was not reliable with notifications showing up sometimes hours after they should have been received. Now I get notifications on MS Band 2 that I shouldn't get. I have 2 email accounts set to not notify and 1 set to notify of new messages. I continue to get notifications from all 3 accounts. Annoying since one is my Google account that I use for junk and therefore get a lot of email.
Anyone else have this issue or a solution??

I would have the same issue of "over-notification" if I enabled the email notification. My email is a constant......incoming is almost ceasless. (But neccesary) Instead, I have email alerts (rules) set for specific "recipients", where when a message arrives form them, I am sent a text. I have the Band 2 monitoring texts instead of emails. So, for example, if the CEO sent me an email, the inbox rule sends a text to my cell number and includes a portion of the email. (Sender and subject line and time stamp) So in affect, I am using this "method" to cut down on the over-notification that the band would be forced to supply. My cell phone still gets the email notifications for ALL email, of course. It's a daunting number, I assure you. It can be 32, or 41, or some other insidious quantitiy, just during my commute. :) Note: Outlook Web Access on an Exchange server allows these rulles to be created from a browser. Works really nice for a situation like this.

What OS are you using? I'm noticing this too but thought it was because I was using Windows 10 Mobile. There are definitely inconsistencies with notifications.

I'm on a Lumia 1020 and haven't updated to windows 10 mobile.

I'm no health nut and still bought a band 2 just out of curiosity of what the fuss was about. Now I will NOT give it up! It's my one and only "gadget". (I don't consider smartphones and tablets and desktops as gadgets since they are all fundemental to what I do for a living. As for battery life, since I don't need the gps data, I am unaware of any battery life issues. This thing charges really fast and bleeds out far slower than a full days use. In fact, I think the sleep monitor is crazy cool, so I can't charge it while I am sleeping, like I do almost every other device I own. Only had it for a short time, but it looks like it is going to get charged while I am making my first cup of coffee, showering, shaving, and getting dressed in the morning. I am using the USB port in the Surface Pro power supply for the source. It packs plenty of punch in the alotted time I have for charging.

I feel the same way about my Band 1. I love it!

Main reason for me to not get these kind of devices until they last a week on normal usage.

You can't wear it in the shower so its pretty convenient to charge it, you know, while you're taking your shower. Pretty simple concept, imo.

Remember that the Band 2 has approximatley 1,000 charging cycles [and can't be replaced], so the more you can extend your battery life the longer you can enjoy it.. https://www.microsoft.com/microsoft-band/en-us/support/hardware/battery-and-charging

Airplane mode shuts down both Bluetooth and GPS, right?

Next tutorial: How to preserve space in OneDrive? Don't put any files into it.

So to sum up, turn off all features you bought the Band 2 for and this will save your battery life. Sorry but I bought a Band 2 to actually USE all these features. If you want to turn them off just to save your battery life, what is the point in buying the Band 2 to begin with?

Waiting to try all these steps but I can't and even Microsoft PH won't reply when I ask them whem Band 2 will be available here.

Ibilihan nalang kita dito Sa states. Saan ka nakatira? Uuwi ako Sa pinas Sa January.

Just buy an extra charging cord so you can have one at work and at home. Charge when 'vegging' :)

i would advice not to turn off bluetooth. pairing this thing is such a bitch. keeps asking if i have an iphone, like wtf? Id also advice to lower brightness to LOW. in fact its still really bright for me. it should have something much lower. disappointed about the haptic feedback. i have to stay medium to feel the vibration. LOW is just too low.

I always turned the screen off on my original Band during runs and have done so with my new Band 2. One thing I did notice today was that after turning Watch Mode to Rotate On, during my run, it kept coming on, presumably from the arm motion. Most likely a software fix that could know it was in run mode and to disable the Rotate On function. If you really need to know the time while running, press the button. So far I'm really enjoying the new fit and comfort. Still some bugs on Windows 10 mobile to clean up to ensure notification come across consistently, but that's perks of playing with beta software.

Some of these things to disable kind of goes to the point if, why even have a band 2.... a cool looking watch would do the same thing and 1/4 the price...
Windows Central Newsletter
Thank you for signing up to Windows Central. You will receive a verification email shortly.
There was a problem. Please refresh the page and try again.