The Microsoft Band 2 is officially on sale online and in retail stores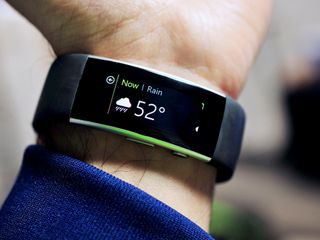 If you have yet to pre-order the Microsoft Band 2, today's the day you can check it out for yourself. The $249 fitness wearable is now offically on sale, both online and at retail stores in the US.
In addition to all of its Microsoft Store retail locations and online, the Microsoft Band 2 is also available to purchase at Best Buy stores, and at select Dick's Sporting Goods and Sports Authority store locations. It is also available to purchase online at http://BestBuy.com, Amazon, http://Dell.com, Taylormade.com and http://Target.com.
Microsoft also announced a new partnership with a weight-loss company called Lose it for Microsoft Health and Microsoft Band devices:
Have you already pre-ordered your Microsoft Band 2. or you plan to pick one up today? Let us know in the comments!
Check out our extensive review of the Microsoft Band 2
$249 from Microsoft (opens in new tab)
Source: Microsoft
Windows Central Newsletter
Get the best of Windows Central in your inbox, every day!
Kinda crappy that I preordered on the first day, but won't get it until Monday.

Check again. My original delivery date was Monday. When I checked this morning, it is showing as "OUT FOR DELIVERY". I ordered on 10-06.

It appears to depend on your local delivery... Mine is at my local FedEx but says "Not due for delivery" so they are holding it until Monday. I'm debating running there and getting it. Last time I tried to do that it took them hours to find the package though which wasn't really worth it.

Los Angeles, getting delivered today!!!!

Nah, delivering via UPS on Monday.
Edit: I have no idea. I got two tracking numbers (one for Band 2, one for Microsoft Complete), one said today, the other says Monday. Doubt know which is which.

It tells you in the email which is which.. scroll down. It will say item in this delivery... Mine wont be here til Tuesday .. awesome.. next time I'll just wait and buy at Target... :(

OMG ! Check that ! It is DELIVERED !!!!! MS Complete wont arrive til tuesday. Way to go MS ! now if you would please fix Xbox Fitness that is broken due to Win10 update !

Only way I could tell which was which was the weight of the package in the shipment. The Band package weighs more of course. I originally thought mine was coming next week until I looked at the tracking info more. Got it today. Via the Windows Central app on the Nexus 6

Got mine today charging as we speak.

My Girlfriends literally just came. FedEx dropped it off. You might get it today depending on where you are.

I'm pleased that your girlfried likes it. My original band was not a hit with any women I showed it to. Most felt that it was too harsh. The band 2 is clearly a sexier device. I actually stopped wearing mine because of the charging issue because I just couldn't remember to charge the thing so it was always dead. If it used the same charger as my phone, that would be much better. Enjoy it.

So many girlfriends and they are all so excited by the news... ;p

Just got it delivered at 10am

Happens to me every time I order something from Microsoft.

My Surface Pro 4 keyboard, pen and Elite controller all came early.

Ordered from Amazon, coming today! :) My wife ordered from Microsoft, and hers is coming next week. Go figure.

So this, surface book or pro 4 isn't going make a to India what a shame for a market like India. These products could be a huge success. I wish they aleast bring surface book in India. The book is definitely gonna be a success. As people here I assume people here prefer Windows over Mac OS.

Yeah, weird. This thread is about the Microsoft Band 2 not about Surface Book. Just saying... There's plenty of Surface Book articles you could've chose.

And then all we'll hear is how expensive it is...

I really want the pro 4 or book, but they're just way too expensive for me. I can get the base model for the pro 4, but I really don't want to downgrade from my current laptop to a core M. And I believe the base model + keyboard is already like $1000?

Yup. $899 base, $149 cover.

Nobody in India could afford it thats why. Posted via the Windows Central App for Android

Hey, does anybody know from experience trying these on if the sizes are the same as Band 1? I want to make sure it will be sized like the first gen model b/c I don't have a MS store near me. Thanks!

You can go to the site and see both specs...

paul thurrotts review mentioned that these sizes are bigger. also i tested in the microsoft store and it seems they are definitely bigger. for band 1 i was definitely a medium. with the new one i tried on, i couldnt decide if i was the biggest size of the small, or the smallest size of the medium. i need to go back in the store and try them on again.

Great thanks for the heads up.

Originally large felt good on the MB1 but over time it stretched and was slightly big on me. I got a medium this time on the MB2

That is weird, I am size small for band 1, but band 2 measurement suggest that I should go for medium size. I have ordered medium size, hope it is not too big for me. Hopefully on the smallest setting medium should be ok for me.

Is there a best buy near you? They might have one to try on.

From MS site we figured it should be Medium size, but Had to go to MS store in Roosevelt Field Mall to exchange from medium to small size.

I had a large Band 1. Based on trying the medium Band 2 demo at the MS Store, that is what I ordered. Via the Windows Central app on the Nexus 6

My lunch break can't come soon enough, I'm going to pick one of these puppies up if they have my size in stock, go go gadget drive to the mall.

+1 for the gadget reference.

crud-dang-it!! preordered it too and it'll be annoying seeing them on my local best buy

update: fedex tracking says it's now at Memphis, TN, which is an hour away from me

What's the best windows phone and band running app?

I'd say the Microsoft Health App is the best as it works right out of the box and is pretty detailed. I did prefer using Runtastic before and you can export the data in a fashion to it but I don't think it is worth the effort. Otherwise you can link your Microsoft account to Strava or Runkeeper as they are very popular and your data will automatically sync to those services.

Runtastic isn't on WP.
Microsoft health isn't yet on windows 10.

I used Runtastic PRO for years on Windows Phone. And it is still showing for me in the store though I haven't used it as since switching to Microsoft Band since it can't continue to sync data. (Without manually importing each run)

Sorry, runtastic is, but they app they suggest in MS health isn't.

So is there an app that just works on WP for running or do I have to manually import runs?

Endomondo works well for tracking runs. I use it regularly.

I use endomondo, didn't know it worked with the band and MS health. Guess I have to play around with it once I get it today.

I apologize, I thought you was talking about just a good run app. You are correct, it doesn't work with MS Band or Health. It would be nice if It did, though.

Damn. That's what I thought. I'm using myfitnespal for food, I need a good tracker that works on all ms systems and the band.

I was told Endomondo would work with band 2.

Well I'll find out soon enough.
Got a free backpack and water bottle with my in store preorder too.

It may be planned to be supported, but I doubt it will out of the box today. The Endomondo app has not been updated recently to support MS Band 2, yet. I hope it comes soon, though. I like Endomondo. It would be nice to be able track my Band 2 data through the app. I like MS Health, but Endo is much better featured with the types of exercises you can do. With only running and weight training to be used with the original Band. You can add training modes, but you can only add one at a time, if I remember correctly.

Oh really? http://www.windowsphone.com/s?appid=12017833-8a50-e011-854c-00237de2db9e

Way late buddy, I was thinking of runkeeper which is "advertised" on the Microsoft health app. We've already established that runtastic is on WP and I was mistaken.

I'm using Endomondo, it does the job. Was using MSHealth and Runtastic (that for a long time) but I just got sick of it

Hopefully it won't be sold out and I can stroll into a MS store and get one tomorrow

I think the demand for these won't be as bad as the Surface Book.

I really hope so. Remember with the last Band they had difficulty keeping up with the demand so I'm hoping they learned.

The cynic inside me says the demand wasn't high, the supply was just low ;)

Last band was technical preview for their sensors to try and sell the sensors and Microsoft Health to other vendors. Non-business customers saw it and wanted it causing it to be a big hit for them... they didn't expect it to sell like it did and it surprised them.

I seriously hope they run a deal, or at the very least have some in stock, when the 950XL releases. I plan on buying both either way, but saving a few bucks would be nice.

Now with black friday a few weeks away, will $199 be out of the question ?

You should be able to have it price matched. That's what I do every year at Best Buy.

Microsoft normally does right with their 12 days of Christmas. That might be the best time.

I hope the Lose It! partnership goes active soon...doesn't seem on Lose It's side they know much about what's going on with them and Microsoft at this point

It's a shame that nowadays it's akways like this... Like I read something yesterday here on WC in the comments, about someone who called MSFT and they didn't even know the 950 was already on pre-order and didn't knew about the 950XL freevdisplay dock offer...

I pre-ordered mine and Fed-Ex said Monday originally but It came today. Woo Hoo! The Large is bigger than the first large band.

I preordered on the 6th but MS screwed up my preorder. So now im going to hope that the MS Store has it in stock. Otherwise i'll try the bestbuy next door. I really want one today!!

If you go to best buy expecting to get one, be prepared for clueless sales people saying they've never heard of a Microsoft Band. Then you will need to go on an Easter egg hunt with them asking 20 store associates if anyone has heard about it before.... Fools!!!!!

Did they have any in stock? The Bestbuy website still lists it as "Preorder".

I left. They never heard of it. I ended up walking a guy to the Band 1 and showed him and he said they have nothing on 2 yet. But then again he was clueless. Going to the nearest Microsoft Store tomorrow instead.

I work for a best buy in atlanta...there are some stores where many people don't care to know anything Microsoft related. However what I can tell you is that most best buys (at least in the state of GA.) only got between 1-3 devices. There are many stores that only have 1.

Delivery expected this morning. Hopefully it will arrive before I go to work.

Preorderd mine at a physical Microsoft Store. Just went to pick it up and was told there was a problem with the delivery from China and did not have any yet. They offered me a screen protector for my troubles lol Posted via the Windows Central App for Android

I hope that's not the case for the South coast plaza store. My email said opening at 9am but they aren't opening until 10. 45min to go.

When in Continental Europe?

What's with all this "When in India" crud. Who cares ?

When in the rest of the world?

It makes me sad that I bought the 1st one only a few months ago... Although think I'm going to wait for the band 3 :)

Ordered mine on the 28e it shipped yesterday and all for 249.99
So I don't get why this is news or a sale. Or maybe it's a 99ct sale.

Wow. Just wow. Lol. 2 words. .. Reading comprehension

Not related to band 2 read more of the internet a couple of articles say late November

Mine was delivered about an hour ago in Texas. Super excited to get it today instead of Monday :)

My local Microsoft store sent out an email last night stating they only received a small amount, not enough to cover the pre orders. They said they have a shipment that is due by 3pm that should fulfill the pre orders only.

Damn, I want it in Germany.

Order it from UK MS store or Amazon and you shall have it on 19th Nov.

Mine will be delivered to my office shortly. Via my wife who is awesome enough to have picked it up at the local Microsoft Store.

Take her to a nice dinner

Why not in Europe. I definitely would've bought one if they were available in Europe. Although 250 Euros (supposing that would be the retail price in Europe) is a lot...

Order it from UK MS store or Amazon and you shall have it on 19th Nov.

Here we go again with the super long wait times that we had with orginal Band. I ordered today, and it ships November 20th.

I preordered at the store a couple weeks ago? How long do I have to pick it up?

Normally they hold for a few days

I really need to see how whatsapp and fb messenger works on the band. Can you reply? And can you reply to sms/skype with voice?

This thing is still too big.

Does it has Intel inside??

Yes, it's a quad-core i7, with intel grfx, 16 GB RAM and a 42" fold-out monitor

Even though the MSB2 came to Brazil (I don't believe it's going to happen really ...) the price of it would be so high that would reach twice the national minimum wage. It's not worth it, no matter how good it is.

I preordered as well, but I don't expect to get it today. Here's to hoping though! EDIT: I just checked the tracking and it's still a full state away at 1:00pm EST. I don't think I'll be getting it today. :(

So I ran out the office to bestbuy to get the Microsoft Band 2, the first guy I asked has no idea where it is and went to find it, he never returned. next guy goes out looking for it, he found it in the watch department, and off I go in hopes of trying it and getting a good fit, no luck, it's locked down and you can't try it. guy says if you want to try it head over to the Microsoft store (Should have just done this in the first place), I ran out of time and had to head back.

I just wish they'd hurry and announce if it's definitely coming to Australia and what crazy price tag they'll put on it for us here. With the $1100 price for the L950 I need to know how much more I need to put aside

Best Buy isn't the only one...carriers are biased against Microsoft as well...only want to push overpriced Apple and Android crap. Ask any carrier about Lumia features and they haven't a clue.

While I agree carriers could do a much better job, that's more on the individual reps not caring to learn about the devices they sell or take pride in their jobs. Via the Windows Central app on the Nexus 6

Had to go to MS store in Roosevelt Field Mall to exchange from medium to small size.

Got mine today.. I had preordered it and it said latest Monday but it was there at lunch..
Its a better design..

Pre-ordered mine on Amazon UK. Regrettably the release date is November 19. Can't wait...

Microsoft band 2 is not available at Target in the U.S.

I pre ordered at the local MS store, they called around 11 and I just picked it up. Took awhile to de pair the old band and get the new one running. Works great even got the fanband to custom it. The band sensor monitor did not see it...

I ordered it along with the Type Cover 4 on October 6th and neither have yet shipped. Called multiple times. I'm pretty sad about it.

Got mine from a best buy after the charlotte store didn't get their stock. They had one of each size at BB. There's a day 1 update for it once you get paired to MS Health. Having troubles using Cortana, rarely works so far on Windows 10 with the current build. First impressions, having not owned the Band 1, I love the fit and personally don't feel it's too bulky or large. No more than other wearables I've seen.

@the Microsoft Store picking up my pre-order now. The store is hopping, and the swag is NICE! Microsoft is really turning it around!

I have had to replace my Microsoft Band 3 times in one year because of some defect or another, I wish we could get a trade in discount for the Microsoft Band 2. I really like the band if it worked correctly

Yup. My MSB1 has some charging anomalies. This is my second one. Posted from this here device.

Bullshit, I will never pre-order again. Mine will sit in a UPS truck till Monday! Wife doesn't understand why I want to go to the MS store...just wait she says!

For mine today... ? It's there a band 2 app for windows 10?

Picked mine up at a MS store yesterday. This thing I nice. Very pleased so far

Any truth in the rumour that it's being discontinued in Australia? Online store is still not offering it.