The Microsoft Band 2 'Explore' update for hiking fun is now rolling out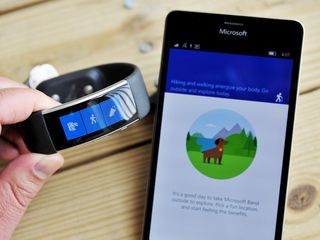 As promised, Microsoft is rolling out a new firmware update for the Microsoft Band 2 fitness wearable that adds the Explore tile and hiking features. Also, the Microsoft Health app has also been updated, which delivers the necessary firmware.
The company announced both updates earlier today. The Microsoft Band 2's new firmware version number is 2.0.4634.0 26. As we reported, it adds the new Explore tile to the device, along with lots of new features designed to help hikers track their movements and more.
The Microsoft Health app for Windows 10 Mobile has also been updated to version 2.3.20516.0 with the firmware download to enable the new Explore title. One other new feature we noticed is that the app has added select all/deselect all option for custom notifications under Notification Center.
Download Microsoft Health from the Windows Store (opens in new tab)
Now I just need skiing/snowboarding tracking, in time for winter please!

No need to wait! Download winters sport app,you can add the tile of hundreds of winter sport and sync automatically with band Inviato da Lumia 950XL & Lumia 930 ITALIA

But the band doesn't do much of the tracking, its the phone. Like the look of the explorer tile/tracker on the band so would like this but for skiing.

Agreed, I'd of thought skiing was a huge target audience. Ah well hopes up for the band 3

Now I just need one of the Band 2 Makay Chapulets | MTN Nigeria CCR
Posted from my Lumia 640XL running Windows 10.

If you like the look of the band l2, wait for band3, by the time they get the functionality sorted out they'll have ditched the device..just ask any of us band one owners who got tossed aside and now get none of these features.

I seriously don't understand the game Microsoft is trying to play... Build device then these device wont get features of updated devices to come in few months time. Makay Chapulets | MTN Nigeria CCR
Posted from my Lumia 640XL running Windows 10.

It's been known for yonks now that getting a MS Band very late in its product lifecycle (i.e. a year since release, roughly when a successor's due) is pretty silly, especially since we know MS's migrating to W10 IoT. These sort of devices have an even shorter lifecycle than the average smartphone, combine that with the fact that the MSB3 will be using an entirely new platform, then you can pretty much guarantee the MSB2 will be dropped even quicker than the MSB1 that some like to whine about.* If you're not prepared to sell & upgrade, then don't bother with these sort of devices, they're a luxury item for folks who can afford them, in the coming years that'll gradually change -still early days. I bought a second MSB2 second-hand for FAR cheaper than a brand new one, it was practically brand new, & still had a crazy long warranty remaining (that'll vary for other countries/regions). *they also like to routinely claim that they get NONE of the new features that come to the Health app & the MSB2 firmware

First comment from the new stylish comment box of the windows 10 UWP app for windows central

Yeah, yeah. It's pretty smart isn't it. Feels like I'm on a fast version of facebook

Can't wait to test this feature.

I cant wait to own a Band 2 Makay Chapulets | MTN Nigeria CCR
Posted from my Lumia 640XL running Windows 10.

Has anyone heard anything about a Band 3?

Considering the original Band was released in October 2014 and the Band 2 was released in October 2015, I think it'd be reasonable to expect the next generation to be announced in October 2016. Posted from Windows Central for Windows 10

Actually, I think it is more probable to expect a Band 3 a bit later with the release of the Surface phone... something like April 2017 or so.

Haven't seen any reports for Band 3. But I'll definitely get it! Here's to hoping it has replaceable straps and longer battery life. Posted from Windows Central for Windows 10

The Band has been discontinued, microsoft is gearing up for a Surface Bracelet... Hehehe! Makay Chapulets | MTN Nigeria CCR
Posted from my Lumia 640XL running Windows 10.

Now I just need Band 3. I think it is the one that I will get.

Why wait if you can have all the fun with band 2 NOW. The Band 2 is awesome. And is you dant want to pay ful price. there are a lot of mint condition second hand band 2's for sale.

Actually, this comment is more notable than I think a lot of people may realize. For both Band and Band 2, a $50 discount was offered within just 3 months of release. That said, if you're looking for best bang for buck, either buy the Band 2 right now for $175, or wait until January or February 2017 for the Band 3 to drop to $200 (albeit a short-lived special price) from its likely MSRP of $250. Posted from Windows Central for Windows 10

I agree Posted from Windows Central for Windows 10
Using My Beastly 1520

Its worth it. And you cant miss what you don't know. For now all that's known about a band 3 is that is will be announced exactly an year after the band 2 was announced. No news on new features, specs, or pricing. Only speculation. What Microsoft should and shouldn't add.
Thurrot has an article about it on his site.

Outside the US they are pretty hard to come by unless you pay top dollar. I got my Band 1 from Amazon UK, but they no longer sold Band 2 outside the UK. Got that via an Amazon DE seller, at a much inflated price. Would be good if the Band 3 gets better distribution.

How do you mean, won't sell outside UK? Just looking at http://Amazon.co.uk?tag=hawk-future-21&ascsubtag=UUwpUdUcU2416755 delivery to mainland, Germany in three days, £152,86 or 203,18€ incl. delivery.

Not when I was buying... Unlucky I guess.

I live in the netherlands and got mine from amazon.uk.co no problem. Had to pay a little extra due Pound to Euro conversion and taxes.

Why not wait till 4, then 5, etc?

Hooray! I can't wait to try it out this weekend!

transparent live tile in preferences, too!

You're right. I noticed that too. The Preferences section now has options to turn on or off the live tile and transparent tile features.

I will enjoy using that one. Microsoft seems to be doing great things with fitness bands. They keep adding stuff to it, making even more of a bargain. Did I also see the desktop app for Microsoft Health in that video?

It allows you to add a point of interested, but I didn't see anything that will allow you to add a text description. It would be great if POI data was shared among Band users, then you can hike to a POI that others have marked.

I'm wondering if this is something you can annotate after your hike via the Health app itself, in a similar way to how you can rename a workout / exercise to be more descriptive (in my case, I often use the generic Exercise tile to track my work in the garden, and later when I pull it up in the app, I'll rename it to Gardening). Posted from Windows Central for Windows 10

Need a way to easily import/export to GPX/KML. Would be nice to import an existing track and waypoints and follow those.

According to uservoice, this is now possible from the web dashboard.

Ha, it is there! Export at least. Now the somewhat advanced feature of track/waypoints import would be cool.

I tryed it out this morning. Not an interesting route, just my walk to work from the free carpark 2 blocks away. So just a quick curious test. From what I can tell POI is automatically added based on a area you stop along your route. For example on my way to work I stopped of at the cafe to grab a wrap to takeaway and it had pinned that location as a point of interest. FYI it did not POI locations were I stopped to wait for traffic.

My bad I have just relooked over the results of my "hike" I now believe the auto pause feature came into play while at the cafe. Which shows up under the POI section giving you latitude and longitude info and so forth. Still early days and need to play around with abit more than just my 800meter walk lol

In the What's New section of the app, it mentions that the Windows 10 tablet / PC version is "now available"... I guess it's now officially Coming Soon™

And in some bad news, the new app defaults to turning on all of your app notifications if you have the Notification tile enabled, even if you previously configured this to only turn on a few apps. This became clear when my Band started vibrating about once every 2 or 3 seconds as all my Facebook friends post stuff... I had to turn that off really quickly... I only want my Band to tell me about a few apps' notifications (and yes, Windows Central is one of the ones I get on my Band). Anyway, hopefully this won't annoy too many non-technical folk. Posted from Windows Central for Windows 10

After the update on my 8.1 640, the tiles were activated as they were before and I did have notification enabled.

So you didn't find the in your Notifications tile, *all* app notifications from your phone were enabled? If that's the case, then that's good that it's not happening to everyone, because while I want many of my notifications, I don't want notifications from every single app, particularly not Facebook and Twitter. Posted from Windows Central for Windows 10

That is correct. Not all app notifications were enabled after the update. Tiles were as before with the addition of Explore, that I enabled. Again, I'm on 8.1, so maybe Win10 Mobile behaves differently. Dunno.

I'm on 10 and they were all on.

My 1520 is on 8.1 and the list did not default to all app notifications being on. My girlfriend's 640 is on Win Mobile 10 and here's did default to all app notifications being on.

Can't see the water monitoring? I wonder.

I think it's just set to a time. My reminder popped up after about 30 min of walking

CAN WE PLEASE HAVE A FRIGGIN WALK TILE??

Why not use the hike tile?

Exactly what I was thinking. Tried it on a mile walk. I'd like to be able to set the GPS on battery save or no battery save though.

I think it would be good to have a toggle. I just tried a local urban lunchtime walk and the spot metering of the gps position shows me taking direct routes through buildings, instead of the actual route along the streets. While i appreciate the need for battery on long walks/hikes (and hope to get a good use of this function as it is what i have been waiting for) it would be good to forego the battery savings and have it track more regularly/accurately when the user desired. The Run tile actually does this quite well, it just screws up the actual run stats when used with walks.

Just use the run tile, it monitors if you are walking or running.

Of course it does. And when it's uploaded to Runkeeper they're all bundled in together and my tracking, splits, averages etc make no sense whatsoever. I can of course change the exercise in Runkeeper manually from run to walk every time but that's frustrating and then it's designated a manually entered event which it isn't. It's just annoying that it would take pretty much zero effort to have a separate walk and run tile, the tracking is the same, just the descriptor is different. I will try the hike tile for walking but then I guess my hikes will start a new category in Runkeeper and won't track and compare with my walks. Very frustrating.

The notification tile is still completely broken for me, I had hoped the next update (this one) would fix it. I've tried a full re-install of the Health app & a full reset of the Band and I've had the Band replaced under warranty. Last option is full reset of the phone, but that's painful and the forums suggest it won't fix the problem.

MS, please make the band2 available in the Philippines...

Well done Microsoft, this is awesome and unexpected! Still going to try the new Garmin Vivosmart HR+ that was just announced today also, but this is another strong feature for the Band 2. I do worry about a couple things: 1) What shortcuts are used to get 12 hour battery life? Reduced heart rate readings, GPS readings, altimeter readings? I personally want as much data as possible, so we'll see about this. Don't mind recharging the battery for 20 minutes during lunch break.
​2) The altimeter on the Band 2 sucks. If they added a way to manually calibrate, this might be ameliorated somewhat, but I'm expecting this to be a disappointment for a lot of people.
​Overall, though, this is a great new feature.

Don't worry, ​every altimeter on every fitness tracker sucks.

We'll see how the new Garmin does. Their handheld units do well.

Is Microsoft Band 2 comfortable to sleep with and use it 24/7? Should I buy it, it looks kinda bulky to me?

I'm using the Band 1 pretty much 24/7, sleep with it etc. and it's completely ok. And Band 2 should be even more comfy. I'd say go for it! :)

Band 2 owner here. I wear mine with the face on the inside of my wrist. I sleep track nightly, and I don't notice a thing. I don't really "work out," but I am pretty active most of the day. With that behavior and with sleep tracking, I get down to about 60% battery after one day. I charge before I shower at night, and I put it back on just before bed. Works great. I never thought I'd like this device as much as I do. Adding this function makes it even better, as I do more walking for excersize than anything else.

Same for me, I use the band 2 with the screen on the inside, I barely feel/notice it... I use it 23:30 hr per day (30 minutes charging while on the shower)... Work perfectly. The band 2 is much more comfortable than the band 1...
The sleep tracking and smart silent alarm are great, I use it every day.
I love it!

A walk tile with Step start/stop/reset along with GPS so we can see what our pace and/or our stride length is would be awesome

Use the run tile for that or get a pedometer (Fitbit)!

Well, hiking is walking so it seems rhe new tile would suffice.

That's what I say. Didn't like using the run app when I took my dogs for a walk. Like that I can use this new app for walking or hiking. Good job MS.

Need to possibly update my app... again...

Transparent tile! Nice :)

not just that, also the Micrsoft Health app on phone finally can view on Continuum Mode too, which should be expected since the app will be release to PC/Tablet soon .

somebody knows if the starbucks tile disappeared 2 updates ago, I saw in other articles in the comments that is just not me, but nobody can say why or how to bring it back

I've still got it on my phone. I don't use it, but it's there.

Bought band 2 last week and surprised how good this thing is. Only knock I have is that it's so darn uncomfortable

You might be wearing it too tight.

Has anyone mentioned that you can remove that social tile from the app now?

Loving the Microsoft Band 2, the Explorer Tile is just what I asked for. Tested it out yesterday and it works like a treat. Now the band tracks both my main exercises, Bike and Walking/Hiking. The App is now a UWP app, I've also noticed in the preferences you can choose if you want all the information on the live tile or just some of it from calories, Steps and Battery. Can't wait for it to be on the PC as well so its easier to see the maps without having to goto the web dashboard. Fobarina, you get used to wearing it, I don't even remember I have it on now. The Band is just getting better and better ! !

Hate this transparent tile, ugly as yuck! At least give an option, so I don't have to use this as it is. Then this retarded app is so pathetic. It has not recorded any steps from my phone's sensor core since April 18th till date despite numerous updates and restarts. MSN Health & Fitness was so much better with the phone's sensor core. This app takes ages to sync data from phone and that too it does nothing in the background, while the old app was so much better in aesthetics, live tile support and background syncing.

YES, especially on the 640XL.

I'm wondering what technological barrier there is for not including this (like the music controls) to original Band users? It seems to be just a business decision, to get us to buy a new band, annually.

I think it mostly is a business decision, but of course we will be proven wrong if a Band 3 is released and v2 continues to get updates - If they do that then it was probably just a decision to stop supporting v1 due to it's "prototypey" feel. Still got a Band 1 in great condition but been tempted now to upgrade this week. Partially for testing my own apps tbh, but this Hiking update is very nice and the hardware feels great when I checked one out again recently in a store.

Has anyone noticed that Pimp My Band is no longer working right after the hiking update? The update reset a few of my color settings. When I go into change it back, I keep getting the connection error & it thinks I have the Technical Preview, which I don't.

I love the new Explore tile - as a hiker this is super useful and is really feature packed. BUT.... so far none of my Explore actvities seem to be syncing with Runkeeper or Strava. Anyone having the same issue? Also how do you show the trail as in the demo video in the article?