The next version of Microsoft Office will feature new Fluent Design experiences
Microsoft is bringing its Fluent Design experience to the next version of Microsoft Office desktop apps and the web.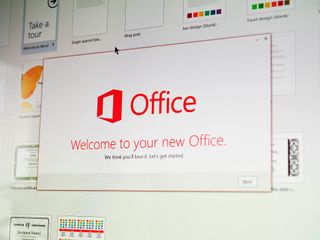 (Image credit: Windows Central)
A leaked video on Twitter has today unveiled a bunch of new design changes coming soon to Microsoft's Office suite of apps and Office Web, which feature Fluent Design elements in the ribbon UI and more.
The two minute video briefly showcases improved design experiences in the Office Web Portal, as well as Word Online, which now features subtle animations when switching between tabs in the ribbon, as well as a much cleaner UI that looks and feels a lot more like an actual app.
The desktop apps are also receiving these same design updates, with Word desktop supporting the same animations and clean user interfaces found in the Office Online apps. It doesn't appear the apps feature any Acrylic blur effects, but there is use of shadow and animation, both of which are part of Microsoft's Fluent Design System.
Microsoft is yet to make any official announcement about upcoming user experience changes to Office, but when they do you can be sure we'll keep you updated on the news. Insiders haven't yet seen these updates hit preview rings, but it shouldn't be too long before Microsoft begins testing the new Office user interfaces publicly.
This is also likely our first proper look at Office 2019, with a redesigned experience that better matches the rest of Microsoft's design across products and services. The video also reveals the ability to turn on "Coming Soon" features, which are features in the works that customers can get access to sooner. The new visual design is one of the first changes to be part of the new Coming Soon option.
What do you think of these upcoming changes? Let us know in the comments!
Windows Central Newsletter
Get the best of Windows Central in in your inbox, every day!
Zac Bowden is a Senior Editor at Windows Central. Bringing you exclusive coverage into the world of Windows on PCs, tablets, phones, and more. Also an avid collector of rare Microsoft prototype devices! Keep in touch on Twitter: @zacbowden.
Shh, don't call them "drop shadows". Microsoft and WC don't want to use the same old terms for the same old things. Use Fluent Design System Depth for example. And never call the transparency effects Aero-like. Zac and Co may feel offended. On a side note, am I the only one that sees the exact same "Fluent Design transparency effect" inside MacOS (also introduced long before Windows 10) but actually done right and beautifully? Just a thought

No, you're not the only one who feels unlike Microsoft, Apple take UI/UX design seriously. Check /r/Windows10. "Choose default apps by file types" is one of the great examples of the "upgrade" in Microsoft design.

Whine harder.
Aero glass was not intelligent. The fluent design Acrylic is smart as they detect GPU and adjust not to impact performance. And unlike Aero Glass - Acrylic is just the first "material" - apparently more materials are planned. So whilst this first material looks like aero glass, underneath it's a whole new animal. It's usable by developers for their own apps in any part not just OS window dressing.

People are judging design with their eyes. We are talking about design here, why are you even bringing architecture, performance and what's "underneath"? Nohting else to say? Acrylic is just a revisited Aero, by todays aesthetical standards. Also "materialS" resembles Google's Material Design and obviously the return of Apple's iPhone OS skeuomorphism that the world is over with long time ago. Shame on Microsoft. It always looks good on pictures, but in reality on your device usually looks like sh*t

Maybe because architecture and performance are part of design, you could have the best looking UI in the world but if it runs like crap and battery life suffers then what's the point of the design in the first place. Couple that with usability, if that also sucks then that great looking UI is going to waste.

That's more of Microsoft not optimizing their software with the hardware.

With the huge number of hardware combinations out there? That's one of the advantages Apple has since they have control over hardware too.

If you do not like it, please do not use it.

Drop shadows is just A PART of depth. Depth includes parallax, traditional drop shadows, projected shadows, z-depth animations, etc.

Very nice. I am a heavy MS Office user, primarily Word, Excel and Outlook. I am excited about some of the changes and layout and functionality.

Great! If you don't like Fluent Design, well that sucks for you, but at least this is one step towards consistency across their portfolio. Their UI is a mess with different styles all over the place.

I'm looking forward to the 'speed and velocity'.

I hope there will be a decent dark mode.

They should instead be bringing new features and fixing bugs.

I think more than one person works at Microsoft

Looks cleaner, though they didn't really adopt many of Fluent Design elements like Reveal Highlight and Acrylic. Though some Motions/Animations is on point. They also need to solve how to integrate well with Sets. The problem is that Office uses custom title bar with actual controls on it. If they don't address that, it will leave another row of titlebar/toolbar while having sets on top, not to mention window buttons like Minimize, Restore/Maximize, and Close still exist even Sets is present.

God forbid the team's for two of Microsoft's biggest products actually communicate ;)

Office 2010 was so beautiful with color icons. Then Office 2013 became uglier with flat interface and dull color icons. They did a little improvement in Office 2016.

Hey Cortana! Wake me up when Win10 is fully developed with consistent UI.

Do you really want to sleep until 2086?

I'd really like to see fluent design elements inside office files such as acrylic in shapes, graphs or parallax effect with pictures in a docx

Looks slick, big improvement from the current Microsoft design language.

As long as it doesnt make the Web version suck. I use that a lot on my Linux distro + Rapsberry

I just can't fathom why Office can't look the same as Windows and other MS apps. Yeah this is a big improvement and I'm glad they will use more fluent design here but it still isn't the same as other MS designed apps. Just compare this version to how it works in Settings or Edge. I understand they are different teams but surely they are able to talk to each other?
Windows Central Newsletter
Thank you for signing up to Windows Central. You will receive a verification email shortly.
There was a problem. Please refresh the page and try again.