Hey Microsoft, can you turn GroupMe into a Slack competitor, please?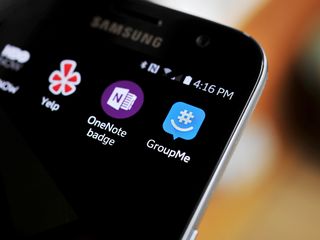 In 2016, one could make a good case there are too many social and messaging apps available on all platforms. Nonetheless, these apps are still popular and overlap in function from purely social to work to video to emoji machines. Some now have voice for calls, while others are like Skype struggling to play in a mobile-first world.
GroupMe, which is owned by Skype, which in turn is owned by Microsoft has had a strange existence. It's a chat app for people who need to have group conversations, but it can also pass those messages on via SMS when data is not available, which is extremely useful.
The problem is no one knows what GroupMe is for these days. Is it a professionally-focused business tool, or is it trying to compete with WhatsApp and Facebook Messenger for casual users? It has elements of both categories, but it is not the best at either. Since its acquisition by Skype in 2011 GroupMe has not been merged into Skype, nor anywhere else within Microsoft, and there are no signs either will happen.
I only say this because the GroupMe app for Windows 10 Mobile is damn good. It's fast, with a clean, modern design. And here is the important part: It's fun. Microsoft has a hard time with being hip, and I think the GroupMe team gets it.
It's not just Windows 10 Mobile either. GroupMe on Android boasts over five million downloads and maintains a 4.4 (out of 5) rating from nearly 200,000 users. On iOS, it has a similar 4.5 (out of 5) rating as well with plenty of positive reviews. Sure, compared to WhatsApp and Facebook Messenger GroupMe has a comparatively small base, but it is also evident its users are dedicated to the service and really like it.
Why squander that?
Microsoft has positive and popular momentum with GroupMe, and yet it is stuck between oft-lamented Skype and corporate Office 365 Groups (and ex-Yammer). Microsoft has given no indication of where GroupMe will go in the future, nor what the strategy is for the team behind it. Back in October, Microsoft actually laid off some GroupMe employees causing many to fear the service was getting ready to shut down.
Microsoft should not get rid of GroupMe or even merge it into other services. On the contrary, it should embrace GroupMe and extend it to the desktop (and not just the current web client). Toss in Cortana, maybe some of those fancy new bots it evangelized at Build, offer a Skype plugin for calls and video, and you may have just created a real Slack competitor saving you $8 billion along the way, ahem.
That reminds me: Microsoft needs to do something about Slack. The Slack team is really good, and is winning over small firms who find Office 365 Groups too enterprise-y. Slack is a straightforward, easy-to-understand product while Office services – while powerful – are a bit too highfalutin for small firms, organizations, and startups.
So, Microsoft, please do something awesome with GroupMe. It's time to mix in your other services, give the GroupMe team a mission statement and stop ignoring the positive reputation the service has earned. Build off GroupMe's success; don't ignore it and beat Slack at its own game for once — before it's too late.
Daniel Rubino is the Executive Editor of Windows Central, head reviewer, podcast co-host, and analyst. He has been covering Microsoft here since 2007, back when this site was called WMExperts (and later Windows Phone Central). His interests include Windows, Microsoft Surface, laptops, next-gen computing, and arguing with people on the internet.
I agree with this too. I think GroupMe is great and I use it daily to notify not so techy family members about phone updates and apps and keep in contact for the family business.

Can you imagine anyone sitting around looking at skype, office, and groupme, and asking "which of these three services can we leverage the most to compete in business chats - oh, definitely groupme!" Like imagine the looks on the faces of the smart and normal people in the room. But maybe that's not too far out of step with Microsoft's approach these days: abandon your successful services and throw more wasted money at your shiny new garbage services.

I think you're just judging it by the name. Which yes its name doesn't sound very professional. But the service works extremely well when in comes to text chat compared to Skype....I mean the text chat on Skype barely works and is very clunky, at least on my iPhone.

So if it was called "GropeMe" would it be more successful?

Wow...did not know GroupMe is actually a Microsoft product...! :/

yeah I've been using GroupMe since 2010 when I had a basic flip phone and the service has relatively stayed the same. It's just that Microsoft really needs to encourage more people to use it and make it purpose built Posted via Universal Windows App on W10

I abolutely agree, I'd love them to do something with GroupMe, as long as it means the bar stays where it is. GroupMe is by far the cleanest and snappiest messaging app I've used on *any* platform. All of my love to this team!

Would you like to join me on group me?

Why not, can't get anybody else to use it. Everybody is on either Facebook Messenger and/or What'sApp. I use Skype a LOT but only with a select group of personal contacts and for business sometimes.

Almost everyone I know in Canada either uses Blackberry Messenger (BBM) or GroupMe. We (Canadians) love GroupMe and hope they do more, maybe even incorporate Skype into it and call it a day. Posted via Universal Windows App on W10

Worth bothering for the casual user? Can this replace my Viber, WhatsApp, Cyberdust, Snapchat (I know...)?

I think the point Dan is trying to make is that GroupMe could be great but it needs firm direction and more backing from Microsoft in general. I've used it a few times and agree that from a performance point it is fantastic, was also easy to use and like Dan said it was actually quite fun. The only problem I found was that I could only get one friend to use it which kind of destroyed the purpose of the app. Posted from my Lumia 950

Would you come on? Maybe we can do something for Microsoft too.☺☺

yes I can come along for the ride! Posted via Universal Windows App on W10

Very well it can. But as the name says, its meant for group people. Go check it out.

They should kill GroupMe, integrate on Skype...

Skype is a mess. The last thing they need is more stuff jammed into it.

So just don't make Skype a mess lol.

Actually they could clean skype and then if possible to add a skype button on the app so if you have skype and type it skype opens and calls the team at the skype accounts they have connected to the group me app :3
but skype needs cleaning i hope UWP skype does that cleaning :3

You mean they should integrate Skype into groupme =)

Skype is not a hip brand that people use to message their friends. Skype is perceived as the app you use to video call your mom.

On another story, Skype also needs vetter direction and they have to redefine its perception to be a complete messaging too that can compete Facebook Messenger, WhatsApp, iMessage+FaceTime, and Google Hangouts. The problem was Microsoft seems never bother making Skype to be like that and contented just to be a video calling tool when you need it, but not for everything. Other messaging solutions are getting voice and video calling capabilitie, and eating Skype's marketshare. Sent from Turing Machine

I think MS should make skype a real WhatsApp and Viber Competitor. They should streamline signup procedure by using mobile no instead of usernames and email id.

Both Viber and Whatsapp have been using mobile number instead of usernames and email id for signup from the start itself.
What difference it makes is that, you don't have to "add" people to your Whatsapp like you add a contact on skype.
Whatsapp/Viber access your contact list and automatically finds out who else is using the app and messages can be sent to that person inside the app. It just shows up. That simple the system is.

Skype does this, but you still need that initial sign in with your MS Account and then grant access to your address book. It works okay, I put my mother-in-law onto Skype on her iPhone and it added various family members smoothly and automatically. They could do with some way of allowing a basic sign up by just entering your mobile number and then texting a confirmation code like WhatsApp

I usually don't have email of friends and family in my contact. Though most of them have skype account, contact list in my skype is almost empty. Whereas all the contacts are inWhatsApp and viber including those I don't chat.

Yeah, I've got to agree, I think Skype is at a standstill, even with their group phone call, group video chat, and recent boot additions or improvements. I don't think any new users are coming to Skype because it doesn't really have many standout features that have much adaptation (it does have unique features but they are a bit hidden) and the brand just doesn't seem to resonant outside of the video conferencing that they did the earliest and best. The competition's caught up with them and they don't seem to have a next move.

Skype have more users that use message than GroupeMe. lol

Skype used to be "Cool" before Microsoft bought it and made it a bland old video call service. Back in the days, it was definitely better than MSN Messenger and Yahoo Messenger. Posted via Universal Windows App on W10

I was thinking the same before but one thing I've realized is that Microsoft is keeping these 2 services distinct:
Skype for video/voice calls
GroupMe for group chats and sharing calendars, photos, music. Posted via Universal Windows App on W10

Microsoft has a history of copying other serices and it's rarely succesful. It will be hard for them to compete with Slack (a nimble startup with a lot of momentum that doesn't have the Microsoft brand baggage). They can create a product that's similar to Slack and targets enterprises but it might make more sense for something like that to be a part of Yammer or Skype for Business. People actually think Messenger is a Facebook app. No one remembers Microsoft had their own Messenger long before Facebook even existed. They have multiple chat services/apps that support group chat and can be used like Slack. Converting GroupMe into another one will just add more confusion to those who want to use Microsoft services. They need to go the other way, close some of these services and focus on one or two

I agree about the nimble part, which is why this is a good idea. GroupMe is still a small group out of NY, not Microsoft proper. They have a startup like mentality AFAIK. Re: Yammer/Skype for business I just don't see small firms going for it. They need something in between.

I also think GroupMe has managed to stay distant enough from the Microsoft branding and it's only been to their benefit thus far. When the news caught word of those department stores were using it to target shoppers who looked suspicious, Microsoft didn't get mentioned in the press and didn't have to atone or answer for it. Keeping their distance from Microsoft might help prevent the casual users and people who eye-roll at anything Microsoft from staying away (namely iOS and Android fans).

They definitely need to choose something and stick to it, they have introduced various "Group" mechanisms in Office 365 over time and most of them don't link to each other. If they did come up with a slack alternative I'd be interested in trying it, but I feel they need to pare down their offerings a little. It feels like they keep starting with new services before deciding what to do with existing ones. I'd love GroupMe to become more popular, and if I could convince people away from other group communication apps then they might enjoy using it in it's current lightweight and fun state.

I have a suggestion for great brand: Lync

Leave Cortana out (very small userbase) and I agree with Daniel. Greetings from my orange Lumia 930 W10M .218 non-insider in The Netherlands.

Wrong, get Cortana to as many places as possible. Posted from Windows Central for Windows 10 Mobile

The W10M Skype app they showed at build had some nice Cortana integration alongside the Skype Bots. Excited to see how that turns out and good to seem them integrating and putting cortana in more places, I think it's essential. It needs to feel like Cortana really follows you around rather than being an app that launches. Adding Cortana to lock screen for PC/Tablet was a good shout too.

Cortana is availible in only 13 countries. That can be a no-go for people that don't use Cortana. So it is not a pro argument. I understand the pro arguments but you have to consider the cons. When Cortana is integrated people might says: Never mind then, I am not going to use GroupMe. Thats the danger. Greetings from my orange Lumia 930 W10M .218 non-insider in The Netherlands.

Small user base? I think GroupMe *and* Cortana have small user bases, so what's the problem leveraging them together to create something with unique features? I'm sure you wouldn't HAVE to use Cortana, but I think they need to push there newer tech to make larger user bases.

Hmmm, maybe add some Rooms features, too.

Like what features? Please be specific. (I've never used Rooms before; my Lumia 950XL is my first Windows phone.)

Rooms was AWESOME! It allowed you to invite specific people into your rooms. When a room is created it then allowed you to pin the live tile. The room itself had; Group Chat, Group Photos, Group Calendar and Group OneNote. What made rooms special to me was; it was like a private social media. All platforms could use rooms (though ios and android were slightly limited) I still miss it and wish they would just release a darn app. They did release Outlook Groups (I think is what it is called) but that is for enterprise only. I do not understand why a consumer version was not made available.

Yes, for families Rooms were awesome. One stop shop for integrating all those things.

Actually, if the calendar and galley features in GroupMe could take OneDrive calendar and galley, that would be great.

Ohhh you made me nostalgic... Yes, Rooms were awesome indeed. I might give GroupMe a try.

That does sound quite nice.

So outside of a shared OneNote, you pretty much have groupme already. It does photos, calendar, and chat. Simply add in a good onenote integration, and there are rooms all over again.

I'd have to disagree. Rooms was WAY better than that. OneNote doesn't make a gallery of photos, for instance. You can put a bunch of photos onto a "note", but that's not the same as having a gallery. I also liked the Calendar and shared lists that were much faster than waiting for OneNote to synch. My OneNote is rather large. Rooms was more focused. I could see integration with a shared photo album and document space with OneDrive. I think you could get much closer to Rooms functionality that way. I haven't used the shared calendar that exists in GroupMe, so I can't comment on that.

What if they make GroupMe a reincarnated Rooms from Windows Phones. Basically getting those features and approach of Groups but with more extended functionality and its even now cross platform already. GroupMe is now integrated on People app, sort of. It just needs seamless integration into it and also to Skype. So when you make Microsoft Account nor Skype, GroupMe is included on that account that people can use outright. In the end, it will benefit Windows 10 because its rather "baked"-in experience rather than just another app to install. Sent from Turing Machine

That wasn't bad for families, especially if you were able to dictate that your kids / spouse would use Windows Phone too, but it's biggest flaw was not having feature parity on iOS and Android - These days the whole family aren't like to be using Windows on their phones unless mandated by an existing fan who is the "tech head" of the family. Maybe they could come up with something, but it might be tough to get people using it outside of Windows 10 Mobile like how it is with GroupMe. I wish it wasn't so but it is

Why assume that if they brought it back, that it wouldn't be released on all platforms? In fact, under the new regime, we should hope that Windows Mobile would be included at the launch of the service. The people who got me into GroupMe were NOT Win10, but two separate groups of iDroid types.

Rooms was the best! This is a prime example of Microsoft taking a big leap forward then unexpectantly they take 500 steps backwards! They are their own worst enemies. They never believe in their own products. It's a shame.

BlackBerry Messenger Groups has all of those features.

I'll have to try it out again. It was not really that great of an experience when it first released, and nobody I know uses a pin anymore, so I haven't touched it since. A big benefit of Rooms was it's integration with OneDrive. Everything syncs to a folder in your directory and give you the ability to manage from anywhere. But even if BBM is as good of an experience, the chance of getting anyone to use it is slim to none.

So Microsoft shouldn't consider this idea because a 2.8 rated app exists? When I last used BBM it was a nitemare and no one I know would keep it installed.

I was actually mentioning that the Rooms idea isn't new. BBM had groups when I used a BlackBerry 9000 back in 2009. BBM is cross platform nowadays. Posted via the Windows Central App for Android

THIS! A THOUSAND TIMES THIS! A couple of years ago a group of friends tested over a dozen different chat apps after we outgrew our WP Room, and GroupMe was the overall favourite. It was always damn speedy. It's only limitation was, IIRC, the inability to message a single person without creating a group first. If they integrated a shared Calendar and a shared OneNote like Rooms had, GroupMe could be a chat app with some genuine differentiators.

Noooo...we all just got on Slack :)

I feel like that'd be shoehorning more "stuff" into Skype and tbh, I don't have much faith they could pull it off. GroupMe is already a clean foundation built around group chatting/messaging. Skype is voice first, messaging second. Different system.

Hmm, I agree, but it would have been better if they rebranded GroupMe to skype for bizness and merged the two. While skype, would be the user more casual side of things.
This wonderful GroupMe app you speak of was built by the skype team, so they are capable of greatness, I will never understand why Skype is such a huge mess

My understanding is GroupMe was built by a sep team in NY (Skype is out of UK IIRC).

Let's get that NY team to work on skype then, lol.
Anyways, do you have the link to the beta version, the one in the article isn't the beta

It installs the version determinant upon your OS version I believe. So, same link, but the actual version installed will be slightly different. Part of the 'app ring' thing like how we can have two different Outlook Mail apps on two different devices, same link though. If on Fast or Slow ring you should have the beta version installed (see under Settings > bottom in the app to check).

Fact is. The functions are different. Right from the onset, Skype was meant to be different from groupme. I just wish groupme has such great user base. I think it's much compact and very well designed than even the Facebook app.

I even wish that GroupMe would be integrated on Skype as a main feature, but yeah when it comes to faith to execute it well is something always a big question. Skype on the other hand is actually also the one needs direction and redefine what it is. The mentality of Skype being use on Video calls is getting old and that just make Skype an app only used mostly on that purpose. Skype has to transform into a complete messaging service and compete like the likes of Facebook Messenger, iMessage + FaceTime, and Google Hangouts. Microsoft needs to redefine Skype so that they use it for every messaging needs, not just open it once to make video call. Sent from Turing Machine

As I wrote on the other article, GroupMe is currently indispensable on many college campuses. It is a great service. Sent from my HP Spectre running Windows 10

I don't get group me. In terms of sms costs, I could only stay in Canada to be sure to not incur extra charges. My address book has canadian, american, asian, european contacts.... So not sure what I would personally gain with this....

GroupMe is data driven with SMS fallback if your data is not available.

Thanks, if data is not available, wouldn't sms be down as well? Well I guess in the specific case of my wife, with limited data... she does whatsapp while in wifi zone and then sms other times. Groupme would keep both conversations together eh?

SMS is its own thing not reliant on 3G/4G data. Correct, if it fell back to SMS the convo would look the same. You can even force it into SMS mode fox X amount of hours.

Ok thanks, will try it out with the wife. Sorry for being dumb about this app :) Yea I know sms is not reliant on data, but generally for where I am, no data means you pretty much lost cell service... but I guess for during those times where my signal is stuck on E ;)

My company is a pretty big MS customer. We saw a roadmap a month or so ago in which the Slack tyoe features are coming via updates to yammer in the near future. They know they have a problem with Slack.

Interesting. I believe it with Yammer, though think it could work from GroupMe too. Or, at the very least, they need to something with GroupMe if not slack-like competitor.

I hate that there are so many IM apps. I just want to use one and be done with it. Skype/MS really missed their big chance earlier on to consolidate and own this space. I think all they had to do was to clean up a little and offer automatic contact list scanning which would have made Whatsapp and all others stillborn IMO.

Not only that, trying to work with Skype and Skype business users have been very annoying. Coupled with not so reliable notifications/messages/calls coming through right, I just tell my colleagues to stick with Whatsapp if they need reliably connect! I wanted skype to be everything.... but I'm always crossing my fingers hoping something would work.

What? I don't see the problem. /sarc You have 10 friends who want to use 10 different IM programs because everyone has one they think is the coolz of them all and you cannot get everyone to agree on one to use? Even at work, seem like there is at least 10 different screen share programs -- it is a PITA!

The key is to not communicate with people at all. Total bliss!

MSN (or Microsoft, or Live, whatever you want to call it) Messenger was perfect and huge back in the day. They should had just built on its foundation instead of starting from scratch with Skype.

Rooms had messenger integrated to it.

Doesn't the People app have GroupMe integration? - Sent From Mars

Yes, through Groups feature.

Okay, cause I saw that in there and was like "what's that?" And then tried it out. And now I'm in love with GroupMe. - Sent From Mars

Yes! please! Come on MS do this and do not screw this up! Already has a user base and this would be fantastic!

We use GroupMe to communicate with everyone in the team over at HP. It's pretty impressive. It handles 24-26 participants with pictures and all sorts of media with hardly any hiccups. Skype is... I don't know what the hell is going on with Skype but I'm certain many of the Live Messenger users have moved on from it because it certainly has not been an adequate replacement for WLM.

Oh and wtf is going on with Outlook Groups??

Oh. I never knew it existed on other platforms. But the app is great. Actually, I prefer it to the slack app. It's very simple yet has a lot of design and functionality. Who's going to get this article to Microsoft?

They need to add back in video messaging, it was present in the wp8.1 app but not the windows 10 app. Why they are prioritizing gif search instead is puzzling to me

Yo, but what happened to Yammer? =s Ugh, I'm at work...so boring lol =p
Windows 10 RULZZ yer FACE!!!

Great open letter to Microsoft with solid suggestions. Microsoft should just do exactly what Dan advises in this article and do it fast!! Should not be too difficult to plug those addtl features / services in. Given MS record of being late to the games so many times, and missing social movements = they'd do well to heed the advice from journalists who are close to users and grassroots evangelists!! Listen to Daniel Rubino Microsoft!!

The REALLY cool silicon valley elitists are using HipChat. I'll take Skype for Business any day. Considerably more features and it's the defacto UC standard for enterprise these days. Factor in cross organization collaboration through federation and it is even better.

I used GroupMe for years, with a small selections of friend. Few years ago, it was better than Whatsapp on Windows Phone... Actually I saw the W10m app for GroupMe, it's really unimpressive an miss something that's live on Android an iPhone. Anyway, GroupMe had potential, from the beginning

Microsoft is as always, late in the game. Instead of doing something ABOUT Slack, they should do something WITH Slack. Slack is being adopted quickly by more and more companies and users. Heck, I'd even use it for personal groups at this point cause the personalization and customization on it is amazing. Microsoft should do something nice and support it instead.

I don't see any reason for Microsoft to do this. I'd rather keep using Slack than switch to a Microsoft app. Not everything is better just because the Microsoft brand is upon it. Posted via the Windows Central App for Android

Sounds like a decent suggestion. All I know is that Skype has been a huge disappointment to me since Microsoft purchased it. I seriously hope somebody does a documentary on it someday with interviews from all sides, because I want to know how Skype went from being so huge and successful with such a massive head start on the competition to the state it is in today. As a bit of a side note, I've been hearing about Skype integration with Mobile for a long time. We finally have it with W10M and I like it. I like being able to start up a video call. I like the text integration and the fun emoji. From what I hear, all that is going away now. Craziness. I don't know much about the internal workings of Skype, but from the outside looking in, it seems to scream mismanagement.

It does screams mismanagement as Skype is actually the one doesn't much clear direction when it comes to consumers. It's still stuck being a video calling tool rather than an actual complete messaging platform. Yes they integrate it on Windows 10 to be sort of like that, but what about on other platforms that majority of peoples use? Its just good old Skype that's installed to use for video call while people busy using Facebook Messenger or WhatsApp or iMessage or Hangout, all while slowly Skype became less useful for them. Sent from Turing Machine

I use group text messages. I don't know anyone who does any different. I just don't see the value of GroupMe or Slack or those other services. Everyone I know uses text messaging heavily. It is the ONLY singular non-voice communication mechanism that everyone has. They don't have to install an app with the hopes that everyone they know is also using it. THAT is the failing of all these so-called "popular social apps". They're not NEARLY as popular as they think.

I take it you live in the US where SMS is the de facto standard, but it's been said before, SMS are not free in a lot of other countries, therefore people move to these messaging apps, that use only a fraction of data and can also be used on WiFi. In Mexico, for example, most cell phone plans now offer free and unlimited WhatsApp. They might be A LOT MORE popular than you think.

SMS isn't free (although it SHOULD be since it literally costs nothing to actually support), but unlimited SMS is much cheaper than data.

Please don't touch GroupMe! I like it the way it is and it is the only MS messaging platform I have been able to use for some time without getting completely hosed up. No touchy! If you want slack...just use slack.

Couldn't agree more. In high school all the coaches would use GroupMe as a way to get in touch with the entire team in a group chat. Literally every team had a group chat and it was really helpful for everyone. It's also nice for groups of friends who don't all have iPhones. So it can definitely function for both business and casual use. I think they should try and make it a more casual app. Just my view. Posted via the Windows Central App for Symbian

No thanks, we are switching to Slack.

GroupMe does look good and I was interested after seeing how good the W10M app is, but I just found that nobody I know uses it, and they weren't interested in trying it...Which is a shame

Skype is just too bloated these days, it wasn't really meant to play in a mobile world, and it feels really shoe-horned in. GroupMe has honestly been really pleasant to use, though. I would not mind them nuking Skype on Mobile and restore it to its old peer-to-peer days, and make GroupMe their primary mobile messaging platform.

What is "Slack" and why should I care?

We use this for Qonqr. Really great. Been using it for years. Groups and rooms can be turned on and off. Really awesome app

U from faceless, right? There is a qonqr group on groupme

Groupme on wp is not good, it's awful, you have to manually Update chat rooms, this is pathetic

Hey Microsoft!
*hands over long list of problems with Windows 10* Posted via the Windows Central App for Android

Arey else instead of SMS everywhere they can make group me as default msgingapp. And people who use windows PC will I install the group me on phone too so everything is synced and it would be iMsg competitor as well.

Totally agree. I'm in a small freelance collective and after six months with Slack I have to admit we can't literally live without it anymore. It redefined most of our workflow and for better, getting back to the old ways would be a huge setback and quite a bite to our already tight budgets since we are constantly running against the clock. For instance GroupMe could match and with a little love match Slack embedding some Office cloud features etc...

Daniel is on fire..!!!
First the Lumia Icon post and now this..
Seems unreal. ☺
Sent from my Lumia 650 via the Windows Central app ;)

MS own so many cool apps and service, many disconnected or not as deeply connected as they could be. The annoying thing is the amount of time they take to make even the smallest of changes.

Groupme is a really good and Roxane l enjoyable messenger. I'd like to see it merging with xbox live chat, that would give it some thrust in gaining publicity. I lead an destiny clan and we are using groupme for planning or raids and other events. Its calendar and the fact that you don't share private information such as phone number, mail address etc. is a big hit. Unfortunately nothing is said about encryption...

Skype and Skype for Business - that's it. The rest should just go. If GroupMe has some nice features just integrate it into those two.

My team at worked moved from GroupMe to Slack for one simple reason - Channels. If GroupMe had the ability to create separate channels for conversations then we likely would have stuck with it.

What will Microsoft/Skype/Remaining GroupMe do once they run out of the work the laid off team had planned out? Don't hold your breath for anything ground breaking after that happens.

GroupMe is awesome because it supports SMS, I use it with my friends all the time the new W10 app is awesome. Calendar support, gif search right in the app provided by giphy, I dont know why more people don't use it. I think letting them run as an independent company that flows with trends will naturally grow it. MS shouldn't steer it, just fund it and let them do their thing. Way better than FB messenger. Posted from Windows Central for Windows 10

Nice idea! But none of my friends use GroupMe.
Windows Central Newsletter
Get the best of Windows Central in in your inbox, every day!
Thank you for signing up to Windows Central. You will receive a verification email shortly.
There was a problem. Please refresh the page and try again.