Microsoft is changing the way it tests Windows 11 preview builds with Insiders
Both Dev and Beta Channels are now considered "active development" branches.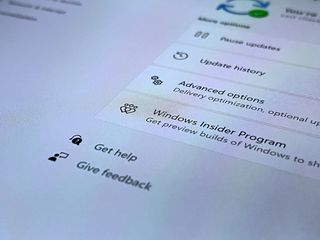 (Image credit: Windows Central)
What you need to know
Microsoft is making some key changes to the Insider Program.
Both Dev and Beta Channels are now considered "active branches."
Dev Channel will be getting more experimental features, Beta more scoped.
Microsoft has today announced that it's changing up the way in which it flights preview builds of Windows 11 to Insiders registered in the Dev or Beta Channels. Going forward, both channels are to be considered the "active development branch," but for different kinds of feature testing.
Starting today, Microsoft is putting more emphasis on the Dev Channel being a place for experimental features. This is the channel that isn't tied to a specific release, but rather a branch where Microsoft can try out features and ideas, some of which will never actually ship in a new version of Windows.
Dev Channel: For long lead work from Microsoft engineers with features and experiences that may never get released as it tries out different concepts and get feedback.
Beta Channel: For reviewing experiences that are closer to what Microsoft will ship to its general customers
Release Preview Channel: The best spot for previewing what's coming to general customers soon
Additionally, this also means that there will be features and changes that make their way to the Dev Channel that will be undocumented by Microsoft, as not everything in the builds will be what Microsoft is focused on testing. Many features that go into testing will have different variants and A/B style testing groups, meaning the same feature might be different depending on the Insider, or maybe even outright disabled for some.
Regarding the Beta Channel, Microsoft says this is now considered an "active development branch" as well, but will be focused on a more scoped set of features that it intends to ship as the next version of Windows. This means that the Beta Channel won't be where experimental features show up, and will be a more accurate representation of what the company intends to actually ship.
Finally, Microsoft has also announced that it will be delivering some new features and experiences via Feature, Web, and Online Service experience packs, meaning not everything will be delivered via an entire new build install. Microsoft has experimented with this in the past, but it'll now be a primary way of testing new features going forward. Major platform and under the hood changes will continue to be delivered via new builds.
This also means that new features may show up in the Beta Channel first, as Microsoft will be able to flight specific features outside of major build upgrades. For those on the Release Preview Channel, nothing is changing for you, meaning this channel will continue to be the place where the final build of the next version of Windows goes for testing two or so weeks before it begins rolling out to the public.
Overall, these changes to the Insider Program are designed to help Microsoft better gather and respond to feedback. Having a channel dedicated to feature experimentation is a good thing, as it means the company can be more open about ideas and bring Insiders along for the ride in building them.
Get the Windows Central Newsletter
All the latest news, reviews, and guides for Windows and Xbox diehards.