Microsoft is changing the way it tests Windows 11 preview builds with Insiders
Both Dev and Beta Channels are now considered "active development" branches.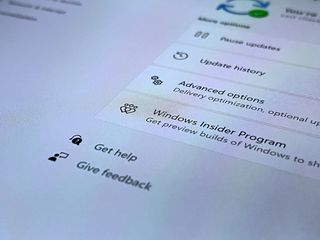 (Image credit: Windows Central)
What you need to know
Microsoft is making some key changes to the Insider Program.
Both Dev and Beta Channels are now considered "active branches."
Dev Channel will be getting more experimental features, Beta more scoped.
Microsoft has today announced that it's changing up the way in which it flights preview builds of Windows 11 to Insiders registered in the Dev or Beta Channels. Going forward, both channels are to be considered the "active development branch," but for different kinds of feature testing.
Starting today, Microsoft is putting more emphasis on the Dev Channel being a place for experimental features. This is the channel that isn't tied to a specific release, but rather a branch where Microsoft can try out features and ideas, some of which will never actually ship in a new version of Windows.
Dev Channel: For long lead work from Microsoft engineers with features and experiences that may never get released as it tries out different concepts and get feedback.
Beta Channel: For reviewing experiences that are closer to what Microsoft will ship to its general customers
Release Preview Channel: The best spot for previewing what's coming to general customers soon
Additionally, this also means that there will be features and changes that make their way to the Dev Channel that will be undocumented by Microsoft, as not everything in the builds will be what Microsoft is focused on testing. Many features that go into testing will have different variants and A/B style testing groups, meaning the same feature might be different depending on the Insider, or maybe even outright disabled for some.
Regarding the Beta Channel, Microsoft says this is now considered an "active development branch" as well, but will be focused on a more scoped set of features that it intends to ship as the next version of Windows. This means that the Beta Channel won't be where experimental features show up, and will be a more accurate representation of what the company intends to actually ship.
Finally, Microsoft has also announced that it will be delivering some new features and experiences via Feature, Web, and Online Service experience packs, meaning not everything will be delivered via an entire new build install. Microsoft has experimented with this in the past, but it'll now be a primary way of testing new features going forward. Major platform and under the hood changes will continue to be delivered via new builds.
This also means that new features may show up in the Beta Channel first, as Microsoft will be able to flight specific features outside of major build upgrades. For those on the Release Preview Channel, nothing is changing for you, meaning this channel will continue to be the place where the final build of the next version of Windows goes for testing two or so weeks before it begins rolling out to the public.
Overall, these changes to the Insider Program are designed to help Microsoft better gather and respond to feedback. Having a channel dedicated to feature experimentation is a good thing, as it means the company can be more open about ideas and bring Insiders along for the ride in building them.
Windows Central Newsletter
Get the best of Windows Central in in your inbox, every day!
Zac Bowden is a Senior Editor at Windows Central. Bringing you exclusive coverage into the world of Windows on PCs, tablets, phones, and more. Also an avid collector of rare Microsoft prototype devices! Keep in touch on Twitter: @zacbowden.
Now...is there a way to go from to beta Channel without resetting if one is on Dev?... Not sure I am liking how Dev sounds now lol.

A quote from the blog: Now's a good time to start thinking about what Channel is best for you. We will soon be giving Insiders a window in which they will be able to switch from the Dev Channel to the Beta Channel. Stay tuned for details in the coming weeks.

Thanks! For WindowsCentral...the comments here are really sad. Wouldn't disqus drive up interaction more on the site? I don't know if anyone has replied to me (unless I am doing something wrong). I have to actively look through articles I found to see if someone replies...which can be nigh impossible sometimes.

Nope, sadly whatever the comment system that CMS use in this site don't provide notification at all with replies. There is also a problem for a long time that the "Comment" and "Cancel" button is covering the comment text box. Disqus would be great, and the moderation there might be better. Though idk if the troll issues would be far more of an issue with Disqus since it is a bigger platform.

Prefer trolls mixed in with real community features than nothing.

True, and probably moderation might be better as well. There is a report and down vote system for trolls anyways, which I guess seems effective. Though some might not want it due to wanting more privacy not having other sites associated to one another.

You can drag the comment box bigger on desktop systems if you need more room. Then the comment/cancel buttons won't cover your comment.

Modernization would be nice. A small note that if you want to find replies, on PC you can hit Control F to find your username on the page (or use "find in page" on your mobile browser) to look up your comments and subsequent replies. It's clunky but the only option unless/until WC updates the comment section. Hopefully you are able to see this reply. 😅

This was the best news, IMHO. I've been considering doing a wipe and re-install back to the Release Preview channel but now I'll wait. I'm thinking, due to some bad experiences with the Dev channel, that being able to return at least to the Beta channel is a really good thing.

At this point, I'd just recommend a dedicated machine for experimenting with pre-release builds.
No critical files are kept on this machine, or at least all files are consistently synced to the cloud.
If it all goes south, just reformat the whole windows installation and start afresh.

Who wants to purchase a recent second machine to do MS testing for free? My older systems don't qualify due to the new standards.

I have no problem with using my machine since it is always backed up and can reset in just a few minutes and I am ready to go again. But I would prefer not seeing features that might not make it into release builds. Beta is where the majority probably will and should go.

Me too. Wrap up the current release so we can drop back to Beta, Prerelease or the Standard deploys. I really don't want to be testing software engineers whims, risking my stability to have them deep sixed. I'm Dev testing to hopefully produce the final product.

This is good, far clearer, and more focused on what the Insider Channels are for. The Dev Channel would be most exciting to test out experimental features and that may hopefully some of them go through next release.
The less exciting part is that A/B Test again that means some may not have a chance to test out and provide feedback on what those features are. At least there should be optional test if certain Insider wants that feature to test or not, like how browsers do it with about:flags.

Agreed; with two approaches chosen and one only gets to see one side or the other, how does MS evaluate the responses? Both may be better than the current deployment but the version one sees may not be the better implementation of the two. Did MS A/B test the start menu and taskbar releases, explaining how we got into this degraded mess?
Windows Central Newsletter
Thank you for signing up to Windows Central. You will receive a verification email shortly.
There was a problem. Please refresh the page and try again.