Microsoft delivers Motion Data 2.0 activity tracker on Lumias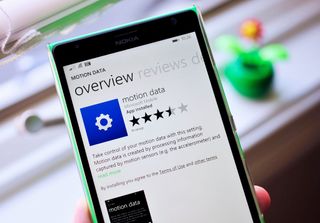 This afternoon, Microsoft has pushed out a rare update to their Motion Data app for Lumia phones sporting SensorCore. The last refresh was back in August of 2014.
Instead of a bug fix update though, this one delivers some significant upgrades and improvements, making us reevaluate its usefulness.
Version 2.0 of Motion Data brings the app up to date to make it more useful. The changelog includes the following:
Motion Data 2.0
User interface redesign
See your activity graphically
See your places and routes graphically
Collect more detailed and accurate data
List installed apps that can make use of motion data
The big change, of course, is the new UI, which greatly enhances the usefulness of Motion Data. Gone is the simple on/off switch and instead we get a graphical layout with walking versus running over the past 24-hours.
Additionally, we get a Recent places section that shows you where you have been in the world. Finally, there is now a section that display which apps installed on your phone utilize Motion Data.
Overall, Motion Data 2.0 looks like a vast improvement over the last version, and we are sure to use it more often now.
Note, only new Lumias like the Lumia 630, Lumia 730, Lumia 830, Lumia 930/Icon and Lumia 1520 have SensorCore technology for Motion Data.
Download Motion Data 2.0 for select Lumia Windows Phones
Thanks, Sami P., for the tip!
Get the Windows Central Newsletter
All the latest news, reviews, and guides for Windows and Xbox diehards.
Daniel Rubino is the Editor-in-chief of Windows Central, head reviewer, podcast co-host, and analyst. He has been covering Microsoft since 2007 when this site was called WMExperts (and later Windows Phone Central). His interests include Windows, laptops, next-gen computing, and for some reason, watches. Before all this tech stuff, he worked on a Ph.D. in linguistics, watched people sleep (for medical purposes!), and ran the projectors at movie theaters because it was fun.
You would think this would have MS Health integration...!? Or is there some technical reason why MS would avoid using such data on their health platform?

I am sure that is coming, however for now MS Health as an app is just for the Band. I am sure they could extend it to SensorCore.

isn't SensorCore an original Nokia platform? While MS Health was built for and by MS so it makes sense that it will take time to integrate the two

Motion Data integrates with MSN Health & Fitness, displaying Sensor Core info in Steps and GPS Tracker.
In addition, Health & Fitness also displays this info on the Live Tile and Lock Screen.

It sure fixed that annoying delay + lag on my Lumia 1520 while changing screen orientation. Previously it took annoying 3-4 seconds to go from potrait to landscape and vice verca. now its 1 second. Not sure if anybody else experienced this as well.

I've been having that issue as well on my 930, you sure this update fixed it? :O anyways, 1 second lag is still pretty terrible..

Yes, I had that problem and it does seem fixed now.

For a while now I have been making fun of my friend's iphones which collect motion data without a way to stop this or delete data already collected and was pointing out how much more personal data friendly windows phone is. But now with update to version 2.0 the app lost the toggle to turn of data collection. Daniel, is there any way to roll back to version 1.0? Would a hard-reset work or is there any other way?

#Coming soon as always :P.
Kidding aside, there might be.
Then again it is most likely all hands on deck for Windows 10, as they don't just have one form factor to cater to but a plethora of devices - legacy & new. Plus they had the re-org after the d&s acquisition.

Yes, and then they will need to find new good excuses at the time of release why they are missing those couple of features they decided not to put in the Win10 release but only into the vNext.

Because it's Microsoft and the same flawed logic that precludes their own health & fitness app from working with the band applies here as well.

Motion Data 2.0 shows Microsoft Corporation's Health & Fitness btw.

Thats always been supported it replaced motion monitor

Does not seem available for W10 yet, at least on my 930.

I did get an update for Motion Data through the store for my 830 running W10 which prompted me to restart the phone. But I can't seem to click on Motion Data entry under Settings-> Extras->Motion Data

Available in US, but not in my country (Belarus). Why?

This is only for the phones that have sensor core.

I am the proud user of Lumia 1520 ;)

In Hungary unavailable as well (Lumia 930)

Got it on my L930 (Budapest).

I changed the region settings to US and was able to update

Nothing for the 1520 in Denmark either. Oddly enough, the Store claims the app isn't available for me, even though I have it installed...???

Not available for my 730 too. Brazil here.

Weird, I had the 2.0 UI since I got my 1520 back in December.

Yeah, I noticed the newer UI some time ago. Not sure what's up with that.

This! The only change is the APP sections
Where one can see apps that use motion data

They've pulled out Extras+Info app from store almost a week now. But why???
It's a system app and I can't update to latest version, which released on 3/2
I know it doesn't have any thing to do with this article but I never got an answer!
And I found nothing on the Internet about it.

I'd like to know that aswell as during cleanup of the settings area I accidentally uninstalled that yet cant remove the vzw backup. To bad we can't access the embedded recovery partition

My Runtastic Pro thank that.

Offtopic: Wonder when theyre gonna update messenger ...

never, it's not microsoft's responsibility

too bad the 535 doesn't have sensorcore, but the devices that do have it are older, so it isn't new phones that have sensorcore

Now i cant toggle it off !!

Seems wierd, not availible for my L830.

Not available for mine either. (830, Colombia)

Why glance screen does not have in Lumia 730?.. Any one can help

Nope. My 820 has amoled AND glance. It can be done.

I'm guessing the display on the 730 has no memory, so no Glance...

The glance screen requires ClearBlack display technology.
if you can't install glance screen, then your phone's display doesn't have this technology.

Not available on my L930 (BRAZIL)

Anyone pissed about the removed on/off toggle and clear button?

But it now seems, when you turn off "places" option, it turn offs motion data and also delete's all data of it , which is stupid, all these three different things should have diff toggles

How is that different than before?

No, it turns off and deletes places data. Motion data is still recorded.

Me too. I wanted option to turn off motion data because if it stays on, step counter keeps increasing even if I am travelling by vehicle. So I generally turned off motion-data when travelling by vehicle. Now that option is gone! I am wondering if steps tracker now detect only walking...

I am really disappointed! My 735 always had an amazing battery life, and I always left motion data switched off as I don't need it. Now battery drains 5% per hour. The SensorCore technology doesn't seem to be power efficient at all, at least on my 735. Anyway, whats the point in removing the possibility to turn this "feature" off?? This is a dumb choice. The internet is filled with reviews of the 735 pointing out the great battery life, anyone trusting these reviews and buying the phone will be deceived and will have no workaround, except a factory reset and turning app updates off. Nonsense.

I wonder if I should use this in tandem with my MS Band? It might be nice to see the "Recent Places" info I guess but I'm not sure if its worth the battery drain. Any thoughts on using this if you already are using the MS Band? Thanks!

I got out a few weeks ago when I flashed my 930 with a polish rom

It's surprising how many sdk sample apps they built for themselves

Well on Preview WP10 on a Lumia 630 and after the update ,I cannot open this section any longer.

Same here got update but cant open it w10 630

Maybe it's being integrated into the os

Lumia 635 WP10 can't open too. I never tried to open it since I installed WP10 so maybe it never worked....

Looks like some cool new functions that apps shpuld be able to take advantage of. I have a Fitbit, but I'm thinking of starting to use my Lumia Icon instead, since the Fitbit app can use it too. I love all this exercise tracking stuff. it's gotten me to move around a lot more. I guess I really like statistics. :)

I got the update today on my 930. Was also considering using Motion Data app instead of my FitBit One. Wondered how it would impact battery?

Not available on my Lumia 1520....weird

Guys name some apps that uses motion data

MSN health and fitness ;)

Active fitness, run rabbit run, steps - lumia sensorcore. I found all these and more by searching "sensorcore" which should they should've added as a shortcut in this setting module

Think I would rather prefer to have it as an ap instead of a setting.

Just downloaded on my Lumia 630... I'll have to restart to use it. DAMN

Great update. Almost sounds very useful as a fitness tracker.

I had this update after upgrading to Denim on my 1520. But when I reset my phone it was gone.

I got update but cant open in l630 w10

Cant download on my 1320 infact theres is no install button its un available for my phone for sone od reason

Does this work without GPS enabled? (L1520)

Yes, it does, I usually check my progress on the Health and fitness app.

I think I have this update for some time now. Today's update seems just bug fixes. Lumia 930 + Cyan

Now I just need to be able to pin this....Come on GDR2

Ohhh, so that's what this is for.

Lumia 635 I can't open motion data. Does anyone have the same problem? I soft reset and reset again. nothing;(. Any thoughts?

This app isn't available in France, we have just the version 1.0.....

here in Bulgaria it seams that we get all the updates faster but hey its Bulgaria :)

Can't get the update on my Lumia 630... Maybe it has Country restriction? :(

I have a Lumia 1520 but in the store it says it's not available for my device O.o... Does it have to do with the county?? I live in Italy

I've been just tried this tip :
Go to Settings -> Region Settings -> Change you region to United States an restart your phone.
Go to the Store and update Motion Data. After, go again in Settings -> Region Settings -> Change United States to your default region.
Enjoy it :D

Ever since denim the accelerometer+gyroscope have been buggy on my 930, motion data is quite innacurate unfortunately

Same here... Mine have been off the charts. Nothing is accurate!!!

Nothing for my Lumia 830 in Portugal!

Now I just need to figure out how to bring my 1520 with me on my runs and have it where its not in the way... Would definitely find this data very useful! Maybe just need to find a massive armband capable of holding it.

Or just buy the Microsoft band....or a fanny pack or a butt pack

How the heck do I disable it??

SensorCore and this thing are broken. When you ride an autobus or any motor vehicle it still count the movement of the vehicles as steps!!!

I noticed that as well. Wish speedo plus had support for this

Agreed. I'm in my car and MS Health and Fitness is counting steps!!!! Seems they could stop counting steps over, say, about 7 miles per hour. Or at least let us set an upper limit on speed when step counting should stop.

This was happening in version 1.0 as well. So I use to turn off motion data. Now that option in gone :(

the Good news is , mix radio services now working in TUNISIA

Unable to find the bicycle stuff described on the Microsoft page and shown in the Screenshot ob wmpoweruser. http://wmpoweruser.com/microsofts-motion-data-app-updated-with-significa... my screen Looks like the one in this article L930

When I click on the Store link at the bottom of the article (about 20 times, now) I get "the webpage cannot be found". What gives?? I tried going to the WindowsPhone Store to get the Motion Data 2.0 app directly, but I can't find it, even typing the name in the question box.

Is there a definitive list fo which phones support motion data? I know my 830 does, my wife's 620 doesn't. I see from hardware specifications that some have accelerometer and gyroscope, others just have accelerometer. Does motion sensor need both? For instance would the 735 or the new 640 support it, how do you find out?

see detailed information about phone there would be mentioned :- SensoreCore SDK, basically it needs a quadcore snapdragon 400 and upwards

i have installed windows 10 technical preview on my lumia 630, now when I open health and fittness app, it gives an error that i do not have sensorcore sensor :(, and this update v2.0 of motion data was delivered to my lumia 830 in january. Is there a fix for this sensorcore error?

10$ says this is why tetra locks screen was pulled

Not available for 735 in Portugal yet. Any reason why?

available for my L830 (Philippines) :)

1520 has sensor core? Nice

I'm running W10, and I can't open Settings - Extras - Motion Data anyways.. Before or after the app update.

It it confusing, now it is on all the time? I use a Fitbit, so I don't need motion data turned on. Or maybe I just don't want that my phone to record my motions at all.

On Microsoft help page it says that motion data will always be on...
"Motion sensor data will be collected and recorded irrespective of this setting." (we can only disable collecting places and routes). I mind because of:
1. Privacy.
2. Battery.

Finally device rotation on the 930 works again without lag

On 640 XL it comes as a setting, not an app, hence when I tried to "update" it I got "not available for your phone". So at first I was :-( but then I was :-D.

Too bad ..... why i am unable to download in my Lumia 1020.

So sadly I have has to send my band 2 back for service and now my wrist is feeling lonely and I am only relying on my L950XL motion data to track my steps. Quick question does the phone have to be in my pocket or hand to calculate steps or will it work in my work bag or even in the bottom of my baby stroller?