Microsoft updates Motion Data step counter for newer Lumia Windows Phones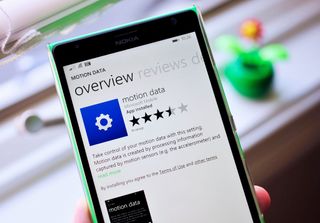 If you are using a Lumia 630, 635, 930, or 1520, you may want to check the Store for an update to Motion Data. Version 1.2.0.5 is now live in the Store, although like many of the system apps for Lumia phones, this one forgoes a formal changelog.
What is Motion Data? Motion Data is a special feature originally built by Nokia for their Lumia phones, based off their beta Motion Monitor app from late 2013. The system app uses GPS and the accelerometer, letting the phone collect your steps and location for use in third-party apps like Bing Health + Fitness through the SensorCore API.
Only phones with the newer Snapdragon 400, 600 or 800 series can leverage SensorCore, as it uses aspects of the chipset not found on earlier S4 hardware. You also need the Lumia Cyan firmware to enable.
Today's update likely brings some fixes and optimizations, so if you use Motion Data (it is opt-in), you should grab the refreshed version.
How many of you are using Motion Data daily? Do you find it useful?
Get the Windows Central Newsletter
All the latest news, reviews, and guides for Windows and Xbox diehards.
Daniel Rubino is the Editor-in-chief of Windows Central, head reviewer, podcast co-host, and analyst. He has been covering Microsoft since 2007 when this site was called WMExperts (and later Windows Phone Central). His interests include Windows, laptops, next-gen computing, and for some reason, watches. Before all this tech stuff, he worked on a Ph.D. in linguistics, watched people sleep (for medical purposes!), and ran the projectors at movie theaters because it was fun.
Joe Belifore... Can you please help us to start getting change logs.... Just in case your reading this, Thanks

Although I agree for 'apps' in the traditional sense, I have seen changelogs for minutia too and I assure you, they are kind of useless as they are 'programmer language' orientated. For System Apps, I'm not sure they would hold much value, unless it fixes and obvious and known bug.

Could just put "Optimizations" so users aren't rummaging around looking for anything new.

Motion sensor not working properly after update on my 1520, when I make call my screen turns completely blank until the other party ends the call. Anybody experiencing same thing?

That's the proximity sensor I had this with my 920 had to go to Nokia care it cost almost 35 dollars to fix Posted via Windows Phone Central App

Yep what you said, nothing to do with motion sensor.

Thanks for the info. Can I use it on 8.1 DP update 1 w/o cyan? Haven't received it yet. 1520 Ukraine here. Thanks in advance

Nope, requires Cyan :/ I'll add that in.

Without Cyan you can still/only use Motion Monitor beta. Works find on my 1520. But I think all collected steps will be lost after update to Cyan ...

Right, that's what I'm using atm. Does it,drain much battery though?

No, don't think so. I have it running in background for two or three months now. Waiting and seeing what cyan brings ...

Bring out the Cyan for Icon already so I can use this... Going to try it on my 635 today and compare to my Fitbit. :)

Yea, Blame Verizon on no CYAN for the ICON.....Known for waiting forever for updates... I cant wait to fix my battery and heat problem on my ICON...

I had to go back to 8.0 as it was getting bad. Verizon would only send out a refurbished phone and it had new problems so I sent that one back.

Lol the M8 passes everyone and goes right for Update 1 RTM.

Boo. My 1020 feels old now

+925. The snapdragon S4 is so pathetic and outdated. I thought that since the day it was announced. They could have at least put an S4 pro.

Shut up and go it to me . U don't know how to value things. 1020 is my love

Sure after you get me a WP M8.

I completely agree. I just saw a coworker looking at his step counter on his iPhone 6 and I thought, hmmm, can my phone so that?? Negative. And I'm so bad with the camera settings on the 1020 that it feels even more easily replaceable (with a newer Lumia).

I have it turned on. The Health & Fitness app sometimes notifies me of how many steps I've taken, although I doubt it's accuracy. Haven't been exercising a lot recently, but I think it's a worthwhile feature

Last I checked, I have one of the newest & highest end phones that Nokia has released. And I can't do anything with Sense Core API. Thanks, Verizon.

What is this app for? Is it just configuration app? Because 3rd party apps will directly invoke sensorCore APIs, right?

Hopefully the live tile updates more consistently, it really doesn't on my 930 unless I open the app, and then it "catches up"

I love motion, I track my steps with bing health constantly!

Me too. Truly an amazing feature.

I have this switched off on my 930 as I find it one of the main culprits for the overheating issue.

Yeah, I'm using it, but wouldn't say on a daily basis. Unfortunately, the live tile isn't transparent, otherwise I would have potentially pinned it to my startscreen.

Know a good steptracker app?

Tried Bing Health & Fitness? I haven't though. But seems to work. :)

I am using it everyday on my 1520...I have pinned it to my start screen...though I agree with others that live till does not update unless u open the app and of course a transparent tile would certainly be great!!!

I am hooked on my steps tracking on my 930. If i dont complete my 10.000 steps a day before midnight, I feel useless. I have noticed bugs. Like certain days just show no activity at all, but it is rare.

Daniel you list the 930. Is the Icon not supported? Posted via the WPC App for Android!

I thought all Lumia with gps and accelerometer were supported.

You need newer chipsets as noted in the article.

Icon does not yet have Lumia Cyan, so technically, it is is disingenuous for me to suggest they get this update ;)

Microsoft needs to open this up to all OEMs so that I can use it on the HTC M8, I'm going to miss it on my 635.

Me and my wife actually use this a lot. However since Fitbit was released I started using that instead. She stays loyal to this though she loves it.

Use all the time 1520. Now need Windows watch all-in-one wearable so I don't have to wear rubber fitbit;)

I stopped using a step counter after seeing I walked 11 miles whilst work lol

"If you are using a Lumia 630, 635, 930, or 1520" This is how you know your Lumia 920 has a gold watch, a handshake and a cardboard box close by.

Just like all the other features that are enabled by Cyan, so what! Cyan and Windows 8.1 are not both commercially available for the majority of Windows phone users. So, the apps that benefit from those updates cannot be appreciated or realized by enough people to create a dialogue that can speak to their effectiveness as apps. I even have a problem with the marketing campaign that highlights Cortana. It's only available on 1 US phone. If I bought an Icon based an the attack ads, I'd be pissed!

Can't download to my Nokia Lumia 1020,why?

I did 20,000 plus steps at Disney World earlier this week.

Using the location to track all my steps drain the battery , Samsung manage to do it without location

I have a Lumia 1520. I use the Health and Fitness app to count steps. Sadly, I never come close to the 10,000 steps per day the app recommends.

How to enable the motion data in my Lumia 920. It is available in my device?

I believe in the first sentence I denote which devices are supported.

I wish native apps, when updated, would show in the App Store History.

I use it. I've found that if I soft reset my phone, it'll record me walking 50 mile and taking 10k+ steps. http://imgur.com/s2UPTWA

It seems to me That the 1320 has a snapdragon 400 so it should work on it too

Great, using steps counter everyday. I like how it has almost no impact on battery life :-)

My Lumia 1520 still counted steps even if I'm in a vehicle. I wish this update fixes that.

635 owner. Step counter currently working just fine with Bing Health and Fitness. Motion data and location enabled on the phone. As the article suggested I went to the Store and searched for Motion Data. Wasn't there and obviously neither was the 1.2.05 update. OK so maybe the update hasn't made its way to all the update sites, but shouldn't the app be there? NBD, just tryin' to understand how this works.

Tell the people that this app goes internally in the Health and fitness app. Many of good guys can't find it after installation.

I understand what you're saying, but if you look at the top post, it clearly shows a "motion data" app. So the question is --- where did that come from? If the Store as is mentioned in the article, why can't I see/find it?

Link worked (thanks) :) Store search didn't :( It was updated today but I received no notification about any updates. I have in the past for other stuff. So here's what I learned. Store searches don't always work and you sometimes don't know if an app has been updated. Onward and upward.

Do not need cyan. Works on my Icon.

Sorry, the *beta* works on icon

I have a 1520 and with 8.1 and Cyan. I go to install this and it says it isn't published anymore.

Can i get motion data for lumia 535

Such a creepy app... And it hides in the background so I can't uninstall it? Really? How do I uninstall it?