Microsoft describes the feedback process for the Windows 10 Technical Preview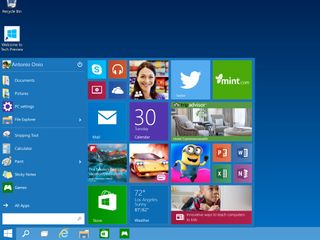 Microsoft has just launched the first update for its Windows 10 Technical Preview, based on feedback from its many users. In fact, Microsoft has gone out of its way to make sure that it gets as much feedback as possible for its OS. In a blog post, Microsoft's Gabe Aul, the leader of the Operating Systems Group's Data and Fundamentals Team, writes about just how that feedback is translated into actual new features and bug fixes for future builds.
Aul states, "To date you've sent us over 250,000 pieces of feedback through the Windows Feedback tool, 25,381 community forum posts, and 641 suggestions in the Windows Suggestion Box." However, once someone sends in a specific feedback note, it goes through what he calls "ring progression." Aul says:
Microsoft has set up a new "fast" and "slow" update option for Windows 10 Technical Preview with this new build and Aul has updated the "ring progression" diagram to reflect that system as well. Will you be a "fast" or "slow" updater for Windows 10?
Source: Microsoft
Satya Nadella is going to make MS even better

I really do have the feeling he is making good reorganizations to remove all obstacles and be able to develop at turbo speed.

It seems faster.. Oh.. Wait :D
Jokes apart, I will choose the faster one.. I don't mind that they crash, it's not my main machine.. I WANT CRASHES :D

Obligatory XKCD:
http://imgs.xkcd.com/comics/move_fast_and_break_things.png

Fast ring all the way! Keep those features coming.

I'll definitely be a fast updater. This is just a tech preview, after all. Why not test the latest build available?

Updates come through automatically if you have Windows 10 already installed. Otherwise you need to signup for the free Insider Program first.

Very cool insight! Love all these technical details coming from MS

hope corporates accept windows 10 when it launches. Windows 8 was a fail for Microsoft not bcoz they couldn't get public users but corporate users.

I'll be on the slow update. I can't totally bust my mom's laptop. I'll take it slightly more safe.

Would like fast but those updates build up fast causing my isp to throttle my speed & I dont use my pc as often.

finally I have internet to install this Windows 10 update. but Win10 is getting really nice... but the only thing that makes me feel awkward is the sugestions posts, especially the one "windows 10 should be free" and the magical anonymous comments saying "it should be free because windows 8 was the worst OS" "it should be free because win8 sucked" blabla. seriously... this people ruin the point of these builds, asking for iran support like if it was Microsoft's fault, or asking to make it free, how that has to do with the OS? I saw last time one that said it should be like Win7 and Microsoft stopped innovating so they weren't going to buy Win10. at least they try to listen to costumers even with those kind of useless "feedback" I hope if people use this builds, report real bugs and give real feedback. this spam you see in the suggestions and comments it's just not cool.

Good to see the focus on feedback from Microsoft.

I may stay with slow. I have installed the preview on a second partition, but I haven't launched Windows 8 since I installed the tech preview (as soon as it was available). Can't go back lol

Great news..have it installed as my main OS and it's awesome :)
Windows Central Newsletter
Get the best of Windows Central in in your inbox, every day!
Thank you for signing up to Windows Central. You will receive a verification email shortly.
There was a problem. Please refresh the page and try again.