Windows 10 Technical Preview update 9860 available to download now, adds Action Center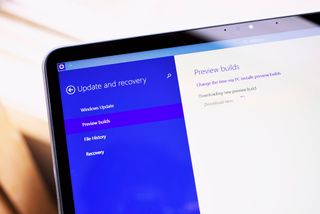 Microsoft has released the first software update for the Windows 10 Technical Preview for Enterprise since this early version of their next operating system was first offered to the public on October 1.
We don't know exactly what's included in this first update in terms of new features and improvements, but we will update this post as soon as we get more information. At the moment, all we know is that this will bring the build number up to version 9860. This will likely be just the first of many updates to the Windows 10 Technical Preview in the months to come.
Update While we wait for our copy of Windows 10 to update, Microsoft has gone ahead and posted what's new in the new 9860 build on their Windows blog. The big new addition is the Action Center, the official name for the long rumored notification center addition. Here's the gist:
The new update will also allow users to move their active app from one monitor to another if they have one than one display hooked up with the keyboard shortcut "WIN+SHIFT+". Microsoft added, "One of the pieces of feedback that you gave us was that it was hard to know when you were switching desktops. We addressed your feedback by adding an animation to make it clear that you are switching. Check it out by creating some new desktops and moving between them."
Finally, after the 9860 build is downloaded and installed, users will see a new option in the Update and Recovery section of the PC Settings menu. Microsoft says:
By the way, Microsoft says the download will be "between 2GB and 2.74GB depending on CPU architecture and language." It also lists some issues with the build:
In some places the UI design has gone "backwards" temporarily while we're working on the final experiences. For example in this build we know that it's harder to join a Wi-Fi network. We'll make changes to fix that later.
Another example of some UI "roughness" is sometimes Internet Explorer glyphs look garbled and items on the Start menu might disappear. Not everyone will see this, it depends on your display driver. We have a fix for this one coming soon.
Some machines may wake up and not go back to sleep properly.
Microsoft Solitaire and Mahjong games are broken in some cases and won't launch.
When using 2 external monitors over Display Link, you may get a blue screen when you undock. This does not appear to be an issue when using just 1 external monitor. A fix for this one is in the works too.
Source: Microsoft
Windows Central Newsletter
Get the best of Windows Central in your inbox, every day!
Yes was waiting for it.. guess notification center is there

Or/and Cortana http://m.softpedia.com/windows-10-build-9867-ready-for-testing-cortana-a...

Don't see +2520 very often

Does anyone know if Stardock's ModernMix is compatible with Win10?

For what weird reason would you want t use ModernMix on Window 10?

I was under the impression that feature doesn't exist yet in the technical preview.

The Technical Preview had it since day one.

Ah. Ok. So the biggest thing it is missing right now is just Cortana.

More than notification centre, it's action centre. So we will be able to quickly act on notifications which (like IOS) makes them far more useful. Can't wait for this to come to my phone. Wonder if they will back port any of this to wp8.1 gdr2 or will just keep it all for w10.

Just let me respond to text messages from my desktop and I'm buying two of whatever they're selling.

Me too I have surface pro 2, waiting for this feature to be added to windows 10.

Yaay!! Was waiting till midnight here in India!

just showed up for me in india


When are they releasing preview for phones?

Not early , in the middle of may

Not anytime soon... Sadly...

Not early. In the middle of May 2016.

Microsoft said "well into 2015". Which, when first reported on, WPCentral somehow deduced January/February from that. So not sure when it will come out.

I'm not seeing anything here, any else having this issue?

No, it's slow. How much ram do you have on your computer?

It's always been fast for me. Hehe.
i7 4790K 4.0 ghz. 8 gb of ram. GTX 770.

Not yet available for me =\

Me neither :( (from brazil)

Already downloading. Appeared few mins later.

Guys , I've registered to the insider and got the link , when I open it it just shows failed , what's the problem?

You must have set off the loser sensor :)

It made the OS somewhat faster!

The download will range between 2GB and 2.74GB depending on CPU architecture and language. // via Windows blog

How to update the technical preview?

goto pc settings>check for new preview builds

probabely by windows update...

Connect to your computer, then check. Wait...

very nice to be able to see the progretion of the OS

So will this be in Windows update or is it another ISO??

I think it is another ISO

It's a download, the instructions are in the article...

You can get it from PC Settings -> Update and recovery -> Preview Builds, much like a Windows Update

Wow that is freaking awesome. Windows for life.

shoild i download another 4 GB

Dang...now I gotta find the stupid screw driver and replace the hard drive again...

Why on earth would you have to do that?

Installed Windows 10 on a separate hard drive?

Or on a Virtual Machine, or dual-boot, or boot from VHD...

I have Win10 on a different hard drive

Wouldn't it be easier just to dual boot?

Yipee, can't wait for Win10 full release

Sweet. Was waiting for this.. Cant wait to get home

Who's in the 'fast' ring!? haha.. downloading now.. I'm going to put this on my laptop!

I'll never understand those who want to be in the 'slow ring'.

Plan on switching to the "fast" ring later today. Hoping this update provide more nic drivers....

Maybe those using it at work.

I'm also happy to see the win+shift & arrows are back to move an app from monitor to monitor! That was one of my very first pieces of feedback within minutes of installing the preview.

what is the new build size??????

size of the update please?

Out of curiosity, how come this new Action Center isn't integrated with the current flag that's already there? I was thinking instead of a separate notification icon that is there in the Preview, I figured the flag that is seen in Vista - 8.1 would be used. Maybe they will integrate both and instead of the flag there will be a notification icon like in WP and what is pictured above?

Yeah, I would think that the notifications in the flag (which I think also shares the name Action Centre) would end up going into the new one as well.

"quick actions and cleaner UI" could mean that radios toggling could happen from here as in WP. BTW, whatever happened to the real action centre that was supposed to have been in 8.1. It was actually supposed to provide quick access to common actions for a notification like liking or replying to a FB status directly from the notification centre. This was known from one of the leaked SDKs for WP8.1. Wish they implement something of that sort.

They might do this in a later WP release

hold on....quick actions?? like the quick reply feature on the latest iOS? that would be awesome. This means Microsoft Lumia Phones should have this when Windows 10 releases.

No, like the toggles on the current Windows Phone Action Center.

Well, one can hope they implement this feature. I hate having so many messaging instances popping up in my multitasking screen.

like the feature bb10 has had since 10.2!

It'd be fantastic if they added the option to see phone notifications too.

This is one thing that Apple does right

And it is one of the things Windows 100 will do.

I can't tell if this is sarcasm, or a typo.

Clearly some people wasn't around during wm years. What apple is doing now is just sugarcoated rehashes of what windows once was. Kudos to apple's marketing & advertising team for succeeding in making people believe that it is okay to have a four inch dick, as long as u have the (insert i-device name here).

Still can't install windows 10 technical preview, super depressing :/

Its a brand new dell aio touch from this year, figured that's new enough

You must be holding it wrong. Seriously, if you want it get into the forums and sort it out. If that is beyond you then you shouldn't be playing with it anyway.

what is the size of new build ??????

The comments: Anywhere from 2-2.7 GB.

Will it support my laptop.
1GB RAM.
150GB HARD DISK.
INTEL DUAL CORE.
Original OS: Win Vista.
Current OS: Win7 home basic.
It's a 2007 model.

I'm pretty sure you need 2 gbs of ram

Only for 64 bits version.

It will work... i'm testing it on a "Pentium IV", 1Gb RAM DDR2 with a 360GB HDD... oh! i bought that pc around 2005 ... runs.. not as smooth as Windows 8.1 .. but it's normal it's a realle early build

You seriously have Windows 10 running on the PIV?

Thanks tech, Ron, her.....
I'll try to download it in the morning .

Works on my HP Pavilion a6120in 2007 model with-
Pentium D 3.00 Ghz
4 Gb DDR2 ram
NVIDIA GT520 2Gb DDR3
160Gb+1Tb hard drive
Original OS= Windows Vista Ultimate SP2
Current= Windows 10

You probaby shouldn't install it on that.

"Failed to download the new preview build, please try again later. 0x80070070"

I am also getting this :(

Seeing some weird stuff in this build. zPc Settings weird folders in the 'Home' section.

I'm seeing that too. I'm also seeing lots of messed up text...L ke, wh n I ype, I on y g t th s.

Ok, left my laptops on in hopes of this, now times to check team viewer to see if all is going well :-)

Do I really have to download more than 2 GB?! as i'm downloading the ISO file???

Err..... Yes? Are complaining about known things for pre-alpha software.

Do they have a dark theme?

It's called high contrast for now.

I installed the Technical Preview on my parents desktop a few weeks back and also on my Surface Pro 3. I have just started the download on my surface pro 3, however when i remotely connected to my parents desktop, they do not have a "Preview Builds" option under Windows Update, like I did on my Surface Pro. Doesn't make sense. Did anyone else come across this?

I'm having the same issue on a Lenovo tower. My dell venue 8 pro has it though. I'll have to check my gaming rig when I get home.

I've been running it in Hyper-V on my Surface Pro 3, waiting forthe Continuum mode. It's tempting to go all in though, are you having any issues? Consdiering going back to 8.1?

Holy ish windows man, the unification is here

Notification center looks ugly as shit.

The Windows Blog post notes that just the functionality is there, not so much the final look and feel.

"Technical preview" aka unfinished.

"failed to install new preview build.." Does anyone have this problem?

OOOO some settings for windows phone are in here in the new build found the dial strings for the phone menus. under phone in the registry

Plot twist! Windows 10 supports Wi-Fi calling.

Downloading is taking forever, there isn't even a progress bar (submitted it as feedback)

if i download 1GB of it and my internet connection be lost,can i resume it?? if there's no resume buttons, is it possible to download the remained files???

Is anyone having issues with Steam? Worked fine in the previous build...now it won't connect :(

Nevermind....Steam is down. What a co ink ee dink...

i know there's no resume button, but i have internet limitation :(

I don't know if i'm crazy but I think they added mkv support.
I transcode all my library since 1 week and with the details view I have length information. I can play the file with WMP.
Something that i couldn't do before if I'm not wrong. edit: I can see thumbnails from mkv too

The display link issue is not new to Windows 10. It was crappy on 7 & 8.

So far i think this version is worse! Can't get MS Solitaire collection working, even uninstalled/reinstalled the app. Also in chess by post, the board was all white :/

If you cant read, you should do 2 things: 1) Get the fuck off the tech preview! 2) Go finish school.

I don't know what kind of stupid comment this is.

It's a "stupid" comment that tells you to read the article before commenting.

I'm pretty sure it didn't say that at the time of my comment. Either way, I've got the right to comment. You really had nothing to say other than expressing the fact that you're a rude unpleasant person. That's fine, but i don't need to listen to you. I'll continue using the preview program.

I want to install Windows 10 so bad. But I'm afraid because I only have one computer..

It works! at least the basic stuff. If you do very specific things maybe you should wait... I use it only for everyday work (a couple of apps) and it's ok.

I guess the term "technical preview" is unintelligible for some people. Just hoping that the action centre will be unified across devices

Can we expect something really awesome like receiving texts and such from my WP to Windows? That would be too good.

Yes, the really sounds like something to get excited for. I'm certainly glad I don't give a flip about a notification center (the same way I don't care about the one on Windows Phone), particularly since I hate the desktop and try to disable the Task Bar from view. I nearly laughed out loud at the apology for the UI going backward. It's been going backward since 8.1 (e.g, title bar on Metro apps, right-click menu on Metro apps).

How do you access notification center on metro mode?

I lost my start menu. It only has my account name/picture, the All Apps button, and search bar. Hoping the next update fixes that.

Yeah that second update fixed it. I like the display feature with opening and closing windows. Maximize and minimize is slick too.

It took me 2 hrs to download and another hour for installation

Nothing. update downloaded but "install now" never ends... HaD to shut downs eventually...

Man I am considering installing this on a partition... Can't wait to try it.

Down loaded and working well except when I tried to leave a message on my PC wpcentral app it came up "message from web site bad nid? So I had to do the posting on my phone instead.

Does it really have to go back to build preview section all the time to install and restart again?

Would be cool if it would show my steam notifications.

Is there a way to go back to a Full modern look? without the menu/context bar accross the top of modern apps. I use a surface pro 3 and this "design" really feels backwards and feels like they are throwing away alot of work. I appreciate the improvements to the OLD start menu and the notification center etc but i think they are ruining the "Modern" interface on tablets.

They aren't "ruining" the interface for tablets to my knowledge. They haven't SHOWN the interface for tablets yet. If you use your device as a tablet primarily, this is not for you. This was to show people the new Start Menu, and to let the enterprise know Microsoft still loves them. That's why this is a technical preview and not a consumer preview.

Whats the difference between this (technical preview) and a Release Candidate? Does anyone know if there will be an RC for 10? In the past i have downloaded RC1 and RC2 and they were very representative of the final product, just buggy. I understand that this is not final build and things will change. If it releases anywhere near the current build they have most certainly gone backwards in touch screen OS innovation.

A Release Candidate is basically done. Unless there is a show stopping bug, that's what you're going to see as the final product. This isn't anywhere near done. The technical preview is there to show off what they've done so far. The actual RC, which I'm sure they'll have, will likely be at least six to eight months from now. Consider this to be the alpha, not even beta, level software.

unable to see some letters in apps and settings.

yeah , same problem here !

[url=http://postimg.org/image/iklpwqn3x/][img]http://s30.postimg.org/iklpwqn3...

my problem after the update, some words are are not showing in settings !

[url=http://postimg.org/image/iklpwqn3x/][img]http://s30.postimg.org/iklpwqn3... please have a look

http://imgur.com/a/Jgom9 this is complete

when my update finish my speakers now it is not working. does any one have the same problem ?

The windows technical preview's update ruins my 2 laptop hdd's. what a terrible update! Who Will provide me New hdd's.

Can anybody tell me the average size of a technical preview update. (Not the ISO, but when updating the preview build from update and recovery). I'm trying to update from build 9841 to 9926.....but its been "downloading new build" for the past 5 hours.