Windows 10 Technical Preview update 9860 available to download now, adds Action Center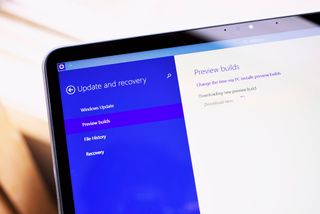 Microsoft has released the first software update for the Windows 10 Technical Preview for Enterprise since this early version of their next operating system was first offered to the public on October 1.
We don't know exactly what's included in this first update in terms of new features and improvements, but we will update this post as soon as we get more information. At the moment, all we know is that this will bring the build number up to version 9860. This will likely be just the first of many updates to the Windows 10 Technical Preview in the months to come.
Update While we wait for our copy of Windows 10 to update, Microsoft has gone ahead and posted what's new in the new 9860 build on their Windows blog. The big new addition is the Action Center, the official name for the long rumored notification center addition. Here's the gist:
The new update will also allow users to move their active app from one monitor to another if they have one than one display hooked up with the keyboard shortcut "WIN+SHIFT+". Microsoft added, "One of the pieces of feedback that you gave us was that it was hard to know when you were switching desktops. We addressed your feedback by adding an animation to make it clear that you are switching. Check it out by creating some new desktops and moving between them."
Finally, after the 9860 build is downloaded and installed, users will see a new option in the Update and Recovery section of the PC Settings menu. Microsoft says:
By the way, Microsoft says the download will be "between 2GB and 2.74GB depending on CPU architecture and language." It also lists some issues with the build:
In some places the UI design has gone "backwards" temporarily while we're working on the final experiences. For example in this build we know that it's harder to join a Wi-Fi network. We'll make changes to fix that later.
Another example of some UI "roughness" is sometimes Internet Explorer glyphs look garbled and items on the Start menu might disappear. Not everyone will see this, it depends on your display driver. We have a fix for this one coming soon.
Some machines may wake up and not go back to sleep properly.
Microsoft Solitaire and Mahjong games are broken in some cases and won't launch.
When using 2 external monitors over Display Link, you may get a blue screen when you undock. This does not appear to be an issue when using just 1 external monitor. A fix for this one is in the works too.
Source: Microsoft
Get the Windows Central Newsletter
All the latest news, reviews, and guides for Windows and Xbox diehards.