Here's how you can manage your child's PC access with Windows 10 Anniversary Update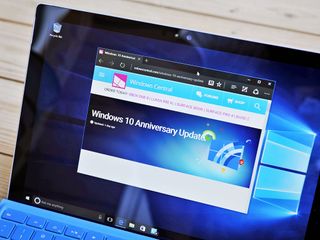 Microsoft sent out an email to some Windows users offering details on the new and improvement family management features in the Windows 10 Anniversary Update.
Winsupersite posted up what was included in the email. It shows that parents can go to just one website to manage all of their family's Microsoft Accounts, and ways to set time limits on how long children can use a Windows 10 PC:
One Microsoft family - Go to account.microsoft.com/family to manage your family in one place. You can see all your family accounts for Windows and Xbox, see the settings for each child in your family, and make changes to their settings.
Multiple time limits per day - Set multiple time limits per day for your child's Windows PCs. When your child runs out of time on a Windows PC, you can also give more time on that device even when it's not connected to the internet.
Keeping your kids safe while browsing the web - Choose which websites your kids are allowed to visit. As long as they're using Microsoft Edge or Internet Explorer, they'll be blocked from any other websites you haven't allowed. Since other commonly used browsers don't have this feature, we will block them on your child's devices. You can always choose to allow your child to use other browsers.
Microsoft Store is more family friendly - When your child is browsing content in the store, they will only see content that is appropriate for their age. You can choose what content your child can download, receive notifications when they download content from the store, and easily add money to your child's Microsoft account.
Instant notifications of your kid's requests - If your kid sends you a request, we'll notify you immediately so you can act on it.
You can learn more about all of the updated family management features for Windows 10 on Microsoft's FAQ page (opens in new tab).
Windows Central Newsletter
Get the best of Windows Central in in your inbox, every day!
They changed it a while ago to limit a family to 6 people. But my wife and I have 5 kids, so we had to make her mom a whole other parent and put our youngest son under her as as child. Hope they fixed this. Limiting family members is dumb.

This is precisely why we switched out our two oldest iPads and our two youngest iPod's for Windows 10 devices. Along with OpenDNS, we have complete control of safe content in out home and we get an email asking for more screen time when it ruins it runs out. Also, for those on a budget, a handful of $29 contact free, Windows 10 phones on airplane mode are fantastic alternatives to iPod's or with cheap annual texting plans, it's making our lives easier.

Symamtec's Norton ConnectSafe, is another alternative to OpenDNS. Adds that first layer for free.
https://dns.norton.com/

Kids are smart these days. They will find a way to watch some good old porn

Here's how you can manage your child's PC access with Windows 10 Anniversary Update. Give them an iBore device!

I am very happy with the integrated parental controls on windows 10, windows 10 mobile. They make controls and oversight of activity very simple. No unwanted in app purchases either.

There is still no subscription model that supports family for services like Groove, Xbox Live, etc. You still have to pay separately which doesn't make sense. It seems Microsoft is not seeing these issues which of course are a BIG DEAL!!

If they do this for Groove I will subscribe. It's the only thing holding me back.

Hopefully it's in the development roadmap. I'd like to see a uwa app for easy administration on my phone or tablet.

For some weird reason family access blocked YouTube for me some time ago. And it wasn't blocked by the parent as the parent abd the child accounts are controlled by me :P

But still no App Family Sharing ☹

So now you have to tell the devils at microsoft about your children just control their PC? F*ck you microshit. Windows 8.1 and earlier provided simple and straight-forward way to mange all of that locally, now Windows 10 ruins all of that with this stupid microsoft account requirement. What's with microsoft stupidly taking away options in Windows? They seem to desperately want to reduce their market share to that of apple's, as they keep making windows stupidly restricted like apple's mac os.

You can create user account in windows 10 by turning off the internet connection to pc. Dumb move by MSFT.

Not sure what you're talking about. You clearly can't create a restricted kid account on Windows 10 without connecting to a stupid microsoft account.

I'm very happy with the parental controls. Now just let me know when I can control Xbox screen time

Yes, still annoyed they took that away with Xbox one ☹

How about mobile, any improvements for Kids Corner?

Last news was that they were getting rid of kids corner in favor if apps corner. HUGE MISTAKE for users. Kid corner has always been a selling point for me. Apps corner sucks for a multitude of reasons
Windows Central Newsletter
Thank you for signing up to Windows Central. You will receive a verification email shortly.
There was a problem. Please refresh the page and try again.