Microsoft To-Do nets search refinements in latest update for Windows 10
Now you can exclude completed items from your search results.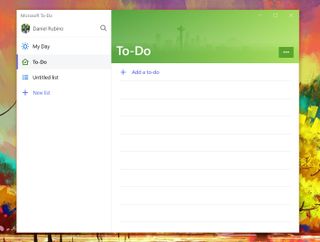 A fresh update is rolling out to Microsoft To-Do for Windows 10 this week, bringing with it a slightly refined search experience and some small navigation tweaks. It's a relatively small update, but the biggest highlight here is that you'll now be able to exclude completed tasks and items from your search results. That can come in handy if you're trying to quickly track down a specific item you still need to get done without wading through everything you've already accomplished (via MSPU).
Here's the official look at what's new:
Is it a to-do you're looking for? With the option to exclude completed items from our search results, we've made it easier to find what you're looking for.
We've also made it easier to navigate out of the detail view. Just press ESC to close it and get back to your list.
You may have had some trouble dragging your to-dos to the top of the list in My Day. Our apologies. From here on out we'll let you organize your list as you see fit.
Again, this is a fairly minor list of changes in the grand scheme of things, but it's good to see Microsoft is continuing to refine the experience and iron out bugs. This comes in addition to major releases that have hit the app over the past several months, including "important" tasks and a dark mode.
See at Microsoft Store (opens in new tab)
Dan Thorp-Lancaster is the former Editor-in-Chief of Windows Central. He began working with Windows Central, Android Central, and iMore as a news writer in 2014 and is obsessed with tech of all sorts. You can follow Dan on Twitter @DthorpL and Instagram @heyitsdtl.
So, how close are they to parity with Wunderlist

miles away. no nested todos / hierarchy
(probably being held up by the poncy Outlook team / Win32. Microsoft, same old divisional wars and politics)

Sharing and subtasks are done. The only thing major missing feature is Cortana integration.

Sub-tasks? I just installed the app for another look. No sign of them. Except for the ugly '* [ ] ...' nonsense. Seems to me the hold-up there is that the Outlook tasks data model does not support sub-tasks, and that being so, I would think there is little chance of making the monumental changes required to make that happen.

It's there - just below the task title - is Add Step.
These are for multistep tasks.

Give them another decade or so.

Wow. What is Microsoft doing? They waste their intellectual knowledge of Windows Media Center, Windows Phone, Zune, Microsoft Money, and so many others, while they invest in ToDo while they own and let languish Wunderlist and more importantly the Tasks features of Outlook which are or were integrated into the business productivity of Outlook. Very inefficient, I think.

ToDo already integrates with Tasks in an Outlook.com or Office 365 email mailboxes, so Tasks in general are much more accessible on multiple devices now. If you use Outlook on your PC, you see the same list of tasks.

Yeah, it's like they are about as willing to succeed as Trump is against Putin. There seems to be a disease in Microsoft, of taking stuff that works, and replacing it by crap. The original Windows 8 Mail app had features (eg Sweep, and the global Flagged virtual folder, and the ability to have per-contact virtual folders) which are still streets ahead of Windows 10 Mail because they chucked the original away and re-built from a lame app they bought in which couldn't even do a Ctrl+A to select all the emails in a folder. This was insanity. And the months went by as this 'flagship' app was being bailed out only slightly faster than it was sinking.

These are good additions to the feature set. I would like to see proper Cortana integration, though. Actually, I'd like Cortana to be as good as Google Now was a couple years ago and Outlook is now at things like tracking packages or flight schedules. That sure would be nice.

Is this a Whoop-De-Do moment, that it is possible to search for to-dos without the clutter of completed ones appearing in the results? Surely it is entirely obvious that completed ones should not appear. They don't appear in Wunderlist, on which To-Do is loosely based. This change is not a feature, it is a bug-fix. Development of To-Do has proceeded at absolutely glacial pace ever since it first appeared. Who knows, another 10 years and they may have re-introduced the sub-tasks that Wunderlist ALREADY HAD, and the Today and Week and All folders that are sorely missed by anyone who wants to take control and not be spoon-fed by the stupid light-bulb gimmick.

Combine MS To-Do, Cortana, Wunderlist and Outlook into one Tasks app. Right now, MS To-Do syncs with Outlook 365 Home and Outlook.com. Cortana syncs with Wunderlist. Outlook 365 Home syncs with Outlook.com. Why can't there be only one Tasks app that syncs with Cortana, Wunderlist, Outlook 365 Home, and Outlook.com? I was a Cheshire Insider when MS To-Do was being developed. I thought Wunderlist would be retired and MS To-Do perform the Tasks feature for all things Windows. But instead we have multiple reminders and multiple places to check. Microsoft, please merge all these Tasks apps into one!
Windows Central Newsletter
Thank you for signing up to Windows Central. You will receive a verification email shortly.
There was a problem. Please refresh the page and try again.