Microsoft Edge update for Windows 10 boosts performance and more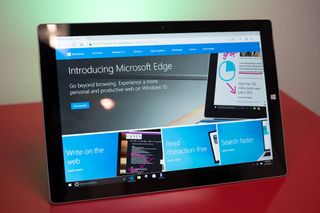 Microsoft launched its big November update for Windows 10 last week, and along with it came a new version of its Microsoft Edge web browser. The company says that includes an improved version of its EdgeHTML rendering engine.
Microsoft says the new EdgeHTML 13 engine, which has been available for Windows Insider members to test for the past few months, has added a number of improvements and features that have helped to increase its performance compared to the older EdgeHTML 12 engine. It states:
Microsoft adds that Chakra, the JavaScript engine in Microsoft Edge, also has a number of new features and improvements in this new version on Windows 10. It states:
Finally, the same version of EdgeHTML is now available on Microsoft Edge on Windows 10, Windows 10 Mobile and even on the Xbox One via the New Xbox One Experience update.
Source: Microsoft
Windows Central Newsletter
Get the best of Windows Central in your inbox, every day!
Now it just needs extensions to be great.

And the "ability" to not crash several times an hour...seems a little more stable though!

Legit has major stability problems. I can't be the only one experiencing these.

I upgraded my SP3 W10 RTM (non-Insider) to the Fall Update on Saturday, and Edge has now crashed twice on me today, after being stable before. Sigh. The Application event log has a rather generic mesage of: "The program MicrosoftEdge.exe version 11.0.10586.3 stopped interacting with Windows and was closed​." Nothing in the other event logs. I found a couple of forum threads suggesting creating a new user profile or reinstalling it, but... ugh.

I had major issues with Edge. I did a clean install using an ISO and then the new update and it runs great now.

I experience crashes occasionally, but not serveral times an hour.

And a REAL download manager

And being able to pin or create a shortcut of a URL (like ie) ;)

And not suffering a "playback error" a couple minutes into EVERY full screen YouTube video. And actually closing when you click the close button on the title bar, instead of having to kill it from task manager.

You still use the YouTube website?Try tubecast or mytube.

But YouTube should still work if I feel like using it. I don't want to install another app on my desktop to get the site to work.

Mytube really sucks nowadays.

I only experienced the failure to close problem and a couple of crashes while using it. The failure to close was the most annoying. Always happens when you're watching something private and someone comes in :P :(

Also they need to stabilize the mobile version.

Edge has been rock solid for me on 10581, 640XL. No crashing or freezing for me, so far at least.

Me too. No issues on my mobile browser. Just the desktop one.

I find that the mobile build for Edge is better on W10 mobile compared my desktop or laptop even though my 830 is much weaker hardware wise. My desktop has 12 GB of ram and Edge always wants to load everything (all the ads too) before allowing me to scroll. Same on my laptop, but the trackpad was made much worse on Edge and IE after the Win10 update. Oddly, the Opera browser now scrolls very smoothly with my laptop's trackpad. On Win7 IE scrolling was much smoother now, seems reversed as before Opera scrolling was laggy :P I tried playing with the scroll settings, but could not get satisfying results. Looking forward to see if Edge has smoother scrolling in the update.

The scrolling issue has been solved, my scrolling has been smooth like butter ever since the november update, and I am using a Surface 3.

And a system to manage your favourites. Firefox has this and its awesome. But it is already great that things sync across devices again

This by far one of the best browser made but there is a stiff competition from Firefox. In my view Firefox has three features over Edge; extensions to add ad block, new in private browsing that prevent even your service provider from tracking you and a nice transition when going to full screen for videos. However with Edges' Cortana integration, fast loading and the ability to annotate on the web makes it a greater experience when browsing. Please Microsoft bring extensions quick.:-)

It needs more than just extensions. Favorites management is still embarrassingly immature.

Someone tell me I'm not the only one that have to wait a lot between pressing add favorite, the page tittle to load and then save. Also the star doesn't always get colored.

My opera 33 got 520 out of 555

Is it urs? Plz make prize tikit lowr.

Yeah!!!! Better and better

What about mobile ????????????

Microsoft Edge team member here - Mobile (and Xbox!) are powered by the same engines. One or two features (ORTC comes to mind) don't yet work fully on those platforms, but in general the capabilities are the same. Go aheaad, navigate to www.flightarcade.com and try it out - in-browser, plugin-free flight simulator powered by WebGL, with gamepad support. Pretty cool!

Is the U2F (universal two factor - FIDO) support coming soon? Chrome has it, Firefox has it in the nightly builds.Without that feature, EDGE is pretty much useless to me.

Yes - we're a member of the FIDO Alliance and are working on an implementation of the FIDO 2.0 Web APIs, but it's important to note that the FIDO 2.0 standard hasn't yet reached draft status. That said, we're excited about this - our implementation will work with Windows Hello for a great passwordless experience on the web. https://dev.windows.com/en-us/microsoft-edge/platform/status/fido20webapis

Thanks for the info, really appreciate it. But since the standard hasn't reached the draft status yet, it's going to take at least a year before I can use my Yubico key with Edge, right? :/

The *true speed test* for any browser is attempting to load windowscental.com without an ad blocking extention.

Who would even do this? It's just straight-up self-abusive...

I do this everytime there's a new build. It's the only way to know how much a browser improves. The longer you can use WindowsCentral, the better it is.

Hi Microsoft Edge team member, is it difficult to allow us to choose download locations?

We added the "Save target as" option in Edge 25. Are you looking for the option to add a global setting for your downloads folder?

The "save target as" option never works for me on mobile. 10581 on L520,730.

Downloads start without a prompt - current behavior is similar to Chrome, I know, but sometimes downloads start by mistake and having a way of canceling them would be great (like in IE11). The download prompt should be like in IE11: Open/Save/Cancel? with the Save As option as a drop-down (or up, lol) for the Save button. Being able to change the saving location for each download (like in IE11), would be great too.

When will we get swipe to go back and forth? Really missing that in my phone and surface pro

On my Lumia 630 Edge costantly reloads webpages on every site that uses Disqus, till after 4-5 times it gives up and shows an error message. I saw that the phone automatically sends reports from the feedback app, are you aware of this issue?

Yup, any page with lots of pics always refreshes on mobile edge.

How about managing favorites on the favorites bar? Can't drag onto favorites bar. Can't rename items on favorites bar. Can't create folders on favorites bar. Can't do anything with favorites inside folders on favorites bar.

When are you going to add back in the ability to swipe to go back like on metro IE11 on Windows 10?

Tried that site on Windows Mobile 10 and if the purpose is to have a never-ending Loading bar than it works great.

Read the bottom bro. It's there.

Goodness, MS is on a roll! Soon those extensions will be next and goodbye Google Chrome forever

I've been using it and even though is better than the previous is not close to the stability that chrome and Firefox brings, I hate to not being able to ditch chrome yet. And its not only because of adblocker

I agree on that. Also the GUI performance is not yet up to competition. With the previous version every second site loading request would timeout with strange DNS queries in my Bind9 log. This is much better now, but not yet gone. On the Surface I am missing touch gestures...

Edge is new guys, let Microsoft some (little) more time :)

I remember an article here, "How to start Internet Explorer in the unlikely case you should really want to"... That was instantly after the release in July.

I agree with you, if too many tabs are open the whole browser randomly locks up for a few seconds when while scrolling or changing tabs. Ironically it seams to happen the most when I open several articles from this site, I think it has to do with the video ads automatically playing.

That's what I hate the most, that random freezing that in my case happens regardless of the site/content.

Edge destroys Chrome. Now fight...!

It just needs ad block. Unusable without it.

Microsoft could make its own ad blocker at least..

I kind of figure reading mode is a temporary workaround

Hmm, thanks for info. May try it once I come back to 10 again.

However, it blocks access to the windows store

Does not having AdBlock mean bigger data usage?

I don't think so, they works analyzing the JavaScript of the page, mainly.

For me, problem is that after loading so many ads it uses more resources and slows down. My machine isn't really up to date...

Just seems that when I use Edge on wifi hotspot my data usage seems higher?

Modify your hosts file. Essentially a global adblock without impacting performance.

Use a host fie m8 ... its better than ad block extension see this link for details http://winhelp2002.mvps.org/hosts.htm

Thanks for info, but I'm not using 10 anymore on PC, it's still not stable. Had major problems. Will try that when come back.

Microsoft is really making progress! Except for...you know... OneDrive... :(

1115 was a nice update, but Favorites Bar links were lost (I updated five laptops). Had to dig into the correct Links folder and open+save each (copy+paste did not work).

When copy-paste doesn't work, you can paste them to the Favorites folder (under the user folder), and then in Edge import favorites from IE.

Indeed, Edge feels much faster now. Good job! :) However, scrolling by clicking the middle mouse button is not fluid and the animation when recovering an Edge window after minimizing it is oddly jagged. This didn't happen before.

Still can't play a 4k video on youtube or 60fps, still can't manage to open a lot of pages. I'm losing hope here... I have to use IE and Chrome for a lot of pages

Long moved to Firefox, edge is still a baby browser it can't compare

Do you have experimental features enabled? That might give you a few more points

That's a bug in the HTML5Test that is misintrepreting support for Pointer Events in Edge.

I don't get the big deal with extensions...

Have you even used extensions before? Extensions are essentially one of the most important part of browsers these days.

will they ever update edge as standalone app, so we dont need to be insiders on PC to get newer version earlier. at this rate next official update to edge will come in summer 2016 with redstone (or whatever the new update is called )updtae .

Whatever Edge does, unless you close it -- battery life drains faster than earlier versions of Chrome. They should rename Edge to Chrome Installer ;-)

That doesn't mean anything to average Joe if it doesn't have extensions

Edge need 3 things and it will be Perfect:
1) remember start position/monitor
2) extensions support
3) better bookmarks UI/management

Is it my imagination or does Edge use a lot of data. How does viewing the same 10 web pages on IE, Chrome, Firefox and Edge compare?

Edge needs a working back button. So many sites redirect you, back needs to allow you select from a list.

Rather than write an article that just parrots Microsoft's PR why not test it and post the results?

Great. Does it still crashing on basically every site there is?

Just the added ability to scroll while the page loads has increased the usability of Edge ten-fold for me.

I don't care about test scores, I can about experience. So far, even compared to IE, it's not there yet.

Why do we still have to wait for OS builds for this ever green browser to update? I thought it was going to be different than IE.

I thought IE was never linked to the OS updates. I mean, you can download the latest IE from the website.

but you still had to wait years for an update. so it was usually linked to a new OS. especially with 10 and 11. Yes, updates for win10 are more frequent but I'd expect this browser to update at least as fast as Chrome/FF.

Just waiting for the add-ons or extensions, then bye bye all the other browsers

Will it still rev the fan on my surface pro 3 i7, with 1 website tab open, cause if that's the case, I'm still gonna use IE

SP4/i5 here. It shouldn't. My fan has only activated twice; installing the November update and playing Steam games.

Does it work properly on tablets now? Support swipes?

I'm also waiting for that, can't say I've seen any support for it yet

One of the main reasons I went back to W8 from 10

works perfectly for me... I just wish they had option to run full screen and hi-jack protection, or the ability to manage the settings outside of the browser itself

I have problems copying URLs from the URL bar with the mouse. Edge freezes for almost a minute most times I do this. Same for 10586 and previous version.

Being able to open new windows from taskbar would be welcome.

I'd just like to be able to download the 1511 Threshold 2 update!

An adblock is googles enemy in almost everything. Seems funny how google has allowed adblock to be the most used extension on chrome. Just waiting specially for adblock extension on edge and edge mobile. Then Microsoft edge and Firefox will be my most used browsers.

My biggest issue is stability, Edge just crashes for no reason.

Edge has huge stability issues after the update for alot of people from what i heard. When trying to switch tabs crashes every time for me. Also crashes by it self very often too and plenty of more, like losing favorites etc.

I'm only impressed once Edge has: Touch friendly back and forward swiping Pin websites to Start Extensions Change save location for downloads (Most of which IE already had on 8.1/8)

So far it seems faster but less stable. Only kidding it for couple days

I like that it no longer needs to refresh when I hover my cursor in Fiverr.

Edge browser is crap, just a gimmick with windows 10 launch, it freezes very often Posted via the Windows Central App for Android

Will it let you right click and save as... I think this is more of a poison than missing extensions

Waiting for add on support. Btw I noticed newer/different PDF viewer.

Definitely better, but it still has some bugs unfortunately. Some incorrect site rendering too.

Now they need to just fix it. Every browser except chrome still outperforms edge in rea world work. When it stops crashing randomly I'll be happy.

Will Google release official version of YouTube app for WP?

I've used Chrome for some time now and see no reason to use IE or Edge at all, the ad-blockers on Chrome are a God-send

And yet I experience random crashes, and that annoying, page is not responding click here to recover thing same as was in ie. Some websites still struggle with scrolling, reading list is not synced across, and pdf reader is just slow.

I have no problem with Edge at all. Perhaps my computer are more clean than others. I don't know. And I am a regular user of Edge. Allthough I have ONE huge complain about Edge. And that is that you don't get the Save Download As dialog when saving files. Yhe I know that you can right click a link and click on Save AS, but that is NOT the same thing. IE had a fantastic Save As dialog. And that is now missing in Edge. I've heard some where that this is going to be implemented in Edge to, but I think it takes to long time to fix. It should allready be there. Even if it comes as an seperat update or included in a big bundle of updates. I don't care. This should be soved now. And if you say that this has been fixed for some files. IT HAS NOT!!! If you click a link even on microsofts own web pages where you should get a download from. You will be redirected to an other page and the download starts and is saved to your default download folder. This is incorrect way to handle downloads. You as a user should be the one who decides where to save the files for each and every file that you download. Not any one else!