Microsoft finally reveals what was in the recent Lumia 550 and 650 firmware updates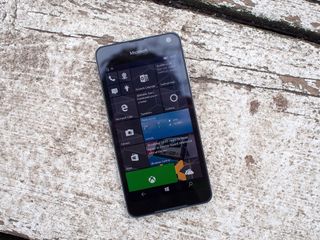 Microsoft has finally revealed just what was included in the recent firmware updates that were released for its Lumia 650 and Lumia 550 smartphones with Windows 10 Mobile.
While Microsoft issued the updates earlier this month for both phones, the only known feature was that "Double Tap to Wake" was enabled for the Lumia 650, but not on the Lumia 550. This week, the company updated its Lumia firmware history page (opens in new tab) (via Neowin) with more precise info, with the version number 01078.00042.16352.50xxx.
Support for double tap to wake enabled for Lumia 650.
Wi-Fi connectivity improvements, including fixes for Wi-Fi connection dropping randomly and Wi-Fi scan occasionally not returning any results.
Bluetooth connectivity improvements.
Stability and reliability improvements.
Camera improvements, including improved image and video quality, improved Auto-focus and fix for a problem that was causing slow motion capture to skip frames for some users.
Cellular connectivity improvements, including fix for a problem that caused occasional network loss for some users.
Audio quality improvements, including fix for a problem that caused voice call audio to get scrambled for some users.
The change log is nearly identical to the one posted for the Lumia 950 and Lumia 950 XL firmware updates that were released earlier this summer.
Windows Central Newsletter
Get the best of Windows Central in your inbox, every day!
Hope they will push a firmware update to enable VoLTE in India

I really hope too !! The phone definitely supports VoLTE. A really great tech.

That's need lot pf up votes In feed back app,i up vote 10 times with ten outlook ids,plz do it others,share to others,them may develop in next dev build if it reach max upvotes

how to update this firmware?

So the 650 can play slow mo video (like sent from a 950/XL), it just can't capture it.

Once a video file is saved (slo mo or normal), it doesn't really matter. It just depends on the FPS number. If the video is a slo mo one then it'll be played that way too.
L650 can't capture slo mo but can obviously play it. I've tried it like you said (sent from a L950XL). They got the changelog wrong there.

Someone forgot to proof read what they copy pasted! ooops! lol.


"Slow motion captures to skip..." WTF.
My L650 doesn't even have Slo-Mo capture !
They don't even post changelogs properly. Weird.

Wifi seems to be working fine now in mine lumia 550. Its been 5 days i don't have to reboot my phone. Previously i have to reboot phone in almost every 2 days.

That's a thing? I really abused my service provider about my Wi-Fi dropping. And then I'd reboot my phone and it was back. Sorry Comcast.

Will there ever be a firmware update for 640 series......the camera and Wi-Fi connectivity is really bad after windows 10 update.....

Same, I've been really bugged by these issues, too :/

After AU my L640XL runs like a s.it..Give us a firmware update

Everyone keep using the feedback cuz it seems we have common issues.

Mine works like a beast! Maybe a reset will help performance?

I hope will see double tap on 550 :(

Does anyone has the issue on Lumia 550 when GPS is turned on, the phone seems to be constantly cheking GPS, the sign for it is always visible next to the network and cellular icons... Im afraid if that hapens it drains the batery like mad...

Actually the 'find my phone' feature often uses your location data to keep track on your phone's location even when GPS is off. That could be the regular appearance of GPS sign.

I'm glad that they finally shared this, so the DttW discussion can finally be shut down for the Lumia 550.

Hy...does anybody else has the battery drainage issue on lumia 550 after previous anniversary updates..mine drains out at night to zero..I still didn't installed the latest updates...

Just for the record: Have a look at the store update log... It might be that those apps updating cause some of that.

Apps are not updating also i tried many times..

Em not receiving the update regarding double tap to wake up screen. Lumia 650

It will coming as an OTA release for the 650 in the coming days and weeks . Patiently waiting for this also.

i am galad to see they are updating some devices. If microsoft indeed does stop selling Lumia brand smart phones after December 2016. i want to know how long they will support and give updates to older Lumia devices. it couild be they will only update devices that can run windows 10 mobile.

Really lovin' the double tap -feature. The wifi seems to be more reliable now. Installed the firmware through WDRT since it is not yet available OTA in Finland.

Did they give this update to Indian users? If not any idea when we will get? Daily checking so many times but only disappointment.

Now how about a Redstone build for 650 that actually works?

I still cant get my 650 to be recognized by a windows 10 PC which is very weird so I can not do a WDRT. I have tried various usb cables, Any help pls

Try asking in the forums. I suggest you switch it to flash mode then connect to WDRT

Still no firmware update for me here in the philippines.. Lumia 550 :(

I'm in Canada and my 650 still hasn't got the update

Me either, I hope it arrives soon as my WiFi has been dropping connections all the time since the last software update

But i havent yet got any update on my 550 Posted via the Windows Central App for Android

Hi..do you also facing battery drainage issue on lumia 550 before updates?

The update don't work on my 550, it restarts and then tells me there was an error. That's sucks because the update filled up my phone memory and I can't delete that fle.

I can't find any update for my 650 firmware

I am facing battery drainage issue and apps are also not updating on my Lumia 550 can any body help i haven't installed the updates yet ..