Microsoft Flight Simulator looks incredible, even on three CRT monitors
Old school hardware meets modern gaming in a recent video showing off Microsoft Flight Simulator.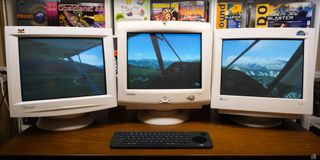 (Image credit: LGR)
What you need to know
A recent video shows Microsoft Flight Simulator on three CRT monitors.
The retro setup combines the nostalgia of Microsoft Flight Simulator with classic PC hardware.
The setup has a combined resolution of 3072x768.
Microsoft Flight Simulator is a stunning game that brings modern graphics and visuals to a classic line from Microsoft. In addition to being a beautiful game on its own, Microsoft Flight Simulator also comes with a healthy helping of nostalgia. The game is the return of a long-sleeping franchise from Microsoft and brings many people back to playing its predecessor with a joystick on a gigantic computer in the 90s. One gamer decided to take the nostalgia to another level by playing Microsoft Flight Simulator across three CRT monitors.
The video comes courtesy of the YouTube channel LGR, which focuses on retro gaming. LGR has a variety of videos that mash up old technology with new, such as running a floppy disk on a smartphone. In its recent video of Microsoft Flight Simulator, the game spans across monitors from Optiquest, COMPAQ, and Gateway. Those names should shoot you back into the days of Encarta and messaging your friends on AIM — or MSN Messenger if you're that person.
Despite being on such old hardware, the game actually looks alright, in a retro tech sort of way. The monitors don't even have the same aspect ratio but put together, the setup has a resolution of 3072x768, according to the video's description.
If you want a bit of an old school hardware feel with your Microsoft Flight Simulator setup, you don't have to use monitors from the 90s. You can grab a joystick or yoke. These provide a tactile and classic feel to the flight sim even though they're newer hardware.
The Legend Returns
(opens in new tab)
Microsoft Flight Simulator
Microsoft Flight Simulator 2020 has taken to the skies, promising a cloud-powered globe, with authenticity on an unmatched scale. It's out now exclusively on Windows PCs, offered in three flavors.
Pick Up A Stick
(opens in new tab)
Thrustmaster T-Flight HOTAS X
The best budget stick around

When you happen to be restricted by a small budget but want something better than a mouse and keyboard for Microsoft Flight Simulator, this is the perfect all-in-one solution.
Windows Central Newsletter
Get the best of Windows Central in your inbox, every day!
News Writer and apps editor
Sean Endicott brings nearly a decade of experience covering Microsoft and Windows news to Windows Central. He joined our team in 2017 as an app reviewer and now heads up our day-to-day news coverage. If you have a news tip or an app to review, hit him up at sean.endicott@futurenet.com (opens in new tab).
I follow LGR and have seen this video. He is into his retro PCs as well as odd and obsolete hardware and software.

Had to chuckle at the resolution to weight disparity with it being less than half the resolution of the 15" SB2's 3240x2160 I'm reading the article on while weighing probably 15x as much. My 2nd CRT, a black 21" IBM P275, already weighted in at 30kg which is 5/6th the combined weight of my now three HP Z32 4K Monitors. Boy do I NOT miss the old times 🧐 - 2/10 would not want to relive.

Oh yeah, I remember using 2 "giant" 21" 30+ lb (maybe 50+ lb) 1920x1440 CRT monitors back in the late 90s. I stuck with them until about 2008 or so, even after HD LCDs became standard, because I didn't want to give up the 1440 vertical and drop to 1080 or 1200. I think it was the Cinema display from Apple that finally ended that, which Dell and others quickly copied. That was the 30" 2560x1600 display. Better in every way. I still have one of those now as my secondary in portrait mode, with a larger 4k display as primary. What I really want is a good 35" - 40" 5k - 8k display, ideally at a 16x10 aspect ratio. That would tide me over for a few years at least. :-)

Ha, found the specs for the old ViewSonic p815. 60lbs, 20" deep, and 160W!! It says only 1800x1440, but on a CRT, unlike an LCD, you could push up the resolution at the expense of some refresh rate, hitting 1920x1440. It also definitely did NOT have a USB hub, so maybe there's something different about this model than the ones I had: https://www.cnet.com/products/viewsonic-p815-crt-monitor-21-series/

I still use my viewsonic 19 inch crt, and have 2 other 17 inch ones too. Huge, but they still work great. later
-1

Good for you. Your power company thanks you. 😜

This is more awkward than funny, obviously it can be done but nobody would use it for other reason than to show it works. We live in an age full of technology people don't appreciate, so they look to the past. I find it ridiculous.

Am I the only one who thinks that CRTs are easier to look at for long periods of time? Maybe that's just me, but the images always seemed fuzzier and softer, more pleasant to look at. Not that I use one on a daily basis, but every once in a while I'll break out my old CRT and have it set up with my main PC as a side monitor just for fun.