Microsoft Flight Simulator 2020: Everything you need to know
Take to the skies with Microsoft Flight Simulator, finally making its return on a massive scale.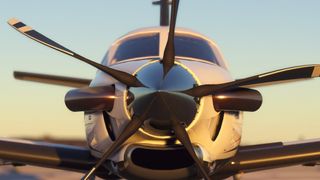 (Image credit: Microsoft)
Microsoft Flight Simulator has wrapped a lengthy absence with its ambitious next endeavor, and now the premier playground for virtual aviators. This cloud-powered entry maps every inch of the globe with striking accuracy while injecting real-world data to spring its backdrop to life. The result delivers unmatched scope and authenticity, with real potential to disrupt the simulation scene for years to come. It's a technical marvel — but more than just a pretty face.
Here's what you need to know about Microsoft Flight Simulator 2020, out now on PC.
Microsoft Flight Simulator release date
Microsoft unveiled the latest Flight Simulator iteration at E3 2019, coupled with a brief teaser spotlighting its cloud-powered virtual world. Xbox Game Studios and partner Asobo Studio later announced August 18 availability on PC. The game is out now on Windows devices, via the Microsoft Store and Steam.
The project also targets Xbox One consoles, likely extending to the next-generation Xbox Series X. However, Microsoft has been keen to stress that Flight Simulator 2020 is developed as a PC-first experience, with the console release to come "at a later date." While unconfirmed, sometime in 2021 appears increasingly likely. Expect additional news surrounding Flight Simulator for Xbox over the months ahead.
Microsoft Flight Simulator
The Legend Returns

Microsoft Flight Simulator 2020 has taken to the skies, promising a cloud-powered globe, with authenticity on an unmatched scale. It's out now exclusively on Windows PCs, offered in three flavors.
Latest Microsoft Flight Simulator 2020 news
Microsoft Flight Simulator 2020 is out now
Microsoft Flight Simulator is out now for Windows 10 PCs, available via the Microsoft Store and Steam across three tiered editions, starting from $60. The title is also included under the Xbox Game Pass PC subscription, which provides unlimited access to the full standard version.
The game hasn't launched trouble-free, with an extensive list of known bugs and launch issues acknowledged by Microsoft, and some restricting player access entirely. But its vision for virtual aviation is now a reality, serving up some of the most realistic backdrops to date through its cloud tech.
Microsoft Flight Simulator editions and preorders explained
Microsoft Flight Simulator offers three available versions, split across the base game, and two premium, higher-priced alternatives. While each provides the same foundations as previously advertised, its most costly editions come with additional bonus aircraft and handcrafted airports.
The base Microsoft Flight Simulator bundle ships a full globetrotting experience, with a list of 20 planes and 20 handcrafted airports, as of release. While providing the ability to land anywhere on the planet, the upgraded airports have received further love from the development team, updated through handmade assets and custom tweaks for a true-to-life reflection. This edition is available through a one-time $60 purchase, or through its Xbox Game Pass subscriptions.
We also see two premium editions, which, while the same moment-to-moment gameplay, pack supplementary content behind a costlier price tag. The $90 Deluxe Edition features five more aircraft and five more handcrafted airports, while the $120 Premium Deluxe Edition includes ten additional aircraft and hand-tweaked airports over the base game.
The Deluxe Edition grants access to the Diamond DA40-TDI, Diamond DV20, Beechcraft Baron G5, Cessna 152 Aerobat, and Cessna 172 Skyhawk. You'll also experience heightened detail when visiting Amsterdam Airport Schiphol, Cairo International Airport, Cape Town International Airport, O'Hare International Airport, and Adolfo Suarez Madrid-Barajas Airport.
The Premium Edition features the same bonuses, coupled with the Boeing 787-10 Dreamliner, Cirrus SR22, Pipistrel Virus SW 121, Cessna Citation Longitude, and Zlin Shock Ultra. Denver International Airport, Dubai International Airport, Frankfurt Airport, Heathrow Airport, and San Francisco International Airport also receive the upgrade. Those who purchase lower editions may also upgrade at a later date via the in-game marketplace.
The Legend Returns
Microsoft Flight Simulator
Prepare for take-off.

Microsoft Flight Simulator 2020 takes to the skies on August 18, promising a cloud-powered globe, with authenticity on an unmatched scale. It's headed exclusively to Windows 10 PCs, with preorders now live in three flavors.
What's new with Microsoft Flight Simulator 2020
Microsoft Flight Simulator falls among Redmond's classic franchises, even predating their now-fundamental products like Windows and Microsoft Office. The mainline series had sat dormant for over one decade, with its last full-fledged simulation, Microsoft Flight Simulator X, released back in 2006. Microsoft did experiment with a more accessible, free-to-play experience via the ill-fated Games for Windows Live, but it's been a long time waiting for Flight Simulator fans.
This return isn't a simple iteration. Instead, Bordeaux-based talent, Asobo Studio, reinvents its approach by reworking gameplay fundamentals around the company's cloud strengths. Its lifeline is a globe backed by Microsoft Azure, leveraging satellite data and artificial intelligence (AI) to portray unparalleled accuracy and fidelity across its locales. The title parses numerous datasets in real-time, creating an experience set to disrupt the simulation space.
The core of Microsoft Flight Simulator 2020 is its mapping data pulled from Bing Maps, enhanced with photogrammetry, converting 3D scans of the environment into the game world. Other applied sources include terrain data for landscaping, foliage density mapping billions of trees, real-time meteorological data, and air traffic updates. The team has also bundled 37,000 manually edited airports, with their own air and ground traffic. These allow Microsoft to recreate environments down to the individual tree — a feat impressive even to the casual onlooker.
That 1:1 global representation makes visual flight rules (VFR) a viable reality, allowing pilots to navigate the globe by-eye.
Where Microsoft Flight Simulator advances world fidelity, it also pushes improved weather. The in-game climate now influences all corners of the globe, helping depict accurate real-time conditions, with an impact on flight. While you can fine-tune the weather around preferences, it also provides the capability to fly according to live data.
Microsoft's partnership with weather data firm Meteoblue powers those weather models, leveraging its legacy in prediction and historical records. The temperature, wind speed, humidity, pressure, and other data all factor into the simulation, visualizing the climate, with corresponding aerodynamics. There's also the traditional day-night cycle, spotlighting new lighting systems to better represent cities after dark, and a seasonal rotation from blazing summers to heavy snow.
We've seen Microsoft keen to boast its new cloud systems, fully conveying shape, density, and fluffiness through 32 volumetric layers. That considers different cloud types, and once again, their aerodynamic influence.
There's also an accompanying aerodynamics system, considering air mass, airflow, and the impact of the surrounding terrain. The reworked systems fully account for the environment, with hills, trees, and buildings all filtering into backend physics.
The latest aircraft models also subdivide into thousands of surfaces, each affected by pressure, humidity, and speed. Real-time three-dimension calculations help the plane handle realistically, with Microsoft detailing examples of per-wind turbulence, or support for more advanced aerobatics.
These are just some of the systems that culminate in Microsoft Flight Simulator 2020, both an impressive technical showcase, and one of the most innovative entries in the genre for years.
Check out Microsoft Flight Simulator's latest trailer
The successor to its initial E3 2019 and X019 showcases, our latest Microsoft Flight Simulator trailer debuted in tandem with its PC launch. The three-minute montage spotlights the sheer diversity in its cloud-backed environments across Oceania, transitioning from forests, deserts, through oceans in various aircraft.
But that's far from our only footage, with a wealth of teasers and trailers hosted via the official Microsoft Flight Simulator YouTube channel. The videos show all aspects of the title, including its ongoing "Feature Discovery" series, a deep dive into the sandbox, and the scale of its new simulation.
Does Microsoft Flight Simulator 2020 have multiplayer?
While Microsoft has primarily focused its efforts toward authentic solo flight, multiplayer also plays a crucial role in its vision. Virtual pilots can join an online game populated with players from all backgrounds, or configure private sessions alongside friends.
The new Flight Simulator experience comes divided across several modes, with its "live players" setup representing the full realism you'd expect. Those lobbies recommend players to abide by all rules and regulations, with real-time live weather and air traffic reflected at all times. There's also the choice of more casual free flights, with precise control over conditions and flight variables.
Microsoft has also discussed various technologies to ensure multiplayer handles as expected, including smooth flight animations that eliminate any form of judder. The game servers automatically optimize to only show planes with 200 kilometers, limited to the 50 closest pilots.
Microsoft Flight Simulator 2020 system requirements
The sheer scale demands some impressive technology behind-the-scenes, but the Microsoft Flight Simulator PC system requirements aren't too dissimilar from your average release.
Microsoft provided an overview of minimum, recommended, and ideal, spanning entry-level hardware through to the latest flagship combinations. While low-spec PCs should be capable of streaming its hyper-realistic world, its "recommended" or "ideal" builds will best represent its visual fidelity. You also need to consider the bandwidth requirements to stream the world in real-time. The full Microsoft Flight Simulator 2020 requirements follow below.
Swipe to scroll horizontally
Header Cell - Column 0

Minimum Spec
Recommended Spec
Ideal Space
CPU
AMD Ryzen 3 1200
Intel i5-4460
Ryzen 5 1500X
Intel i5-8400
AMD Ryzen 7 Pro 2700X
Intel i7-9800X
GPU
Radeon RX 570
Nvidia GTX 700
Radeon RX 590
Nvidia GTX 970
Radeon VII
Nvidia RTX 2080
VRAM
2GB
4GB
8GB
RAM
8GB
16GB
32GB
Storage
150 GB
150 GB
150 GB (SSD)
Minimum OS version
Windows 10 Nov 2019 update (1909)
Windows 10 Nov 2019 update (1909)
Windows 10 Nov 2019 update (1909)
Internet requirement
5 Mbps
20 Mbps
50 Mbps
Will Microsoft Flight Simulator 2020 support VR?
The immersion granted by titles like Microsoft Flight Simulator understandably draws the inevitable question — what about virtual reality (VR) support? It's not available in the game as of release, but with demand from a subset of players, it's one of the first significant updates scheduled for late 2020.
With advancements in visual fidelity, even down various gauges or the cockpit leather grain, VR is a perfect pairing. Microsoft provided a brief behind-closed-doors preview to Windows Central ahead of release, showcasing pre-release footage pulled from a VR headset. It further cranks up the immersion, putting instruments just inches from your face, and a whole world only a head-turn away.
But VR first hits Microsoft Flight Simulator in a somewhat experimental form, initially locked down to Windows Mixed Reality headsets. While debuted with the HP Reverb G2 in mind, its debut implementation will support all devices compatible with Microsoft's VR platform. The title will open support to additional headsets, at a later date.
Does Microsoft Flight Simulator 2020 support modding?
Microsoft Flight Simulator support mods from release, bolstering its broader efforts to embrace community-created content. Third-party expansions have become the lifeline of many leading simulators, with Microsoft already pitching its 2020 title as a platform for future mods.
Head of Microsoft Flight Simulator, Jorg Neumann, previously discussed its integrated marketplace, and how it contributes to the project. The storefront provides one-click installations for various content, providing a seamless experience to franchise newcomers. "I'm coming more from games. It's kind of weird," Neumann tells Windows Central. "I need to go to a website and drag stuff into a folder, like odd. I'm not used to that anymore." However, the game also supports traditional modding, if you fancy tinkering with game files.
The Microsoft Flight Simulator software development kit (SDK) is already in the hands of hundreds of third-party companies according to the team, with many targeting the product's launch. That's a vastly different approach to past titles, where the SDK often releases alongside the game, and immediately delaying future mods.
Is Microsoft Flight Simulator coming to Xbox One, Xbox Series X?
Microsoft treats the latest Flight Simulator as a PC-first experience, tailored to its more faithful "simmers" that crave authenticity. Our last update on the Xbox console release simply stated its arrival "at a later date," tailing its PC debut.
The promised Xbox One version will condense its elaborate control scheme to the traditional gamepad, although likely to support a limited number of third-party peripherals. We expect Microsoft to ship the title on its next-generation Xbox Series X, although we're yet to hear official word on its future console plans. The company has also discussed how the Xbox version has impacted its PC timeline, touching on whether its a console version held back the project's scope.
"No. We are trying to have the best visuals on every single platform, and it's another layer of optimization," said Martial Bossard, lead software engineer at Asobo Studio. "By the way, the Xbox will help us to optimize the product, so it will also be a benefit for PC. There is nothing PC will lose from the Xbox. It's basically the opposite. We're doing the work to have a better experience on the Xbox family, then we will improve the PC version at the same time."
Expect additional details on Microsoft Flight Simulator for Xbox One and Xbox Series X, as new details on next-gen plans are unveiled.
Is Microsoft Flight Simulator in Xbox Game Pass?
Yes, Microsoft Flight Simulator is included with Xbox Game Pass, its Netflix-style subscription service for Xbox One and Windows 10 games. The title hit Xbox Game Pass to PC at launch, currently priced at $5 per month — with a $1 trial month for newcomers. While Microsoft Flight Simulator 2020 also shipped as a traditional buy-once title, its Xbox Game Pass debut requires the smallest upfront investment.
Prepare for take off
The new Microsoft Flight Simulator is out now on PC via the Microsoft Store and Steam and bundled within Xbox Game Pass too. What do you hope to see from Microsoft's latest next? Let us know down in the comments section.
Flight sim accessories
Into flight simulation games like Microsoft Flight Simulator, Ace Combat, Elite Dangerous, or Star Wars Squadrons? You'll want to check out these accessories.
Thrustmaster T-Flight HOTAS (Xbox, PC) ($80 at Amazon)
As one of the only flight sticks available for Xbox One, this is your best option for taking to the skies in style.
Thrustmaster 2960778 T.16000M (PC) ($160 at Amazon)
If you want to get more serious with your flight on PC, this is your best bet.
Get the Windows Central Newsletter
All the latest news, reviews, and guides for Windows and Xbox diehards.
Matt Brown was formerly a Windows Central's Senior Editor, Xbox & PC, at Future. Following over seven years of professional consumer technology and gaming coverage, he's focused on the world of Microsoft's gaming efforts. You can follow him on Twitter @mattjbrown.