Microsoft Flight Simulator 2020 system requirements: Can my PC run it?
By Matt Brown last updated
Get prepared for Microsoft Flight Simulator 2020 with our guide to PC and internet requirements.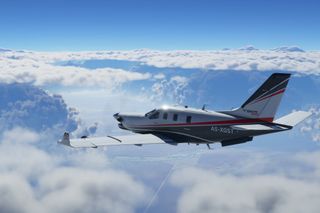 (Image credit: Microsoft)
Microsoft Flight Simulator has returned on a ground-breaking scale, leveraging real-world mapping data to construct a digital replica of the globe. The wild undertaking comes from Microsoft and partner Asobo Studio, with new real-time weather systems, improved aerodynamics, and other highly-detailed refinements, delivering its most authentic simulation yet.
Before diving into Microsoft Flight Simulator, here are the PC requirements, suggested internet speeds, and recommended hardware to get you airborne.
List of Microsoft Flight Simulator 2020 PC requirements
The concept of Microsoft's global cloud-powered simulator is overwhelming, let alone the demand on your PC to run it. With the ability to travel anywhere on the planet, it sounds like you'll need a top-end supercomputer — but it's not too different from your average PC game. With Microsoft Flight Simulator handing its backdrop to cloud, your PC only needs to stream map data in real-time, while displaying it on-screen.
Microsoft provides three suggested PC hardware tiers for Microsoft Flight Simulator, divided across the entry-level minimum, recommended, and ideal. While the expected performance from each tier varies, the "recommended" specification balances performance and visual fidelity, while "ideal" represents its world in its fullest in 4K.
Below follows the full Microsoft Flight Simulator 2020 system requirements, as provided by Microsoft.
Minimum Spec
Recommended Spec
Ideal Spec
CPU
AMD Ryzen 3 1200
Intel i5-4460
Ryzen 5 1500X
Intel i5-8400
AMD Ryzen 7 Pro 2700X
Intel i7-9800X
GPU
Radeon RX 570
Nvidia GTX 700
Radeon RX 590
Nvidia GTX 970
Radeon VII
Nvidia RTX 2080
VRAM
2GB
4GB
8GB
RAM
8GB
16GB
32GB
Storage
150 GB
150 GB
150 GB (SSD)
Minimum OS version
Windows 10 Nov 2019 update (1909)
Windows 10 Nov 2019 update (1909)
Windows 10 Nov 2019 update (1909)
If Microsoft makes any minor refinements to its recommended hardware for Microsoft Flight Simulator 2020, we'll also update this table of requirements. But if your PC meets those demands, it's now live via the Microsoft Store and Steam.
(opens in new tab)
Microsoft Flight Simulator
The Legend Returns

Microsoft Flight Simulator 2020 has taken to the skies, promising a cloud-powered globe, with authenticity on an unmatched scale. It's out now exclusively on Windows PCs, offered in three flavors.
Microsoft Flight Simulator 2020 internet speed requirements
Microsoft Flight Simulator 2020 also features firm internet speed requirements, with streaming essential to delivering the virtual world. The studio has previously discussed the two petabytes of mapping data that feeds its simulation — far from feasible when over 2000 times the size of a 1TB hard drive. The game instead streams the world detail from Microsoft's cloud data centers, requiring a stable internet connection.
Microsoft Flight Simulator's internet bandwidth requirements have also been outlined, broken into the same minimum, recommended, and ideal tiers, akin to PC specifications. To compare your internet speed with Microsoft's suggestions, find your download speed via an online speed test.
| Specification | Minimum | Recommended | Ideal |
| --- | --- | --- | --- |
| Internet requirement | 5 Mbps | 20 Mbps | 50 Mbps |
The bandwidth requirements for Microsoft Flight Simulator aren't crazy, provided you're fine to stream some HD videos or experience online gaming. The best-available "ideal" assets equate to your average 4K video stream, meaning the faster your connection, the better the result.
While Microsoft Flight Simulator embraces streaming, it's likely not fully mandated. The game does provide the ability to pre-load certain areas of the world for those with slow connections or without an internet connection entirely.
Microsoft Flight Simulator 2020 PC requirements for VR headsets
Microsoft Flight Simulator will support virtual reality (VR) headsets with a forthcoming free update, scheduled for later in 2020. VR support straps its expansive world and highly detailed cockpits just inches from your face, complementing its drive for airborne authenticity. The initial implementation will arrive in a somewhat experimental form, coupled with strict limitations.
The first VR iteration launches through Windows Mixed Reality, exclusive to headsets tied up in the Microsoft-owned ecosystem. While the studio previously stated VR would launch exclusively on the HP Reverb G2, an upcoming headset designed in collaboration with Microsoft and Valve, plans have changed.
The debut version will now serve all Windows Mixed Reality headsets released since the platform's launch in 2017. The move ensures a smaller variety in headsets during early tests, with plans to support additional headsets, at a later date. However, the scarcity of these headsets causes issues, with most manufacturers having abandoned their hardware, pushing prices higher than ever.
We're also unsure how PC requirements differ when factoring in VR, given the additional resources often required. Expect more details over the months ahead, once testing commences.
Will my PC run Microsoft Flight Simulator 2020?
Microsoft Flight Simulator 2020 sets the bar for virtual aviation, but with high requirements, you might be thinking — can I run it? Using Microsoft's suggested hardware, it's relatively simple to cross-reference your existing setup with the recommendations.
The best way to compare your existing PC with Microsoft's specifications sheet is the DirectX Diagnostic Tool, which provides additional insight into your video and sound hardware. Running this integrated Windows tool will break down your components, providing an immediate point of reference. Here's how to pull your PC specifications, through the DirectX Diagnostic Tool.
Press the Windows key on your PC.
Type dxdiag.
Click dxdiag from the list of results. Windows will present your PC specifications.
Navigate to the System tab for details on your CPU, RAM, and Windows version.
Navigate to Display tab for details on your GPU and VRAM.
These tabs will detail the exact specifications for your device, for comparison with the requirements outlined above.
Best CPUs for Microsoft Flight Simulator 2020
With the latest Microsoft Flight Simulator rendition marking a sizeable visual leap, there's no better time to ensure your PC hits the mark. The game will support an extensive spectrum of hardware, providing equally varied results. We've rounded up the best CPUs across various price points, in accordance with Microsoft's own pre-release recommendations.
Best Budget CPU: AMD Ryzen 3 3100
For an entry-level CPU balancing affordability and performance, the AMD Ryzen 3 3100 hits that sweet spot. That includes the latest Zen 2 microarchitecture and the efficiency of its 7nm process. You can expect four cores and eight threads, delivering speeds from 3.6GHz, boosting up to 3.9GHz, with a TDP of 65W. While pairing with a B550 or X570 motherboard enables PCIe 4.0 and Wi-Fi 6, B450 and X470 offerings also suffice.
While the 3100 won't push Microsoft Flight Simulator to the extreme, you're still falling comfortably above the demanded specifications. If you're not the type to examine the seat leather grain or admire individual trees, you'll have a smooth flight with this CPU onboard.
(opens in new tab)
Best Budget CPU

If taking to the skies on a budget, the latest entry-level offerings from AMD still ensure reliable performance. It's your affordable ticket to get sky-high, if you're happy playing on lower settings.
(opens in new tab)
Best Balanced CPU

When pursuing the full Microsoft Flight Simulator experience without going truly overkill, the i5-9600K ensures detail and steady framerates across the board.
Best Performance CPU: AMD Ryzen 9 3900X
Positioned for the forefront of bleeding-edge games and applications, the AMD Ryzen 9 3900X prioritizes horsepower. It's built on the latest Zen 2 microarchitecture and 7nm process from the U.S. firm, representing its most advanced silicon, thanks to the Ryzen 9 badge.
The 3900X sports a crazy 12 cores and 24 threads, a base clock of 3.8GHz, boost up to 4.6GHz, clocking in at a 105W TDP. You're also looking at an unlocked CPU here, with additional leeway to overclock. It works with B450, B550, X470, and X570 motherboards, although the newer B550 or X570 comes with PCIe 4.0 and Wi-Fi 6 support.
Ushered into the Ryzen 9 lineup, this powerful processor proves it's there for a reason. When coupled with an equally capable high-end GPU, expect to push the latest blockbusters to the max. For Microsoft Flight Simulator, you're far exceeding requirements and guaranteed to show every kilometer in its full glory.
(opens in new tab)
Best Performance CPU

While overkill for the average PC gamer, it's an ideal match for the not-so-average pilot in Microsoft Flight Simulator 2020. This CPU will ensure high settings when coupled to a leading GPU.
Best GPUs for Microsoft Flight Simulator 2020
Microsoft Flight Simulator's expansive, detail-rich environments reward capable GPUs. We've also pulled together our top recommendations for best graphics card, once again targeting various price tiers, in-line with suggested specifications.
Best Budget: AMD Radeon RX 570
It's not mandatory to spend hundreds on a capable GPU, with the entry-level of AMD's RX lineup prime evidence. The 4GB variant of the RX 570 meets minimum requirements for Microsoft Flight Simulator 2020, provided you're sticking to HD gaming and lower graphical settings.
The XFX-branded 4GB card comes with its twin-fan cooler, lined with connections for three DisplayPort connections, one HDMI, and one DVI. That's more than satisfactory lightweight gaming, productivity, and browsing, with room for multi-monitor setups. This affordable card provides one of the best ways to get started with Microsoft's next title if you're watching your spending.
(opens in new tab)
Despite countless entry-level GPUs to choose from, the Radeon RX 570 stays price-conscious but flight-ready.
Best Balanced: NVIDIA GeForce RTX 2060 Super
The NVIDIA GeForce RTX 2060 Super leads the mid-range from team green, ideal for 1080p or pushing into the 1440p range. This upgraded version of the RTX 2060 pushes closer to the RTX 2070, with 8GB memory, a boost clock at 1,815MHz, and higher memory bandwidth of 448GB/s. You'll also receive dedicated hardware built to support ray tracing and DLSS 2.0 technologies, as a standard for the RTX family.
For a winning spin on the RTX 2060 Super, the Gigabyte Gaming OC variant tops our list. That means a slick cooling setup bolstered by three fans, with three HDMI and one DisplayPort to hook up your monitors. There's also a dash of RGB lighting, if your style.
(opens in new tab)
NVIDIA RTX 2060 Super Founders Edition
The RTX 2060 Super fulfills its duties at 1080p or 1440p, as our recommended mid-tier GPU for Flight Simulator.
Best Performance: NVIDIA GeForce RTX 2080 Super
Venturing into the GPU elites, the NVIDIA GeForce RTX 2080 Super delivers 4K-ready graphics power, providing an unmatched performance boost for the price.
While the 2080 Ti bests this card when pursuing the absolute best 4K visuals, the several hundred dollar premium is hard to justify. The Super carves out that bridge between, ensuring a top-tier Microsoft Flight Simulator setup at a relatively palatable price.
The 8GB RTX 2080 Super falls comfortably above those ideal specifications and like won't be overkill for high-resolution outputs. While it's not a cheap investment, you'll reap the rewards on the daily. You also get 48 dedicated ray-tracing cores and AI-enabled upgrades from DLSS 2.0, among the best RTX-branded cards to buy. We recommend the EVGA GeForce RTX 2080 Super XC Ultra, down to its balance of cooling and design.
Matt Brown is Windows Central's Senior Games Editor, Xbox & PC, at Future. Following over seven years of professional consumer technology and gaming coverage, he's focused on the world of Microsoft's gaming efforts. You can follow him on Twitter @mattjbrown.
And as always, you're gonna want more headroom in the hardware after the third party mods start coming out

I hope we'll be able to put down detailed buildings. Im planning to do this for my small hometown.

"improved aerodynamics", that is understating it . They've started from scratch on aerodynamics. Previous versions of MFS had 1 point of reference that interacted with the environment--essentially the plane was just treated like 1 big wing. With MFS2020 I believe they are going to be more than 3,000 (more than 2k for sure but I forget the number) points than can interact with the environment. Every wing angle, fin, flap etc on the plane. You can catch a small updraft that may only hit the tip of one wing or perhaps the entirety of one wing or just the tail etc.

If anyone is going to buying or upgrading their PC the I seriously advise to wait. Zen 3 is due and the NextGen GPUs are also due both sometime in the next two-three months. It's these GPUs that's going to shape the future of graphics. From all rumours and based on Series X and PS 5 are going to be absolute monsters when it comes to performance. To put it into perspective we're looking at 25-50% improvement over previous RTX and Radeon offerings.

When ideal GPU specs is an RTX 2080, you know this is serious lol!
My wallet is sweating already, all these goodies coming out towards the end of the year - next gen consoles (Series X first, PS5 maybe depending on how Sony manages PS4 compatibility), new processors and GPUs, games etc. Oh well, what's life without some fun right? Haha!

Aye, there's always going to be something better to buy down the line. Except in this instance it's one of the few times I actually will advise people not to buy anything until end of the year at the earliest because the generation leap that RDNA 2 and Ampere that they are bringing is tremendous, and that happens rarely in this industry not just the shift to Ray Tracing but the general improvements to the DX 12 u. Zen 3 won't be as big a leap but it has the potential to eliminate the last bottlenecks and finally remove any competition from Intel in IPC (aka gaming).

I agree with you, I'm also waiting for AMD Ray tracing GPU which maybe compete the current NVIDIA RTX GPUs.

My pc looks fine for this gime looking forward to giving it a try. I wonder if Microsoft will push the game and also how many will grab game pass for it. Its mad how many people buy this game.

Uh, for $515 you can buy a RTX 2070 Super, which is nearly a RTX 2080 in performance, far beyond even the 2060 Super (which can be had for $385.)
I know, I just bought one last week from Newegg for $499 (and got a free copy of Death Stranding PC) and it's an overclocked version from ASUS. BUT, if you want an RTX GPU, check that your Power Supply can handle it. For a 2070 Super the minimum is a 500W PS. A 650W or higher is recommended depending on how hot your CPU runs and how much memory and other power-hungry components you have installed.

Or they could have also selected a RX 5700 XT which is faster than a RTX 2060 Super for around the same price The prices are all over the place currently. the Ryzen 3 3100 is a good budget CPU but the price listed for that is WAY to close to the i5 9600k and is still more expensive than a Ryzen 3600

dxdiag is not working...1?

I'm wondering how my Acer E5-575G laptop will work with MS Flight Sim 2020. Here are the specs. Would someone with more tech knowledge than me please compare this with the known MS Sim specs. - Internet download speed: 85 Mbps - Windows 10 Home 64-bit
- Processor: Intel(R) Core(TM) i5-7200U CPU @ 2.50GHz (4 CPUs), ~2.7GHz
- Memory: 8192MB RAM
- 1TB SDD (about 1/2 not used) - Display card: Intel HD Graphics 620
- Device Type: Full Device (POST)
- Display Memory: 4158 MB
- Dedicated Memory: 128 MB
- Shared Memory: 4030 MB - Display card: NVIDIA GeForce 940MX
- Device Type: Render-Only Device
- Display Memory: 6040 MB
- Dedicated Memory: 2010 MB
- Shared Memory: 4030 MB

I would say you can run it with the lowest settings. That's a pretty old laptop.

Agreed. 7th gen i5 says it all, and a #40 GPU is sure to struggle. Reports from beta users are saying even the 2080 gets pushed hard by this title.

You might with severe frame drops running at 960x540p resolution with the graphical settings set at the lowest.

MS needs to stick a test app in the store like they had for 3D VR. You ran it and it walked through your system and told you at what level it would work, and what was holding it back. Don't recall what it was called, but it was a small download. Can't expect the average person to dig through specs and do a tech comparison.
Windows Central Newsletter
Get the best of Windows Central in in your inbox, every day!
Thank you for signing up to Windows Central. You will receive a verification email shortly.
There was a problem. Please refresh the page and try again.