Microsoft Flight Simulator 2020 is getting VR support — but first locked to one VR headset
Microsoft Flight Simulator picks up VR support later this year, but first limited to HP's upcoming Reverb G2 headset.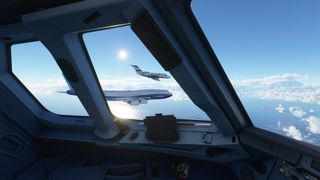 (Image credit: Microsoft)
Microsoft Flight Simulator claims uncompromised authenticity, inspiring through its replica of planet Earth, to a previously-unseen degree. You'll be able to visit every kilometer of the globe — including your home — thanks to its cloud-powered fusion of satellite data and artificial intelligence. That enables unmatched realism, naturally leaving players clamoring for the bonus of virtual reality support.
Microsoft has now confirmed VR support for Microsoft Flight Simulator, enabling players to strap the virtual skies to their faces on PC. The details remain limited, with development still underway, but promises an extra immersive layer for those journeys. Microsoft provided a brief behind-closed-doors preview, showcasing pre-release footage pulled from a VR headset.
Microsoft Flight Simulator will enable VR later in 2020, through a free update for all. But that arrival comes in a somewhat experimental form, tied down to the HP Reverb G2 for the initial implementation. The Windows Mixed Reality headset saw its unveiling earlier this year, developed in collaboration with Microsoft and Valve, on track to release this fall. The title will open support to additional headsets, at a later date.
Microsoft Flight Simulator will also support TrackIR, a third-party head-tracking device from NaturalPoint, from launch. The tool provides an immersive alternative to VR, reflecting your head movements on-screen through the in-game camera.
While Microsoft previously expressing interest in VR support for Flight Simulator, the announcement brings additional clarity around those release plans. The support comes as a part of a broader post-launch roadmap, exploring free feature updates and paid PLC.
The introduction of VR means yet another immersive trick for an already ambitious title. Microsoft has already impressed with its cutting-edge world and highly-detailed cockpits, likely shining when up-close in the headset. While the Reverb G2 exclusivity will restrict early VR users, future updates will welcome more setups with time.
Microsoft Flight Simulator targets an August 18 release (sans VR support) exclusively on PC via the integrated Windows 10 store and Steam. While Microsoft promises that its Xbox console version remains in development, we're yet to receive an estimated launch window.
The Legend Returns
(opens in new tab)
Microsoft Flight Simulator
Prepare for take-off.

Microsoft Flight Simulator takes to the skies on Aug. 18, promising a cloud-powered globe, with authenticity on an unmatched scale. It's headed exclusively to Windows PCs, with preorders now live in three flavors.
Matt Brown is Windows Central's Senior Editor, Xbox & PC, at Future. Following over seven years of professional consumer technology and gaming coverage, he's focused on the world of Microsoft's gaming efforts. You can follow him on Twitter @mattjbrown.
That's very welcome news. I look forward to support for other headsets on the future.

This is actually a great thing. It means FS will have WMR support eventually. But also that they will showcase the best headset out there.

So it's a timed exclusive on a headset barely anyone owns? Interesting.

To be fair with this, instead of criticizing Microsoft for things that everyone else does in the industry (should I make a list? it would be long), it's obviously a way to promote and both showcase a headset that it's especially well suited to this kind of game because of its resolution. So I think it's both natural and fair in any way you see it.

I wouldn't say that so soon. Lots of people have pre-ordered the G2 and it will fulfill the huge gap between rift s and index users. I don't doubt that most flight simmers will be buying this kit as well.

The headset limitation is bizarre, especially since they'd be aiming for the top level of the VR headset market and not the easier-to-run stuff. Seriously, this isn't a game that interests me. However, I will absolutely buy it when it supports my ODyssey+, just to support Microsoft's releasing content for the WMR platform. Hopefully they do it more often, if people show support. I'd really like it in the next Forza.

This may partly have to do with the fact that currently there's no universal VR headset device framework (ie the devs write some code that talks to a generic device, and then there's a layer in the middle that translates it to whatever specific headset is plugged in, like might happen with a GPU if you use Vulkan or something). So devs have to put in work to actually support specific headsets, instead of being able to say "it just works." Last month Valve announced initial support for a new API to do this, with support from a ton of manufacturers. So once that catches on headset specific games should be much less common.

Wow, none of that is even remotely true. Have you not heard of a company called VALVE. Ya know, the people that literally invented modern VR in-house over 10 years ago, whom also created openxr and openvr, the universal framework that EVERY platform involved with PCVR uses natively since day one (2016)? Oculus (facebook), WMR, HTC, Valve, Pimax, XTAL, and Varjo. All the hardware manufactures there are, are all using openxr/openvr. You really should google something at least before you comment.

Haha your funny. Google OpenXR(or bing it) and the comeback to revise your comment.
Windows Central Newsletter
Thank you for signing up to Windows Central. You will receive a verification email shortly.
There was a problem. Please refresh the page and try again.