Microsoft Flow now available for Windows 10 Mobile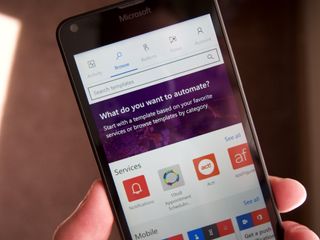 Months after its initial release for other mobile platforms, Microsoft's workflow automation service Flow is now available (opens in new tab) for Windows 10 Mobile. Curiously, while Microsoft had initially announced Flow for Windows 10 Mobile would launch as a closed beta earlier this month, the app is now available for everyone to download and try out at the Windows Store (via WindowsBlogItalia).
Flow works much like IFTTT (If This Then That), working with a large number of service to automate interactions between them. Currently, Flow supports more than 100 services (opens in new tab), including the likes of Slack, Todoist, OneDrive and more. Here's a quick rundown of the app's features on Windows 10 Mobile:
Create new flows when you need them - from anywhere!
Trigger flows to run at the tap of a button
Manage your flows from anywhere
Monitor flow success
Review detailed run history reports
View and filter runs by notification type
In addition, the app's Store page promises that Team flows and button sharing will be coming to Windows 10 Mobile soon.
While the app is open to anyone, do be aware that there are some hardware restrictions. In particular, the app specifies that you must be running a Windows 10 Mobile device with at least 2GB of RAM. Unsurprisingly, the app is not available for Windows Phone 8.1 devices either. If your interest is piqued, you can grab Flow from the Windows Store and give it a shot now.
Download Microsoft Flow from the Windows Store (opens in new tab)
Windows Central Newsletter
Get the best of Windows Central in your inbox, every day!
Dan Thorp-Lancaster is the former Editor-in-Chief of Windows Central. He began working with Windows Central, Android Central, and iMore as a news writer in 2014 and is obsessed with tech of all sorts. You can follow Dan on Twitter @DthorpL and Instagram @heyitsdtl.
Nadella forgot to tell that team to stop developing for Windows Mobile. Just got an alert that Yammer's new edit feature is coming to the ios and android apps soon, no mention of Windows Mobile.

Question, why do you even care if Windows Mobile is not going to be developed? What has it ever done to you? Is it preventing you from being happy?

I was heavly invested in WM with Windows phones at home at work. Purchased many apps, loved the devices. The platform was growing, I remember hearing it was the fastest growing at one point and at 10% in some countries and beating ios in others. Anyway, it's been killed right when it was on the verge of success. Now I'm having to switch to android at home just to have basic apps like amazon, ebay, etc. At work, we're in the same boat having to switch many users over to android. I used to be a major fan and still am but with no apps and almost no devices to choose from, it's just not an option anymore.

Oh Summer Moon! It's just you have a life and don't need to live through a phone OS. Don't you know it's the phone that controls you, not you that control your life?

What are you talking about? It's a mobile ENTHUSIAST website.. This is the perfect place to express your concern for your enthusiasm about mobile, no matter how petty it may sound to people like you who are not fans of mobile... Damn, the dude has a point, a valid point, and you're acting like this is some MASPE (Mother's Against Smartphone Enthusiasm) site. 😂😂😂.... Leave the man alone. If anything he's helping.

Really, geeks can not be funny no matter how hard they try.

Mainly wanted this for the push notifications you can trigger as part of a flow - Since it's UWP I'm hoping it comes to PC too for that reason. Not so much interested in authoring Flows from a phone/app (although you never know)

Well, I would suggest sending them feedback but the sign in and register links on the Flow pages just take you in a circle. Looks like MS is as interested in this service and your opinions as they ever have been. I would have suggested a link in to IFTTT triggers to avoid the otherwise certain 'app gap' which is already excluding every suitable device I have as they already use IFTTT. This strategy never worked for phones so not much chance here. But I can't even let them know, so I've already mentally junked this Flow. If it ever gets compatibility with our real world devices, or IFTTT events which would be the sensible option, then I'm very interested. Thing is, does that sound like an MS service to you? No, me neither.

Devices are not "real world". Devices and the apps that run on them are there to distract you from the "real world". Why you say? Because you have to work so much you have little time to watch TV.

I'm not too bothered with an empirical reality I'll never experience, if it even exists. I'll stick with my own reality, thanks, because I decide what form that will take. You expect something different from a Windows Phone user? Of course not.

It's not very descriptive TBH

Quite easy: Automate stuff... If a new video on a youtube-channel is uploaded, create a new post on your twitter account, write an predefined email to a friend and notify myself too while creating a wordpress article. All without you doing anything. And all of that is defineable by you with a condition based approach. Or if you like it more manual: Do it with a button. Just define whatever you want to do (lets say 10 things after eachother) and activate it with only one button.

I understand the concept of "if this happens, then do this," but I couldn't think of any situations where this would be helpful. Thank you for providing some actual examples of how this could be applied. I still can't think of any situations in my life where I regularly need one or more tasks automated based on a specific trigger event.

When you get home, turn on your smart lights (e.g., Phillips Hue or similar bulbs).

Dude, have you heard of a search engine?

Hang on, one complex idea at a time. Explain flow, and then we can come back to this "search engine" thing.

Like how Microsoft describes all the features it offers by continuously using the name of the app

Why develop for a platform that will be killed off in less than a year? Nutella doing me head in. cba with anymore apps from Microscrew

Basically. W10 Mobile is the new Symbian/BB10/WebOS.

Maybe because W10M is still very much supported and actively developed. We just got the first RS3 via Imsider build after all.

Maybe because they want to? Seriously, what is wrong with you that it bothers you so much that they published an app for Windows Mobile?

Because it contradicts that WM is dead babble

Ok.. Is my English that bad? =D I was essentially saying it bothers the "WM is dead" crowd because it doesn't support THEIR narrative.

I got it, not sure who down voted you

Who said it will be killed off in a year?

Nobody... They are trolling or just bitter because they want a definitive answer which nobody has.

Nutella is spreading our options thin

hahaha I see what you did there... and now I'm hungry, so thanks for that lol

Tried it, very buggy and laggy. Gonna wait it out

Manually adding text is a chore. Basic notification output text is so hard to input. You cannot choose and edit text. You need to use the little keyboard-cursor thing to jog to the word you want to edit.
It needs a lot of improvement. Don't believe this app actually went through any quality control, if there is one.

I believe it's an iOS port...

too late. my L950 is in the drawer

That's a waste. I'm still enjoying mine.

Can I have it? Seeing as you're not using it and all

Yeah Summer Moon, you know since it's"in a drawer" it could fit nicely in my pocket. They wouldn't have to worry about it so much because it must really rack their brain. "Oh that buggy Microsoft Lumia in my drawer" send it care of me.

What are you even saying dude?

So it's basically usable on four phones: 950/XL, HP X3 and Alcatel Idol.

Are you talking about four phones total or four different kinds of phones? Or is there any real difference.

Runs fine on my Lumia 650, so the 2GB is not the most accurate requirement 😉😁

Random, everything runs good on good on the Lumia 650.

It works on all W10M phones actually.

Nope... Many more... Just an app... Does not need rs2. And just to mention it: That is the same amount like iphone apps are useable on. If you are trolling: Do that somewhere else...

No Careem and 3rdclass UBER app not using w10m again

And the connection to this article is? Troll somewhere else...

Nice idea, but this new service doesn't seem to include many devices. Everything I own that uses features like this has IFTTT embedded, nothing for Flow. Feels like a great service that is lacking in 'apps'. We've been there before I'm afraid. Is there any way to link this service in with a feed from IFTTT so it'll actually work with our stuff? So, an IFTTT event can trigger a Flow event maybe?

Lol ms forgot Windows Phone is in ICU and can't take much time with the overdose they keeping injecting..

Intensive Care Unit. I'm guessing leo was trying to be funny, but it really did not work out in his favor

Geeks just don't know how to be funny. They also whine a lot.

Geeks also repeat themselves.

I don't think ms forgot anything, I think they did exactly what they meant to do - publish an app. Maybe you need to get a life?

I love Windows Phone, I just hates the way ms treat it.. Microsoft they have unique mobile os, very different from other mobile os.. It's just so crazy the way they push it out.. I have Lumia 535, Lumia 950xl and I have galaxy s7 and soon I will have s8 ms edition as a gift.. But I love my w10m 950xl is my daily drive..

A life? You mean like without an app, Summer Moon? How it that possible?

Hmm, the question is, is it a true UWP app, or is it an iOS port? Won't be surprised if it was a port as for MS it's Android & iOS first now.

I seriously doubt Microsoft would port a 1st party app with a different design language on their own platform. At least, they never did that so far.

It actually does feel ported. I bet they ported it to test their bridge technology and help Facebook optimize their apps with their experience optimizing theirs.

It runs on any W10M, not just those with 2 GB ram. It just recommends 2 GB in Store. You also can't leave reviews if your devices doesn't have at least 2 GB ram.

Why do people who have no interest in Microsoft or Windows 10 keep writing negative responses in this forum? I joined Windows Central to get interesting info and updates on Windows Insider program which I'm enrolled in...and assumed others were as well. Are people simply jealous of any positive news about Microsoft and hate anyone that my feel differently? My computers and phone running Windows 10 are wonderful compared to many of the meaningless comments and bickering (pick any article) enveloping a headline that expresses optimism. I've been using computers for years and truly appreciate what they are capable of, and becoming. Creating enemy camps as a form of competition seems rather useless and meaningless. I am grateful for the few passionate people in these forums who share technical info and experience that is actually useful and forwarding. I'll be using Microsoft Flow on my 950XL. Thank you Dan, for the update.

Glad you are enjoying your W10m, I love my 950xl too, there just seems to be a few trolls about...

Yes. I wonder the same thing and can only guess that these are the same people who need to go outside a play Frisbee for a bit. I'm guessing many of them get onto to these forums, complain about MS and praise iOS and Android, only to then get onto those forums, complain about the platforms they represent and praise all of the many things MS is doing right. I can think of a few regulars even as I write this...

Ha, I think we should take up a collection and send them all to Chicago for a holiday weekend.

Chicago is really nice. That would be a great gesture! I want to go to the aquarium there. I am sure there are great places to play Pokemon Go in that area.

HaloDust, when you still live in your mom's basement you need to find a way to pay for weed. Man can't live off mom alone you know.

You acting like a B I T C H right now.

when it is available in android ?

Haven't you heard, Android is dead.

It doesn't work. I tried the following:
If a user on WC posts a W10m is dead comment, Then give them a slap across the face.

Excited about this app. Played a little so far and I can see the benefits and where it can go. Awesome!
I'm sure it will get even better as it is improved and updated. Thanks for the heads app ;)

Would love to see it on desktop, but sure this will happen as it's a UWP.

It is available on a Windows 10 Redstone Desktop

I had to run through a lot of hoops just to download this onto my phone. It did NOT show up in the Store. Don't get that at all. So I went to use your link, send the page to my Outlook.com email so that I could get it on my phone. WOW.

not available for download through windows store on L950

Anybody actually using this IFTT or others for a particular task? It seems like they're exploding in popularity but I feel like a lot of these services have websites with language or minimal descriptions that assume so much in terms of knowing what exactly you're able to do or not do.